LONDON — A young man hands out candy to passers-by and Sunday afternoon visitors are welcomed through its open doors with cups of tea and biscuits. It is hard to imagine that a decade ago this place of worship was a hangout for some of the world's most notorious and deadly jihadis.
Finsbury Park Mosque in north London was once the domain of hook-handed imam Abu Hamza, whose extremist sermons inspired attendees including 9/11 co-conspirator Zacarias Moussaoui, failed American Airlines "shoe bomber" Richard Reid and London subway suicide bomber Mohammed Sidique Khan.
The "suicide factory" — as one book called it — was also visited by Djamel Beghal, the Islamist "sorcerer" and jail inmate accused of bringing together those responsible for the Charlie Hebdo massacre and related attacks in Paris last month.
In the wake of those Paris atrocities, the Muslim Council of Britain — the umbrella organization for Islamic institutions in the U.K. — called on member mosques to open their doors, hoping to "demonstrate solidarity during what has been a tense time for faith communities" and ease "tensions around terrorism."
On "Visit My Mosque Day" at Finsbury Park earlier this month, children proudly lined up to perform for guests. A boy dressed in galabiyya [Islamic dress for men] and holding a British flag was joined by girls in headscarves. Together they sang songs, and recited poetry praising their faith.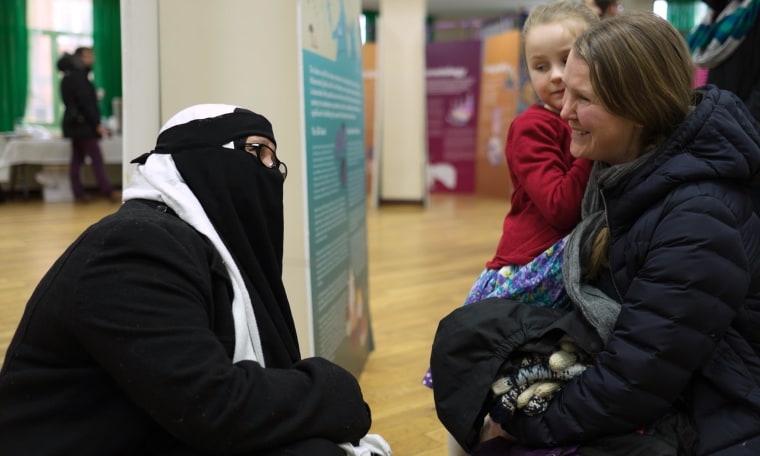 Visitors lined up to have their names written in Arabic using calligraphy. On the ground floor, an exhibition told the history of Islam and Islamic accomplishments, while the prayer rooms were open for tours.
"This is an open day, basically to give positive and real image of the Muslim community and what takes place inside the mosques," said Khalid Omour, one of the mosque's trustees.
Finsbury Park was one of 20 mosques to participate in the initiative. "The mosque received hate mail after the attacks ... so we decided to get involved," Omour added.
The open day gave the mosque another chance to show how it has moved on from the days when an informer for Britain's intelligence agency MI5 called it "an al-Qaeda camp in the heart of London."
Police raided it in 2003 as part of a terror investigation. Abu Hamza was barred from using the mosque for preaching. But he continued to deliver incendiary sermons to his followers on the street outside.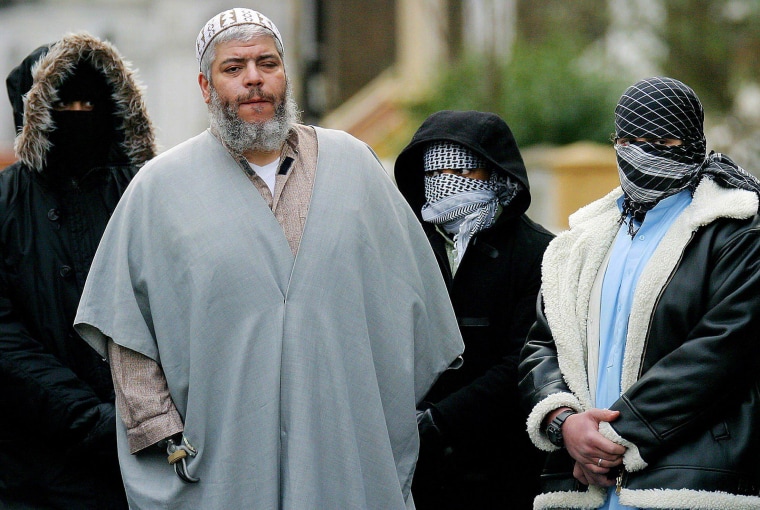 Following Hamza's 2005 detention for inciting hatred, a new group of trustees — including Omour, who is a local resident — was brought in to flush out the radicals.
Hamza was eventually extradited to the U.S. on terror charges. In January, he was sentenced to life in prison by a court in New York for creating a training camp in Oregon, funneling fighters to Afghanistan and assisting a 1998 attack in Yemen.
"The mosque basically was hijacked by a group of people who were utilizing this platform, which is a place of worship, and it wasn't used for the main purpose it was built for," Omour said. "When we came in 2005, the local community here, from all sorts of walk of life, decided to take the initiative by really drawing a line under that era and build a new era ... of positive image, positive service, community engagement."
The mosque has been holding open days for five years — usually in November — along with inter-faith meetings addressing issues in the local community. But Omour admits there is more work to be done to reassure neighbors. "There are still challenges and there are barriers obviously because of the reputation of the mosque," he said.
Office worker Tam Perry said he heard about the open day initiative on the radio and decided to stop by. "I'm not religious, but I wanted to take a look inside. I'm curious about the architecture," he said.
Anna Louise Oakland, 67, has lived in the neighborhood for 40 years. But this was her first visit to the mosque. "I spent the entire morning here today," she said. "I'm pleased that many people have come."
Oakland said she kept away from the mosque and its immediate surroundings in the late 1990s when radicals controlled the mosque.
She feels the mosque is taking the right steps, but the community hasn't been able to heal entirely.
"I want us to change and really start working together and find a common ground," Oakland said. "We need to learn from them, and unlearn some of the negatives."