HONG KONG — Thirteen people were taken to hospitals in Hong Kong on Wednesday after a fire broke out at a downtown shopping center in an incident that saw scores of people trapped on the building's roof, officials have said.
Speaking at a press conference on Wednesday, Stephen Lau, from the ambulance support team, said 10 people suffered from the effects of smoke inhalation, with a 60-year-old woman in critical condition. Lau said three others sustained other injuries.
The fire department was called to the World Trade Centre in the retail district of Causeway Bay just after 12:35 p.m., officials said. The blaze was quickly upgraded to a No. 3 alarm on a scale of one to five.
The fire was contained shortly after 3 p.m and largely put out by 4:30 p.m., the government said in a statement.
Police said about 150 people were waiting for rescue on the roof, according to Reuters.
Download the NBC News app for breaking news and politics
At least 175 firefighters were deployed, with responders using water jets and two breathing apparatus teams during their operations, officials said. They used an extendable fire engine ladder to rescue people from an open area on the fifth floor.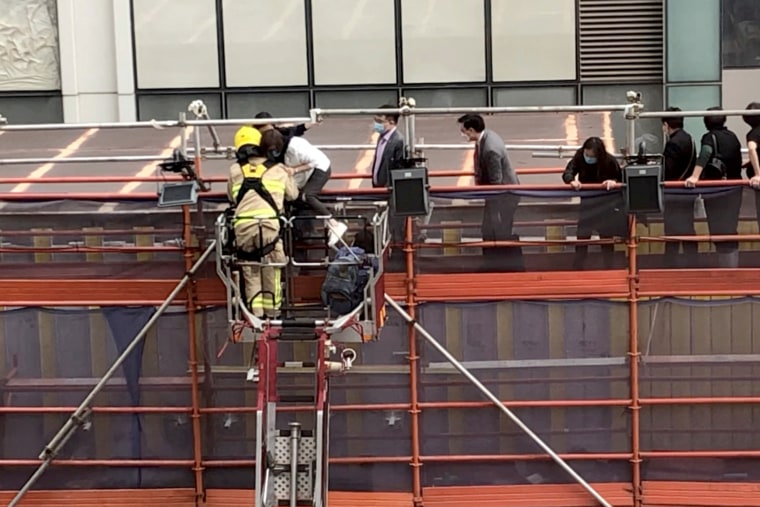 Ruby Chan, a 52-year-old employee at a skincare store, was attending to a customer on the 36th floor when the fire broke out.
"My colleagues were freaked out when they learned there was a fire outbreak," she told NBC News outside the World Trade Centre after her manager briefed her and her colleagues.
Chan said she had only managed to grab her valuable belongings during the evacuation. "But I was calm and asked my colleagues to take all their valuable belongings with them. I saw that others on the rooftop didn't even get their personal belongings with them."
Chan said that she, her colleagues and the customer were directed to the rooftop after the fire broke out.
In total, officials said 770 people were evacuated from the building by firefighters. At least 40 others left by themselves.
You Sheung Ng, senior divisional officer from the fire department, said the fire broke out in the meter room of the first and second floor of the building. However, neither the fire alarm nor the sprinkler from the first to fifth floor were triggered because they were turned off during a renovation that began last year.
The cause of the fire is still under investigation.
Ng said that "massive smoke on sight" added to "difficulties in fighting the fire."
He added that the fire prevention system at the World Trade Centre will be checked by the fire installation team to prevent future incidents.