Russian authorities launched a criminal investigation Monday into the deadly inferno that swept through a shopping mall on Sunday, killing at least 64 people, some of whom were trapped by illegally blocked fire exits, according to authorities and news agencies.
Officials haven't yet determined the exact cause of the blaze, which started Sunday afternoon and burned for 12 hours at the Winter Cherry mall in the Siberian city of Kemerovo.
Four people were detained and were being questioned, including the tenant of the premises where the fire is said to have started.
Svetlana Petrenko, a spokeswoman for the Investigative Committee of the Russian Federation, the country's equivalent of the FBI, told the news agency TASS that 16 people remained missing.
The committee said Monday afternoon that a preliminary investigation revealed that fire exits at the shopping mall were blocked and asserted that "blatant violations" contributed to the high death toll.
Authorities said they were also considering detaining a fifth person — a security guard who is alleged to have switched off the warning system after the fire broke out.
The government-funded news service RT reported that at least 11 children were among the dead.
Russian President Vladimir Putin traveled to Kemerovo on Monday to lead a meeting on the disaster, TASS reported.
"What is happening here — this was not a combat situation, not an unexpected methane outburst in a mine. People came to rest, children," Putin said. "We talk about demographics and lose so many people because of what? Because of criminal negligence and carelessness."
On Monday, reports of the carnage trickled out from Kemerovo, an industrial city in a coal-mining region about 2,250 miles east of Moscow.
Alexander Lillevyali told the Russian news service Meduza that he tried in vain to rescue his 11-year-old twin daughters and their 5-year-old sister, all of whom died after having been trapped in a movie theater where they were watching the animated film "Sherlock Gnomes."
"I started crawling, but I realized at this point that I'd lost all strength. I'd inhaled so much carbon monoxide that I was about to faint," Lillevyali told Meduza.
"My daughter kept calling me and calling me. I just shouted into the phone that she needed to try to get out of the theater, but there was nothing I could do. In front of me was already flames," he said.
RT reported that multiple witnesses said the fire alarm didn't sound.
"There was panic, chaos," another eyewitness told Channel One Russia. "It was getting dark. The lights went out. The escalators were out. The elevator was out. People were running and falling over. The fire alarm was not working."
Kemerovo regional Gov. Aman Tuleyev announced that families of the victims of the fire would receive 1 million rubles, about US$17,490, in compensation for each death.
Health Minister Veronika Skvortsova, who visited the Keremovo hospital where the victims were receiving treatment, said on Russian state television that the patients included a 11-year-old boy who jumped out of a window from the fourth floor. The boy's parents and younger brother died in the fire, Skvortsova said.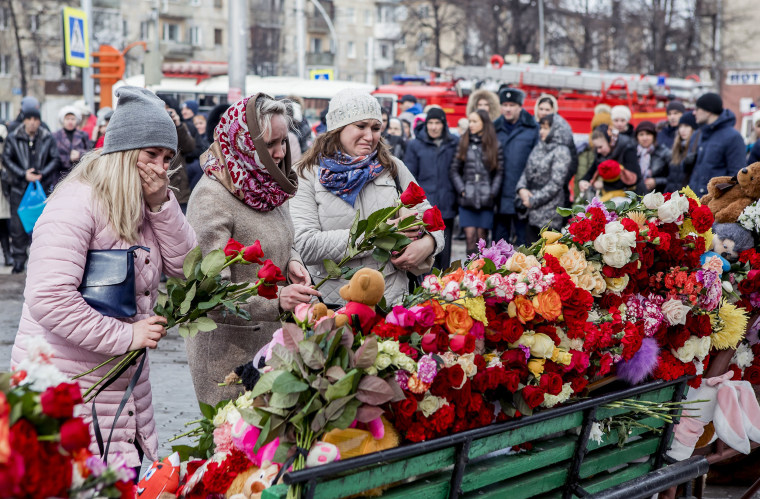 Another woman told reporters that she was at the movie theater on the fourth floor when someone ran in and screamed for everyone to get out.
She and her children managed to escape, but she said she saw "many people breaking windows and jumping out."
Winter Cherry was one of Kemerovo's most popular entertainment centers for children, with an indoor skating rink, a petting zoo and trampolines. Kemerovo residents said the mall was packed with children and their parents.
Authorities said 200 animals in the petting zoo died in the fire.
The Russian Ministry of Emergency Situations said more than 840 rescue personnel were involved in the response.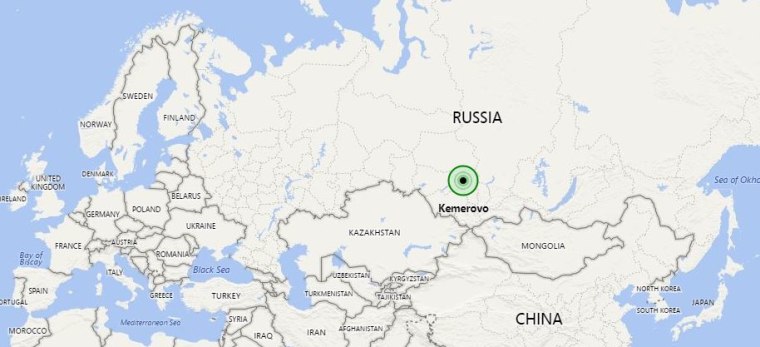 "Emergency crews are working with extremely high temperatures in close to zero visibility," the ministry said.