Wildfires blazed across the Iberian Peninsula and half of Portugal has been placed on an extreme weather alert as a searing heat wave oppressed Western Europe on Thursday.
Meanwhile, continuous dry weather has also contributed to Sardinia's worst locust invasion in three decades.
The heat wave caused temperatures in Spain and Portugal to soar to 113 degrees Fahrenheit on Wednesday, nearing record levels. The hottest day ever to be recorded for Portugal was 117 degrees Fahrenheit in 2003.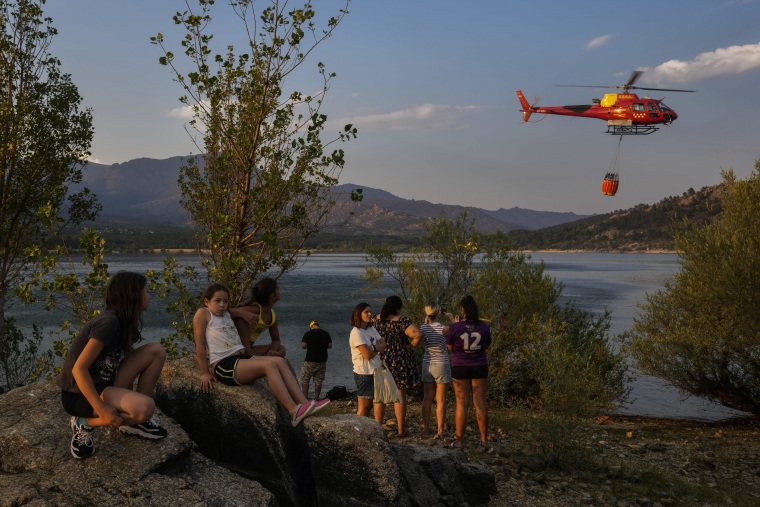 Over 20 wildfires burned in Portugal and Spain, and around half of Portugal was placed under a red, or extreme, weather alert. Meanwhile, Spain's meteorological agency warned Thursday is expected to be the hottest day in the current wave.
Thousands of firefighters across Portugal, Spain and southern France fought to control the flames this week, which have destroyed thousands of acres of land and forced thousands to be evacuated from their homes.
More than 3,000 hectares (7,413 acres) have been destroyed in Leiria, Portugal, just north of Lisbon as of Wednesday, where 900 firefighters were combating three active blazes, according to Reuters. Some 2,841 firefighters were on the ground in Portugal as a whole.
Antonio Ramalheiro, a retiree, blamed inadequate forest management in addition to the heat wave for the wildfires.
"It is scary when the fire comes," the 62-year-old told Reuters. "If it reaches the house, it is a disgrace ... you lose everything."
In Gironde department, in France's southwest, more than 2,700 hectares (6,672 acres) of terrain have been ravaged. On Wednesday, during the eve of Bastille Day, France's national day, all fireworks were forbidden in towns and villages close to forests until Monday.
In the west of Spain, between Extremadura and Salamanca, more than 5,000 hectares (12,355 acres) were lost as a wildfire fueled by the rise in temperatures and strong winds continues. Highways were closed and 12 firefighter land units continue their efforts to control the fire.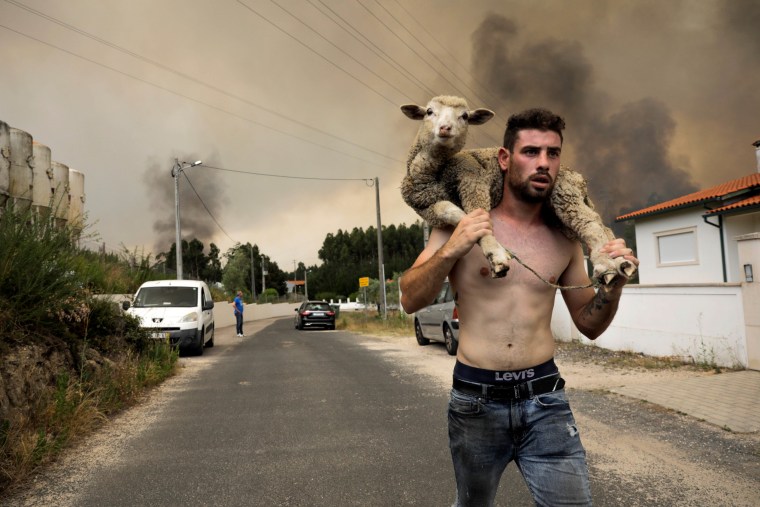 According to ABC News, a Spanish newspaper, the Ministry of Environment recognized that the fire was acquiring "an extremely virulent behavior, with very extreme propagation speeds."
The extreme heat has also derailed vacation plans at the height of the summer tourist season, causing more than 6,500 people to be evacuated from campgrounds and villages in Bordeaux, Gironde's capital.
Officials have warned that people need to become accustomed to dealing with these kinds of weather extreme events.
European Union officials last week issued a warning that climate change was behind the extremely dry and hot summer on the continent, telling countries to brace for wildfires, drought and other climate-related disasters.
"Heat waves will become more and more frequent, and we do need to prepare not only in terms of how we do policies, but also in terms of how we teach people how to deal with these kinds of events," Portuguese Home Affairs Secretary Patricia Gaspar said.
Along with the weather, the insect population has also been wreaking havoc on the Italian island of Sardinia.
Locusts have destroyed land equal to around 2% to 3% of Sardinia, while the ongoing infestation is expected to affect up to 60,000 hectares (148,263) of crop this year, with alfalfa and dried fodder among the worst-hit output.
Italy is suffering its worst drought in 70 years, with extreme heat last week causing a chunk of a glacier to fall and kill six people.