BETHLEHEM, West Bank — Jesus' traditional birthplace has long been linked to tensions between Israel and the Palestinians. On Sunday, around 650 athletes took a step towards transforming Bethlehem's modern image by running in the first official Palestinian marathon.
"It's a strange site to see people run in the West Bank," said runner Dina Khuri, 21, from Beit Sahour.  "Usually when people run here it has to do with violence, but this time it's for fun."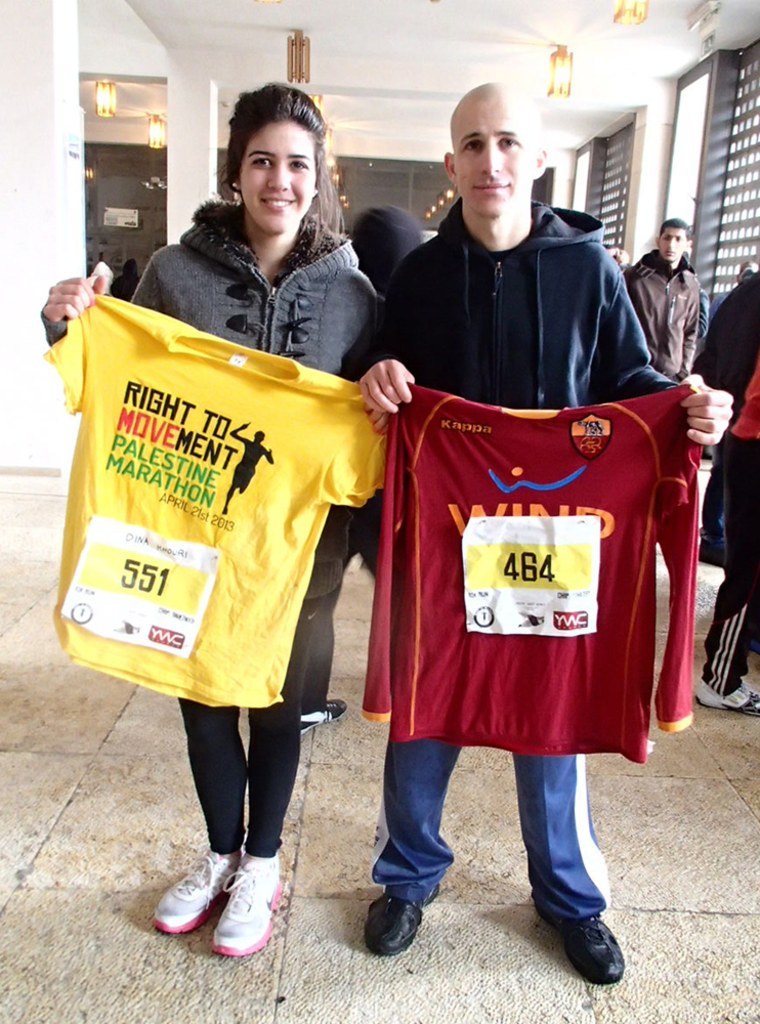 Security was tight in the wake of the Boston attacks that killed three and injured more than 170 on Monday. Before the event, organizers said they were "deeply saddened by the news from Boston."
For George Zeidan from Jerusalem, the marathon was not only about fitness.
"Sports (are) my inspiration and my way of identifying myself," he wrote in a blog posted on the marathon website before the race. "I am running for the freedom of Palestine and my people.  I am running to inform everybody that we Palestinians are just like everyone else, we run, dance, sing, play, jump, and have fun, not only that but we are also good at it."
The race started and finished at the Church of the Nativity, thought to be the oldest continuously operating Christian church, and took runners in four loops around Bethlehem. Competitors ran through the Al Ayda and Dheisheh camps, which house 17,700 Palestinian refugees.
The participants from 28 countries passed the barrier separating the West Bank and Israel, which Israelis call the separation wall and Palestinians refer to as the apartheid wall.  The turn-around point was an Israeli Army checkpoint on the road leading to Jerusalem.   
Palestinians Abed El Naser Awajneh and Christine Gebler won the men and women's races, respectively, according to organizers.  
Organizer Signe Fischer said that the main message behind holding the race was to emphasize the importance of freedom of movement. 
"The situation here is of stalemate and this marathon is a positive message for people to do something to change things," she said.
While the United Nations organized a marathon in the Hamas-controlled enclave of Gaza in May, 2011, Sunday's race was the first Palestinian marathon. The West Bank-based Palestinian Authority gained non-member state status for Palestine at the United Nations General Assembly in November, 2012.  
Alongside growing tensions between Israel and the Palestinians, who have been struggling for years to establish an independent state, have come growing restrictions on their ability to travel into Israel and Gaza. 
Earlier in the week Israelis refused to allow some 20 runners from Gaza to travel to the race. Gaza residents can only go to the West Bank for "exceptional humanitarian reasons with an emphasis on urgent medical cases," Israeli officials were quoted with saying. 
This was likely a big blow to Gaza resident Nader Al-Masri who represented Palestine in the 5,000-meter race at the 2008 Olympics in Beijing.
Reuters and The Associated Press contributed to this report.
Related: 
London marathon kicks off with a moment of silence
'We will fight on': London Marathon competitors, spectators defy security fears