1. Hillary Clinton to Middle East. The big news today is that Secretary of State Hillary Clinton is heading to the Middle East to try and help broker a peace in the ongoing fighting in Gaza.
Usually, someone as high level as Clinton isn't dispatched in this sort of delicate situation unless a deal is imminent. If that's the case, it would certainly be a feather in Clinton's cap in her last overseas trip. And it could be a strong credential if she runs for president in, dare we say, 2016.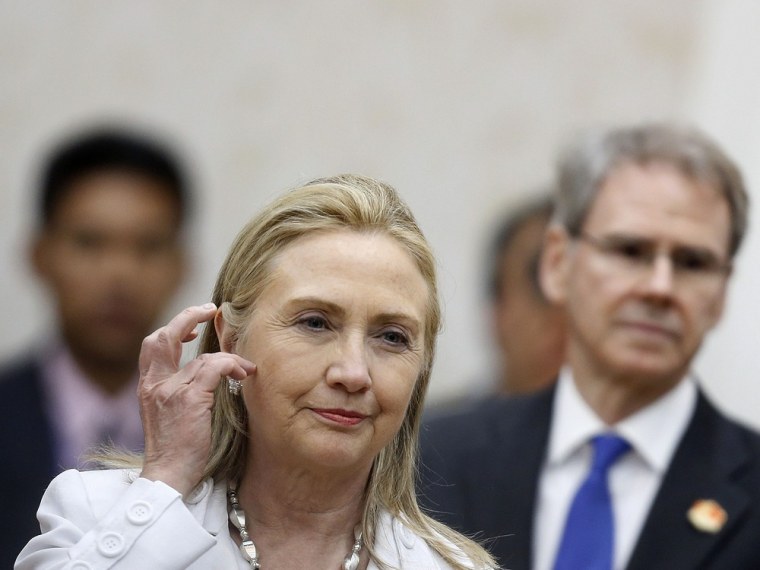 2.Race cited as opposition to Rice. As NBC's Frank Thorp and Luke Russert reported yesterday nearly 100 House Republicans wrote a letter to President Obama, saying they would strongly oppose a Susan Rice nomination for secretary of State.
Of course, this has no teeth. Presidential appointments that need congressional approval have to be approved by the Senate. The House doesn't even get a vote. But it is indicative of how deep the opposition is among hard-right conservatives.
But now Rep. Jim Clyburn, echoing the feelings of many on the left, said on CNN this morning that race appears to be a factor in the criticism of Rice.
"During this recent campaign," Clyburn said, "we heard [Gov.] Sununu calling our president lazy, incompetent. These kinds of terms that - those of us, especially those of us born and raised in the South, we've been hearing these little words and phrases all of our lives, and we get insulted by them. Susan rice is as competent as anybody you will find. … Say that she was wrong for doing it, but don't call her incompetent."
Democrats point to the harshest criticism from the right of Obama's cabinet has been aimed at minorities and women – Attorney General Eric Holder, EPA administrator Lisa Jackson, and Rice, who are all black, as well as HHS Secretary Kathleen Sebelius and Homeland Security Secretary Janet Napolitano, who are women.
Republicans would say they have just been involved in some of the more controversial decisions made by the administration, from regulating energy to the implementation of the health-care law to trying to close the prison at Guantanamo Bay, Cuba.
3. Labor pushes back. Labor groups -- American Federation of State, County and Municipal Employees, or AFSCME, the Service Employees International Union, SEIU, and the National Education Association, NEA -- are going up with ads pressuring Democrats to hold the line on domestic spending, the Washington Post reports. The TV ads will run in "Colorado, Virginia, Missouri, along with radio ads in Pennsylvania, Alaska and Missouri."
From an ad running in Virginia, entitled, "Jobs not cuts": "How do we move our country forward and reduce the deficit? By creating jobs and growing our economy, not by cutting programs that families rely on most. We need Senators Warner and Webb to continue to stand up for us by investing in job creation, extending the middle-class tax cuts, and protecting Medicare, Medicaid, and education from cuts."
The key to getting a deal done on the "fiscal cliff" is for both parties to first, get their own houses in order. House Speaker John Boehner certainly has a difficult task ahead of him to marshal his conservative House conference. But the president also has challenges in getting the left on board and finding 60 votes in the Senate to overcome a Mitch McConnell-led filibuster, if there is one.
4. Rubio flirting with running for president. In Iowa, yes Iowa, the FLORIDA senator joked about running for president:
"Let's just address right up front the elephant in the room, because anytime anyone makes a trip to Iowa, people start speculating about what you're going to do in the future, so let me just be blunt: I am not now nor will I ever be a candidate for offensive coordinator of Iowa."
Rubio played college football, and that got laughs. But he's done nothing to tamp down that he's seriously considering running in 2016. Of course, the opposition vetting process is what a lot of Republicans worry about with Rubio.
5. GOP not thrilled with Christie. Iowa Gov. Terry Branstad, who is the ostensible reason Rubio was in Iowa – for a birthday fundraiser – took a swipe at New Jersey Gov. Chris Christie and his praise for President Obama during the aftermath of Hurricane Sandy.
"There are some people that think maybe he could have handled it - been a little less gushing," Branstad said. "But that's his personality. He has got that New Jersey edge to him, you know, for good or bad."
And Matt Drudge, a big Romney fan, headlines: "Christie Clowns on SNL as Residents Suffer."
But Christie is getting the thumbs up from New York City residents. Asked who did the best job handling Sandy, respondents to a Quinnipiac poll said Christie.
Christie  36%
Obama  22%
NY Gov. Andrew Cuomo  15%
NYC Mayor Michael Bloomberg 12%
Those wanting to take shots at Christie probably have little connection to the New York/New Jersey area. Christie saw the places he grew up devastated by the storm. And the furthest thing from someone's mind who has to govern during a time when your residents are dying and houses are being destroyed should be politics.
6. Ron Paul endorsed secession. RetiringRep. Ron Paul isn't going out quietly. He endorsed secession, calling it a "deeply American principle."
"Secession is a deeply American principle. This country was born through secession....In fact, the recent election only further entrenched the status quo. If the possibility of secession is completely off the table there is nothing to stop the federal government from continuing to encroach on our liberties and no recourse for those who are sick and tired of it."
7. Dems draw from NY, CA. The GOP has taken a lot of criticism as a regional party with its members and power center rooted in the South. Well, almost 30% of Democrats in the House now are from just New York and California, the highest percentage ever, according to the University of Minnesota's Smart Politics blog. http://bit.ly/QrZqJW
8. A brief history of turkey pardons. As we make our way closer to Thanksgiving, there's an annual presidential tradition that Obama will take part in once again tomorrow – pardoning a turkey. The quaint exercise, however, does not date as far back as some might think. And even presidents have wrongly cited the first to do so. We break it down.