All tied up: New NBC-Marist polls show Obama and Romney deadlocked in CO, IA, and NV… Our four observations on these new surveys… Today's Obama-Romney message war: Massachusetts vs, Solyndra… Awkward day at the White House with the unveiling of Bush 43's official portrait… The White House's Syria challenge… Team Obama's new Spanish-language ads… In WI recall, Walker leads Barrett by seven points, per new poll… John Paul Stevens criticizes Citizens United decision -- again… And Elizabeth Warren comments on that Native American story.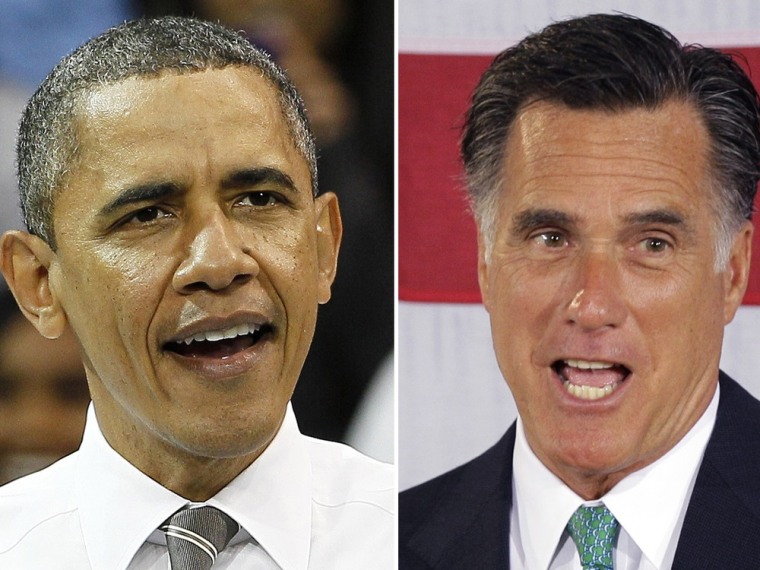 *** All tied up: A week ago, we released NBC-Marist polls showing President Obama narrowly leading Mitt Romney in the key battleground states of Florida, Ohio, and Virginia. Today, we're unveiling a new round of NBC-Marist surveys in three other battleground states -- ones that aren't polled as often -- showing an even closer race. In Iowa, the two men are tied at 44% among registered voters, including those who are undecided yet leaning toward a candidate; 10% are undecided. In Colorado, Obama gets support from 46% of registered voters, while Romney gets 45%. And in Nevada, the president is at 48% and Romney is at 46%. The margin of error in each of these three surveys is plus-minus 3%, so they are all statistical ties in these battleground states.
*** Four observations: Here are four observations on this new round of polling: One, the numbers pretty much match what the campaigns are seeing -- everything is tightening. Two, Obama has spent more time in Ohio and Virginia than Colorado, Iowa, and Nevada, and it shows, according to our polls. Three, the 10% undecided in Iowa is striking; these folks perhaps know the candidates better than residents of any other state. Also, Obama being below 45% in the Hawkeye State has to concern his campaign. And fourth, all six of these states (FL, OH, VA, CO, IA, NV) were carried by both Bush in '04 and Obama in '08. Who wants to bet that, ultimately, these six break the same way in November, or at least four of them?
*** Massachusetts vs. Solyndra: Today, the Obama campaign is targeting Romney's record in Massachusetts. It has released a web video, which includes testimonials from local politicians, that makes this point, per NBC's Carrie Dann: During his 2002 gubernatorial campaign, Romney made similar promises -- like using his business experience to create jobs -- but didn't exactly deliver. At 11:30 am ET in Boston, Obama campaign strategist David Axelrod and Massachusetts politicos hold a press conference on Romney's gubernatorial record. (The Romney camp has organized an earlier presser in Boston, at 10:00 am.) Meanwhile, Romney remains out in California, and the scuttlebutt among the traveling press corps is that he may have an event outside of the bankrupt Solyndra headquarters. Here's what Romney said about Solyndra at his fundraiser last night: "Who wants to put money in a solar company when a government puts a half a billion into one of its choice?" Romney asked. "They don't understand how the free economy works." The RNC has a HUGE oppo briefing book they've released today focused on Solyndra, adding more fuel to the speculation fire re: Romney's whereabouts today.
*** An awkward day at the White House: Today, Obama meets with his predecessor George W. Bush -- the man whom the president implicitly criticizes when he talks about the wars and economic conditions he inherited. At 12:10 pm ET, the Obamas and the Bushes (as well as Bush 41 and his wife) have lunch at the White House. And then, at 1:25 pm, they unveil the official White House portraits for George W. Bush and former First Lady Laura Bush. A.W.K.W.A.R.D. Then again, Bush 43 ran his entire 2000 campaign against his predecessor, and they ended up bonding. While we don't expect the same level of camaraderie, it's actually one of those rare opportunities for Obama to grab the higher ground in these tough polarizing times.
*** The Syria challenge: The New York Times today front-pages an analysis looking at the Obama White House's challenges when it comes to Syria. "Just as strife in the former Yugoslav republic confounded first President George Bush and then his successor, Bill Clinton, the bloody crackdown in Syria — underscored by last week's massacre of children and other villagers — has put Mr. Obama in a deeply uncomfortable position. With American troops only recently withdrawn from Iraq and still in Afghanistan, the president is loath to engage in new military actions, especially one with few advocates, even among human rights groups. And yet with each passing incident, the scale of the crisis grows." More: "All the military contingencies that the Pentagon has developed involve a serious commitment of resources, with no low-cost options as in Libya. Unlike in Libya, there is no defined rebel army holding territory that would be helped by airstrikes. Syria has a better trained, better equipped military, including Russian antiaircraft defenses. And there is no United Nations or Arab League support for international force." There may be no more important meeting in the next month than the one between Obama and Putin that is set to take place while the two attend next month's G-20 in Mexico. If the U.S. has any hopes of somehow getting Assad to agree to leave power (a la Yemen), it's going to need Russia's help.
*** Team Obama's new Spanish-language (and positive) TV ads: Turning back to the presidential campaign, the Obama camp is up with three new Spanish-language TV ads – once again highlighting testimonials (in Spanish) from Obama campaign workers. Here are the targeted ads in Nevada, Colorado, and Florida. And here's an important point for everyone who's talking about how negative the Obama-Romney race is right now: The ads that are running from both campaigns in the key battleground states are ALL mostly positive ads. Chew on that narrative writers!
*** Walker leads Barrett by seven points, per public poll: We're just five days out until Tuesday's recall in Wisconsin, and a new Marquette Law School poll shows incumbent Gov. Scott Walker (R) leading challenger Tom Barrett (D) by seven points among likely voters, 52%-45%. (Interestingly, the same poll has Obama leading Romney in this battleground state, by a similar margin, 51%-43%.) Democrats have released their own polling showing a much closer race between Walker and Barrett. Who's right? We're just days away from an answer. And by the way, how much is the White House investing in Barrett? Well, White House Press Secretary Jay Carney had to tweet yesterday that the president is supporting Barrett -- after being unable to answer an earlier question about it.
*** John Paul Stevens criticizes Citizens United ruling, argues that SCOTUS might have to revisit the case: Don't miss this story from NBC's Pete Williams: "Former Supreme Court Justice John Paul Stevens took a poke at the controversial Citizens United decision Wednesday night and said his former colleagues have probably already had second thoughts about it… Stevens was among the justices who dissented in the court's 5-4 ruling. In remarks prepared for delivery at the University of Arkansas, Stevens predicted that the court will soon be forced to issue rulings that will undermine a key part of the Citizens United ruling -- that the First Amendment 'prohibits the suppression of political speech based on the speaker's identity,' including the fact that the speaker is a corporation." More: "The court's decision left undecided whether the same free speech right applies to foreign corporations. In due course, Stevens said, the court will be called upon to decide that question, forcing it to craft an exception 'that will create a crack in the foundation of the Citizens United majority opinion.'"
*** Warren comments on Native American story: And there's news from Massachusetts on that competitive Scott Brown vs. Elizabeth Warren race. The Boston Globe: "Democratic Senate candidate Elizabeth Warren acknowledged for the first time late Wednesday night that she told Harvard University and the University of Pennsylvania that she was Native American, but she continued to insist that race played no role in her recruitment." So let's get this straight: After ducking this story for more than a month and letting it fester, Warren is ONLY NOW releasing this statement?
Countdown to WI recall: 5 days
Countdown to GOP convention: 89 days
Countdown to Dem convention: 96 days
Countdown to Election Day: 160 days
Click here to sign up for First Read emails.
Text FIRST to 622639, to sign up for First Read alerts to your mobile phone.
Check us out on Facebook and also on Twitter. Follow us @chucktodd, @mmurraypolitics, @DomenicoNBC, @brookebrower