Obama and Bibi: Another reminder that elections have consequences… That applies to immigration reform, too… Obama set to deliver speech to Israeli people around 11:00 am ET… Biden talks gun regulation to NPR… Congress set to pass CR to avoid government shutdown, while House votes on Ryan budget between 11:45 am and 12:15 pm ET… Introducing our "Senate Madness" contest… Our first match up: Lloyd Bentsen vs. Phil Gramm… And can Bostic beat Sanford in SC-1?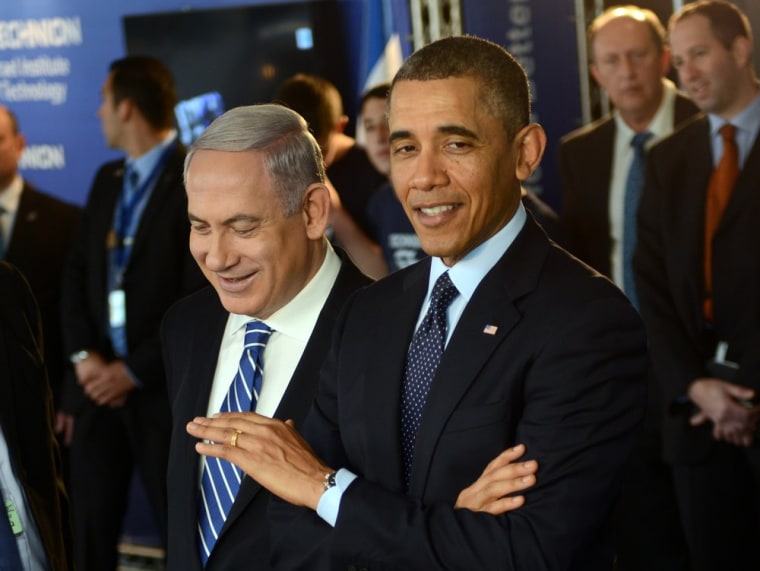 *** Another reminder that elections have consequences: If you've been covering politics over the past four years, watching yesterday's bro-mance between President Obama and Israeli Prime Minister Netanyahu was striking. After all, these are two men who've had a rocky relationship in the past, and Netanyahu not so subtly seemed to support the man running against Obama in last year's presidential election (Mitt Romney). So what changed? Part of it is diplomacy: Despite their differences, these are two men who lead countries that are allies to each other, and Obama was setting foot on Israeli soil. But there's another explanation as well: Elections have consequences. Obama won a second term, and Netanyahu (as well as the rest of the Israeli government) will have to deal with him over the next four years. Moreover, Netanyahu recently had his own election, too. And even though he remains prime minister, it was a humbling outcome -- and hugging the American president isn't a bad way to move forward. As the song lyric goes, "If you can't be with the one you love, honey, love the one you're with."
*** Don't forget immigration, too: That elections have consequences also explains why Congress -- right now at least -- appears to be on track to passing comprehensive immigration reform. Ask yourself: Would so many Republicans (Marco Rubio, Rand Paul, now Raul Labrador) be rushing to not only embrace a pathway to legal status for illegal immigrants but also citizenship if Obama hadn't won the 2012 election (and so decisively among Latino voters)? How this country conducts its elections (all the money, all the negativity) probably isn't ideal. Ditto how we in the media cover them (like the intense focus on the horserace). But elections -- however imperfect they are -- still represent the truest way of bringing about change, or at least laying the groundwork for it.
*** Obama in the Middle East, Day 2: Already today, Obama has held a press availability with Palestinian Authority President Abbas. And at around 11:00 am ET, he delivers a speech to the Israeli people.
*** Biden talks gun regulation: On Wednesday, Vice President Biden spoke with NPR in a lengthy interview on guns, saying that he would continue to work to push an assault-weapons ban through Congress, even though that measure won't be part of the legislation that Senate Majority Leader Harry Reid will bring to the floor next month. "My experience, having been the only guy that did this once before, along with Dianne Feinstein and others, is that this doesn't necessarily happen in one fell swoop," Biden said, adding: "We are going to continue to push for logical, gun safety regulations. Eventually the will of the people is going to prevail and we're going to keep at it." The vice president on the possibility of passing universal background checks: "That would be gigantic. That would be gigantic. Let me put it in perspective. When the Brady legislation passed back in '94 and the NRA and a significant portion of the opposition were absolutely opposed to it."
*** Congress set to avert government shutdown: Remember the possibility -- just a few weeks ago -- that the government could shut down? Well, it appears that has been avoided. The New York Times: The Senate "by a vote of 73-26 passed a spending measure that caps spending for programs within Congress's annual discretion at $984 billion. The House is expected to pass the measure as soon as Thursday, eliminating any current threat of a government shutdown. The final Senate bill did ease the hit of the automatic cuts known as sequestration somewhat, especially those that could hurt vulnerable Democrats." Also today, the House is set to vote on the Paul Ryan's budget proposal between 11:45 am ET and 12:15 pm ET.
*** "Senate Madness": Pegged to today's true start of the NCAA basketball tournament, we are launching "Senate Madness" -- our online contest pitting history's most consequential U.S. senators against one another. To assemble our list of 64-plus senators, we reached out to historians, as well as fellow political observers and analysts. The exercise isn't based on popularity; rather, it's based on consequence during their tenure in the Senate. (It's why ex-senators like Barack Obama and Hillary Clinton won't be on the list, but LBJ will be.) These are the senators who shaped U.S. history, whose names are affixed to important legislation and Senate buildings, and whose influence and legacy live on. Some of these names, too, were on the wrong side of history on major issues facing the country. After all, just as American history is complicated, so too is the history of the U.S. Senate. Note: Current senators aren't eligible to make our list.
*** Introducing our play-in contest -- Bentsen vs. Gramm: The online contest works just like your NCAA tournament brackets. Over the next few weeks, you get to vote on each match up between individual senators, and the winners advance. Our brackets are divided into different eras: 19th Century Era, 20th Century Era, Modern Day Era (relatively), and Mixed Era. The first match up is our play-in to be the 16th seed in the Modern Day bracket. It pits Lloyd Bentsen against Phil Gramm -- Texas Democrat vs. Texas Republican, Texas Longhorn vs. Texas A&M Aggie. (That Bentsen and Gramm are duking it out for a 16th seed demonstrates the deep bench of senators we're considering.) The winner moves on to our other match ups beginning next week. So go to First Read on NBCPolitics.com to vote. Get your Senate Madness on… And we'll unveil our full brackets beginning on Monday. But here's a tease of our #1 seeds: Daniel Webster (19th), LBJ (20th), Ted Kennedy (Modern), and Henry Clay (Mixed).
*** Can Bostic beat Sanford? Yesterday, third-place finisher Larry Grooms conceded to second-placer Curtis Bostic in South Carolina's special GOP congressional primary (even though the automatic recount will go on), which means that Bostic most likely will be the one to face off against Mark Sanford in the April 2 run-off. South Carolina political reporter Gina Smith has a piece asking whether Bostic (who got just 13% on Tuesday) can beat Sanford (who got 37%). "One political group has conducted a survey saying the former governor will win handily in the April 2 runoff, while one of Bostic's former opponents believes the councilman has a shot… On Tuesday evening, Bostic said his approach would be to continue reaching out to individuals in their homes, on the phone and in the community to grow his support. 'There's 60-something percent (of voters) looking for something different (than Sanford), and I hope they like what we have to offer,' he said."
Click here to sign up for First Read emails.
Text FIRST to 622639, to sign up for First Read alerts to your mobile phone.
Check us out on Facebook and also on Twitter. Follow us @chucktodd, @mmurraypolitics, @DomenicoNBC, @brookebrower