Background-check measure expected to fall short in the Senate… Vote takes place at 4:00 pm ET… Manchin: "We will not get the votes today"… Striking that something polling 90% can't get 60 votes… Home Alone, Mark Sanford edition… Measuring Bush 43 in the polls… Who has left the greater imprint on today's GOP -- Bush or Ron Paul?... Two ways to read the new poll on Anthony Weiner… And MA SEN race grinds to a halt.
*** Background-check measure expected to fall short: The news out of Boston continues to overshadow politics in Washington, DC. On Thursday, President Obama travels to Boston to speak at an interfaith service dedicated to those who were killed at wounded at Monday's marathon. What's more, observers remain puzzled at how little investigators know about who detonated the bombs near the race's finish line. And yesterday, there was a new scare when a letter addressed to Sen. Roger Wicker (R-MS) was found to contain the dangerous substance believed to be ricin. (The Boston bombings and letter incidents don't appear to be related.) Yet slowly but surely, American politics is returning to the national news -- and it does so later this afternoon with a crucial 4:00 pm ET vote on the Manchin-Toomey compromise amendment on background checks. And right now, it's expected that the amendment will fail to get the 60 votes needed for passage, which could imperil the rest of the Democratic-backed gun-control legislation in the Senate.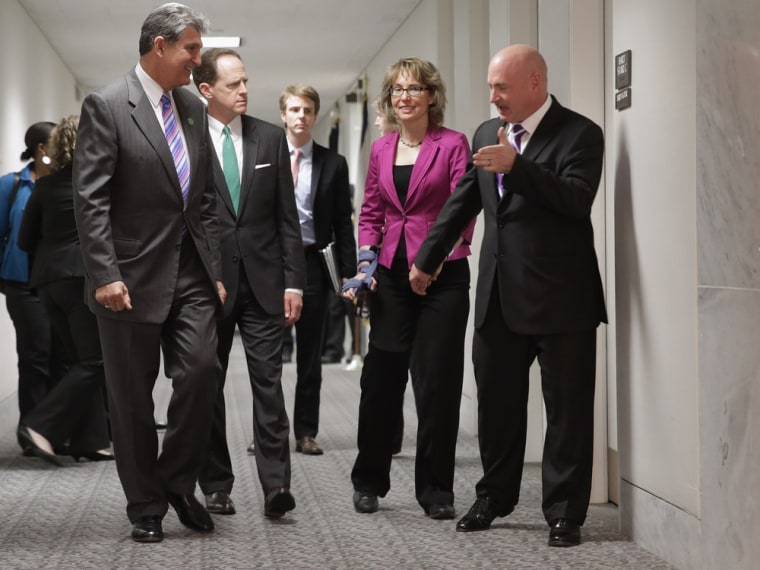 *** Manchin: "We will not get the votes today": Even the amendment's authors are admitting that the measure won't get the needed 60 votes. Sen. Joe Manchin (D-WV) tells NBC's Kelly O'Donnell, "We will not get the votes today" -- despite appeals from Newtown families, former Rep. Gabby Giffords, and public polls showing broad support. Manchin adds that the few votes he hoped to attract are out of reach due in part to political concerns: Manchin says Sens. Jeff Flake (R-AZ) and Marco Rubio (R-FL) are both so out front on immigration that they cannot risk taking on a second battle with their own conservative base on guns. And Manchin notes that Sen. Rob Portman (R-OH) is also already extended politically as the only Republican senator to support gay marriage. Manchin pessimism also comes after NBC's O'Donnell reported that Sen. Lisa Murkowski (R-AK) would be a "no" on the amendment.
*** Manchin's office walks back the senator's remarks: But Manchin's press office just released this statement: "Sen. Manchin remains optimistic and hopeful that if Senators and the American people read the bill, they will support his commonsense approach... So far Sen. Manchin has managed to garner support from an A-rated NRA member and three Republican Senators as well as 90 percent of his own party. With a record like that, I see no reason to bet against Sen. Manchin today. He will continue to explain his bill to his colleagues and anyone with concerns until the minute they vote."
*** Striking that something polling 90% can't get 60 votes: As things stand right now, per NBC's Kasie Hunt, the MOST support the measure could get is 60 votes -- if you count all 55 Democrats and the five Republicans who support it or who haven't said they oppose it (Collins, Kirk, Toomey, McCain, Ayotte). But here's the rub: Not all Democrats, especially those from red states, will back it. In fact, sources tell NBC's O'Donnell that the amendment will likely fall four or five votes short -- and maybe more if others see it going down. Given the public opinion polls supporting background checks, it's striking the measure won't get 60 votes. Just read today's New York Times piece on convicted felons who are able to purchase weapons online. "With no requirements for background checks on most private transactions, a Times examination found, Armslist and similar sites function as unregulated bazaars, where the essential anonymity of the Internet allows unlicensed sellers to advertise scores of weapons and people legally barred from gun ownership to buy them." But senators are realists, and some of those fence-sitters probably were swayed NOT to take what they believed would be a risky vote because the House was unlikely to pass it. The thinking being: Why cast a vote that will create a potential political problem when the bill's chances of ACTUALLY becoming law are so remote?
*** Home Alone, Mark Sanford edition: If you're a divorced politician, there's an iron-clad rule to follow as you're running in a competitive race: Make sure your ex-wife is fully onboard. And there's another rule to follow, too: Don't trespass at the ex-wife's house. (Actually, that's an iron-clad rule for ANY divorced spouse, politician or not.) Per the AP, "Former South Carolina Gov. Mark Sanford must appear in court two days after running for a vacant congressional seat to answer a complaint that he trespassed at his ex-wife's home, according to court documents acquired by The Associated Press on Tuesday. The complaint says Jenny Sanford confronted Sanford leaving her Sullivans Island home on Feb. 3 by a rear door, using his cell phone for a flashlight. Her attorney filed the complaint the next day and Jenny Sanford confirmed Tuesday the documents are authentic. The couple's 2010 divorce settlement says neither may enter the other's home without permission. Mark Sanford lives about a 20-minute drive away in downtown Charleston." We're never ones who want to overstate things, but this news is potentially DISATROUS for Sanford's political comeback. The special general election pitting Sanford and Elizabeth Colbert Busch takes place on May 7.
*** Measuring Bush 43: George W. Bush has been in the news recently -- he's a new grandfather, he granted an interview to the Dallas Morning News, and next week he hosts all the living presidents at the dedication of his presidential library in Dallas, TX. With the former president back in the news, it's worth noting that he has yet to experience a post-presidency honeymoon, according to our most recent NBC/WSJ poll. Just 35% view him favorably, versus 44% who view him negatively. Those numbers are virtually unchanged from the five other NBC/WSJ polls that have measured him since the summer of 2010, although they're an improvement from when he left office (31% fav/58% unfav). Yet buried inside Bush's poll numbers is a striking finding: He fares well among the demographic groups that have favored Republicans, including defeated 2012 presidential nominee Mitt Romney, and he performs poorly among the demographic groups with whom Republicans have struggled. The subgroups that have a positive view of Bush are Republicans (65%/14%), conservatives (60%/19%), seniors (48%/31%), rural Americans (43%/35%), Southerners (43%/37%), and whites (40%/39%). But he is deeply unpopular among most other subgroups, including the biggest parts of Obama's coalition -- 18-34 year olds (26%/46%), African Americans (19%/64%), and Latinos (27%/44%). In other words, if you want more evidence of the Republican Party's demographic strengths -- and demographic weaknesses -- look no further than these poll numbers.
*** Who has left the bigger imprint on today's GOP -- Bush or Paul? Speaking of dedications for former Texas politicians, former Rep. and presidential candidate Ron Paul (R-TX) holds a press conference with his supporters at 3:00 pm ET in D.C. to inaugurate the Ron Paul Institute for Peace and Prosperity. Given these dueling events -- separated by just one week -- it is worth asking: Which Texas politician has left a greater imprint on today's GOP: Bush or Paul? By the way, Paul's son Rand speaks this morning with reporters at the Christian Science Monitor breakfast.
*** Two ways to read that new poll on Anthony Weiner: There are two ways to read the new NBC New York/Marist poll on New York's mayoral race. The first, as most news outlets have played it, is that former Rep. Anthony Weiner (D-NY) would immediately start out in second place if he runs, trailing presumed front-runner Christine Quinn, 26% to 15%. But there's a second way to read it: Weiner, with nearly perfect name ID, is getting just 15%. More from Marist: "Among Democrats, 46% are open-minded about a Weiner candidacy while 50% would not consider voting for him for mayor.  Five percent are unsure. Among all registered voters, 40% say that they would consider voting for him. But, 52% would not, and 8% are unsure."
*** MA SEN race grinds to halt: Finally, we have the first contribution from our newest colleague Jessica Taylor, who writes about the MA SEN race in light of Monday's bombings in Boston. "With just two weeks to go until primaries in the Massachusetts Senate special election, campaigns on both sides have come to a screeching halt after Monday's tragic Boston Marathon bombing. It's too soon to say when active politicking from any candidate may resume ahead of the April 30 primary, but ultimately the stop in campaigning may not make a difference in the final outcome of either the primary or the general election contest on June 25."
Click here to sign up for First Read emails.
Text FIRST to 622639, to sign up for First Read alerts to your mobile phone.
Check us out on Facebook and also on Twitter. Follow us @chucktodd, @mmurraypolitics, @DomenicoNBC, @brookebrower