The beginning of the end? Paul Ryan op-ed appears to be an olive branch and a way out of the budget stalemate… But can conservatives accept that potential end (which has no Obamacare changes?)… Cantor's bad cop to Ryan's good cop?... Obama to officially nominate Janet Yellen to head the Fed at 3:00 pm ET… Americans United for Change up with TV ads hitting GOP House members, RNC up with web video reminding that Democrats once opposed raising the debt ceiling… Quinnipiac poll: Booker up by 12 points… And recapping last night's Christie-vs.-Buono debate.
*** The beginning of the end? For those looking to reopen the federal government and avoid default, yesterday was a pretty disheartening day, if you simply listened to the rhetoric. After President Obama floated a way out -- temporarily open the government and raise the debt to begin longer-term budget negotiations -- House Speaker John Boehner called it "unconditional surrender." But as bad as the rhetoric was, there was actually some intriguing behind-the-scenes developments that shouldn't be ignored. In fact, it could be the latest attempt by Boehner to bring this to an end. Yesterday, Republicans began floating proposals that had nothing to do with health care. Moreover, in a Wall Street Journal op-ed, House Budget Committee Chairman Paul Ryan argued for "both sides" to "agree to common-sense reforms of the country's entitlement programs and tax code." What he called for were some of the very things that Obama and Democrats have already put on the table. Medicare means-testing? Check. Further long-term entitlement cuts (like Chained CPI?)? Check. Bipartisan tax reform? Check. Most important, however, was what Ryan DIDN'T MENTION in the op-ed: any changes to the president's health-care law. So Ryan's op-ed is a pretty big deal; it's an olive branch (from its tone) and it lays a potential way out.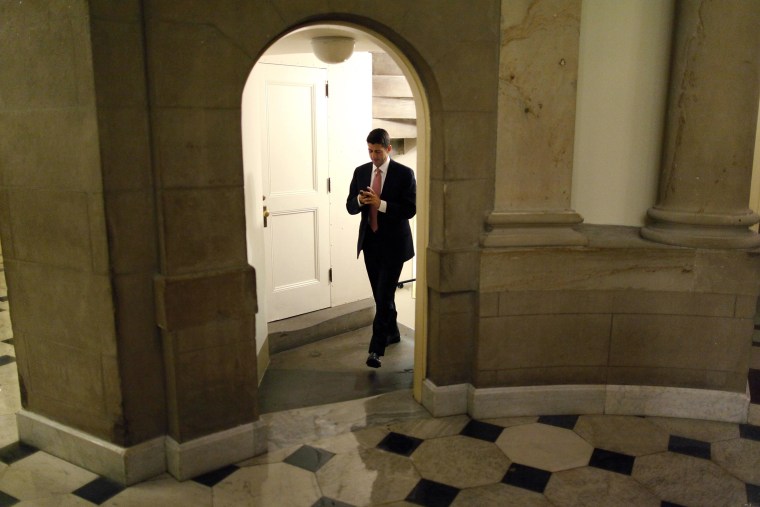 *** But can conservatives accept that potential end? The big question, of course, is if conservatives will feel betrayed by this potential way out -- that is, some legislative process fix that forces the White House into debt talks that will include zero real changes to health care. Already, Heritage Action's spokesman tweeted, "Much like White House press, Paul Ryan doesn't mention Obamacare in WSJ oped." The Senate Conservative Fund quipped, "@PRyan Obamacare is the #1 job killer and it will bankrupt our country. Your plan does nothing to stop it." And conservative commenatator Erick Erickson went off on Sen. Ron Johnson (R-WI) for reportedly criticizing Sen. Ted Cruz (R-TX) at a closed GOP meeting. Over the past few months, we've had this question for Republicans and conservatives: What is victory for them? Is it some compromise entitlement changes and tax reform? If so, that outcome looks attainable. Or is it a significant rollback to the president's health-care law? For the conservative leaders in Washington, it's clear they would prefer a focus on debt and entitlements. For some of these conservative grassroots leaders, it's Obamacare or bust. This is, of course, what Boehner's been worried about all along.
*** Cantor's bad cop to Ryan's good cop? But if Paul Ryan's op-ed presents a possible way out, House Majority Leader Eric Cantor's Washington Post op-ed pretty much repeats Boehner's rhetoric from yesterday. (A classic good cop, bad cop routine?) "The president not only has refused to negotiate on issues of debt and spending but also has mocked the very idea of engaging with Congress. President Obama has repeatedly made clear that he feels it is beneath the office of the presidency to work in a bipartisan way with the legislative branch… Mr. President, let's sit down and talk. Let's reach consensus and end the 'my way or the highway' attitude once and for all." (In response, the White House reminds us that Cantor appeared to acknowledge to the New Yorker's Ryan Lizza that he urged Boehner to walk away from the 2011 "grand bargain" deal.) Here's a way to look at the two op-eds: Those wanting this standoff to end (whether on the right or left) are intrigued by the Ryan op-ed today and are going out of their way to praise it; those who aren't ready for the right to end are focusing on Cantor's words.
*** Obama to officially nominate Yellen to head the Fed: Outside of your regularly scheduled shutdown/debt ceiling programming, the other big news today is that Obama will officially announce his nomination of Janet Yellen to be the next chair of the Federal Reserve. The event will take place at 3:00 pm ET. The timing is interesting here -- not only given the debt-ceiling showdown, but also with the need for the Senate to confirm her. Yellen's confirmation won't be easy; if you've been paying attention to politics over the last two or three years, there isn't a lot of love of the Fed from the right. (Of course, that also shows you how conservatives and Wall Street couldn't be more far apart right now.) But also don't lose sight of the nomination's historic nature, given that Yellen would be the first woman to chair the Fed. While Obama and his West Wing team have gotten the reputation (fair or not) of being a Boy's Club, it's worth noting that some of Obama's most consequential appointments who will live well beyond his terms in office have been women -- Sonia Sotomayor and Elena Kagan to the Supreme Court, and Janet Yellen to the Fed (even if Yellen wasn't his first choice).
*** Release the TV ads and web videos: The Democratic-leaning group Americans  United for Change is up with what it says is a "significant" TV-ad buy hitting 10 House Republicans in swing districts. The 10 targets: Tom Latham (IA-3), Richard Hanna (NY-22), Dan Benishek (MI-1), Lou Barletta (PA-11), Jeff Denham (CA-10), Tim Walberg (MI-7), Sean Duffy (WI-7), Bill Johnson (OH-6), Andy Barr (KY-6), and Rodney Davis (IL-13). "Call Congressman Latham. Tell him to do his job," goes one of the TV ads. "End the Tea Party's government shutdown." Meanwhile, the day after President Obama urged House Republicans -- once again -- to raise the debt ceiling before beginning any longer-term budget negotiations, the Republican National Committee has released a video reminding that some Democrats (Harry Reid, Hillary Clinton) were against raising it when George W. Bush was president. Of course, some of the Republicans who now are resisting a debt-ceiling hike -- at least one without accompanying spending cuts -- supported raising the debt limit when their party controlled the White House.
*** Another tough health-care story for the White House: Another day, another story about how the White House was warned for weeks, if not months, that healthcare.gov had flaws. This one comes courtesy of the Washington Post: "Major insurers, state health-care officials and Democratic allies repeatedly warned the Obama administration in recent months that the new federal health-insurance exchange had significant problems, according to people familiar with the conversations. Despite those warnings and intense criticism from Republicans, the White House proceeded with an Oct. 1 launch." The White House continues to claim all of its web site problems are simply traffic related but there are clearly plenty of folks who think, it's more than that, that it was designed poorly
*** Poll: Booker leading by 12 points: A week before the special election, a new Quinnipiac poll shows Democrat Cory Booker leading Republican Steve Lonegan by 12 points in New Jersey's Senate race, 53%-41%. The poll confirms the C.W. about the race: Booker is leading – but not as convincingly as many thought. Then again, a double-digit lead is a double-digit lead. The poll comes out as Booker and Lonegan face off tonight in their second debate.
*** Recapping last night's Christie-vs.-Buono debate: And speaking of New Jersey debates, Republican Gov. Chris Christie clashed with his Democratic opponent Barbara Buono last night. The dispatch from NBC's Andrew Rafferty: "Democratic state Sen. Barbara Buono has tried to make it an issue in the gubernatorial race, arguing that Christie is putting his own ambitions ahead of the people of New Jersey. She accused the governor of barring tougher gun control laws and vetoing legislation that would have legalized same-sex marriage in the state to appeal to conservatives whose support he would need for a future presidential bid. 'I can walk and chew gum at the same time,' Christie said, responding to the critique. 'The fact is, people have been talking about me running for president in this state since 2010. They all said I was going to do it in 2012. I said I wouldn't and I didn't. And the fact is after 2017, I'm going to be looking for a new job anyway,' he added."
Click here to sign up for First Read emails.
Text FIRST to 622639, to sign up for First Read alerts to your mobile phone.
Check us out on Facebook and also on Twitter. Follow us @chucktodd, @mmurraypolitics, @DomenicoNBC, @brookebrower