Is the Buffett Rule good politics for Team Obama?... Poll suggests it isn't a homerun with independents… But it's clear why the Obama camp is embracing the Buffett Rule: They're personalizing it against Romney… Romney camp and RNC push back… New WaPo/ABC poll confirms the conventional wisdom about the 2012 race… Santorum returns to the trail… Paul's new TV ad… And veepstakes watch: Why you might want to strike Susana Martinez off your VP lists.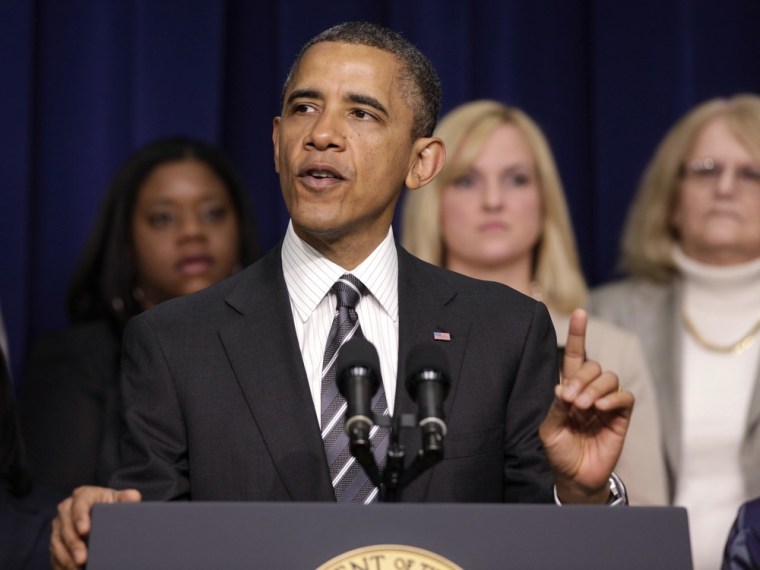 *** Is the Buffett Rule good politics? Team Obama is stepping on the gas when it comes to the so-called Buffett Rule, the proposal to raise some taxes on the wealthy to ensure that the Warren Buffetts of the world don't pay a lower effective tax rate (due to investment income) than their secretaries do. Today, in Boca Raton, FL at 2:55 pm ET, President Obama makes his case for the Buffett Rule. Yesterday, his re-election campaign held a conference call on it. And on Thursday in New Hampshire, Vice President Biden will address the topic as a campaign surrogate. But is this good politics? A poll conducted for the centrist Dem group Third Way suggests it's an open question. For instance, 47% of independents in 12 battleground states -- including 51% identified as "swing independents" who are still up for grabs -- agreed with this statement (that Mitt Romney might say): "We need an economy based on opportunity, where hard work is rewarded, the government lives within its means, and economic growth is our top priority." That's compared with 42% of indies and 43% of swing indies who agreed with this statement (that Obama might say): "We need an economy based on fairness, where the rich pay their fair share, corporations play by the rules, and all Americans get a fair shot."
*** Not a political homerun with indies, per poll: What struck us about this survey is how much time and effort went into testing the "tax fairness" argument. And unless it's connected to something tangible like deficit reduction, fairness doesn't seem to pop politically. Bottom line: This isn't a slam-dunk political issue with ALL swing indies. What Team Obama sees is an opportunity to either connect better with working-class Midwesterners or use the issue to DISCONNECT these folks from Romney, which brings us to…
*** Making it personal: While the Buffett Rule might not be a homerun with independents and swing voters, it's pretty clear why the Obama campaign is embracing it: You can personalize it against Romney. That's why the campaign discussed Romney's "Swiss bank account" and his unwillingness to release any tax returns before 2010 as much as it did the Buffett Rule on yesterday's conference call. And today, the campaign is releasing a statement saying that Romney should stop playing "hide and go seek" -- similar words to what Romney said about Obama last week -- with his tax returns. From the statement: "Mitt Romney opposes the Buffett Rule - he thinks millionaires and billionaires should keep paying lower tax rates than middle-class families. In fact, Romney himself isn't paying his fair share – in 2010, Romney paid a tax rate of only 13.9%, well below the rate paid by many middle-class Americans. And with each week, new questions are raised about whether Romney took unusual steps to avoid paying his fair share in taxes. Yet we can't answer those questions because he simply refuses to release enough of his tax returns to give a clear picture of his finances."
*** Romney camp pushes back: Yesterday, Romney spokesman Eric Fehrnstrom pushed back against the Obama camp's request that Romney release 23 years of his tax returns (what he provided the McCain campaign during the '08 veepstakes) when Obama's own released tax returns only go back to 2000. "Maybe they should adopt as their new slogan: Barack Obama — making the world safe for hypocrisy," Fehrnstrom told BuzzFeed. But did the Romney campaign here just make Obama's returns the standard? Does this mean Romney will/should release his tax returns going back to 2000? Meanwhile, the Republican National Committee is also pushing back against the Buffett Rule, pointing out it would raise only $47 billion. "This is all the president has left to fix the economy – a plan to divide America with a tax that will raise one tenth of a percent of his spending spree."
*** Confirming the conventional wisdom: The latest national Washington Post/ABC poll pretty much confirms the conventional wisdom: Obama leads Romney among registered voters by seven percentage points (51%-44%) in a head-to-head contest; he's viewed as more likeable and better on women's issues and handling foreign affairs; and his approval rating stands at 50%. Yet his vulnerability remains -- drum roll, please -- the economy. "[O]n the two most pressing issues of the campaign — the economy and jobs — the contest is considerably more competitive, with about as many trusting Romney on the issues as Obama," the Washington Post writes. "Despite positive economic indicators, Americans remain deeply pessimistic about the overall direction of the country and largely consider the economy still mired in a recession." This poll explains why the Obama campaign wants this to be a choice election with Romney and why the Republicans want this to be a referendum on Obama/the economy -- which we saw on FULL DISPLAY last week from both sides.
*** Santorum returns to the trail: Late last night, the Santorum campaign announced that daughter Bella had been released from the hospital, and that Santorum is returning to the campaign trail, although it canceled the day's first two events to allow the Santorums to settle at home with Bella. "Rick and Karen are happy to announce that their daughter Bella has been discharged from the hospital and returned home earlier Monday evening," campaign spokesman Hogan Gidley said. "The Santorums are truly overwhelmed by the prayers and support they've received -- and wanted to attach a picture of their daughter Bella so everyone could see their precious gift from God." Santorum stumps in Gettysburg, PA at 2:00 pm ET and appears in Lancaster, PA with evangelical leader James Dobson at 7:15 pm ET.
*** On the trail, per NBC's Adam Perez: Elsewhere today, Romney stumps in Delaware and Pennsylvania… Gingrich visits the Tar Heel State, speaking at two events in New Bern… And Gingrich's wife, Callista,, delivers a speech to the Women's National Republican Club in New York City… And Paul host a town hall event at Texas A&M in College Station, TX.
*** Paul's new TV ad: Speaking of Paul -- who still hasn't won a state yet -- his campaign announced it's airing a cable TV ad in Texas that his Santorum, Gingrich, and Romney. "Let's get this straight: We're debating between a big-spending, debt-ceiling-raising fiscal liberal," the narrator says, referring to Santorum. "A moon colony guy. A moderate from Massachusetts. Or a Texan with a real plan to balance the budget." By the way, an image of an Etch A Sketch appears in the ad… 
*** Veepstakes watch: When New Mexico Gov. Susana Martinez (R) now says "no" to the vice-president slot on the GOP ticket, we now believe her. "The rising GOP star told an Albuquerque newspaper recently she couldn't do it if she got asked because of family considerations, particularly her developmentally disabled sister and her father with Alzheimer's," USA Today says. "Martinez is the legal guardian for her sister, Lettie, who lives in Las Cruces, and she says her father, who is in El Paso, is still able to recognize Lettie. 'The family has to be a consideration, and for me to take (my sister) to Washington would be to separate her from ... the family that's down there, and that would be devastating,' Martinez told the Albuquerque Journal. 'I just couldn't do it.'"… Also, House Budget Committee Chairman Paul Ryan (R-WI) was on "TODAY" this morning, and he said he hadn't given the VP slot any thought. That's code for: "I'll listen."
Countdown to the CT, DE, NY, PA, and RI primaries: 14 days
Countdown to Election Day: 210 days
Click here to sign up for First Read emails.
Text FIRST to 622639, to sign up for First Read alerts to your mobile phone.
Check us out on Facebook and also on Twitter. Follow us @chucktodd, @mmurraypolitics, @DomenicoNBC, @brookebrower