The chickens may have come home to roost… Can you always pick the most conservative candidate and still win races, especially in blue or purple states… Why Akin probably doesn't exit today or tomorrow: He doesn't owe the GOP establishment anything… Department of Bad Timing: GOP's draft platform language opposes abortion, even in cases of rape… Obama to Romney yesterday: If you want to be president your life is an open book on things like taxes and finances… Breaking down July's fundraising numbers… Team Romney maintains its current ad-spending advantage… This week's 10 hottest TV markets… And Obama stumps in Ohio and Nevada, while Ryan campaigns in Pennsylvania.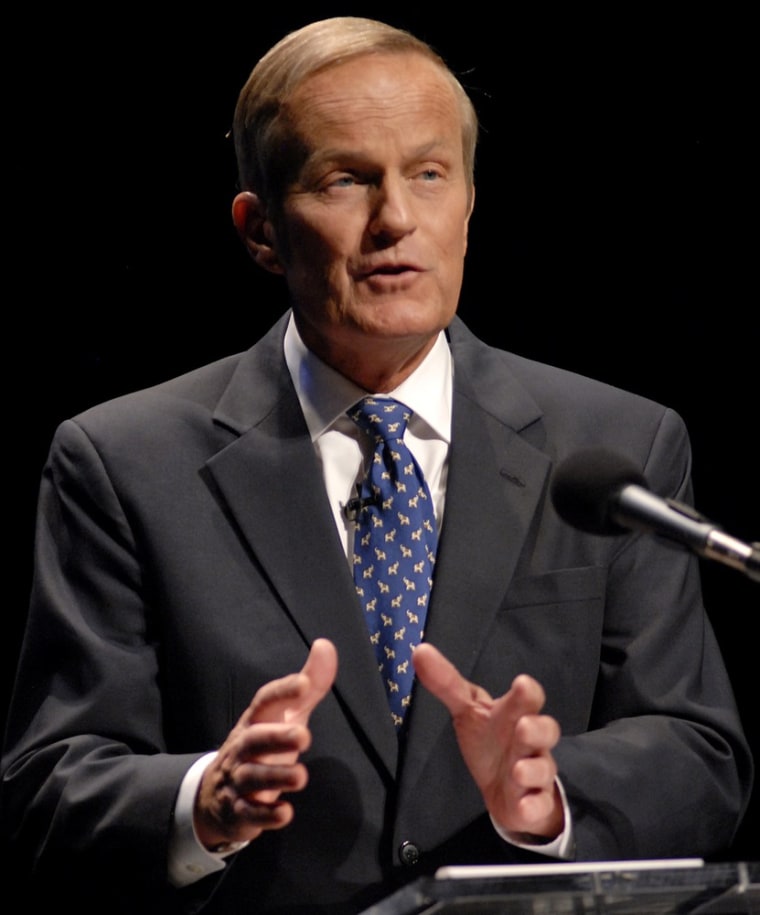 *** The chickens may have come home to roost: As the political world waits and sees if Rep. Todd Akin (R) drops out of Missouri's Senate contest by this afternoon's deadline, here's a question for us to ponder: How did we get here? How is the GOP on the verge of losing a very winnable Senate race if Akin remains in it? And why is the party pressuring him to drop out? Much of it comes down to the 2009-2010 cycle, when Republican leaders -- National Republican Senatorial Committee head John Cornyn and Republican Senate leader Mitch McConnell -- took so much heat for backing establishment candidates over Tea Party insurgents like Marco Rubio and Rand Paul. The base of the party sent this unmistakable message to GOP leaders: Stay out of our primaries or get on board of the most conservative candidate. Yes, both Rubio and Paul ended up winning (as did Republicans across the board in 2010), but others lost, including Sharron Angle, Ken Buck, and Christine O'Donnell. So Republican leaders -- the very folks who could have ensured that Missouri Republicans ended up with their most electable candidate (and no one ever thought it was Akin) -- chickened out, and the chickens have come home to roost. And here's the ultimate question for Republicans: Can you always pick the most conservative candidate and still win races, especially in blue or purple states? Indeed, Republicans may not control the U.S. Senate in 2013 because they have been unable to put even a thumb on the scale for its preferred candidates.
*** Why Akin probably doesn't exit today or tomorrow: As much of the party is pressuring him to exit the race, Akin is up with a new TV ad asking for forgiveness. "Rape is an evil act," he says to the camera. "I used the wrong words in the wrong way. And for that I apologize. As the father of two daughters, I want tough justice for predators. I have a compassionate heart for the victims of sexual assault. And I pray for them… The mistake I made was in the words I said, not in the heart I hold. I ask for your forgiveness." Here's our guess for now: Akin isn't withdrawing today or tomorrow. He might eventually (before that final Sept. 25 deadline, at which point he would have to ask a court to take his name off the ballot), but it won't be now. Why? Put yourself in Akin's shoes. No one in Washington wanted him as the GOP nominee in the first place (even if they didn't try to get the person they wanted), and so he owes them nothing because -- in his mind -- these folks asking him to get out didn't help him get there. And isn't it perfectly rational in HIS mind that he take longer than 24 hours to decide whether to stay or go? It may not be comfortable for the powers that be, but given how hard U.S. Senate nominations are to come by, it seems nuts to think he'll simply walk away from this in 48 hours, especially since he doesn't believe he did anything wrong other than use the wrong word. And by the way, be careful of any polls claiming the race is still close. That is probably true now, but make no mistake: This race is NOT WINNABLE for Akin anymore, period. All Claire McCaskill has to do is run ads featuring every quote from uttered yesterday by every prominent Republican in the country denouncing Akin as unfit to run. 
*** The GOP's draft platform language opposes abortion, even in cases of rape: First Read has confirmed a CNN report that the draft language on abortion in the Republican Party's official platform calls for the "Human Life Amendment," which would outlaw abortion in all circumstances (even in cases of rape or incest). An RNC official tells us that a full committee will vote on this draft language -- which was THE SAME LANGUAGE in 2004 and 2008 -- tomorrow, and the full convention will take it up on Monday. On Sunday night, after Todd Akin's controversial comments on abortion and rape first surfaced, the Romney campaign stated that a Romney-Ryan administration "would not oppose abortion in instances of rape." But that statement would run counter to the RNC's official platform, if the language is again adopted. Of course, this now means that George W. Bush, John McCain, and Mitt Romney have disagreed with the party's plank on abortion. But the timing for Romney and Republican Party couldn't be any worse. Indeed, Romney's biggest problem heading into the fall election could very well be the Republican brand, and it has become harder for him to differentiate himself from the brand when he added a high-profile House Republican to his ticket.
*** Obama to Romney: If you want to be president, your life is an open book: Maybe the most striking part of President Obama's impromptu news conference yesterday -- other than the timing -- was his justification for targeting Romney's tax returns. "The American people have assumed that if you want to be president of the United States, that your life is an open book when it comes to things like your finances," he said. "I'm not asking him to disclose every detail of his medical records, although we normally do that as well. You know? I mean, this isn't sort of overly personal here, guys. This is pretty standard stuff. I don't think we're being mean by asking him to do what every other presidential candidate has done -- right? It's what the American people expect." Candidates sometimes like to distance themselves from the negative attacks. But it's clear the president wants to own this, and it also means he believes this strategy of targeting Romney's wealth has worked to undermine the GOP candidate's credibility with working-class voters in places like Ohio and Iowa.
*** July's fundraising numbers are in: Here are the official fundraising numbers for July, per the Federal Election Commission. The Obama campaign raised $49 million, spent $59 million, and has $88 million in the bank. (That $88 million in the bank means that the campaign can spend almost $30 million more than it takes in during the final three months of August, September, and October.) By comparison, the Romney camp raked in $40 million, spent nearly $33 million, and has $30 million cash on hand. But when you factor in the national parties and the outside groups, the GOP has the clear advantage. The RNC raised $38 million and has $89 million in the bank (vs. the DNC's $10 million raised and $15 million cash on hand). What's more, American Crossroads raised $7 million and has $29 million in the bank, and Restore Our Future brought in $7 million and has $20 million cash on hand (compared with Priorities USA's $5 million raised and $4 million in the bank). And this doesn't include the 501c4 groups, which don't have to file their fundraising numbers with the FEC.
*** Team Romney maintains its ad-spending edge: And with money equaling TV ads, you see why Team Romney (the campaign, RNC, outside groups) is outspending Team Obama on the airwaves this week by MORE than a 2-to-1 advantage, $26 million to $10 million. In fact, Team Romney has held the clear advertising edge for the past month and a half. (And it raises the question if this advantage is currently moving the needle and if it can move the needle come the fall.) Here's the ad spending breakdown for this week (8/20 to 8/26): Restore Our Future $10.3 million, Obama $9.4 million, Americans for Prosperity $6.8 million, Romney $6.5 million, RNC $2.7 million, and Priorities USA $600K. To date, nearly $540 million has been spent in advertising in this presidential election, with Team Romney spending $292 million and Team Obama $248 million.
*** This week's 10 hottest advertising markets (in terms of advertising points from 8/20 to 8/26):
1. Des Moines, IA (Obama 1100, Romney 870, ROF 700, AFP 550, RNC 200)
2. Colorado Springs, CO (Romney 1000, ROF 760, Obama 700, AFP 650, RNC 300)
3. Roanoke-Lynchburg, VA (Romney 875, ROF 860, Obama 730, AFP 675, RNC 175)
4. Toledo, OH (Obama 950, Romney 700, ROF 600, AFP 550, RNC 225)
5. Denver, CO (Obama 1000, Romney 700, ROF 500, AFP 450, RNC 250, Priorities 150)
6. Cedar Rapids, IA (Obama 1000, Romney 630, ROF 630, AFP 500, RNC 200)
7. Richmond-Petersburg, VA (Obama 1000, Romney 700, ROF 415, AFP 400, RNC 200, Priorities 135)
8. Quad Cities, IA (Obama 1000, Romney 725, ROF 450, AFP 400, RNC 130)
9. Charlotte, NC (Romney 800, ROF 700, AFP 500, Obama 450, RNC 250)
10. Cleveland, OH (Obama 1000, Romney 500, ROF 445, AFP 300, RNC 200, Priorities 120)
*** On the trail: Obama stumps in Columbus, OH at 1:00 pm ET and Reno, NV at 8:00 pm ET, and he will discuss education (contrasting his record with Romney-Ryan's)… Romney raises money in Texas… Paul Ryan holds rallies in Carnegie, PA at 11:25 pm ET and West Chester, PA in at 4:00 pm, and he will talk about small businesses and will bring up Obama's "You didn't build that" remark… And Joe Biden campaigns in Minnesota.
*** Today's back and forth: The RNC has a web video hitting Obama over negativity and for being "willing to ignore the truth"… The DNC has a video hitting Romney's "shop around" comments when it comes to education… And the Romney camp has a web video knocking Obama on welfare.
Countdown to GOP convention: 6 days
Countdown to Dem convention: 13 days
Countdown to 1st presidential debate: 43 days
Countdown to VP debate: 51 days
Countdown to 2nd presidential debate: 56 days
Countdown to 3rd presidential debate: 62 days
Countdown to Election Day: 77 days
Click here to sign up for First Read emails.
Text FIRST to 622639, to sign up for First Read alerts to your mobile phone.
Check us out on Facebook and also on Twitter. Follow us @chucktodd, @mmurraypolitics, @DomenicoNBC, @brookebrower