A consequential next two months for Obama and Washington… Latest on Syria: White House works to build international coalition, reaches out to Congress… Obama's tightrope to walk on Syria… Napolitano's farewell speech -- and Obama's position to fill… McCain, Flake to participate in immigration forum… Conservative groups head to Kentucky to call for Obamacare's defunding… And on "Bachmannistan."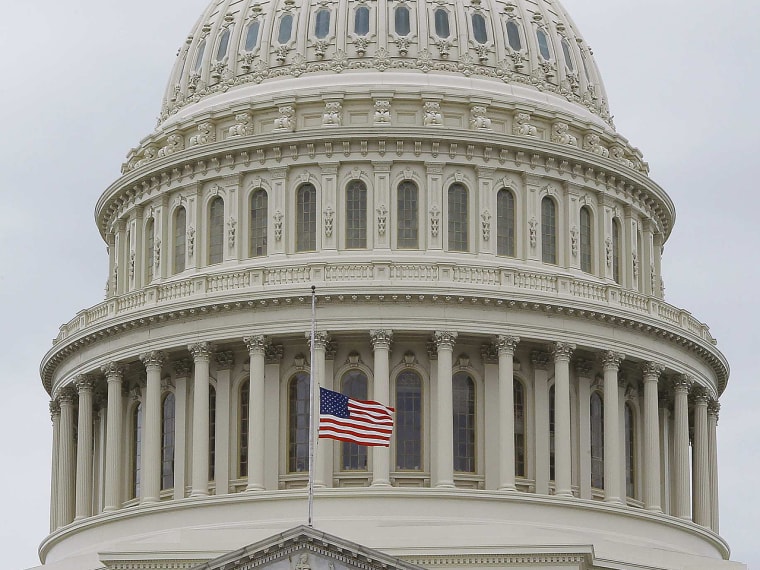 *** A consequential next two months: As the Obama White House often likes to say, the presidency requires you to walk and chew gum at the same time. But given all the deadlines and events President Obama will be facing over the next two months, he's going to be chewing gum while running on a treadmill -- as well as juggling multiple balls in the air. Consider: The White House appears headed to launch strikes in Syria after the reported chemical-weapons attack there (the window likely opens Thursday); the funding of the government ends on Sept. 30; enrollment for the health-care law's exchanges begins on Oct. 1; and now the Treasury Department says the federal debt limit must be raised by mid-October. And we didn't even mention sequestration. Obama has served as president for nearly five years and has experienced plenty of highs and lows. But it's not an exaggeration to state that what happens over the next two months will go a long way in shaping an already-eventful presidency. Hope everyone enjoyed any vacation they got in August…
*** Building an international coalition, reaching out to Congress: Of course, the event that has become the focus of attention this week is the conflict in Syria. If you didn't already think that the United States had made the decision to launch strikes, then Secretary of State John Kerry's remarks yesterday probably sealed the deal. "Our sense of basic humanity is offended not only by this cowardly crime but also by the cynical attempt to cover it up," he said. What the U.S. now is trying to do is create as broad of an international coalition to justify any action. Remember, the UN is out of the question at this point due to the automatic vetoes either Russia or China would issue. There's also an attempt by the US to try and see what the Arab League can pass in the form of a resolution. Indeed, the Arab League's support of action in Libya was arguably more important than the UN resolution. And the White House is reaching out to Congress. House Speaker John Boehner's office released a statement yesterday saying that Boehner "had preliminary communication" with the White House about Syria. "The speaker made clear that before any action is taken there must be meaningful consultation with members of Congress, as well as clearly defined objectives and a broader strategy to achieve stability," Boehner spokesman Brendan Buck said. (But observe what wasn't said in that statement -- "authorization" or "resolution.") The use of the word "consultation" is exactly the word the White House is throwing around. Why? They do NOT believe the very limited military action they plan on taking rises to the level of needing Congress' authorization.
*** Obama's tightrope to walk on Syria: Yet if the United States launches strikes inside of Syria, here is the fundamental tightrope the Obama White House must walk: How do you take sufficient action to deter Syria from using more chemical weapons while not getting bogged down in a war that Americans oppose? Remember, our June NBC/WSJ poll found that just 15% of Americans (!!!) believe the U.S. should take military action in Syria to stop the killings there (though the poll was released well before the reports of the recent chemical-weapons attack). By the way, Vice President Biden could make remarks on Syria when he addresses The American Legion National Convention in Houston at 2:45 pm ET.
*** Napolitano's farewell speech -- and Obama's position to fill: Today at 10:00 am ET, exiting Homeland Security Secretary Janet Napolitano delivers farewell remarks at the National Press Club before heading to California, where she will lead the University of California system. Napolitano's event today is another reminder that Obama has yet to nominate someone to fill the vacant position.
*** McCain, Flake participate in immigration forum in Arizona: Oh, and lest anyone forgot the current immigration debate in Congress, GOP Sens. John McCain and Jeff Flake -- two of co-authors of the "Gang of Eight" legislation that passed the Senate earlier this summer -- are participating today in an hour-long forum on immigration in Arizona. The event takes place at 1:00 pm ET.
*** Conservative groups head to Kentucky to call for Obamacare's defunding: Leaders of the conservative groups Tea Party Patriots and For America kick off their "Exempt America Tour" -- calling for Republicans to vote to defund Obamacare -- that begins today in Kentucky, which of course is Senate Minority Mitch McConnell's home state. It will be fascinating to see McConnell's return to Washington when Congress reconvenes on Sept. 9.
*** On "Bachmannistan": Lastly, NBC's Jamie Novogrod gets his hands on a just-published e-book about Michele Bachmann's failed presidential bid. Novogrod, who covered Bachmann for the network, writes: "Prime fairground plots at the 2011 Ames Straw Poll were auctioned to presidential campaigns by Iowa's own Republican Party, and at costs upward of 30-thousand dollars, according to a new e-book detailing Michele Bachmann's failed 2012 presidential run.  Its authors -- two insiders of Bachmann world -- appear as skeptical of Iowa's caucus system as they were disillusioned by their candidate, who won the August straw poll only to finish last among competitors in the caucuses less than six months later. The e-book, 'Bachmannistan: Behind the Lines,' was published on Amazon Monday night -- co-authored by John Gilmore and Peter Waldron.  Gilmore is a Minnesota lawyer who represents Andy Parrish, a former Bachmann congressional chief of staff and senior campaign official.  Waldron ran evangelical outreach for Bachmann's presidential effort but later became a vocal critic of the campaign."
Click here to sign up for First Read emails.
Text FIRST to 622639, to sign up for First Read alerts to your mobile phone.
Check us out on Facebook and also on Twitter. Follow us @chucktodd, @mmurraypolitics, @DomenicoNBC, @brookebrower