A pretty consequential week in American politics… Potential 2016 candidates are already dipping their toes into the 2016 waters… Tea Party group gets into the act, too, airing a TV ad in Iowa against Bob McDonnell… Your Friday 2016 round-up… Last month's big jobs numbers: 236,000 jobs added in February, unemployment rate falls to 7.7%... Bill Clinton calls to overturn DOMA, which he signed into law… Levin retires, creating another open-seat opportunity for the GOP… And breaking down our 2014 retirement watch.
*** A consequential week: A year from now, we could look back on this first full week in March as being a pretty significant week in American politics. For starters, we saw former Florida Gov. Jeb Bush dip his toes into the 2016 waters with his media blitz to sell his new book on immigration reform. It produced some backlash, because his immigration plan (written before this year's Senate movement on the issue) didn't include a pathway to citizenship. We also saw Sen. Rand Paul (R-KY) dip his toes in the 2016 waters, too, as he 1) mounted a highly publicized filibuster against CIA pick John Brennan (who nevertheless was confirmed yesterday) and 2) told Politico he was "seriously" considering a presidential bid. And then after Washington's inability to avert the so-called sequester budget cuts, we saw President Obama launch a charm offensive, taking 12 GOP senators out to dinner and inviting House Budget Committee Chairman (and failed VP nominee) Paul Ryan to lunch at the White House. It remains to be seen if this recalibration will pay dividends for Obama. But if a Grand Bargain on the budget -- or close to it -- occurs later this year, we'll look back on this week as being pretty consequential.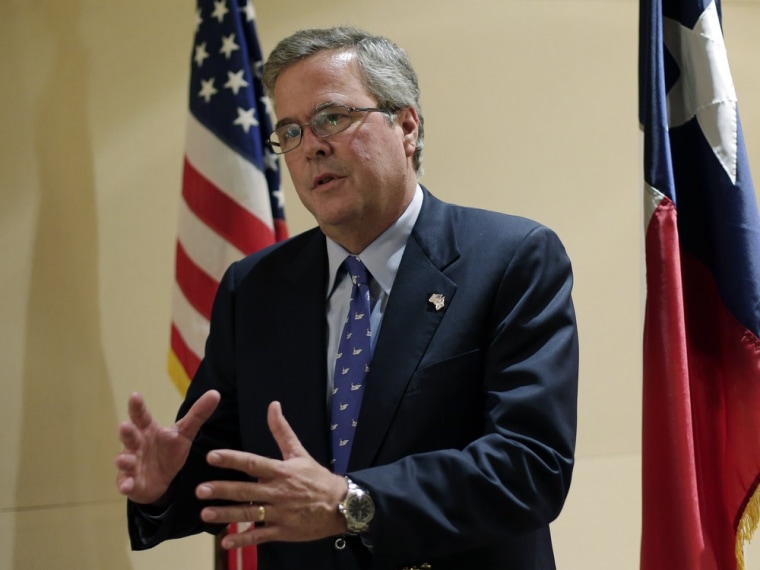 *** Dipping toes into the 2016 waters: In addition to Jeb Bush and Rand Paul dipping their toes into the presidential waters, it's worth pointing out the different ways all the potential 2016ers have done so far in the first three months of 2013. Last month, Florida Sen. Marco Rubio delivered the high-profile GOP response to President Obama's State of the Union and has signed on to a bipartisan framework for immigration reform (that does include a pathway to citizenship). Meanwhile, New Jersey Gov. Chris Christie has blasted House Republicans for failing (temporarily) to provide Hurricane Sandy relief, criticized Obama and Washington for not reaching a deal on the so-called sequester, and decided to expand Medicaid in his state under the federal health-care law (which helped him get uninvited to next week's CPAC). And back in January, Louisiana Gov. Bobby Jindal argued that Republicans should focus less on Washington's budget battles.
*** Biden and a Tea Party group gets into the act, too: On the Democratic side, Vice President Joe Biden also appears to be testing the waters. This week, he was pitching himself to a different constituency nearly every day, it seemed -- Selma on Sunday, at a hunting club on Monday, AIPAC on Monday, and women on Thursday with the signing of the Violence Against Women Act into law. And outside groups are already getting into the 2016 act: A Tea Party group, Patriot Super PAC, is up with a small TV ad buy in Iowa (just $4,300) criticizing Virginia Gov. Bob McDonnell for raising taxes as part of his passed transportation plan, per Buzzfeed. Yes, it's early. Yes, things are fluid. And, yes, a lot right now is simply speculation. But like it or not, the 2016 early jockeying has already begun.
*** Your Friday 2016 round-up: By the way, here's a round-up of all the other 2016 activity this week: Hillary Clinton topped all the potential 2016 Republicans in a new national Quinnipiac poll. (And someone made ANOTHER Super PAC supporting her. It's the third.)... Chris Christie, who's still trying to legalize sports gambling in his state and would take it to the Supreme Court if he has to just as March Madness approaches, faired best among Republicans in the poll…  It wasn't an easy week for Jindal with his signature "education overhaul" struck down by the state Supreme Court Monday. And he was sparring with his state treasurer, a Republican, over his budget… Gov. Martin O'Malley proposed raising the gas tax in Maryland… And Marco Rubio joined the Rand Paul filibuster, channeling rapper Wiz Khalifa (whom he called a "modern-day poet"), Jay-Z, and "The Godfather."
*** Last month's big jobs numbers: Per the AP, "U.S. employers ramped up hiring in February, adding 236,000 jobs and pushing the unemployment rate down to 7.7 percent from 7.9 percent in January. Stronger hiring shows businesses are confident about the economy, despite higher taxes and government spending cuts." That 7.7% unemployment rate is the lowest it's been in four years.
*** Bill Clinton calls to overturn DOMA, which he signed into law: This Washington Post op-ed by Bill Clinton -- calling to overturn the Defense of Marriage Act, which he signed into law -- is certainly news. It's not every day that a former president writes an op-ed admitting to a mistake. "As the president who signed the act into law, I have come to believe that DOMA is contrary to those principles and, in fact, incompatible with our Constitution," he writes. "When I signed the bill, I included a statement with the admonition that 'enactment of this legislation should not, despite the fierce and at times divisive rhetoric surrounding it, be understood to provide an excuse for discrimination.' Reading those words today, I know now that, even worse than providing an excuse for discrimination, the law is itself discriminatory. It should be overturned."
*** Levin retires, creating another open-seat opportunity for GOP: As NBC's Mike O'Brien reported yesterday, Sen. Carl Levin (D-MI), who chairs the Senate Armed Services Committee, announced he won't seek another term in 2014. Like Tom Harkin's earlier retirement in Iowa, this gives Republicans an opportunity to capture this seat next year. Democrats should still be favored to win this contest -- Republicans haven't won a Senate race in Michigan since 1994 -- but they do have to play defense now, and it is a midterm year. As for potential successors, the name we're hearing on the Democratic side is Rep. Gary Peters (D-MI), but you can bet that former Gov. Jennifer Granholm will think about running. On the GOP side, there's Rep. Mike Rogers, chairman of the House intelligence committee; Bill Schuette, the state attorney general and former three-term 1980s U.S. congressmant; Brian Calley, the 35-year-old lieutenant governor; Secretary of State Ruth Johnson; and Dave Brandon, the University of Michigan's athletic director.
*** 2014 retirement watch: Given the Levin news, here's our retirement watch for 2014: The Democrats -- so far -- have to defend five open seats (West Virginia's Jay Rockefeller, Massachusetts' John Kerry, Iowa's Tom Harkin, New Jersey's Frank Lautenberg, and Michigan's Carl Levin), versus two for Republicans (Nebraska's Johanns and Georgia's Saxby Chambliss).
Click here to sign up for First Read emails.
Text FIRST to 622639, to sign up for First Read alerts to your mobile phone.
Check us out on Facebook and also on Twitter. Follow us @chucktodd, @mmurraypolitics, @DomenicoNBC, @brookebrower