Decision Day on Obama's health-care law… Both Obama and Romney are in DC today… New NBC-Marist polls: Michigan: Obama 47%, Romney 43%; North Carolina: Obama 46%, Romney 44%; New Hampshire: Obama 45%, Romney 45%... Who is doing a better job of defining Bain -- Romney or his opponents?... And speaking of, a new Priorities USA ad hits Romney on the topic.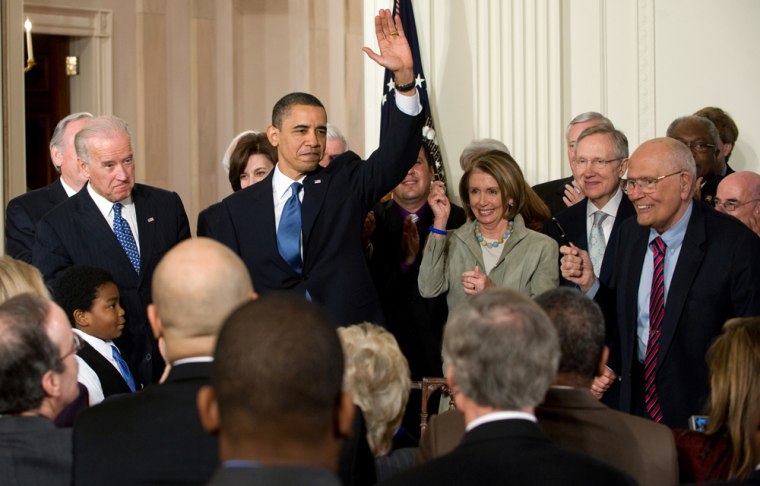 *** Decision Day: "This is a big f-ing deal." That's what Vice President said about the health-care legislation that President Obama was about to sign into law in March of 2010. But the same could be said -- more than two years later -- about today's upcoming U.S. Supreme Court decision on that very same law. At stake is Obama's top domestic policy achievement, something that Democrats have been pursuing since the Truman days and something that the party paid a high price for in the 2010 midterms. Republicans also have something at stake here: Despite all their resistance, the Tea Party rallies, and the court challenges, is it possible that they come up empty-handed? And, of course, today's decision will have repercussions in the 2012 presidential contest. The decision comes after 10:00 am ET, so fasten your seatbelts…
*** Obama's and Romney's whereabouts: As for the two principal actors in the presidential race, both will be in DC. We can report that if the U.S. Supreme Court finds the health-care law constitutional, Obama will comment from the White House fairly soon after the decision. But if it's unconstitutional -- or if the ruling is a mixed bag -- reaction from Obama could come later in the day. Meanwhile, we're also expecting that Romney will make his comment in the nation's capital, too.
*** A reminder: The ruling might not come at 10:00 am sharp: NBC's Pete Williams issues this guidance on the Supreme Court's health-care ruling: The decision might not be right at 10:00 am ET. The court, Williams says, also has two other decisions to issue today -- a challenge to a recently passed federal law that makes it a crime to lie about receiving a military honor and a case involving who can sue over certain real estate transactions. The justices announce their decisions in reverse order of seniority, starting with the most junior and moving up to the most senior. So Williams says it's possible we could get the health care decision right at 10:00 am ET, but it's also possible that we'll have to wait for the court to hand down the other two first.
*** A tight race per three new battleground state polls: In advance of the Supreme Court decision -- and also in advance today's contempt of Congress vote on Attorney General Eric Holder -- we have some new polling data to chew on. According to a new round of NBC-Marist polls, Obama and Romney are running almost neck-and-neck in three swing states whose place in the battleground is in some dispute between the two campaigns. Our polls find Obama holding a slight advantage in Michigan and North Carolina and with the two candidates tied in New Hampshire. In Michigan, Obama is ahead by four percentage points among registered voters, including those undecided yet leaning toward a candidate, 47%-43%. (The closeness here could be reflective of the fact the Obama campaign hasn't spent any money in this state while outside GOP groups have.)  In North Carolina, the president gets 46% to Romney's 44%, which is within the survey's margin of error. And in New Hampshire, the two men are tied at 45% each.
*** But is Obama stronger in those states than the head-to-heads suggest? When you look at the other data in the polls, you see that Obama might be in a stronger position than those head-to-head numbers suggest in two of the states. In Michigan, Obama's approval is 48%-42% and his fav/unfav is 51%-41%, while Romney's fav/unfav in his native state is just 37%-43%. In New Hampshire, the president's approval is 47%-45% and his fav/unfav is 50%-44%, versus Romney's 45%-45% fav/unfav. In North Carolina, it's a jump ball no matter how you look at it. Obama's approval is 47%-47% and his fav/unfav is 48%-45%, while Romney's fav/unfav is 45%-45%. And we'll say this about North Carolina, which Obama won by just 14,000 votes in 2008: All the polling we've seen in the Tar Heel State suggests he has a high floor. We're not sure if he can get to 50% there, but he's going to be in high 40s.
*** November Bain: Yesterday, the Romney campaign met with Washington Post editors demanding a retraction from its story last week noting that Bain Capital, under Romney's leadership, invested in companies that outsourced jobs to China and India. The Washington Post isn't retracting the story. (The Romney folks have released the PowerPoint they had put together for the Post to the public.) But here's a question to ponder in all of this: Who has done a better job of defining Bain so far -- Romney or his opponents? Indeed, earlier this year, it was Newt Gingrich who was defining Bain. And now it's the Obama campaign and the news media. Romney does have a good story to tell here (Staples, Sports Authority), but the campaign has yet to air a single paid TV ad in this general election touting that story. If Romney ends up losing this presidential election, we might all look back and see Romney's inability to define his work at Bain -- which he's touting as his chief credential in this presidential contest -- as his undoing. Oh, and there's a reason why Romney is challenging the Post: being portrayed as an outsourcer-in-chief is potentially MUCH MORE damaging than saying "the public sector is doing fine," especially in those Midwest swing states. 
*** Another hit on Bain: And speaking of defining Bain, the pro-Obama Super PAC Priorities USA Action is up with another TV ad on the topic. "Romney bought companies, drowned them in debt," the narrator states in the ad. "Many went bankrupt; thousands of workers lost jobs, benefits and pensions. But for every company he drove into the ground, Romney averaged a $92 million dollar profit. Now he says his business experience would make him a good President?" The ad -- which will air in Colorado, Florida, Ohio, Pennsylvania, and Virginia -- concludes: "If Romney wins, the middle class loses."
Countdown to GOP convention: 60 days
Countdown to Dem convention: 67 days
Countdown to Election Day: 131 days
Click here to sign up for First Read emails.
Text FIRST to 622639, to sign up for First Read alerts to your mobile phone.
Check us out on Facebook and also on Twitter. Follow us @chucktodd, @mmurraypolitics, @DomenicoNBC, @brookebrower