Defund Obamacare effort has gone nowhere… Blame Canada! Cruz says he will renounce his Canadian citizenship… U.S aid to Egypt: A difference between "suspension" and "under review"?... If you want a friend in Washington, buy a dog (or two). So meet Sunny!... Jerry Brown's renaissance in California… And Maine governor says Obama "hates white people."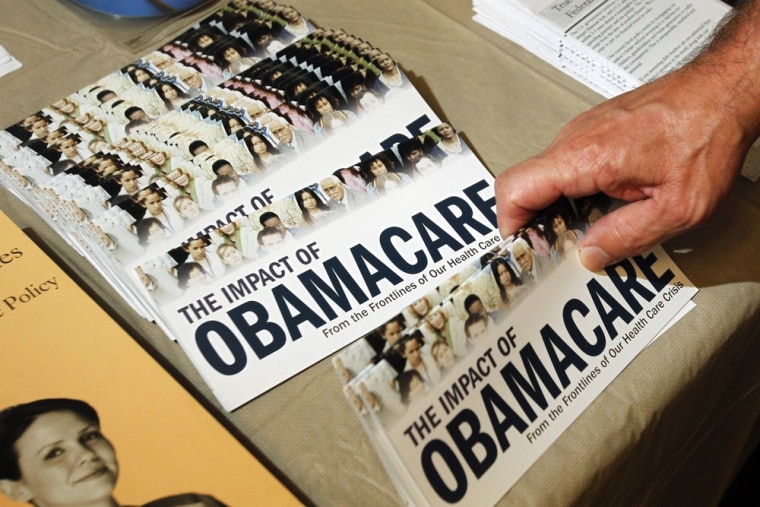 *** The Defund Obamacare effort has gone nowhere: As Sen. Ted Cruz (R-Texas) and Heritage President Jim DeMint hold another of their August town-hall meetings today in Dallas, it's worth noting that their call to defund President Obama's health-care law has gone … nowhere. GOP leaders (like Mitch McConnell, John Boehner, and Eric Cantor) aren't on board. Neither are some stalwart conservative senators (like Rand Paul and Ron Johnson). "From the leaders of the GOP establishment to usual tea-party allies, a growing number of Republicans are splitting with movement conservatives who are pushing to shut down the federal government if funding is not cut off for President Obama's health care law at the end of September," National Journal wrote over the weekend. There are two reasons for this. One, the votes simply aren't there, especially with Democrats in control of the Senate and White House. Two, Republicans see a government shutdown over Obamacare as Democrats' best opportunity to upend the 2014 apple cart that currently favors the GOP. Consequently, GOP leaders have turned to another idea -- using the sequester and debt limit to delay the health-care law's individual mandate (though it's doubtful that the votes are there, too). Still, this "defund Obamacare" movement could have some political repercussions. Does McConnell get penalized in his primary race over this? And is it something that Cruz can campaign on if he prepares for a White House run?
*** Jumping off the Tea Party tiger? Is the fact that the "defund Obamacare" movement has gone nowhere a sign that the GOP establishment fears the Tea Party less? Or does it see this as a classic example of deciding that it's better to fight the Tea Party tiger than jump off a cliff by shutting down the government?
*** Blame Canada!(Cue the South Park Boys!) Speaking of Cruz and a possible 2016 bid, the Texas senator released a statement last night saying that he would renounce his dual Canadian citizenship, per NBC's Mike O'Brien. Earlier in the day, the Dallas Morning News reported that, because of his birth in Canada, he was automatically a Canadian citizen unless he renounces that. "Because I was a U.S. citizen at birth, because I left Calgary when I was 4 and have lived my entire life since then in the U.S., and because I have never taken  affirmative steps to claim Canadian citizenship, I assumed that was the end of the matter," Cruz said. "Now the Dallas Morning News says that I may technically have dual citizenship. Assuming that is true, then sure, I will renounce any Canadian citizenship. Nothing against Canada, but I'm an American by birth and as a U.S. Senator, I believe I should be only an American." While this is an odd sidebar story in the rise of Ted Cruz, consider it's just the latest example of Cruz doing everything he can to make himself into a viable 2016 contender. Cruz has already been to Iowa twice, is headed to New Hampshire later this week and clearly has decided that being the face of defunding the health care law is good politics for him. But is there room for Cruz if Rubio and Paul both run?
*** A difference between "suspension" and "under review"? Turning from domestic politics to foreign affairs, the Daily Beast's Josh Rogin reports that the Obama administration has decided "to temporarily suspend the disbursement of most direct military aid, the delivery of weapons to the Egyptian military, and some forms of economic aid to the Egyptian government while it conducts a broad review of the relationship… The office of Sen. Patrick Leahy (D-VT), the head of the Appropriations State and Foreign Operations Subcommittee, told The Daily Beast on Monday that military aid to Egypt has been temporarily cut off." However, the Obama administration has pushed back on this, saying: "No decisions have been made at this point to suspend additional assistance." What's going on here? It's likely a semantic difference between a full-blown suspension (which the administration is denying) and something that's under review (why perhaps the money to Egypt isn't headed out the door right now). Remember, the White House wants maximum flexibility in dealing with Egypt, and this is potentially a way to keep that. But this isn't a good development for the White House: "Turkish Prime Minister Recep Tayyip Erdogan accused Israel of orchestrating the Egyptian military's overthrow of deposed Islamist president Mohamed Morsi." Erdogan has his own domestic political problems, and he's prone to hyperbole as a political deflection mechanism. But this is only is going to add to the tumult in the Middle East
*** If you want a friend in Washington, buy a dog (or two): If you're a president that's had a rough summer -- falling poll numbers, NSA debate, the unrest in Egypt -- there's a simple distraction you can make: introduce the country to a new dog. In fact, that's what the White House did last night in announcing the Obamas have a new dog, Sunny.
*** California Dreamin': One of most overlooked and intriguing stories over the past year has been California's renaissance -- as well as Gov. Jerry Brown's (D). As the New York Times recently wrote, "When Jerry Brown became governor of California again, three years ago, this state was on a steep decline, crushed by budget deficits, deep spending cuts, governmental paralysis, high unemployment and a collapsing housing market." Now? "The state's budget problems are largely resolved, at least for the short term. Mr. Brown is the dominant figure in Sacramento, strengthened by overwhelming Democratic control of the Legislature and the decline of the Republican Party. He has pushed through major initiatives on education financing and prison reorganization. Even Republicans say his re-election next year seems considerably more than likely." And while governors are getting 2016 attention -- Chris Christie, Scott Walker, Martin O'Malley (if Hillary doesn't run), Andrew Cuomo (ditto) -- don't be surprised if Brown decides to make another presidential bid, especially if Hillary runs. Remember, the Clintons have quite the grudge match with Jerry Brown (see 1992). There is no love lost between either side. And consider this: Jerry Brown's run for president three times; it's likely not out of his system. And this time, he may have more of a record to run on than he did in '76, '80 or '92.
*** Maine governor says Obama "hates white people": Brown, of course, is one member of a class of governors who were elected in 2010 and who are up for re-election next year. Yet some other members of that class aren't faring as well as he is -- including Pennsylvania Gov. Tom Corbett (R), Florida Gov. Rick Scott (R), Illinois Gov. Pat Quinn (D), and Maine Gov. Paul LePage (R). And LePage has made some more controversial news that probably won't help his re-election bid in 2014. The Portland Press: "Gov. Paul LePage told a group of Republicans last week that President Obama 'hates white people,' according to two state lawmakers who say they heard the remark directly. The governor made the comment during a Maine Republican Party fundraiser on Aug. 12 at the home of John and Linda Fortier in Belgrade... The lawmakers, both Republicans, confirmed the comment when asked by a Portland Press Herald reporter but asked that their names be withheld for fear of political retribution... 'Yeah, he said it,' said one of the lawmakers. 'It was one little thing from a speech, but I think most people there thought it was totally inappropriate.'"
Click here to sign up for First Read emails.
Text FIRST to 622639, to sign up for First Read alerts to your mobile phone.
Check us out on Facebook and also on Twitter. Follow us @chucktodd, @mmurraypolitics, @DomenicoNBC, @brookebrower