NBC/WSJ poll: Economic pessimism is back, and that ties directly into Romney's message… But these are still re-electable numbers for Obama (see Bush in 2004)… Poll also shows doubts about Romney, which Team Obama is trying to exploit… The Dems' empathy edge… Introducing our NBC/WSJ/Telemundo oversample of Latino respondents, which comes on the very day Romney speaks at a Latino Coalition Economic Summit in DC… Q-Poll: Romney's up in FL… Rattner blasts Romney… And about those Arkansas and Kentucky primary results (is anyone really surprised by this?).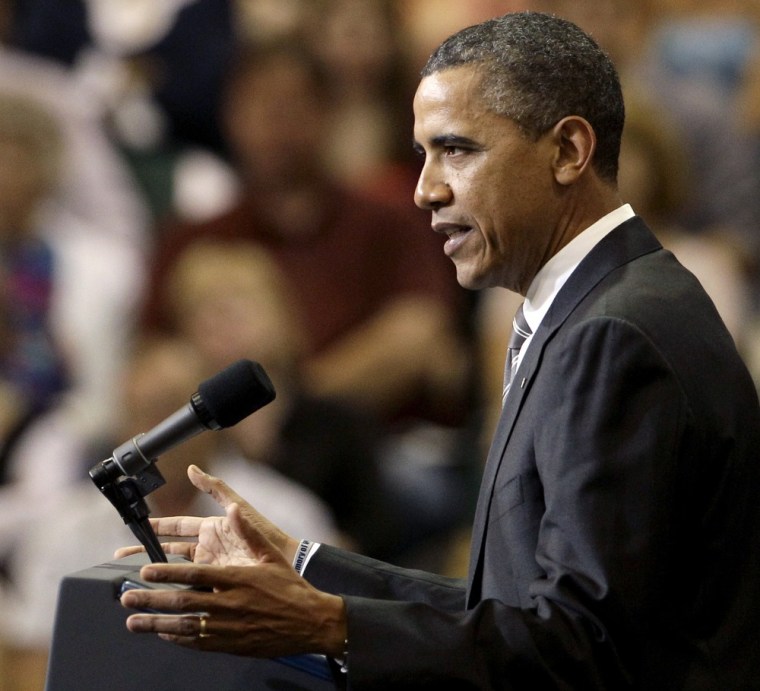 *** Economic pessimism is back: Our new NBC/WSJ poll provides a pretty clear understanding of WHY the two campaigns are pushing the messages we're seeing on the campaign trail and in their TV ads. For the Romney camp, it wants to channel the public's economic anxiety and use that as a political weapon against President Obama. And our poll shows that economic pessimism -- after the April jobs report, new worries out of Europe, and stock losses -- is back. Only 33% of respondents believe the economy will get better in the next year, down five points from April and seven points from March. In addition, approval of Obama's economic handling stands at 43%, down two points from last month, his worst showing on this question since December. And just a third of respondents (33%) think the nation is headed in the right direction, which is consistent with the numbers from our previous NBC/WSJ polls this year. So this begs the question…
*** Are these re-electable numbers for Obama? The answer to that question is yes. Just look at our May 2004 NBC/WSJ poll. Back then, George W. Bush's economic handling was 41% (Obama's is 43%); 33% said the nation is headed in the right direction (identical to now); Bush's overall approval rating was 47% (Obama's in our new poll is 48%); and Bush was leading John Kerry in the presidential ballot by three points. 48%-45% (Obama is leading Romney in our poll by four, 47%-43%). So despite these numbers, Obama can win re-election, but it's no cakewalk. "Obama's chances for re-election … are no better than 50-50," says NBC/WSJ co-pollster Peter Hart (D). "It tells you this is a dead-even race."
*** Romney the successful businessman vs. Romney the vulture CEO of Bain Capital: While the Romney camp wants to make the economic pessimism stick to the incumbent president, Team Obama wants to raise doubts about Romney. Although just 32% say they are either "extremely" our "quite" confident that Obama has the right policies and goals for the country, only 19% say the same about Romney. What's more, Romney's fav/unfav in the survey is STILL upside down at 34%/38%, versus Obama's positive 49%/41% score. And Bain Capital's fav/unfav is 9%/19% -- which means it's negative to the people who've heard about it. But the poll also shows that Romney's business background is a plus. Nearly 60% say that his background could be a major or minor advantage for improving the economy, and another six in 10 say it could help to reduce the federal budget deficit. Our pollsters tell us candidates with business backgrounds have an initial "halo effect" with voters. This all explains why the Obama camp is trying to lessen Romney's business "halo effect" through its campaign against Bain.
*** The Dems' empathy edge: There's one more message that Team Obama is trying to trumpet (and it goes to the heart of what Obama said about Romney and Bain on Monday) -- empathy. In our poll, Republicans have a clear advantage when it comes to which party is more sensitive and attuned to religious conservatives (51-point edge), men and women in the military (an eight-point advantage), and small business owners (six points). But that's it. Democrats have the advantage everywhere else: retirees (two points), you and your family (seven points), stay-at-home moms (eight points), the middle class (13 points), working women (26 points), young adults under 30 (29 points), Hispanics/Latinos (35 points), and gays and lesbians (58 points). The Obama campaign wants voters to believe Romney doesn't have share their VALUES, and that disqualifies him for the office. The Romney campaign, meanwhile, believes their road to the White House is making the case the Obama doesn't have the SKILLS to get the economy moving again and that disqualifies him for a second term.
*** Introducing our new NBC/WSJ/Telemundo oversample: Later today, we will debut our brand-new NBC/WSJ/Telemundo oversample of Hispanic or Spanish-speaking respondents. We conducted a statistically significant 300 interviews here in our NBC/WSJ poll, and we'll unveil those numbers today -- on the very day Romney addresses a Latino Coalition Economic Summit in DC at noon ET. How are Latinos viewing Obama and Romney? What about the economy and the nation's direction? We'll have answers to those questions.
*** Romney leads Obama in Florida, according to Q-Poll: Speaking of polls, a new Quinnipiac survey shows Romney leading Obama in the battleground of Florida among registered voters, 47%-41%. Tomorrow, we'll have a slew of new NBC/Marist surveys, so stay tuned.
*** Rattner blasts Romney: One of the downsides to Republicans and the Romney campaign citing the Cory Bookers, Steve Rattners, etc. when it comes to Bain Capital is this: These folks are supporting Obama, not Romney. And today in a New York Times op-ed, Rattner clarifies his position on Bain – and unloads on Romney in the process. "On Monday, Mr. Obama struck the right balance, emphasizing that he wasn't attacking private equity but was questioning Mitt Romney's Bain Capital credentials to be the job creator in chief. That's fair, particularly because Mr. Romney himself has been foolishly reweaving history to claim, as recently as last week, that he helped create 100,000 jobs during his time at Bain. In fact, Bain Capital — like other private equity firms — was founded and managed for profit: ideally, huge amounts of gain earned legally and legitimately. Any job creation was a welcome but secondary byproduct." Rattner concludes: "Adding jobs was never Mitt Romney's private sector agenda, and it's appropriate to question his ability to do so." 
*** About Arkansas and Kentucky: Republicans last night were doing victory dances regarding the results coming out of Arkansas and Kentucky, which showed Obama getting less than 60% of the vote in those Democratic primaries. This is a bad headline for Obama -- just like the story about some West Virginia Democrats voting for a convicted felon over Obama was. But let's also not pretend that what took place in Arkansas and Kentucky (or West Virginia before that) was surprising to anyone who's been covering politics for more than a couple of years. In these southern/Appalachian states, there are A LOT of folks who are still registered Democrats but who consistently vote Republican in presidential elections. Ever wondered how Obama would do if 30%-40% of Democratic primary voters consisted of conservatives and people who will vote Republican in a presidential contest? We found out last night. The point is Arkansas, Kentucky, and West Virginia are among the last states of the culturally southern states that haven't actually bothered to change their party registration; it's as simple as that. 
Countdown to WI recall: 14 days
Countdown to GOP convention: 97 days
Countdown to Dem convention: 104 days
Countdown to Election Day: 168 days
Click here to sign up for First Read emails.
Text FIRST to 622639, to sign up for First Read alerts to your mobile phone.
Check us out on Facebook and also on Twitter. Follow us @chucktodd, @mmurraypolitics, @DomenicoNBC, @brookebrower