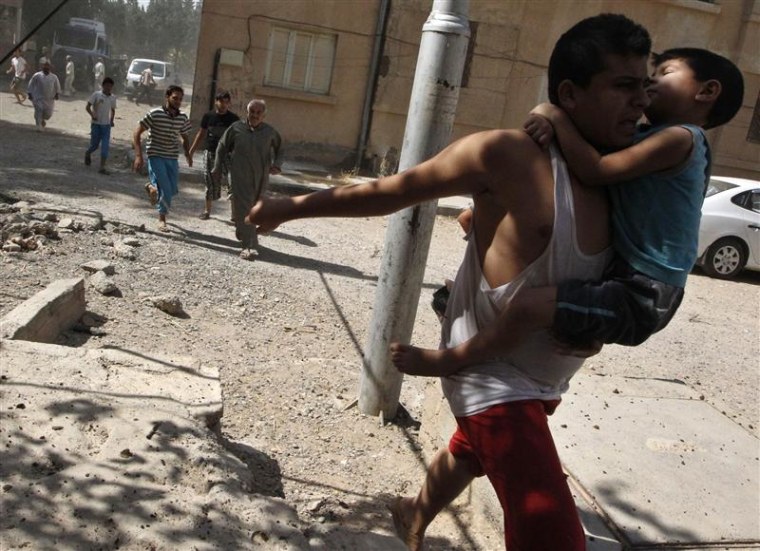 Is this the end of the Arab Spring, and have the autocrats won? … But President Obama has no good options when it comes to the Middle East. … Why's Terry McAuliffe winning in Virginia? It's an old story – follow the money, and we did. By the way, check out all the Clinton alumni giving to McAuliffe, including Bill Clinton's $100,000 check … President Obama needs to fix the NSA storyline, and that's what the administration is trying to do… Obama's bus tour kicks off. He'll highlight college costs. … Filner's resignation may come as soon as tomorrow … And Scott Brown won't run for governor of Massachusetts in 2014.
*** End of the Arab Spring? The likely chemical attack in Syria, seen as the worst in the world in possibly two decades, and the coming release of Egypt's Hosni Mubarak from house arrest this morning, begs the question of whether the Arab Spring is over – and whether the autocrats and dictators have won. Syria and Egypt were two of the symbols of supposed progress in the Arab Spring. President Obama in May 2011 was SO hopeful about the Arab Spring, he talked about changing America's Middle East role. From that speech: "The question before us is what role America will play as this story unfolds.  For decades, the United States has pursued a set of core interests in the region:  countering terrorism and stopping the spread of nuclear weapons; securing the free flow of commerce and safe-guarding the security of the region; standing up for Israel's security and pursuing Arab-Israeli peace. We will continue to do these things. … Yet we must acknowledge that a strategy based solely upon the narrow pursuit of these interests will not fill an empty stomach or allow someone to speak their mind.  Moreover, failure to speak to the broader aspirations of ordinary people will only feed the suspicion that has festered for years that the United States pursues our interests at their expense." It's why just after that speech as the Damascus protests were escalating and the Syrian civil war began, the president quickly called for Assad to go. That was two years ago. But since Assad crossed the president's "red line," the U.S. has showed a "willingness to stand aside," National Journal's Michael Hirsch noted yesterday. And now, one has to ask, are the dictators and autocrats thriving again in the Middle East? And President Obama is again in a Middle East quandary. He ran as someone who'd be more of a George Bush 41 foreign-policy president –stability first. But in the Arab Spring, the president got caught up in the aspirational. And democracy is messy, as George Bush 43 found with the democratic elections among Palestinians that put Hamas in power.
*** No good options: Complicating matters is that there are no good options in either country, and there is no consensus on what Obama should do. The New York Times, for example, reports this morning that Gen. Martin Dempsey, the chairman of the joint chiefs of staff, "has told Congress that the Pentagon could forcefully intervene in Syria to tip the balance in the civil war, but that there were no moderate rebel groups now ready to fill any power vacuum there." What does a president do? The Middle East continues to be bad choices between standing up for ideals versus a form of stability that might not always live up to democratic ideals. And the U.S.'s No. 1 ally in the Middle East is Israel, and, for now, they are in the stability first camp. They are quietly relieved the military is in charge of Egypt and when it comes to Assad, there are plenty inside that country that are of the mindset, better to have the devil you know than the devil you don't.
*** Democratic ad spending, McDonnell woes fuel McAuliffe poll lead: So what's the explanation for why McAuliffe, who has been pummeled in the press of late, is still leading Cuccinelli? Old fashioned reason: follow the money. McAuliffe and allies outspent Cuccinelli and his allies on TV ads by at least $1.5 million. No one on either side believes McAuliffe is up as much as he is in the Q poll, but everyone agrees McAuliffe IS narrowly ahead by a couple of points. And that has to be a disconcerting for Cuccinelli. The summer has gone about as well as it could for him – of things that are within his control, anyway. Lt. Gov. candidate E.W. Jackson has been kept under wraps; Cuccinelli has stayed disciplined with his message; his campaign has been relentless on McAuliffe's business record, and McAuliffe has been pulverized in free press. The one place Democrats have had an advantage is on air, where they have returned the favor, dinging Cuccinelli for his record. One thing Cuccinelli hasn't been able to control that both sides believe has had at least some impact are the circumstances surrounding Gov. Bob McDonnell, who has taken a hit in his ratings in a poll out this morning. Here are some other findings:
-- While pro-McAuliffe groups have dominated on air, Republicans have already picked up the pace, evening things out through the end of August and into September. The RGA is carrying the bulk of the load for Ken Cuccinelli. It is the top donor in the race, contributing $4.8 million so far. And expect more. Just in the last two weeks, the RGA has poured in $2 million earmarked specifically for ad spending.
-- McAuliffe has transferred more than $3 million to the Democratic Party of Virginia. In doing this, a candidate could avoid signing off with his name on an ad that's attacking another candidate.
-- McAuliffe has doubled Cuccinelli in fundraising ($12.7 million to $7.7 million) and has more cash on hand ($6 million to $2.7 million), allowing him to spend more over the summer.
-- There's a long list of Clinton alumni who have given to McAuliffe including the former president himself who gave McAuliffe $100,000. Check out this group:
$250,000 Robert L Johnson Monroe, CT
$250,000 Law Office of Peter G Angelos Baltimore, MD
$250,000 Haim Saban Beverly Hills, CA
$107,161 Douglas Band New York, NY
$100,000 Ron W Burkle West Hollywood, CA
$100,000 William Jefferson Clinton Chappaqua, NY
$100,000 Fred Eychaner Chicago, IL
$80,117 Marc Lasry New York, NY
Other notable:
$56,733 Morgan & Morgan Orlando, FL (This is Charlie Crist's law firm)
-- There are also some notable outside contributors who have donated large amounts to 527s to support one candidate or the other. For Cuccinelli, New York hedge fund manager Robert Mercer gave $500,000 to a group supporting Cuccinelli. That's the largest single contribution since at least 1997 when the Virginia Public Access Project began tracking money in Virginia politics. For McAuliffe, California environmentalist Tom Steyer spent $400,000 on ads through his group NextGen Climate Action, hitting Cuccinelli on his investigation into a University of Virginia climate scientist.
-- Labor groups have given McAuliffe $1.2 million.
-- Consol Energy and the Koch Brothers have given to Cuccinelli.
-- For all the money in this race, it hasn't yet approached the amount spent in the 2009 race, which was the most expensive governor's race in Virginia history. So far, $14.6 million has been spent, but that's just reporting through June. In 2009, $53.4 million was spent on the whole race. Stay tuned.
*** Obama needs to fix NSA oversight storyline:The New York Times: "A federal judge sharply rebuked the National Security Agency in 2011 for repeatedly misleading the court that oversees its surveillance on domestic soil, including a program that is collecting tens of thousands of domestic e-mails and other Internet communications of Americans each year, according to a secret ruling made public on Wednesday." This feels like a controlled release of trying to prove that the FISA court is truly independent, that the NSA has lost some battles, and oversight is better than has been painted. But, if you step back, these NSA stories have gone at President Obama's core credibility with that group of people who like him and trust him even if they don't agree with him. Fixing the NSA oversight storyline is necessary if this president is going to have some improvement in his job approval numbers.
*** Giving it the old college try: President Obama kicks off a two-day bus tour Thursday that will take him through hardscrabble areas -- from Upstate New York to Scranton, Pa. The first stop is this morning at 11:15 at the University of Buffalo and then 6:30 at a high school in Syracuse. The Obama administration is trying to highlight an old Obama idea of the need for a college scorecard on how much the cost of colleges differ, believing that can bring down costs. White House spokesman Josh Earnest hinted Tuesday that the president would like to see prices of colleges and government assistance to students as something that will be part of a budget showdown when Congress gets back in a couple weeks. Some kind of a deal needs to be reached on the budget and debt ceiling by the end of September to avoid a government shutdown. But even before President Obama's trip, few believe his push will make any difference to the gridlock in Washington. Here was Tuesday's Buffalo News headline ahead of the president's trip: "Obama's road trip unlikely to change D.C. stalemate."
*** San Diego's local nightmare may be over: City officials in San Diego said Wednesday night that a deal had been reached in a sexual-harassment suit against embattled Democratic Mayor and former long-time congressman Bob Filner. Officials didn't disclose the details of the deal and said it would be presented to the city council Friday – and even then details might not be released because it will be in a closed meeting. But anything short of Filner's resignation will surprise a lot of people. San Diego's local nightmare may be over Friday.
*** Scott Brown won't run for governor: Republican Scott Brown announced yesterday that he won't run for governor in 2014, but will still travel the country talking about the need for bipartisanship. But it's an amazing fall. Here was the leading Republican in Massachusetts and a one-time symbol of the Tea Party's broad strength, and someone who would have probably been the strongest GOP gubernatorial candidate, and now, he's out of politics. Although, he's keeping his options open for a run for the Senate in New Hampshire still and even a presidential bid in 2016….
Click here to sign up for First Read emails.
Text FIRST to 622639, to sign up for First Read alerts to your mobile phone.
Check us out on Facebook and also on Twitter. Follow us @chucktodd, @mmurraypolitics, @DomenicoNBC, @brookebrower