By Chuck Todd, Mark Murray, Domenico Montanaro, Brooke Brower, Jessica Taylor and Natalie Cucchiara.
Were new terror threats a "damned if you do, damned if you don't" situation for an administration spooked by Benghazi?.....Obama will indeed head to the G-20 summit in Russia next month, but has cancelled his meeting with Putin over Snowden asylum……what the McCain "bromance" means for Egyptian aid…..McConnell challenger outspending him on air this week…..Cotton launches bid for a Senate promotion….Mike Duggan and Benny Napoleon advance to Detroit mayoral runoff…and Rep. Rodney Alexander (R-LA) blames partisan gridlock for his decision to retire.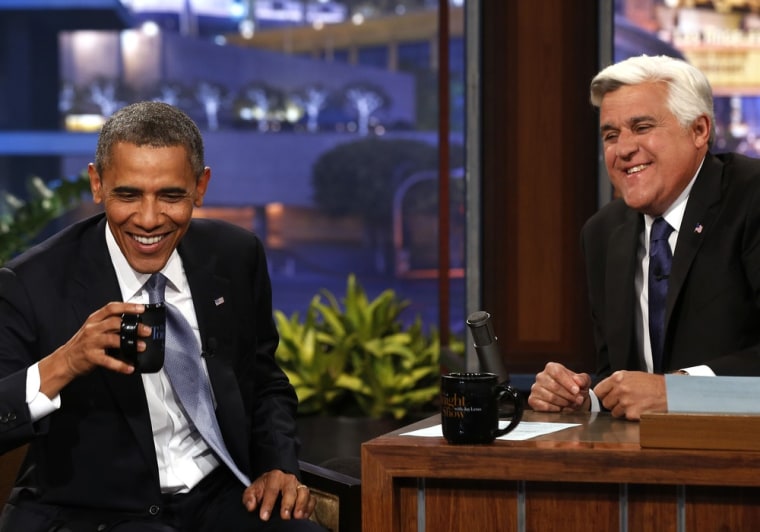 ***There's a Fine, Fine Line.So just how serious was this terror threat? It's a question many are asking. Chatter was high but many intelligence analysts now are wondering if the national security community – spooked by Benghazi perhaps – was a bit quick on raising public concern. Appearing on "The Tonight Show" with Jay Leno, President Obama addressed the threat and seemed to downplay it, ever-so-slightly, encouraging Americans to still "live their lives." But then he added, that the latest intelligence was a "reminder that for all the progress we've made, getting [Osama] bin Laden, putting al Qaeda in between Afghanistan and Pakistan back on its heels, that this radical, you know, violent extremism is still out there, and we've got to stay on top of it." His public remarks still came in an atypically presidential setting, but they were indicative of the fine line the administration is still having to walk when it comes to terrorism threats. The president was never fully put out there to elaborate to the public on the issue, and with the shadow of Benghazi forever in their memory, they were forced to both be overly cautious. It's a classic "damned if you do, damned if you don't," situation, and while they may have overdone the caution they put out there, and the threat now doesn't seem as prominent as some had once believed, they know they now can't be too cautious, even as the drastic moves by the U.S. to evacuate embassy personnel seems not just like overkill, but nowhere near the level of seriousness once thought.  And frankly, what some analysts are telling NBC News is that the threat in Yemen is, sadly, constant; on any given day, there's real concern of an attack on a Western outpost in that country. Speaking of Benghazi, a little short of the one year anniversary of those attacks, the administration announced that a Libyan man, Ahmed Abu Khattalah, was being charged with a role in the attack last year on the US outpost in Benghazi. Days after the Benghazi attack, the president vowed to bring the perpetrators to justice. These one year lookbacks on Benghazi are not going to be kind to the administration if that hasn't happened.
***To Russia, with a little love. A few other news nuggets from the president's Leno appearance -- he will indeed attend the G-20 summit next month in Russia- but has cancelled his meeting with president Vladimir Putin after the U.S. relationship with Russia is on thin ice after the country offered temporary asylum to NSA leaker Edward Snowden. "There are times when they slip back into Cold War thinking and Cold War mentality," Obama said of the Russian government. "What I continually say to them and to President Putin, that's the past."  Of course, what appears to be off the table is a separate stop in Russia, solely for a 1-on-1 meeting with Putin in Moscow. The president also talked Snowden and NSA surveillance, claiming that he himself may be skeptical of the surveillance program that motivated Edward Snowden to leak what he did, but the president insisted that it wasn't a "domestic spying program" and that the information that's been obtained is still "useful."
***The McCain Bromance: Pres. Obama also had kind words for his former foe, John McCain when Jay Leno asked him about this new "bromance." Obama: "John McCain and I have a number of philosophical differences, but he is a person of integrity.  He is willing to say things regardless of the politics." McCain and Sen. Lindsey Graham (R-SC) are currently in Egypt, essentially on the president's behalf, in an attempt to mediate some sort of resolution between the current ruling apparatus and the Muslim Brotherhood. McCain called the uprising against President Mohamed Morsi a coup, something the administration has stopped short of doing because of the automatic impact it would have on aid. But clearly, McCain and Graham were helping send a message that the administration now seems comfortable sending: if the current Egyptian regime doesn't have a speedy democratic transition that includes the Muslim Brotherhood, then continued aid to the country isn't a guarantee.
***Eye on 2014
KENTUCKY: Mitch McConnell's primary challenger is fighting back with a new ad out today. The GOP minority leader's campaign has called Matt Bevin a "nuisance" and made no mention of him during his Fancy Farm speech, but McConnell has been taking the threat seriously, launching his second ad against the Louisville businessman this week. But with Bevin's own second buy against McConnell, he's even briefly outspending McConnell. According to a Democratic source tracking ad buys, starting today through 8/20, Bevin will be up statewide with a $161,000 buy, after his initial $131,000 buy. The GOP challenger is set to outspend McConnell on air this week, with McConnell so far only reserving just over $22,000 to Bevin's $67,000 through 8/12. To be sure, McConnell and his massive war chest will far outspend both Bevin & Grimes, but it's another sign he can't take his primary opponent for granted. And Bevin could keep putting McConnell in an awkward position over Obamacare funding, further uniting tea party groups against the minority leader. Yesterday, Bevin launched a Facebook petition to push McConnell to side with Lee and Cruz to shutdown the government over implementation funding, and he was one of 15 Senate challengers who also signed the Senate Conservatives Fund pledge not to fund health care implementation.
ARKANSAS: Freshman GOP Rep. Tom Cotton kicked off his campaign against Democratic Sen. Mark Pryor on Tuesday in his hometown of Dardanelle, and the Iraq veteran and Harvard graduate is framing himself as an outsider in his bid for a promotion. Per Politico: "Some say I haven't been in Washington long enough to run for the Senate, but I've been there long enough to know that Washington needs to change." Who does that sound like? President Obama circa 2008. Democrats are eager to hit Cotton (and likely Montana candidate, fellow freshman GOP Rep. Steve Daines) as too eager -- and Pryor's own 60-second ad hits him for "blind ambition" --pointing out that didn't work out so well for one-term Rep. Rick Berg in North Dakota last year. Cotton, who is united warring GOP factions, represents a real threat for Pryor, but this is a seat the GOP must win to get control of the Senate.
NEW JERSEY: Cory Booker continues to look unstoppable ahead of next Tuesday's Senate special primary. A new Quinnipiac poll shows him taking 54% of the vote. Booker's biggest asset? His rivals still have barely laid a finger on the Newark mayor, despite plenty of ammunition out there. Reps. Frank Pallone and Rush Holt are languishing at 17% and 15%, respectively, with Assembly Speaker Sheila Oliver at just 5%. Chuck will talk to Holt, who went negative against Booker on air this week, on how he's hoping his push against surveillance could set him apart in the race, but it seems to be too little too late.
***Will the real Mike Duggan please stand up? Someone didn't tell Mike Duggan that a write-in campaign is rarely successful. In the first round of balloting for the Detroit mayor's race Tuesday night, the former Detroit Medical Center CEO, who was kicked off the ballot over residency issues and decided to wage a write-in bid, didn't just advance to the November top-two runoff-- he appears to have come in first. According to the Detroit News, write-in candidates took 53% of the vote, while Wayne County Sheriff Benny Napoleon was a solid second with 30% in the 16-candidate field. Duggan and Napoleon were long seen as the frontrunners, and Duggan, who would be the city's first white mayor in nearly four decades, had the best organization and most money.  Considering how well he did as a write-in, it's pretty clear, Duggan is now a HEAVY favorite.
***Take this job and shove it. Rep. Rodney Alexander (R-LA) isn't just the latest member to head for the congressional exits, but he's also adding his voice to the list of members fed up with Congress. The onetime Democrat-turned-Republican didn't hide how he felt about the gridlock that's paralyzed Congress.  From his retirement statement: "Rather than producing tangible solutions to better this nation, partisan posturing has created a legislative standstill. Unfortunately, I do not foresee this environment to change anytime soon. I have decided not to seek reelection, so that another may put forth ideas on how to break through the gridlock and bring about positive change for our country."  Alexander's statement bore a striking resemblance to the one Saxby Chambliss put out when he announced his retirement a few months ago. Chambliss: "[T]his is about frustration, both at a lack of leadership from the White House and at the dearth of meaningful action from Congress, especially on issues that are the foundation of our nation's economic health. The debt-ceiling debacle of 2011 and the recent fiscal-cliff vote showed Congress at its worst and, sadly, I don't see the legislative gridlock and partisan posturing improving anytime soon."  Remember, both of these members had fairly easy roads to re-election (barring primaries) and decided to step away anyway.  There's not a brewing wave yet, but it's not a good sign for either party that it's not just voters, but now lawmakers, who aren't afraid to voice their frustration about Washington paralysis.  Notable, though -- Alexander didn't rule out a 2015 run for governor to the New Orleans Times-Picayune, and he wouldn't be the latest member of Congress who finds state government more appealing (and more powerful) than being one of 435 largely powerless legislators.
***Romney, the statesman? Add Mitt Romney to the GOP voices who think a government shutdown over Obamacare funding would be perilous for his party. Speaking at a New Hampshire GOP fundraiser Tuesday night, Romney was far more measured against the conservative wing of this party than in his own failed presidential bid last year: ""Emotion is understandably at play in Washington among some of our fellow Republicans. I badly want Obamacare to go away, and stripping it of funds has appeal. But we need to exercise great care about any talk of shutting down government. What would come next?...."I'm afraid that in the final analysis, Obamacare would get its funding, our party would suffer in the next elections, and the people of the nation would not be happy." The list of high-profile GOPers publicly coming out against the shutdown idea is fairly long now: from Scott Walker to Tom Coburn to Mitt Romney and many in the House. Still, there's already evidence that the folks showing up for some town halls are tea party folks who want to pursue the shutdown strategy.
*** Total Recall, Colorado edition: Is Colorado still moving ever-so-slowly from purple-to-blue or are we about to see the state return to its swing-state roots? We'll get a good idea about that next month when a recall effort targeting some state legislators over gun votes takes place. Two Democratic state legislators – state Senate President John Morse and state Sen. Angela Giron -- will have to fight to keep their seats when they face recall elections Sept. 10th because of their support for stricter gun regulations. We've mostly seen what happens when conservatives are seen as going too far by activists on the left. But in Colorado, it's the opposite with conservatives – with the help of the NRA -- in this traditionally pro-gun state riled up. As The New York Times wrote, "The recall effort is seen nationally as a test of whether politicians, largely Democrats, outside big cities and deep-blue coastal states can survive the political fallout of supporting stricter gun laws."
Click here to sign up for First Read emails. Text FIRST to 622639, to sign up for First Read alerts to your mobile phone. Check us out on Facebook and also on Twitter. Follow us @chucktodd, @mmurraypolitics, @DomenicoNBC, @brookebrower@jessicataylor, and @nmcucchiara.