Full Senate holds its first immigration vote at 2:15 pm ET… Obama makes immigration remarks four hours earlier (just his second official event on the issue, compared with as many as eight on guns)… Looking ahead to the amendment process… Not surprising a majority backs tracking phone records… Another dent in Hillary's State Department armor?... Cook: GOP chances of an upset in MA SEN look unlikely… Primary Day in Virginia… And remembering Doug Bailey.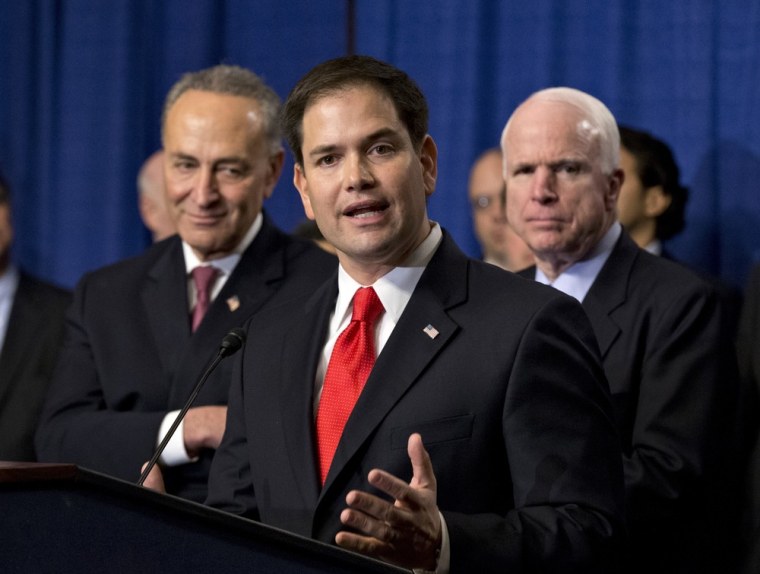 *** Full Senate holds its first immigration vote: At 2:15 pm ET, the full U.S. Senate holds its first vote on the bipartisan immigration legislation, which seeks to bolster border security and establish a pathway to citizenship for the nation's millions of undocumented immigrants. This vote on the motion to proceed requires 60 votes, and it's expected to cross that threshold. But the question is whether there are potentially as many as 70 senators who support the final legislation, which would give the legislation lots of momentum, putting pressure on the GOP-controlled House of Representatives to take up the Senate version. Today's vote COULD give us a hint. A reminder: This is just the first full Senate vote; the vote for final passage won't take place until before the July 4 holiday. There are several moving parts associated with today's immigration vote. At 10:20 am ET, President Obama -- who sees this legislation as his top second-term priority -- delivers remarks from the White House in support of immigration reform, and he'll be joined by business, labor, and law enforcement officials who back the bill. Also today, the labor group SEIU says it's launching a seven-figure TV ad campaign (running throughout the rest of this month) in support of the legislation. Meanwhile, per NBC's Carrie Dann, immigration-reform opponent NumbersUSA says it will be scoring today's procedural vote.
*** The White House's relative reticence: According to NBC's White House producers, Obama's immigration speech today will be just his second official event on the issue (compared with as many as eight he's held on gun control). But this count doesn't include the numerous White House meetings he's held on immigration, as well as his speech at the George W. Bush Presidential Library, where he made a big pitch for passing reform. Still, this relative reticence is by design: Obama doesn't want to become a lightning rod in this debate, especially since the goal is now getting GOP support for the legislation. Expect his comments today to essentially be full of encouragement and praise for the bipartisan work.
*** Looking ahead to the amendment process: After today's Senate vote, the immigration debate will turn to the amendment process, and NBC's Kasie Hunt says there are four key areas where Republicans are trying to change the bill. The first (and most important) is border security. Sen. John Cornyn's (R-TX) amendment is the one to watch; there could be others coming from conservatives, including potentially from "Gang of Eight" member Marco Rubio (R-FL). Then there's benefits and taxes -- how and when do those in the green-card process have access to federal money for health care, even emergency care. Then, Hunt adds, there are questions of who can apply for status -- specifically, there's likely to be tussles over the types of crimes that would disqualify a person from applying for legalized status. And finally, there will be questions about refugee status and asylum -- prompted largely by the Boston bombing. On the Democratic side, the most closely watched amendment will be Pat Leahy's (D-VT) that would allow immigrants to get legal status for their same-sex partners. Another issue is guns -- Sen. Richard Blumenthal (D-CT) is considering offering amendments to restrict immigrants' ability to obtain firearms. Republicans want to steer clear of that issue entirely.
*** Not surprising a majority backs tracking telephone records: If you have been following American politics over the last 10-12 years, these new Pew/Washington Post poll numbers shouldn't be that surprising. But they're still instructive in this NSA surveillance story. A strong majority of Americans -- 56% -- believe tracking telephone records of millions of Americans is an acceptable way for the federal government to investigate terrorism; 41% say it's unacceptable. Back in 2006, after reports of warrantless wiretapping during the Bush administration, 51% said it was acceptable for the NSA to investigate people suspected of involvement with terrorism by secretly listening in on telephone calls and reading e-mails. What's fascinating (and also predictable at the same time) is how partisan reactions have changed. In that 2006, 75% of Republicans and just 37% of Democrats said that activity was acceptable. But in this newest poll, it's 64% of Democrats and only 52% of Republicans who think it's acceptable to track telephone records. This number also stood out to us: 45% believe the government SHOULD be able to monitor everyone's email to prevent terrorism. When you think about it, that's a pretty high figure.
*** Another dent in Hillary's State Department armor? Just as Hillary Clinton made her Twitter debut -- stoking more speculation about her 2016 plans -- comes this story that could become an issue for her if she runs for president. NBC News has obtained documents related to ongoing investigations into allegations involving State Department personnel and at least one ambassador. A State Department memo says the ambassador "routinely ditched his protective security detail in order to solicit sexual favors from both prostitutes and minor children." The memo also says a high-level State Department official specifically directed department investigators to "cease the investigation" into the ambassador's conduct -- just one of what another document describes as "several examples of undue influence" from top State officials. Yesterday, a State Department spokesperson would not confirm specific investigations, but said "the notion that we would not vigorously pursue criminal misconduct … is preposterous." Just like the Benghazi attack, this is potentially another story opponents could use to question her management of the State Department. By no means are they debilitating, but they're dents in her armor.
*** Cook: GOP chances of an upset in MA SEN look unlikely: Tonight, Democrat Ed Markey and Republican Gabriel Gomez square off in their second debate in the special Massachusetts Senate race. Political analyst Charlie Cook takes a look at the contest. "[T]he pressure is on Gomez to register a clear win; otherwise this race may produce an outcome for the GOP as disappointing as last year's 5-point defeat of Brown by Elizabeth Warren. With another two weeks to go, the race certainly isn't over, but the chance of an upset looks decidedly less likely today than three or four weeks ago."
*** Primary day in Virginia: Today's Democratic primary day in Virginia. And while Terry McAuliffe is already the nominee in this year's closely watched gubernatorial contest, Democrats today vote for their nominee for lieutenant governor (between Aneesh Chopra and Ralph Northam) and attorney general (Justin Fairfax vs. Mark Herring). Given that GOP Lt. Gov. nominee EW Jackson is a VERY flawed candidate, perhaps the best way to view the Chopra-Northam contest is as the Democratic gubernatorial primary for 2017. Even if Democrats lose the gubernatorial contest, it's very likely that Democrats will win the race for lieutenant governor and the sitting LG will be the de factor frontrunner for the GOV nomination in 2017.  
*** Remembering Doug Bailey: Last but certainly not least, one of the great visionaries of the political world -- Doug Bailey -- died in his sleep early Monday morning. Doug leaves a legacy that spans decades and, well, centuries and was a mentor to many, including one of your authors. He had three distinct and separate successful careers that all had one goal: to make the American political system a little better and a little nobler. In the 60s, 70s and 80s, he was considered the leading Republican media consultant of his time and in many ways, pioneered methods on political campaigns that are now the norm today. (Perhaps his greatest accomplishment in that field was a loss in the 1976 presidential contest.) Then, in 1987, Bailey set out on a second career, one that would make him a pioneer in the world of political journalism. He, along with a Democratic counterpart, Roger Craver, founded The Presidential Campaign Hotline, which later would simply become "The Hotline." Put it this way: If you are reading this morning email from us laying out the day in politics, you have Doug Bailey to thank for it. Many of the leading political briefings and publications today are derivatives of The Hotline. Finally, over the last 15 years, Doug set out trying to engage the public in whatever way he could think of to fix what he believed was a broken political system. Whether it was his hope to see a third political party rise up from the grass roots or his attempt to see the two political parties work as one, he simply wanted the political system to be fixed. Doug Bailey was 79, he's survived by his wife Pat, two devoted children, Ed and Kate, and one grandchild.
Click here to sign up for First Read emails.
Text FIRST to 622639, to sign up for First Read alerts to your mobile phone.
Check us out on Facebook and also on Twitter. Follow us @chucktodd, @mmurraypolitics, @DomenicoNBC, @brookebrower