Good news, bad news on health care for the Obama administration… Previewing next year's 36 GOV races… Our seven most vulnerable GOP-held seats… Our seven most vulnerable Dem-held ones… RGA gathers in Scottsdale, AZ for annual meeting… On the U.S.-Afghanistan negotiations… And your monthly Obama-Clinton Watch: Obama to present Bill Clinton with the Presidential Medal of Freedom, while the Obamas and Clintons participate in a wreath-laying ceremony to honor JFK's life.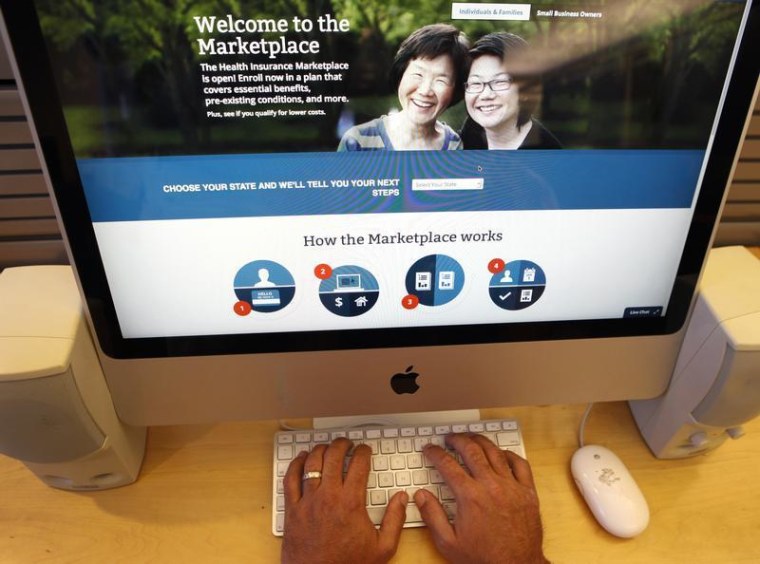 *** Good news, bad news on health care: Ten days before the Obama administration's self-imposed deadline to have a better-functioning federal health-care website, there's evidence they've taken one step forward. But there's evidence they've taken a step back, too -- maybe even two steps back. First, the good news: Buried inside another tough New York Times story on the federal website is the revelation that 50,000 Americans have now selected insurance plans, which is up from 27,000 for October. So the number has doubled in two weeks. On Monday, the administration said the federal website is "comfortably" servicing 20,000 to 25,000 users simultaneously. (But those numbers need to be higher to meet what's expected to be higher demand come December.) On Tuesday, it said it had completed fixes to two-thirds of its "high priority bugs." Meanwhile, the Los Angeles Times says California, which is administering its own state-based exchanges with a well-functioning website, has nearly doubled its 31,000 number from last month -- in just the first two weeks of November. And the paper also says that Connecticut, Kentucky, and Minnesota are also exceeding earlier expectations.
*** Two steps back? But then here's the bad news: The chief digital architect for the federal exchange testified on Capitol Hill yesterday that 30% to 40% of the project is still being built -- specifically the payment and accounting portions of the site. And it didn't sound like they were going to be close to getting these parts of the site working well by Nov. 30th. That said, there's a chance this won't be as bad as it sounds. Our understanding is the portion of the system involves the communication between the government (doling out the subsidies) and the insurance companies (who are receiving folks' checks). The administration says these portions don't need to be operational until 2014 -- their focus first is on the customer end -- but it still suggests a problem. Bottom line for the administration: Things are getting better for the administration. What was true two or three weeks ago about the website and enrollment might not be true anymore. But they still aren't there, and might not be 100% there for a while.
*** Previewing next year's 36 gubernatorial races: Today, Republican governors begin meeting in Scottsdale, AZ for a two-day gathering where New Jersey Gov. Chris Christie will officially take over the reins of the Republican Governors Association. Obviously, Christie's tenure ensures 2016 will always be a part of this story. Yet given the RGA meeting, now's as good of a time as any to dive into next year's 36 gubernatorial races. They include contests featuring very realistic Democratic pick-up opportunities (Florida, Maine, Pennsylvania), realistic GOP pick-up opportunities (Arkansas, Colorado, Illinois, even Massachusetts), governors who might be 2016 or 2020 possibilities (Wisconsin's Scott Walker, New Mexico's Susana Martinez, New York's Andrew Cuomo), current or past GOP stars (South Carolina's Nikki Haley, Nevada's Brian Sandoval), showdowns in presidential battleground states (Colorado, Florida, Iowa, Ohio, Pennsylvania), and matchups that will receive PLENTY of national attention (Crist vs. Scott in Florida, Abbott vs. Davis in Texas), even though one contest likely will be much more competitive than the other one.
*** Watching Walker/Martinez and Jerry Brown: Here are two additional storylines we'll be watching next year. One, while GOP Govs. Scott Walker and Susana Martinez are the early favorites to hold on to office in 2014, don't be surprised if one or both of these GOP stars receives a closer-than-expected race. Walker already has a potentially formidable opponent in Mary Burke (D), and he'll be running in his third statewide contest in five years (2010 election, 2012 recall, 2014 re-election). Meanwhile, Martinez remains popular in New Mexico, but don't forget that President Obama won the state by 10 points in 2012. Given those challenges, however, victories by Walker and Martinez would be impressive feats if they pull them off and keep them in the 2016 conversation. Two, the other storyline is 75-year-old Jerry Brown, who has been enjoying a very nice run as California governor -- again. Does a blowout re-election win (we're talking 60% or higher) fuel discussion about another presidential bid for the Californian?
The seven most vulnerable GOP-held GOV seats (in order):
1. Pennsylvania (Corbett)
2. Maine (LePage)
3. Florida (Scott)
4. Michigan (Snyder)
5. Ohio (Kasich)
6. Wisconsin (Walker)
7. South Carolina (Haley)
The seven most vulnerable Dem-held GOV seats (in order):
1. Arkansas (Beebe-open)
2. Colorado (Hickenlooper)
3. Illinois (Quinn)
4. Massachusetts (Patrick-open)
5. Connecticut (Malloy)
6. New Hampshire (Hassan)
7. Rhode Island (Chafee-open)
*** Raising Arizona: As for the two-day RGA meeting in Arizona, Wednesday's activity includes a plenary session featuring Govs. Rick Perry, John Kasich, and Mary Fallin (and MSNBC's Joe Scarborough), as well as a press briefing with Govs. Bobby Jindal, Rick Snyder, Perry, and Fallin. Tomorrow, there will be another press briefing with Chris Christie. Meanwhile, the Democratic Governors Association is out with a memo trying to tie these GOP governors to the Tea Party and House Republicans, even as Republican governors are trying so hard to distance themselves from the Washington GOP brand. "Republican governors, particularly those elected in the Tea Party wave of 2010, have spent the last three years implementing the economic and social agendas that House Republicans could only dream of getting done," the memo reads. "In doing so, they've fostered the same hostility, divisiveness, and partisan tone seen every day in Washington. And they have the miserable approval numbers to prove it."
*** On Afghanistan: From Arizona to Afghanistan, NBC's Richard Engel reported yesterday that the United States and Afghanistan are negotiating to commit thousands of American troops (as many as 10,000) and billions of U.S. taxpayer dollars for years to come in the war-torn country. What is being negotiated isn't surprising -- residual U.S. forces were always in the cards -- but it also isn't going to be politically popular given all the war fatigue in this country. Ten thousand troops in that country for another 10 years? Even if technically not on a war footing, it's not exactly like being stationed in Japan or Germany. But remember, there also was once the expectation of residual U.S. forces in Iraq, but the deal got scuttled. And despite the continued violence in that country, there aren't many American voters saying, "You know what, we should have kept additional troops in Iraq." That's why Afghan President Karzai isn't in a position of strength demanding -- as part of these negotiations -- an admission from President Obama that U.S. military mistakes have hurt innocent Afghans. The most politically popular thing for the United States to do is leave completely after the 2014 withdrawal date.
*** Your monthly Obama-Clinton watch: Lastly, for your monthly Obama-Clinton watch, President Obama will be awarding the Presidential Medal of Freedom to Bill Clinton and others around 11:05 am ET, and he'll make remarks at Medal of Freedom ceremony at 7:10 pm. In addition, at 1:00 pm, the Obamas, the Clintons, and the Kennedy family will participate in a wreath-laying ceremony at Arlington National Cemetery to honor the life and legacy of John F. Kennedy.
Click here to sign up for First Read emails.
Text FIRST to 622639, to sign up for First Read alerts to your mobile phone.
Check us out on Facebook and also on Twitter. Follow us @chucktodd, @mmurraypolitics, @DomenicoNBC, @brookebrower