GOP establishment strikes back… Rove, Crossroads to launch offshoot to counter conservative groups in Republican Senate primaries… Obama heads to Minnesota to push for universal background checks… Panetta, Dempsey defend the Defense secretary nominee… Obama, Reid argue for more revenue… Brown decides against Senate bid… And Bolling on Cuccinelli: "It's like he's written off trying to reach mainstream voters."
*** GOP establishment strikes back: This year was always going to be about two big political stories -- President Obama's ability to work with congressional Republicans (on the budget, immigration), and the Republican Party's effort to define itself after its shellacking in 2012. And today we examine that second story. The Sunday New York Times reported that the Karl Rove-backed American Crossroads organization is creating an offshoot, called the Conservative Victory Project, to counter the influence of groups like Club for Growth and the Senate Conservatives Fund. Its mission: to spend money in GOP primaries to make sure that candidates like Todd Akin, Richard Mourdock, Sharron Angle, and Christine O'Donnell don't become the nominees for key Senate contests. "In effect, the establishment is taking steps to fight back against Tea Party groups and other conservative organizations that have wielded significant influence in backing candidates who ultimately lost seats to Democrats in the general election," the Times said, adding that the Conservative Victory Project's first effort could be in Iowa, where conservative Rep. Steve King is mulling a Senate bid.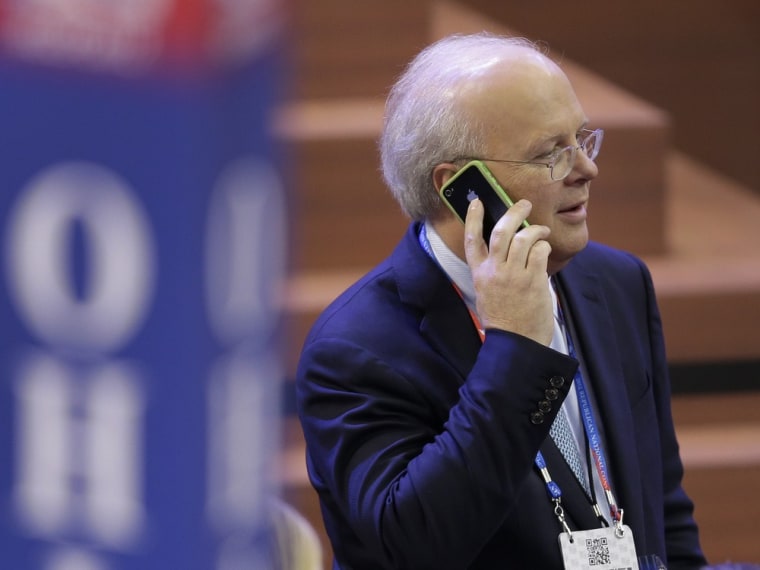 *** Republicans, let's get ready to … rumble: Rove and Crossroads promised that they would launch this kind of effort, after losing winnable Senate races in Missouri and Indiana last year, as well as in Colorado, Delaware and Nevada in 2010. Yet this establishment effort to nominate better candidates is probably going to make things more painful in the short term, not less. First, these conservative groups are already firing back. "Both the Club for Growth and the Senate Conservatives Fund … mocked the new initiative as yet another hapless establishment-side attempt to muzzle the GOP base," Politico writes. "Club for Growth spokesman Barney Keller essentially responded by pointing to the scoreboard in recent primaries in which conservative insurgents have prevailed and emerged as influential GOP leaders. 'They are welcome to support the likes of Arlen Specter, Charlie Crist and David Dewhurst,' Keller said of the new Crossroads group." Second, the establishment-backed candidates haven't always succeeded in general elections, either. After all, folks like Denny Rehberg in Montana and Rick Berg in North Dakota also lost winnable races last year. And third, how much credibility does Crossroads have after its results last year? Bottom line: This effort was bound to happen, but this is going to be ugly -- as both the populist and establishment wings try to become, well, the NEW establishment. The question is whether these more public primary fights help redefine the party in time for 2016.
*** Obama heads to Minnesota: Turning back to that first story of 2013 -- Obama's ability to work with congressional Republicans -- the president today travels to Minneapolis, MN, where he will deliver remarks on gun violence at 2:30 pm ET. And today's visit is mostly about pushing for the measure that seems to have the most momentum behind it: universal background checks. The AP: "The White House picked Minneapolis as the backdrop for Obama's remarks in part because of recent steps the city has taken to tackle gun violence, including a push for stricter background checks." Indeed, background checks are something that GOP Sen. Roy Blunt said he could back in an interview last week on MSNBC's "Daily Rundown." And on ABC yesterday, Senate Majority Leader Harry Reid, a gun-rights supporter, said: "I think that everyone acknowledges we should do something with background checks."
*** Defending the Defense nominee: In their interviews on "Meet the Press," Defense Secretary Leon Panetta and Joint Chiefs Chairman Martin Dempsey defended Chuck Hagel's performance at his confirmation hearing last week. Said Panetta: "What disappointed me is that [Republican questioners] talked a lot about past quotes, but what about what a secretary of defense is confronting today? What about the war in Afghanistan? What about the war on terrorism? What about the budget sequester?" Dempsey added about Hagel: "I think he's got great credentials. My personal contacts with him have been very positive. And if he's confirmed, I look forward to working with him." But perhaps the most revealing comment on Hagel came from former Obama White House Press Secretary Robert Gibbs during the "Meet" roundtable. "For anybody that watched it, was he seemed unimpressive and unprepared on the questions that quite frankly he knew was coming." But Gibbs added that Tim Geithner, just days into his job as Treasury secretary, was panned by political observers -- but he later turned his reputation around. Gibbs' reminder is a good one. Our question: If confirmed, will Hagel work as hard as Geithner did after the Treasury secretary's own rocky start? Because the real issue for Hagel now isn't getting confirmed; it's whether he'll have any political capital to work with Congress and the generals in a meaningful way. Defense secretaries can't be seen as weak figures if they want to do big things like Obama wants Hagel to do.
*** Obama, Reid argue for more revenue: In his interview before yesterday's Super Bowl, President Obama argued that more tax revenues – as part of closing loopholes, etc. -- would have to be party of any budget deal with Republicans. "Can we close some loopholes and deductions that folks who are well connected and have a lot of accountants and lawyers can take advantage of so they end up paying lower rates than a bus driver or a cop?... "There's no doubt we need additional revenue." And during his interview on ABC, Reid made the same demand. "The American people are on our side. The American people don't believe in these austere things. We believe that the rich should contribute. We believe we should fill those tax loopholes, get rid of them, I should say. And that's where we need to go," Reid said.
*** Brown decides against Senate bid: Friday's news that former Sen. Scott Brown (R) would pass on running for Massachusetts' vacant Senate seat shouldn't have been that surprising. To hold on to the seat in the Democratic-heavy state, Brown not only would have to win the upcoming special election -- which was no sure thing -- he'd then have to face voters again in 2014, when the seat expires. Still, Brown's decision was a blow to the GOP, and it all but ensures that Democrats will retain the seat, with the winner of the Ed Markey (D) vs. Stephen Lynch (D) primary on April 30 likely becoming you're next U.S. senator from Massachusetts. Then again, that's what we all thought about Ted Kennedy's Senate seat in 2009-2010.
*** Bolling on Cuccinelli: "It's like he's written off trying to reach mainstream voters": Finally, don't miss Virginia Lt. Gov. Bill Bolling's (R) comments on Ken Cuccinelli in an interview with the Richmond Times-Dispatch. "It's like he's written off trying to reach mainstream voters," Bolling said. The article also notes how Bolling has broken with Gov. Bob McDonnell on key efforts – like transportation and expanding Medicaid under the health-care law. "There's a certain liberating feeling to be able to say what you think without regard for the political implications," he said. "It's helped me find my voice."
Click here to sign up for First Read emails.
Text FIRST to 622639, to sign up for First Read alerts to your mobile phone.
Check us out on Facebook and also on Twitter. Follow us @chucktodd, @mmurraypolitics, @DomenicoNBC, @brookebrower