Conclusion from focus group of 12 Republicans and GOP-leaning independents: Romney still has some work to do with these folks… The good news for him: It's not an impossible lift… The fight for the Latino vote continues… The "silly season" continues, too… But we have to ask: Why does Romney continue to hang out with Donald Trump?... Veepstakes watch: Bob McDonnell will begin airing ads to boost his image… And Jesse Kelly wins GOP primary for the Giffords seat.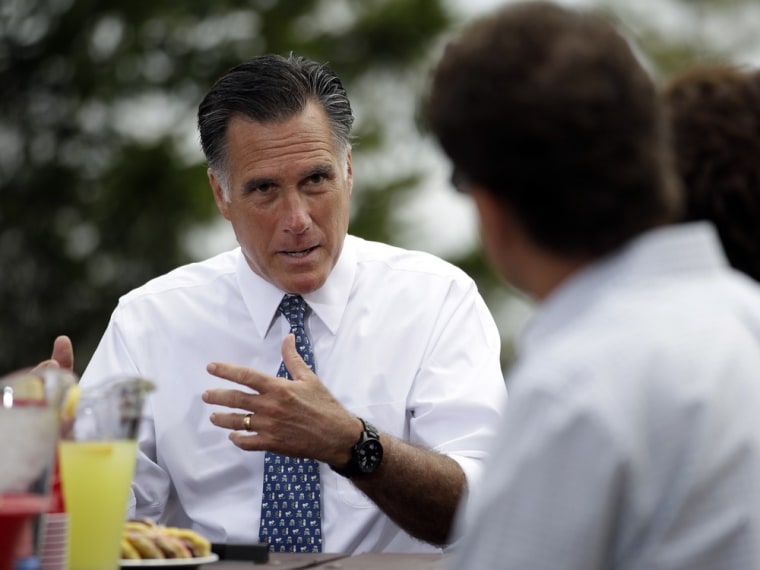 TAMPA, FL -- One week after Mitt Romney became the presumptive GOP presidential nominee, have Republicans and conservatives begun to rally around him? A brand-new New York Times/CBS poll says yes. But a focus group of 12 Republicans and GOP-leaning independents that Democratic pollster Peter Hart conducted last night here in the city that will host the Republican convention in August painted a more complex picture. While an overwhelming majority of these participants said they would vote for Romney in November and while they touted his business background, it was clear many of them had reservations about the former Massachusetts governor -- whether it was his past flip-flops, his ability to beat Obama, or their belief they didn't know more about him.  After the focus group ended, Hart made this observation about Romney to a handful of reporters covering the event: "He has a lot of work to do. But it isn't an impossible lift."
*** The 12 participants: First, a little background on the participants of this focus group that was sponsored by the University of Pennsylvania's Annenberg Public Policy Center: These 12 people -- a mixture of diehard conservatives and at least one moderate who said he no longer felt comfortable in today's GOP -- all had either voted for McCain in '08, Marco Rubio in '10, or Rick Scott in '10. As it turns out, four said they actually voted for Obama four years ago. Now? Seven said they are "definitely" voting for Romney; two are "probably" voting for Romney; two are voting for Obama; and one said he's undecided. Interestingly, the group was split (6-6) on who they thought would win in November -- either Romney or Obama. Hart summed up the purpose behind the assembled focus group: "This is the group you have to have if you're going to win" the White House as a Republican.
*** "Stick to something": Yet what was striking were the reservations these folks, even the most conservative ones, had about Romney. Their biggest concerns were that he's changed his positions and that he hasn't been consistent on the issues. Asked to give advice to Romney, Julie -- a 56-year-old paralegal from Tampa -- responded:  "Make a stand whether people like it or not." Carin, an unemployed 53-year-old Tampa resident, added: "Not change positions but be consistent." And Debra, a 55-year-old from Plant City who said she voted for Obama in '08 (but is no longer really considering that), said: "Stick to something." But the reservations went beyond issue flip-flops. They also focused on whether Romney was tough enough. Ron, a 66-year-old retiree living in Largo who is undecided, described Romney as the "lesser of two evils." But he went on to say: "I am not sure Romney has what it takes to win."
*** "I want to believe he would be good": Theresa, a 30-year-old tech vendor in St. Petersburg who said she supported Santorum during the primary season, gave this response if Romney would have ordered the strike against bin Laden: "I want to believe he would be good." Then there was the concern that they don't know ENOUGH about Romney. Jonathan, a 27-year-old deputy police officer, said this in a discussion about whether Romney is a regular guy: "I only know Mitt Romney as the businessman… George [W.] Bush felt like a regular guy." He added, "You know Obama likes basketball." And there was the critique that Romney is too stiff. "I would like for him to loosen up," said Bruno, a 57-year-old music teacher living in Plant City. Hart concluded that these undeveloped views of Romney aren't surprising when you consider that he won the GOP primary season by disqualifying Rick Perry, Newt Gingrich, and Rick Santorum and who is trying to win in November by disqualifying the incumbent president. And guess what? Romney at 3:40 pm ET is giving a speech countering Obama in the city hosting the Democratic convention, Charlotte. In fact, the campaign is billing the remarks as a "prebuttal to Barack Obama's DNC speech."
*** The good news for Romney: So that was the bad news for Romney from this focus group. The good news: These folks WANT to know more about him. Hart asked an interesting question -- if the 12 would rather have a dinner conservation with Romney or his wife Ann. Interestingly, all but one picked the former Massachusetts governor over his wife. Why? To get to know him better. Julie said she wants to see "what his true personality is… I am hoping he is cool." In other good news for Romney, most of the participants often referred positively to his business experience, even on matters like deficit-reduction negotiations and dealing with China. And almost all of them had no doubts that he would seek to repeal the federal health-care law. Score this for Team Romney -- the businessman and health-care messaging definitely got through to these voters. 
*** The fight for the Latino vote continues: At 10:30 am ET, the Obama campaign is hosting a conference call -- to be joined by Sen. Bob Menendez and San Antonio Mayor Julian Castro -- announcing the launch of "Latinos for Obama." The Obama campaign also says it will begin airing TV and radio ads in Colorado, Florida, and Nevada featuring Obama organizers who talk about how the president has "empowered" Latino communities. Meanwhile, the AP is reporting that Sen. Marco Rubio is putting together legislation that would be a conservative alternative to the DREAM Act. Unlike that legislation, which was filibustered in 2010, the Rubio legislation would allow young illegal immigrants who are attending college or serving in the military to remain in the U.S. – but it wouldn't give them a path to citizenship.
*** What also continues? The silly season: Last week, we wrote that this presidential campaign had entered the "silly season," with all the focus on that Hilary Rosen controversy. Well, the silly season is continuing – this time with Democrats trying to make Romney own what conservative rocker Ted Nugent said about the president. This campaign has taken on the negative stereotype of Twitter -- snarky, obnoxious, and biting. But we do have to ask: What did Romney expect when he courted the incendiary Nugent? And speaking of people who have been in the middle of manufactured controversies… Why is Romney continuing to hang out with Donald Trump? If Trump says something controversial -- and trust us, he will; he can't help himself -- Romney will deserve more ownership of those comments than Team Obama did for what Hilary Rosen said. By the way, we're not even going to discuss this dog-meat business. We don't blame folks if they are wondering if it might be better to go into a political coma for the next 90 days and pick back up when the conventions begin.
*** On the GOP trail, per NBC's Adam Perez: Romney stumps in North Carolina, attending three events in Charlotte...Gingrich makes two stops in Millersville, PA and later visits Georgetown, DE and Wilmington, DC…Meanwhile; Paul attends an event in Kingstown, RI.
*** Veepstakes watch: How bad does Bob McDonnell want to be Romney's VP? The Washington Post: "Virginia Gov. Bob McDonnell, a Republican who is term-limited but a likely vice presidential contender, plans to air "positive" TV ads in the coming weeks as he looks to bolster his approval ratings and remind viewers of Virginia's successes following a spate of bad publicity." Folks, McDonnell can't run for re-election in Virginia. This seems to be all about rehabilitating his image for veepstakes. McDonnell will be on "The Daily Rundown" this morning to discuss this new push.
*** Kelly wins GOP primary: Finally, in the GOP primary for Gabby Giffords' vacated congressional seat, Jesse Kelly -- Giffords' opponent in 2010 -- won last night's contest, and he'll face former Giffords aide Ron Barber in June, the Arizona Republic reports.
Countdown to the CT, DE, NY, PA, and RI primaries: 6 days
Countdown to Election Day: 202 days
Click here to sign up for First Read emails.
Text FIRST to 622639, to sign up for First Read alerts to your mobile phone.
Check us out on Facebook and also on Twitter.
Follow us @chucktodd, @mmurraypolitics, @DomenicoNBC, @brookebrower