As House GOP meets with Obama at 4:35 pm ET, it has one problem: Republicans remain divided over what they want… Possibility emerges that debt ceiling could be raised (temporarily) while the government stays closed… NBC/WSJ poll on shutdown to be released at 6:30 pm ET… Treasury Secretary Lew testifies on debt limit before Senate Finance Committee… Eleanor Holmes Norton vs. Obama?... Boy, that escalated quickly: Final Booker-vs.-Lonegan debate gets nasty… And AP retracts potential bombshell story about McAuliffe. 
From Chuck Todd, Mark Murray, Domenico Montanaro, and Jessica Taylor 
*** GOP doesn't know what it wants: House Republicans, who have called for President Obama to negotiate, get their wish of sorts when their leaders meet at the White House at 4:35 pm ET. But there's one problem for them as we enter Day 10 of the shutdown and approach the Oct. 17 deadline for default: Republicans and the conservative movement aren't sure what they want. Just in the past day and a half, here's what various factions of the GOP have asked for: 
House Budget Committee Chairman Paul Ryan penned an op-ed asking for a compromise over entitlements and tax reform, but didn't mention anything about the president's health-care law
Hours later, Speaker John Boehner went to the House floor to insist that Obamacare is still on the table
The firm run by the conservative Koch Brothers distanced itself from any effort to defund the health-care law and instead called for Congress to cut government spending, per NBC's Michael Isikoff
Heritage Action meanwhile, wants to take the debt ceiling off the table and focus instead on Obamacare (even though it has received money from the Koch Brothers)
And then yesterday afternoon, social conservative Ralph Reed asked Boehner to end subsidies for abortion under the health-care law (yes, abortion) as part of any deal to fund the government or raise the debt ceiling.
Confused? We sure are… Not surprisingly, the House GOP conference will meet before this afternoon's meeting with Obama to try to agree on a path forward. As the Rolling Stones put it, you can't always get what you want. And that's especially true when you DON'T KNOW what you want.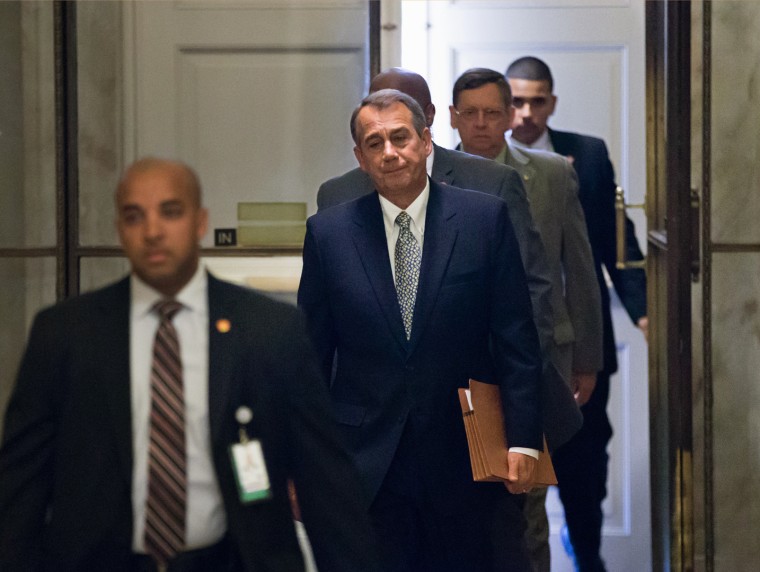 *** Raise the debt ceiling while keeping the government closed? Yet here is one possibility that has emerged over the evening: The debt ceiling could get raised (for a short period of time, think through New Year's), while the government stays closed. "House Republican leaders are considering a short-term increase in the U.S. debt limit as a possible way to break out of the gridlock that threatens the nation with an unprecedented default in as little as a week, officials said Wednesday night," the AP says. NBC's Luke Russert adds: "Any debt limit extension would be temporary, anywhere from two weeks to two months in order to give the president and the appropriate congressional leaders time to work out a larger budget deal that touches on deficit reduction among other things. More likely than not, in exchange for the temporary extension of the debt limit, the House GOP would request some spending cuts or something else from their wish list." Our take: Such a route would please the folks over at Heritage Action and Red State's Erick Erickson, who are both advocating a strategy of taking the debt ceiling off the table and focus on gutting the health-care law via the shutdown.
*** NBC/WSJ poll to be released at 6:30 pm ET But every day that goes by shows more evidence that the government shutdown has taken a significant toll on the Republican Party -- more so than on the Democrats. The latest example via Gallup: The GOP's favorability rating has sunk to an all-time low in the survey (28%), while Democrats are at 43%. By the way, we have a new NBC/WSJ poll coming out at 6:30 pm ET. Will that poll show something similar or different? Tune in at 6:30 pm ET…
*** Skip to my Lew: Obama's meetings with House Republicans at 4:35 pm ET and Senate Democrats at 1:45 pm aren't the only meetings to watch today. "Treasury Secretary Jack Lew plans to warn lawmakers Thursday that he will be unable to guarantee payments to any group — whether Social Security recipients or U.S. bondholders — unless Congress approves an increase in the federal debt limit," the Washington Post reports. The hearing before the Senate Finance Committee began at 8:00 am ET. The Post adds, "Lew's appearance will be the first public confrontation between a senior administration official and Republicans since the fiscal showdown began last month." And Lew will go into detail on what legal obligations he would have when it comes to who gets paid first if the debt ceiling isn't raised.
*** Eleanor Holmes Norton vs. Obama? And here's a quick dispatch on Obama's meeting with House Democrats yesterday. According to a source in the room at Wednesday's meeting between House Democrats and President Obama at the White House, Rep Eleanor Holmes Norton (D-DC) interrupted the president two to three times when he was answering her question related to a bill to fund the District of Columbia, NBC's Frank Thorp reports. The source said at one point the interactions got "tense," but that Obama said he understood that Holmes Norton was just doing her job. "Do you think John Boehner cares about DC, Eleanor?" Obama said, according to the source, implying it was a tactic by Republicans to divide them. In an interview with the Washington Post, Holmes Norton said she meant no disrespect to Obama.  "I wasn't picking a fight with the president," Norton she said, "I think the people of the District would expect me to have a conversation with him rather than just asking a question." At issue: The House passed a GOP piecemeal bill on October 2nd to fund the DC government during the shutdown by voice vote, a bill Holmes Norton tearfully advocated for on the House floor.  The bill has yet to be considered in the Senate, where Democratic leadership is not bringing up any of the now-11 piecemeal bills that the House has passed.
*** Boy, that escalated quickly: The final debate last night in New Jersey's special Senate election between front-runner Cory Booker (D) and Steve Lonegan was, well, pretty nasty. The Newark Star-Ledger: "In one notably feisty exchange, Booker … said Lonegan, a conservative activist and former Bogota mayor, would want to gut environmental regulations, using the polluted Passaic River as an example of the need for them. 'You may not be able to swim in that river, but it's probably, I think, because of all the bodies floating around of shooting victims in your city,' Lonegan shot back. 'Oh my God,' Booker said." More: "In another exchange, Lonegan said the state has poured countless dollars 'into a big black hole in Newark.' Booker called Lonegan's tone 'insulting' and, in a theme he repeated throughout the debate, said Lonegan needed to stop 'talking down to New Jersey's cities.'" Oh, and guess who's coming to campaign with Lonegan on Saturday -- Sarah Palin.
*** AP retracts potential bombshell on McAuliffe: Late last night, the Associated Press had a potential bombshell of a story that could have turned Virginia's gubernatorial contest upside down: According to court records, Terry McAuliffe (D) lied to a federal official investigating a death-benefits scheme in Rhode Island. Talk about an October surprise! But then this happened: The AP retracted its story. The "T.M." in the court records was not McAuliffe, but another person. Oof. That said, there is a legit story here that could nick McAuliffe. "[He] was one of dozens of investors with a Rhode Island estate planner charged with defrauding insurers by using the stolen identities of terminally ill people, according to court documents filed Wednesday by federal prosecutors in Providence." But that is a much different story than allegedly lying to a federal official. All this comes as a new Quinnipiac poll finds McAuliffe leading Republican Ken Cuccinelli by eight points among likely voters, 47%-39%.
Click here to sign up for First Read emails.
Text FIRST to 622639, to sign up for First Read alerts to your mobile phone.
Check us out on Facebook and also on Twitter. Follow us @chucktodd, @mmurraypolitics, @DomenicoNBC, @brookebrower