GOP's internal divides on display… The Tea Party's limits… The GOP establishment strikes back… Syria's back in the news… McAuliffe's good week (so far)… And everything you wanted to know about the Sept. 10 recalls in Colorado, but were afraid to ask.
*** GOP's internal divides on display: During these dog days of summer, it's worth noting that both political parties are struggling right now. For Democrats, President Obama's poll numbers have dipped; they've been unable to stop the GOP's aggressive legislative agenda at the state level (see Texas and North Carolina); the Republican Party is outraising them; and they are bracing for a very challenging midterm season in 2014. But right now, the Democrats are a rock of stability compared with the Republican Party. Indeed, this summer has highlighted both the Tea Party's re-emergence inside the GOP, as well as the HUGE divides within the party. Think immigration reform, the "defund Obamacare" movement, John Boehner's struggles to corral his GOP colleagues, Mitch McConnell's primary challenge. Nine months after the GOP's losses in the 2012 election, there's still a clear fight going on over the heart and soul of the Republican Party. And this establishment-vs.-non-establishment fight will play out over the next couple of years.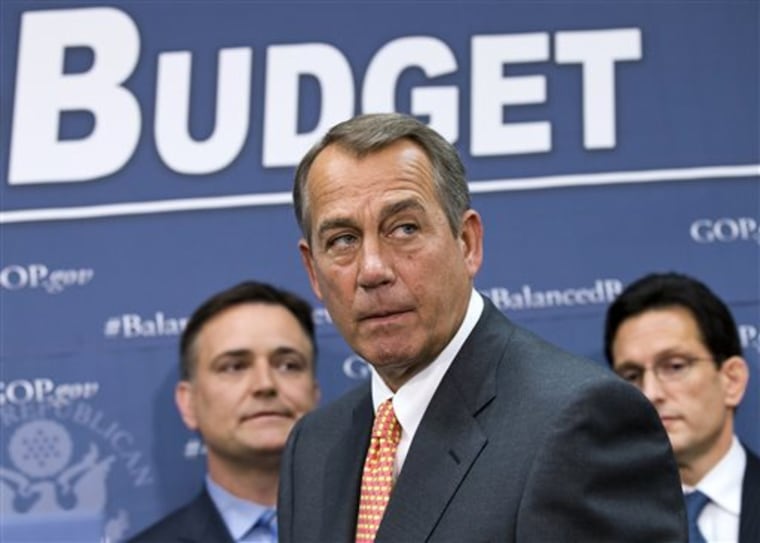 *** The Tea Party's limits: But we've also seen reminders over the last 24 to 48 hours about the Tea Party's limits within the GOP. For instance, the movement to defund Obamacare has gone nowhere, even as Sen. Ted Cruz (R-TX) has exhorted his colleagues not to blink in the fight. What's more, Cruz decided to renounce his Canadian citizenship after it was revealed he has dual citizenship. Tea Partier Joe Carr, who's challenging Sen. Lamar Alexander (R-TN), misspelled the word "Senate" on his website. And McConnell released a new ad highlighting that primary opponent Matt Bevin had once incorrectly suggested he graduated from MIT (when he didn't). As some establishment Republicans have gleefully noted to many over the last few days, it hasn't been the best of times for the Tea Party. That said, the Tea Party remains a force inside the GOP (see the 2010 and 2012 elections, as well as the current legislative standoffs). But they're also not unbeatable juggernauts.
*** The GOP establishment strikes back: Unlike 2011-2012, when the GOP tried to appease (or co-opt) the Tea Party movement, we've also seen signs that the Republican Party establishment is fighting back. Lamar Alexander -- who now has a primary challenge as mentioned above -- penned an extraordinary op-ed defending his work in the Senate, after some Republicans asked him to retire due to his record of compromising with Democrats. His response: "Well, I learned to count in Maryville City Schools. So I know that if you only have 45 votes and you need 60 senators to get something important done like balancing the budget and fixing the debt, then you have to work with other people — that is, IF you really care about solving the problem, IF you really want to get a result, instead of just making a speech. That's why I believe that one good way to put our country on the right track is to send to Washington a conservative, problem-solving former governor who worked well with others to get the results that put our state on the right track." In addition, the chairman of the Polk County, IA GOP resigned from his position and switched his party registration to independent, arguing that the party "has become too conservative and is condoning 'hateful' rhetoric," the Des Moines Register writes. And you could even add a prominent Virginia Republican consultant endorsing Terry McAuliffe over Ken Cuccinelli as parts of the GOP establishment trying to strike back against a conservative base that these folks fear has alienated too many swing voters.
*** Does the fight last through 2014 – or 2016? For the last three years, this fight between the establishment/money wing of the GOP and the Tea Party has taken place largely BEHIND the scenes, as the establishment feared making their fight public. It's clear now, that many believe they should fight back publicly. This can be healthy for the GOP if this fight is resolved by the end of 2014; it becomes problematic if it carries on into 2016 when more of the country is watching.
*** Syria's back in the news: Given all the unrest coming out of Egypt, the last thing the Obama White House wants right now is ANOTHER tricky situation in the Middle East. But it looks like it got it. The AP: "Syrian regime forces fired intense artillery and rocket barrages Wednesday on the eastern suburbs of Damascus amid a fierce government offensive in what two pro-opposition groups claimed was a 'poisonous gas' attack that killed at least 100 people, including many children." The Assad regime has denied that it used chemical weapons, but the news is a reminder of the ongoing conflict in Syria -- as well as the fact that Obama's red line on the use of chemical weapons has already been crossed once before. Gayle Tzemach Lemmon writes about the administration's hesitancy to get more involved in Syria. Our take: The administration looks like it's paralyzed because there are no good options. (After all, helping the rebels would help the jihadists fighting against Assad.) In Egypt, you have the same issue: While the Egyptian military is not upholding American democratic ideals, it's not like the administration is comfortable coming across as pro-Muslim Brotherhood. Perhaps the appearance of the president's foreign policy paralysis is pragmatic paralysis, but it's paralysis nonetheless. The one thing Obama has going for him on both these issues: The country has no interest in getting involved in any foreign entanglements, and the GOP isn't rushing to make them a political issue.
*** McAuliffe's good week (so far): After some struggles and bad press, Terry McAuliffe needed a good week -- and it looks he got it. Yesterday, Boyd Marcus, a former chief of staff to GOP Gov. Jim Gilmore and an adviser to current GOP Lt. Gov. Bill Bolling, endorsed the Democratic gubernatorial candidate. "I've never before supported any Democrat, but this election Terry is the clear choice for mainstream conservatives," Marcus said in a statement released by the McAuliffe campaign, per NBC's Mike O'Brien. "I am excited to work with him to grow the already-long list of prominent Republican leaders who are supporting his campaign. And today, a new Quinnipiac poll shows McAuliffe leading Republican Ken Cuccinelli by six points among likely voters, 48%-42%. The poll was conducted August 14-19 -- after a series of negative stories about McAuliffe's GreenTech work. We'll be curious to see if Cuccinelli supporters end up disputing these results, or if they are seeing the same thing. And if they are, it has to be quite startling considering how bad things have been in the media for McAuliffe. It could be a sign that Gov. Bob McDonnell's problems are a bigger drag on Cuccinelli than even they thought they would be.
*** Total Recall: Colorado edition: It was just a year ago that Wisconsin Gov. Scott Walker was able to survive an attempt to recall him from office. And it was two years ago when other recall races against GOP legislators rocked the state. Now, the shoe's on the other foot for Democrats in Colorado. After state Democrats pushed through gun restrictions, the National Rifle Association and state Republicans pushed to recall four Democrats. They gathered enough signatures to get two on the ballot -- state Senate President John Morse, a former police chief from Fountain (just south of Colorado Springs), and Angela Giron (pronounced hee-ROHN) of Pueblo. After a district court judge validated those petitions, Democratic Gov. John Hickenlooper set the date for the state's first-ever recalls for Sept. 10. The races won't affect control of the state legislature – Democrats control the state Senate 20-15, so even if Republicans pick up both seats, they would be one short of control. But the race has become about more than guns and has national implications. Here's everything you need to know about the elections and why they matter:
-- Meet the candidates: In Colorado Springs, State Sen. President John Morse, who's term limited and won't be in office in 2014 regardless of the recall outcome faces off against Bernie Herpin, a former Colorado Springs city councilman. In Pueblo, Giron is in her first term. Running against her is George Rivera, a retired deputy police chief from Pueblo.
-- How the election will work: The language is still being finalized, but it is a two-step ballot that asks: (1) Should the incumbent be recalled? And then (2) Who would you pick to replace them?
-- Aboutmore than guns: The race has become about much more than guns with each side warning that the other will push a radical agenda. Republicans say they are fed up with Democratic control, including pushing a bill that, they say, would increase energy prices for rural Coloradans. Democrats, on the other hand, have pointed out the two Republican candidates' past support for the failed 2010 and 2012 Personhood Amendments. Ads are running from a Democratic-aligned group accusing the GOP candidates of being in favor of bans on birth control and supporting police to investigate miscarriages.
-- Warning shot at Democrats: Democrats are also concerned that Republicans and the NRA, in particular, are using these elections to fire a warning shot at Democrats around the country. The message: Don't go through with whatever legislation you were thinking about, because if you do, we'll come after you. They feel like there's more at stake than just for these two races 45 miles apart from each other. Democrats feel this way, especially considering that Morse is term-limited and will be out of office in 2014, and Giron is up for reelection next year.
-- No vote-by-mail: There won't be vote-by-mail, which has become popular in Colorado. This can pose big problems for voters, because it's the first time in about 20 years that all Coloradans will have to physically go to the polls. The state Supreme Court ruled Monday, in a case brought by libertarians, that Colorado won't be all vote-by-mail this time due to a 1912 law meant to help third-party candidates get on the ballot. That will mean higher cost, lower turnout, and much bigger-than-anticipated GOTV efforts. That could mean the side with the most passion has an inside track, but neither side is sure who benefits at this point with both calling the races "difficult."
-- Higher cost than expected: Speaking of cost, the price tag will be close to $500,000, higher than first expected. The Pueblo County Clerk told First Read that his county is at $246,000 with the cost likely to go up with ballots printing around Labor Day and with polling place costs. (Early voting begins Sept. 5.) The El Paso County Clerk's office says they are up to $190,000 with projected costs being around $200,000.
Click here to sign up for First Read emails.
Text FIRST to 622639, to sign up for First Read alerts to your mobile phone.
Check us out on Facebook and also on Twitter. Follow us @chucktodd, @mmurraypolitics, @DomenicoNBC, @brookebrower