Government Gone Wild… Does this perception hurt the man in charge of the government?... Romney gives speech attacking Obama record in Ohio -- not far away from where Obama spoke yesterday… NBC/WSJ poll day! Full poll comes out at 6:30 pm ET… Democrats' mess in North Carolina… And Lugar trails Mourdock by two points, per internal Mourdock poll.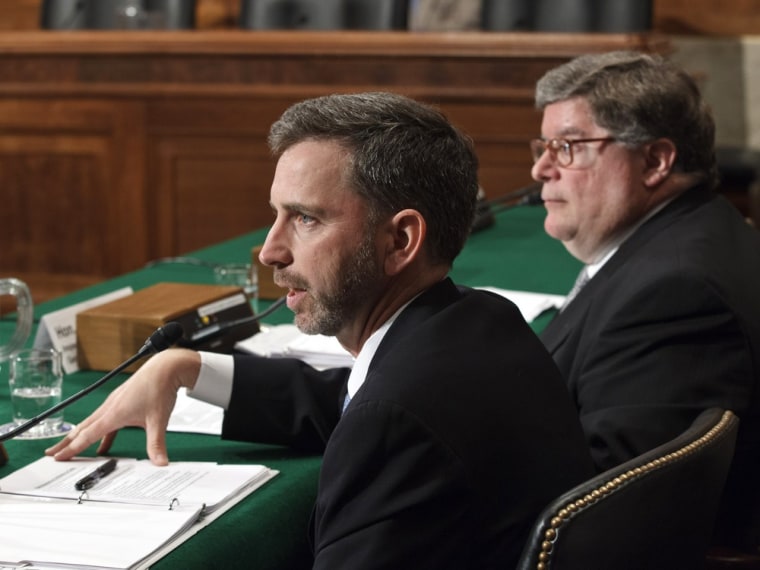 *** Government Gone Wild? In American politics, there are actual problems and perceived problems. And when it comes to that exorbitant GSA trip to Las Vegas or the Secret Service prostitution scandal in Colombia, those are perceived problems -- that somehow the government isn't working and a handful of employees aren't taking their jobs seriously. The question, in this election year, is whether that perception hurts the guy running the government. Make no mistake: These scandals aren't coming from the Obama White House or from the aides working closest with the president. More importantly, the Obama White House hasn't tolerated that "Government Gone Wild" behavior (see the GSA resignation, as well as those exits from the Secret Service). And Barney Frank made a good point in his fascinating interview with New York magazine that the media focuses only when something negative happens in government, usually ignoring the positive. But the attention on these GSA and Secret Service stories only sullies the government's reputation. Bottom line: The government can't afford another one to surface again anytime soon, and neither can the party that has come to represent the idea that government is at least part of the solution to collective problems -- the Democrats.
*** Every breath you take, every move you make … I'll be watching you: This afternoon, Mitt Romney delivers a speech attacking President Obama's economic record in Lorain, OH -- which isn't that far away from where Obama spoke yesterday. And yesterday, Romney gave a speech in Charlotte, NC to "pre-but" Obama's convention speech, which won't take place for another four months. No doubt the Romney campaign wants to ensure the presidential election is a referendum on Obama's record and wants to shadow him to the point that every single event the president holds is viewed through ONLY a campaign lens. But as that Tampa focus group of Republicans and GOP-leaning independents revealed, people also want to learn more about Romney and his plans for the country. In that focus group, Democratic pollster Peter Hart showed the participants a clip of Romney's recent speech to newspaper editors, in which Romney blasted Obama's record on the economy and spending. Most of the participants agreed with what Romney said in the speech, but they weren't completely satisfied. "I don't have a lot of faith in him that he could do any better," said one. Added another: "What are we going to do? I haven't heard one [plan]." As the Washington Post's Dan Balz writes in his write-up of the focus group, "Romney remains an opaque and distant figure." 
*** NBC/WSJ poll day! In the latest national survey measuring the nascent general election, a Quinnipiac poll finds Obama leading Romney by four points among registered voters, 46%-42%. And in what will probably be the final survey of the week, our very own NBC/WSJ poll comes out tonight at 6:30 pm ET. Is Romney gaining on Obama? How do voters view them on key personal and professional qualities? And what are their views on the economy? Be sure to tune into "Nightly News" or click on to MSNBC.com for the answers.
*** Democrats' mess in North Carolina: Allegations of sexual harassment inside the North Carolina Democratic Party has turned into a mess for the state party, as well as the national one. Why? Because North Carolina is the convention state, thus ensuring that any problems or controversy there will be magnified. And it isn't helping the Democrats that the state party chair, David Parker, is refusing to step down from his post. 
*** On the GOP trail, per NBC's Adam Perez: Romney delivers a speech attacking Obama's economic record in Lorain, OH at 1:15 pm ET… Paul is in New York, where he stumps at Cornell University in Ithaca… And Gingrich
*** Lugar trails Mourdock by 2: For the May 8 GOP primary in Indiana, state Treasurer Richard Mourdock leads incumbent Sen. Dick Lugar by two points, 42%-40%, according to an internal Mourdock poll obtained by First Read. More ominously for Lugar, 65% of Indiana Republican voters agree with the statement that Lugar has been in DC too long, and 57% agree that Lugar has voted for more government spending and "amnesty" for illegal immigrants. Also from the poll: Mourdock's lead is thanks to Republicans. What's keeping Lugar competitive? He leads among NON-Republican voters, but they make up less than 15% of the electorate unless Lugar can change that. Any registered voter can participate in the primary. Politico reports that Indiana Gov. Mitch Daniels and GOP Sen. John McCain have cut ads on Lugar's behalf to help him. The questions we have: Is this too late? And does John McCain really help Lugar with GOP primary voters? Or is the McCain play about wooing indies to the primary? By the way, Sarah Palin had a higher FAV rating than both Lugar and Mourdock in this poll.
Countdown to the CT, DE, NY, PA, and RI primaries: 5 days
Countdown to Election Day: 201 days
Click here to sign up for First Read emails.
Text FIRST to 622639, to sign up for First Read alerts to your mobile phone.
Check us out on Facebook and also on Twitter. Follow us @chucktodd, @mmurraypolitics, @DomenicoNBC, @brookebrower