Deal on background checks tops an eventful day in politics… Breaking down the details of the Manchin-Toomey compromise… Remember: Gun legislation passing the Senate is one thing; passing the House is another… Obama issues statement on his budget at 11:00 am ET… Look Who's Coming to Dinner, Part 2… Gang of Eight immigration bill to be unveiled as soon as Thursday?... NBC/WSJ poll comes out first thing tomorrow morning… Sanford/Weiner/Woods -- the comeback kids?... A few more thoughts on that taped McConnell camp discussion… And Kelly wins IL-2.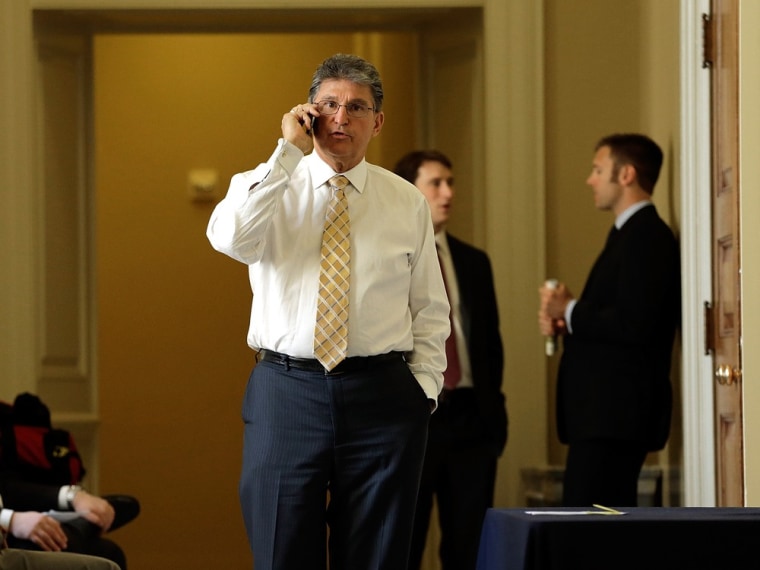 *** Gun deal tops an eventful day: What a day this is shaping up to be here in Washington… President Obama unveils his budget before dining with 12 GOP senators; Sens. Joe Manchin (D-WV) and Pat Toomey (R-PA) have reached a deal on universal background checks for firearms sales; and thousands of immigration reform advocates are rallying in DC as the Gang of Eight's proposal appears ever close to becoming a reality. What's more, we're releasing our brand-new NBC/WSJ poll first thing tomorrow morning. Oh, and Anthony Weiner appears to be eyeing a political comeback. But we start with the biggest news of the day -- so far at least: the Manchin-Toomey agreement on guns. One way or another, we always knew that Obama's budget rollout would get overshadowed by something else. In this case, it's the new development in the gun debate. So we're not going to be talking about Chained CPI today; instead, we're talking about the background-check deal.
Recommended: Background checks for guns - What you need to know
*** The details (so far) of the Manchin-Toomey compromise: NBC's Kasie Hunt reports that Sens. Manchin and Toomey are expected to announce their deal at 11:00 am ET. The details: The compromise expands background checks to cover all gun-show and online sales of firearms. It also contains significant exceptions for family transfers and in other circumstances. Hunt adds that sources close to the negotiations say the senators have circulated their proposal to the National Rifle Association, but the NRA has not yet commented on the compromise. Last night, Senate Majority Leader Harry Reid filed a cloture motion on a gun bill that does NOT include the compromise (although it will be added as an amendment), setting up a Thursday vote to start a Senate debate on guns. That said, Senate Republicans -- led by Ted Cruz, Rand Paul, Mike Lee -- are still planning to filibuster and try to keep debate from starting. As of Tuesday night, they hadn't ruled out standing on the floor and talking for hours, a la Paul's filibuster against the administration's drone policy.
*** Gun legislation passing the Senate is one thing; passing the House is another: Yes, it increasingly appears that there are enough votes to break the first filibuster. Per the New York Times, "Several Senate Republicans said Tuesday that they would not participate in a filibuster of the first major gun control bill since 1993, as Democrats appeared on the verge of overcoming a blockade threatened by a group of conservatives before a word of debate on the measure was uttered." Yet even if the gun legislation -- with the Manchin-Toomey compromise on background checks -- passes the Senate, don't forget it still has to get through the GOP-controlled House of Representatives. And as we've seen in the past (with the fiscal-cliff deal and Hurricane Sandy relief), the only way House GOP leaders will most likely bring it to the floor is if it gets a large number of Senate votes in final passage, and by large number we mean more than 70 votes. It's one thing for the president and the Newtown families to pull off a "shame the Senate" campaign into a vote; pulling it off in the House will be a trickier and harder task..
*** Obama rolls out his budget: Also today, Obama delivers a Rose Garden statement on the budget at 11:00 am ET -- so at the same time as the Manchin-Toomey presser. (Curious, does the White House wait for Manchin-Toomey? The plan right now is for the president to focus SOLELY on budget at this event). Per NBC's Ali Weinberg, senior administration officials held a conference call yesterday in which they maintained that the budget -- containing $1.8 trillion in deficit reduction (it counts sequester replacement to get there) -- is not a starting point but a "sticking point." These officials added  that the budget would "turn off the sequester"; lower spending on entitlement programs like Social Security and Medicare; and include some new spending proposals (which they stressed would not add to the budget deficit.) all of which, the SAOs said, would not add to the budget deficit. Of course, as we've pointed out before, neither the right nor the left is happy with this budget: House Republicans hold a stakeout at 10:00 am ET to comment on Obama's budget, and the GOP chairs of the Senate and House Budget committees (Sen. Jeff Sessions and Rep. Paul Ryan) hold a conference call with reporters at 2:00 pm ET. That said, it's still April and therefore still plenty of time to cut some type of budget deal.
*** Look Who's Coming to Dinner, Part 2: After he unveils his budget, the president holds a White House dinner with 12 Republican senators beginning at 6:30 pm ET. NBC's Kelly O'Donnell has the backstory on the dinner: Obama phoned Georgia Republican Johnny Isakson a few weeks ago to ask his help in arranging a second dinner with GOP senators. Isakson handled the guest list and told O'Donnell he wanted a cross-section of his party (by region, interests, etc.). The guest list is not being released, but so far we know that attendees will include: Isakson, John Thune, Mike Enzi, Susan Collins, and Marco Rubio (but he may not be able to attend).
*** Gang of Eight bill to be unveiled as soon as Thursday? Speaking of Rubio, there's a development in the immigration debate -- as thousands of immigration-reform advocates come to Washington to demand a path to citizenship for the 11 million undocumented immigrants in the country. As NBC reported yesterday, the Gang of Eight's draft Senate bill for immigration reform could be released as early as Thursday, but Senate aides indicate that the process of debating the details in the bill in the committee process will stretch an additional few weeks more than anticipated. The extra time is designed to assuage the concerns of Gang of Eight member Republican Sen. Marco Rubio, who has called for hearings and a lengthier process of debate on the measure. Rubio's support could help woo wary Republicans who have entreatied Senate Judiciary Committee Chairman Patrick Leahy not to "ram" the legislation through the panel and onto the Senate floor.
*** NBC/WSJ poll coming out tomorrow morning: With all of these moving parts on immigration, guns, and the budget, we will be releasing a brand-new NBC/WSJ poll first thing tomorrow morning. So stay tuned for numbers on all of these issues -- and more.
*** The Comeback Kids? So you have Mark Sanford one step away from winning back his old House seat; Tiger Woods is ranked #1 in the world as the Masters begins tomorrow; and the New York Times Magazine reports that Anthony Weiner is thinking about jumping into this year's New York mayoral race. What's going on here? Last week, Bloomberg's Josh Green declared that the political sex scandal -- especially after Bill Clinton's survival -- is officially dead. We agree to an extent. Sex scandals are no longer career-enders. But they are still career-haunters. After all, the only reason why Sanford's race next month against Elizabeth Colbert Busch is competitive is due to his scandal. New York voters seem to be begging for another candidate to enter the mayoral race, but is Weiner the one they really want? And even Bill Clinton, whose polling numbers couldn't be higher right now, has never been able to completely escape his sex scandal. A career-ender is what John Edwards did. As for Sanford and Weiner, their comebacks aren't yet complete. Here's what Tiger Woods teaches us about comebacks: Winning matters most, so if Weiner and Sanford win, well, then…
*** A few thoughts on that taped McConnell camp discussion: We have a few thoughts on yesterday's Mother Jones/Mitch McConnell/Ashley Judd story. For starters, top campaign aides discussing opposition research with their boss happens ALL THE TIME, in both Democratic and Republican campaigns. But what is potentially problematic for the McConnell camp is that you had a room full of men talking tough about two possible female opponents (one of whom was Judd), bringing up sensitive issues like depression and religion. That's probably why Team McConnell wanted yesterday's emphasis to be on the process instead of the substance -- thus accusing liberals of illegally taping the conversation (though they have provided no evidence to substantiate that allegation). Yesterday was a fascinating study in crisis management, as Republicans worked very hard on McConnell's behalf to push the storyline about the process of the recording.
*** Kelly wins IL-2 race: Lastly, Democrat Robin Kelly – as expected – won last night's special congressional general election in Illinois to fill Jesse Jackson Jr.'s vacated House seat. Roll Call: "Her victory came as no surprise. The 2nd District is heavily Democratic and Kelly had minimal opposition in the general election. McKinley is a convicted felon, according to numerous news outlets."
Click here to sign up for First Read emails.
Text FIRST to 622639, to sign up for First Read alerts to your mobile phone.
Check us out on Facebook and also on Twitter. Follow us @chucktodd, @mmurraypolitics, @DomenicoNBC, @brookebrower