Here comes the bully pulpit… Obama to give remarks at 10:45 am ET calling on Congress to avoid the so-called sequester… Rubio vs. White House -- bad for immigration reform, or exactly what's needed to pass it?... White House vs. MSM… Sanford goes on "TODAY"… Retirement watch for 2014… On Johanns and bipartisanship… Simpson-Bowles, Part 2… And for the GOP, time to move away from Reagan?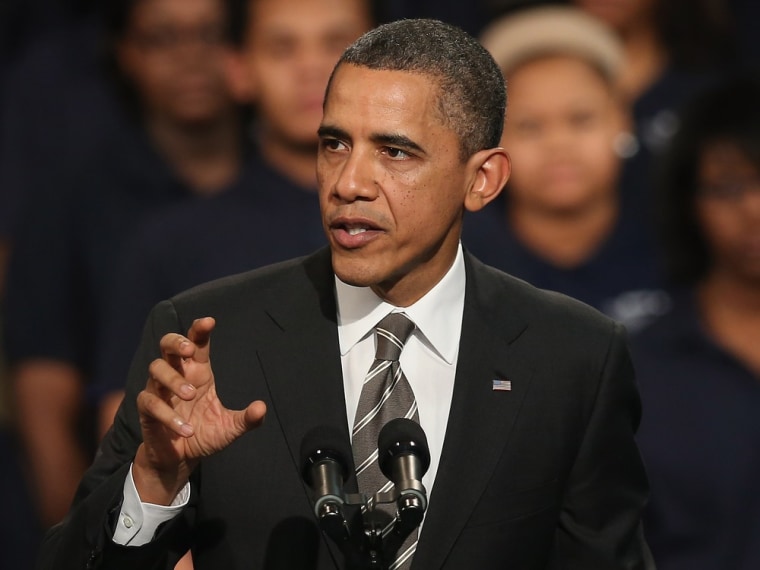 *** Here comes the bully pulpit: At 10:45 am ET, President Obama will deliver a statement urging Congress to avoid the automatic spending cuts set to take effect on March 1. Per the White House, the president will make these remarks surrounded by emergency responders -- "the kinds of working Americans whose jobs are on the line if Congressional Republicans fail to compromise on a balanced solution," it says. House Speaker John Boehner's office tells First Read it agrees that the so-called sequester "is a bad way to cut spending." More from Boehner spokesman Brendan Buck: "That's why we've twice passed a plan to replace it with common sense cuts and reforms that don't threaten our security, safety, and economy." But you can see where this is going. Today, Obama will be surrounded by first responders; tomorrow, it might be military families; and the day after that, it could be with essential government workers who could be furloughed. This is the one power a president has with Congress as it relates to domestic policy: the power of persuasion. We have seen the future of this sequester fight over the next few weeks, and it is today -- a massive public-relations effort with the president using his pulpit to drop a political hammer on Congress.
*** Rubio vs. White House: Bad for immigration reform? Or exactly what's needed to pass it? While today's policy fight is over the sequester, during the long holiday weekend it was over the thorny issue of immigration. The skirmish began with USA Today getting its hands on the White House's draft immigration proposal, which apparently would allow illegal immigrants to become legal permanent residents within eight years. Within hours of publication, Sen. Marco Rubio -- who's part of a bipartisan group of senators working on comprehensive immigration reform -- blasted that White House proposal as being "dead on arrival in Congress." Not a good sign of passing immigration reform, right? Well, Talking Points Memo has the theory (which we share) that this kind of conflict is what's EXACTLY needed to pass immigration reform. Why? "Not wanting to be seen as a shill for a Democratic president's signature achievement, Rubio's strategy from the start has been to play up his differences with the White House as much as possible… The Republicans [Rubio] needs to win over to pass a bill will be a lot more comfortable if they think they're somehow thumbing their nose at Obama by voting for it." So if you're a Republican supporting immigration reform, you eagerly want to highlight any differences with the White House (no matter how small they might be). On the other hand, if you're an opponent of immigration reform, your goal is to point out how similar the proposals are. And that is exactly what we saw happen yesterday.
*** The White House vs. the MSM: This morning, Politico runs a piece noting that President Obama has become "a master at limiting, shaping and manipulating media coverage of himself and his White House," and it's central beef has gone around the Mainstream Media (which includes the news organization that printed the piece). While the article comes across as whining and uses the non-news story of Obama golfing with Tiger Woods as its peg, it does make two important points. One, the president hasn't given an interview with a White House reporter (the folks who are covering him) in over a year. And two, as ABC's Ann Compton raises in the piece, the White House no longer gives policy briefings on important topics. Then again, despite those valid criticisms, here's something to keep in mind: The same piece could have been written about every modern president, going back to Nixon. (Think of all the wasted ink and gripes about Reagan's media mastermind, the late Michael Deaver.) All presidents want to control their images and access to the media. And with changes in technology and the news business, the ways to do that keep growing and growing.
*** Sanford goes on "TODAY": With the special GOP primary to fill South Carolina's vacated House taking place next month, former Gov. Mark Sanford (R) went on "TODAY" to talk about his candidacy in the race. He said that while he failed in marriage ("If we live long enough, we're going to fail at something"), he never failed South Carolina taxpayers. But when NBC's Savannah Guthrie brought up the State Ethics Commission charges that were unearthed after knowledge of Sanford's affair -- spending taxpayer money on business-class flights, using state aircraft for personal travel, spending campaign funds for non-campaign expenses -- Sanford said he never admitted guilt, despite agreeing to pay $74,000 to settle those ethics charges. Flashback to the March 2010. The Columbia State: "In the agreement, released Thursday, the Ethics Commission issued a public reprimand to the governor and disagreed with his argument that he broke no laws." Depends on the meaning of an "ethics" fine?
*** Retirement watch for 2014: NBC's Kasie Hunt reported yesterday that Sen. Mike Johanns (R-NE) will not be seeking re-election next year. So here's our retirement watch for 2014: The Democrats -- so far -- have to defend four open seats (West Virginia's Jay Rockefeller, Massachusetts' John Kerry, Iowa's Tom Harkin, and New Jersey's Frank Lautenberg), versus two for Republicans (Nebraska's Johanns and Georgia's Saxby Chambliss). But the political reality is that the Republican-held open seats in Georgia and Nebraska will be much easier for the GOP to defend, while Democrats will have to fight tooth and nail (and pray for a divisive GOP primaries) in Iowa and West Virginia to hold on to those seats. What's more, Democrats have to keep their eye on other potential retirements in South Dakota (Tim Johnson) and Michigan (Carl Levin). That's the task for Democratic Senate Campaign Committee Executive Director Guy Cecil, whom the New York Times profiles today.
*** On Johanns and bipartisanship: Speaking of Johanns, it's worth noting that this former George W. Bush cabinet member belonged to the so-called "Gang of Eight" trying to achieve bipartisan deficit reduction (he's the second of four GOP members of that Gang to announce his retirement; Saxby Chambliss is the other). He also voted against the GOP filibuster against Chuck Hagel's nomination to be defense secretary -- and said he'd vote for his fellow Nebraskan in an up-or-down vote. Ask yourself this: Is the Senate, post-2014, going to be better off without someone like Johanns?
*** Simpson-Bowles, Part 2: Speaking of bipartisan deficit-reduction deals, Simpson-Bowles, Part 2 is being rolled out today. They are calling for $2.4 trillion in additional deficit reduction, as well as a 3-to-1 ratio of cuts (including entitlement reform) to tax increases (via tax reform). How many Republicans will embrace Simpson-Bowles Part 2 if it includes more taxes? We're guessing not many. This plan  -- and it's embrace of chained CPI on Social Security -- looks a lot more like something the president could support than congressional Republicans right now.
*** Time to move away from Reagan? Yesterday, we learned that Sarah Palin -- remember her? -- will be addressing the Conservative Political Action Conference in the DC area next month. But with prominent Republicans and conservatives slated to speak at the annual confab, taking place just months after the party's losses in 2012, this New York Times op-ed by conservative writer Ramesh Ponnuru is worth chewing on: The GOP needs to move away from Ronald Reagan, especially as it relates to dealing with policy issues 25 years after he left office. After all, as Ponnuru writes, Reagan cut taxes at a time when the top rate was 70%; now it's half of that. "In his first Inaugural Address, Reagan famously said that 'government is not the solution to our problem; government is the problem.' The less famous yet crucial beginning of that sentence was 'in our present crisis.' The question is whether conservatism revives by attending to today's conditions, or becomes something withered and dead."
Click here to sign up for First Read emails.
Text FIRST to 622639, to sign up for First Read alerts to your mobile phone.
Check us out on Facebook and also on Twitter. Follow us @chucktodd, @mmurraypolitics, @DomenicoNBC, @brookebrower