Hillary's "honeymoon" with GOP ends… Yet she departs her job stronger today than she was four years ago… Kerry gets his Senate confirmation hearing at 10:00 am ET… Boehner: Obama wants to "annihilate" the GOP… Pentagon to allow women to serve in direct combat… DiFi introduces her assault-weapons ban… And Jindal addresses the RNC meeting in Charlotte, NC.
*** Hillary's honeymoon with the GOP ends: Say what you will about yesterday's theatrics at the Senate Foreign Relations and House Foreign Affairs committees, about the testy exchanges, and about the questions asked and questions dodged. But politically, what struck us about Secretary of State Hillary Clinton's appearance was that it marked the end of her four-year honeymoon with Republicans, especially as we begin to turn to 2016. Yes, the word "honeymoon" might be a stretch. But consider how Republicans have either embraced her -- or been indifferent to her -- over the past four years as they've focused their energies on President Obama. In fact, Republicans praising her (or her husband) has been a way to criticize Obama. "I just wanted to say that I wish you'd have won the Democratic primary in 2008," freshman GOP Rep. Tom Cotton said yesterday. Just look at our most recent NBC/WSJ poll: 41% of Republicans approve of Clinton's job as secretary of state (compared with just 10% who approve of Obama's job as president). Yet whether it was the tough questions from conservatives or how Matt Drudge covered the hearings, Republicans treated Clinton as a partisan Democrat yesterday. And that was something we hadn't seen these past four years. Madame Secretary, hope you enjoyed the Republican honeymoon while it lasted, because the bipartisan overtures are now over, assuming you do decide run in 2016.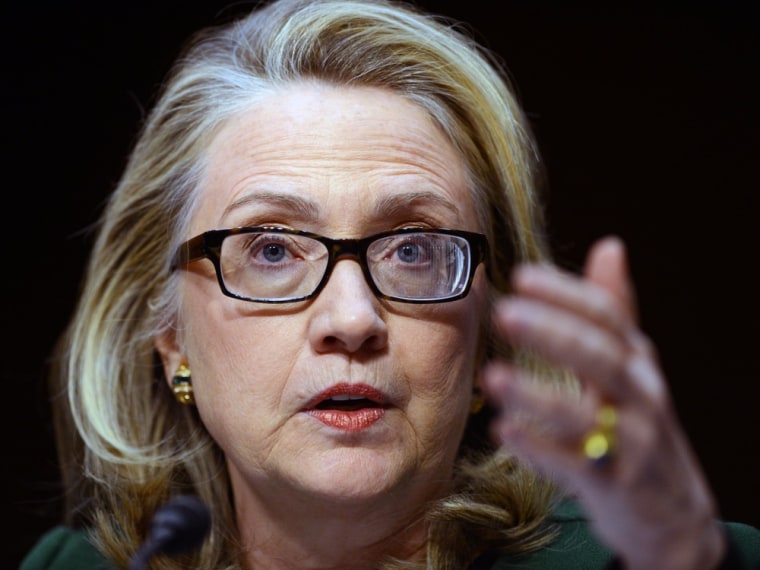 *** But she's stronger today than she was four years ago: Speaking of Clinton's performance, all of her political strengths were on display. She was prepared. She was tough when she needed to be. She was deferential when she wanted to be. And she displayed both raw emotion and a sense of humor. It's also worth noting that she's stronger today -- politically -- than she was four years ago. Part of it, as we said above, is that Republicans have embraced her. But another part is that, since becoming secretary of state, she no longer owns some of her husband's baggage. She is her own political entity now, which wasn't always the case during her 2008 presidential bid; she was still "Mrs. Clinton" in 2008. But here's one additional point to make: When the Clintons leave office, there's always some kind of drama. As Bill Clinton departed the White House in 2001, there was the Marc Rich pardon. And as Hillary leaves her post as secretary of state, it ended with her testimony on Benghazi. But politically, her performance yesterday is enough to quiet any nervous nellies in the Democratic Party that she isn't ready for what will inevitably be a rough and tumble campaign should she embark on it.  
*** Kerry gets his confirmation hearing: Hillary Clinton makes another appearance on Capitol Hill today -- but it's to introduce John Kerry at his confirmation hearing before the Senate Foreign Relations Committee to succeed Clinton as secretary of state. The hearing takes place at 10:00 am ET. Here's some trivia via the Boston Globe: If confirmed, Kerry would become the eighth secretary of state from Massachusetts, but only the second in the past 100 years. He also would be the fifth chairman of the Foreign Relations Committee to be appointed, but the only sitting chairman. And if Kerry steps down from his Senate seat on Monday, the primary to replace him would have to take place between Saturday, May 11 and Sunday, May 26. And the general would be between Saturday, June 22 and Sunday, July 7. State law requires the general to take place 145 to 160 days after a vacancy is created. The primary is required to occur six weeks before that.
*** Boehner: Obama wants to "annihilate" the GOP: Outside of Capitol Hill, House Speaker John Boehner made news after the Ripon Society, a moderate GOP organization, released a transcript of the speaker's address to the group on Tuesday. In his remarks, Boehner charged that the Obama administration wants to "annihilate" the Republican Party and "shove" it "into the dustbin of history." Said Boehner: "[G]iven what we heard [Monday] about the president's vision for his second term, it's pretty clear to me that he knows he can't do any of that as long as the House is controlled by Republicans. So we're expecting over the next 22 months to be the focus of this administration as they attempt to annihilate the Republican Party. And let me just tell you, I do believe that is their goal - to just shove us into the dustbin of history." It's interesting what Boehner said – but also where he said it. The Ripon Society is a group where moderate GOPers are allowed to flourish. Was Boehner sending a message to Democrats? Or to his own base? And don't miss Paul Ryan's statement to the Wall Street Journal: "I think we need to do a better job of applying our principles to the problems of today, to show solutions to the country's biggest problems and how they relate in people's everyday lives."
*** Pentagon to allow women to serve in direct combat: Perhaps the biggest news of the day is the Pentagon's announcement of ending the U.S. military's exclusion of women as combat soldiers on the ground. Per NBC's Courtney Kube, Defense Secretary Leon Panetta will announce today he's eliminating the direct ground combat exclusion for women. The current DoD policy is that women are to be excluded from assignment to units below the brigade level if they would be engaging in direct combat. "We are moving in the direction of women as infantry soldiers," one senior defense official to NBC's Kube. Panetta's decision mandates that the studies and reviews on women as infantry soldiers must be completed by Oct. 2015 -- women soldiers will NOT be permanently assigned to infantry any sooner than that, the official explained. In the meantime, officials will examine whether any changes are necessary for physical requirements for women to serve as infantry soldiers. This announcement, Kube adds, will open approximately 237,000 positions to women across the services (positions being individual jobs, not job categories). This will include 5,000 positions for female marines in ground combat elements (this includes female corpsmen or medics serving at the battalion or company level). Our take: Intellectually, this shouldn't be a big deal; women are already serving in combat (see Tammy Duckworth). But the real test is where public opinion might be, especially if more and more women come home in flag-draped coffins.
*** DiFi introduces her assault-weapons ban: Also today, Sen. Dianne Feinstein (D-CA) introduces her assault-weapons ban in Congress. There's also a Senate hearing on mental health and gun violence at 10:00 am ET before the Health, Education, Labor, and Pensions Committee. And yesterday, the White House announced that Vice President Biden and Sen. Tim Kaine (D-VA) will travel to Richmond, VA to discuss gun violence.
*** Jindal addresses the RNC: Finally today, the real action at the RNC's winter meeting in Charlotte, NC begins. And today's highlight there is Louisiana Gov. Bobby Jindal's speech at an evening dinner. Per the Washington Post's Cillizza, Jindal's speech will call for Republicans to focus less on the political battles in Washington, DC. "A debate about which party can better manage the federal government is a very small and short-sighted debate," he is expected to say. "If our vision is not bigger than that, we do not deserve to win." More Jindal: "Instead of worrying about managing government, it's time for us to address how we can lead America… to a place where it can once again become the land of opportunity, where it can once again become a place of growth and opportunity.  We should put all our eggs in that basket." If you take the recent comments by Boehner, Ryan, and Jindal together, you're seeing a pragmatic argument from these three Republicans. They are trying to defend conservative principles, but remain a modern party. It's no longer about stopping Obama; it's becoming a governing party after Obama. And speaking of Jindal, maybe no Republican has done a better job -- right now -- of positioning his voice for 2016 than the Louisiana governor has.  
Click here to sign up for First Read emails.
Text FIRST to 622639, to sign up for First Read alerts to your mobile phone.
Check us out on Facebook and also on Twitter. Follow us @chucktodd, @mmurraypolitics, @DomenicoNBC, @brookebrower