Immigration takes center stage… But passage won't be easy… Obama thanks Hillary Clinton… Rreading the 2016 tea leaves from the interview… Hagel and the outside groups trying to defeat his nomination… Breaking down the Chambliss and Harkin retirements… And McDonnell and Cuccinelli oppose Virginia's electoral-vote change.
*** Immigration takes center stage: Exactly seven days since President Obama's inauguration, a series of events this week suggests that immigration has the best shot at being the first big legislative action -- and potential battle -- of 2013 (outside of the budget, of course). Today, a bipartisan group of eight senators (Democrats Chuck Schumer, Dick Durbin, Bob Menendez, and Republicans John McCain, Lindsey Graham, Marco Rubio and Jeff Flake) are laying out four agreed-on principles to achieve comprehensive immigration reform. Also today, at 11:00 am ET, several organizations pushing immigration reform are holding a press conference at the National Press Club to issue a "call to action" on the subject. And tomorrow, Obama heads to Las Vegas to deliver his own remarks on immigration. The bipartisan group of senators, in particular, is a big deal. Indeed, this appears to be the first time that McCain has signed on to a top Obama legislative priority since the presidential first took office. And here are their four principles: 1) create a "tough but fair path to citizenship" for illegal immigrants that's contingent on border security; 2) reform the system in a way that helps build the economy; 3) establish an effective employment verification program; and 4) reform the system of admitting future workers. Five of the eight senators (Rubio, McCain, Schumer, Durbin, and Menendez) will appear together today in DC at 2:30 pm to officially unveil their agreement; the other three have scheduling conflicts in their home states.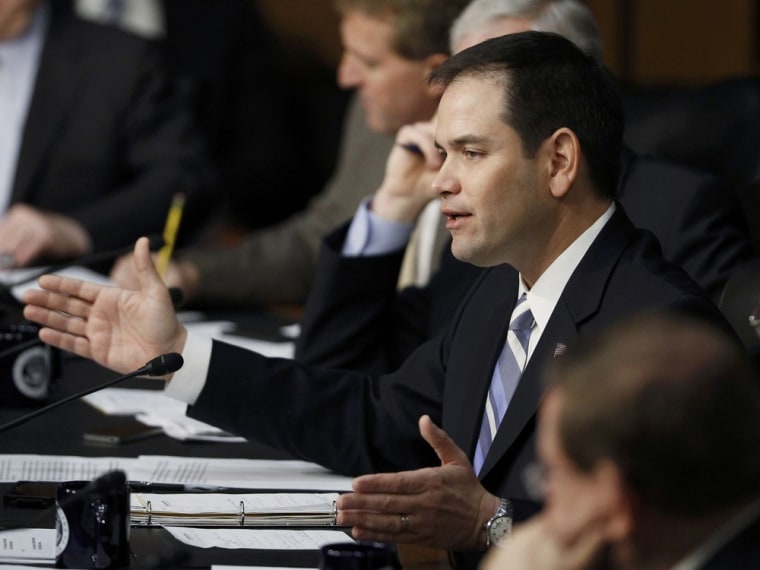 *** But its passage won't be easy: On paper, passing a comprehensive immigration reform bill should be more than doable. After all, it's now in both parties' interest to do so -- for Democrats, it's delivering on a campaign promise; for Republicans, it's to avoid again losing the Latino vote by a 71%-27% margin. But remember this: Nothing is ever easy in Washington. For one thing, the devil is in the details, even with these bipartisan principles. How do you create this "tough but fair path" to citizenship? What's the punishment for undocumented immigrants? How long do these immigrants have to wait to become citizens (and potential voters)? The other obstacle to passage is the House of Representatives. Does Speaker John Boehner -- once again -- allow legislation that might not have the backing of a majority of his GOP caucus to reach the floor? That said, it was notable that House Budget Committee Chairman Paul Ryan on "Meet the Press" yesterday embraced Rubio's work on immigration reform. "I support and agree with the principles that he laid out about earned legalization. Making sure that you're not rewarding people for having cut in line, but making sure that we can fix this problem." Ryan added, "Look, immigration's a good thing."
*** And selling it Republicans won't be easy, either: The big challenge, in the short term, is going to be for McCain, Rubio, and Graham to sell this compromise as "not amnesty." (And that's exactly what Rubio has been doing in conservative-media circles in the past few weeks.) When you read the bipartisan agreement, there is a lot of detail and promise on this issue, including: making sure these folks pay back taxes and fines, making sure they are in the back of the line behind those folks playing by the rules now, and an agreement that these 11 million undocumented immigrants DON'T get a shot at citizenship until certain border security "metrics" are met. Of course, define "metrics" -- that's among the detail devils.
*** Obama thanks Hillary: For those of you, like us, who followed every twist and turn during the 2008 presidential race, last night's joint Obama-Hillary Clinton interview on "60 Minutes" was extraordinary. And we understand that the interview was all Obama's idea -- and it was more about thanking Clinton for being his secretary of state these past four years (and keeping the party united) than about 2016. Here's a thought exercise: Imagine what Obama's presidency would have been like had Clinton stayed in the U.S. Senate. During the tough times (health care, the debt-ceiling debate), everyone would have looked for any kind of daylight between the two politicians, and Hillary potentially launching a primary challenge would have been a constant story, even if she had no plans on such a move. But what's been extraordinary is how loyal Obama and Clinton have been to each other. And this line from Clinton explaining why she accepted Obama's offer to be secretary of state struck us: "I thought, 'You know, if the roles had been reversed. And I had ended up winning. I would have desperately wanted him to be in my cabinet. So if I'm saying I would have wanted him to say yes to me, how am I going to justify saying no to my president?' And it was a great decision, despite my hesitancy about it."
*** Reading the 2016 tea leaves: Still, the interview did provide some tea leaves to read about 2016. After all, here was the president conducting his first joint media interview with someone other than his wife. It was an affirmation of Clinton's work, especially after her contentious testimony last week on Capitol Hill. "Well, the main thing is I just wanted to have a chance to publicly say thank you, because I think Hillary will go down as one of the finest secretary of states we've had," Obama said. It was a reminder that Vice President Joe Biden isn't the heir apparent, if Clinton decides she wants to run for president four years from now. And lastly, it was evidence that the Democratic Party -- at least right now -- is more united than ever. We were disappointed that so little time was devoted to some of the key foreign policy decisions this tandem made together, including the decision to oust Hosni Mubarak, among other issues.
*** Hagel and the outside groups trying to defeat his nomination: On Thursday at the Senate Armed Services Committee, Chuck Hagel has his confirmation hearing to be Obama's next defense secretary. And yesterday, the New York Times noted that Hagel's confirmation battle is the first to be fought in the Super PAC/post-Citizens United era. "The media campaign to scuttle Mr. Hagel's appointment, unmatched in the annals of modern presidential cabinet appointments, reflects the continuing effects of the Supreme Court's 2010 Citizens United decision, which loosened campaign finance restrictions and was a major reason for the record spending by outside groups in the 2012 election... While the campaign against Mr. Hagel, a Republican, is not expected to cost more than a few million dollars, it suggests that the operatives running the independent groups and the donors that finance them — many of whom are millionaires and billionaires with ideological drive and business agendas that did not go away after the election — are ready to fight again."
*** Breaking down the Chambliss and Harkin retirements: In the past 72 hours, two U.S. senators -- Republican Saxby Chambliss of Georgia and Democrat Tom Harkin of Iowa -- announced they wouldn't be seeking re-election in 2014. That means we now have four retirements (John Kerry, Jay Rockefeller, Chambliss, and Harkin), and other ones potentially in the works (Frank Lautenberg, Tim Johnson, maybe Thad Cochran or Mike Enzi). Politically, perhaps the most significant story we'll be following after these retirements is to see how the GOP primaries in Georgia and Iowa play out (West Virginia, too, for that matter). Do Republicans coalesce around the more electable candidate, or does the most conservative candidate win? One other thing to watch: Chambliss has the ability to be a wild card on legislation -- his retirement statement criticized both Obama and Congress -- and Harkin might be a little more free to vote on contentious legislation (like gun control) than he would have if running for re-election next year.
*** Obama's day: Besides all of today's immigration news, President Obama and Vice President Biden are holding a meeting this morning with police chiefs from around the country -- including from Aurora, CO, Oak Creek, WI, and Newtown, CT -- to discuss reducing gun violence. Also today, at 1:40 pm ET, Obama will welcome the Miami Heat to the White House to celebrate their NBA championship from last season.
*** McDonnell, Cuccinelli oppose electoral-vote change: Lastly, both Virginia Gov. Bob McDonnell (R) and GOP gubernatorial candidate Ken Cuccinelli have come out in opposition of the Republican effort in the state to change how Virginia's electoral votes are awarded. Folks, the effort in Virginia is dead. The question is whether Republicans in other states -- like Pennsylvania and Wisconsin -- are still thinking about pursuing the change. As Wisconsin Gov. Scott Walker told Newsmax, per NBC's Sarah Blackwill: "It's an interesting idea. I haven't committed one way or the other to it. For me, and I think any other state considering this, you should really look at not just the short-term but the long-term implications. Is it better or worse for the electorate?"
Click here to sign up for First Read emails.
Text FIRST to 622639, to sign up for First Read alerts to your mobile phone.
Check us out on Facebook and also on Twitter. Follow us @chucktodd, @mmurraypolitics, @DomenicoNBC, @brookebrower