Obama at the G-8: It could have been worse… Germany visit: 2013 vs. 2008… Obama on Syria, NSA surveillance, and Bernanke… McCaskill backs "Ready for Hillary" Super PAC… House to vote on abortion ban… Biden to talk gun control… Not-so Great Scott… And revenge is a dish best served … by running for office. 
*** It could have been worse: As President Obama today wraps up his G-8 meetings in Northern Ireland before heading to Germany later this afternoon, it's safe to say that this hasn't been a very successful overseas trip for President Obama. At least so far. He was hoping to get a big show of early support on a free-trade agreement with Europe (the Transatlantic Trade and Investment Partnership), but he got some pushback (especially from France). And regarding Syria, there wasn't much of an agreement on anything, especially from Russia. Of course, it could have been worse -- the U.S. will still host the first round of talks on the trade partnership next month in DC, and Obama's meeting with Putin was at least cordial (yet still awkward). At least Putin didn't make any cannibal references while sitting next to the president. That said, the White House is hoping to turn things around with a successful speech at the Brandenburg Gate in Germany tomorrow. But even that seems like an uphill climb. Der Spiegel doesn't exactly roll out the welcome mat for Obama like they did in 2008.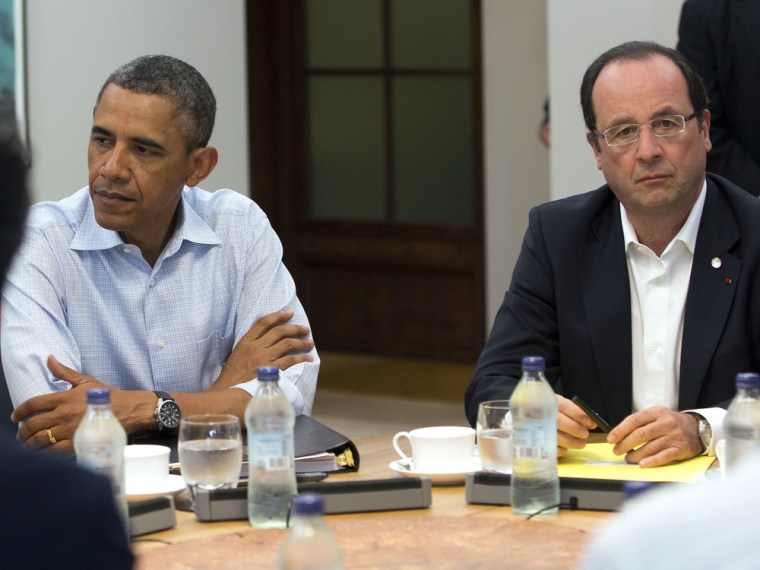 *** 2013 vs. 2008: NBC's Andy Eckhart notes:  "Germany meets the superstar" was the headline on the cover of Der Spiegel weekly before his visit during the 2008 campaign. Some 200,000 Germans cheered him on. In this most recent issue of Der Spiegel, Eckhart notes the cover features Obama in Kennedy's shadow with the tagline, "The Lost Friend" and then it has an "angst-ridden report about fraying ties. "Kennedy's visit to Berlin was an almost ecstatic celebration of a protective alliance," it wrote. But it said nearly 70 years after World War II and two decades after the end of European communism, "the trip of (JFK's) no-less-charismatic successor will likely be a prosaic family gathering." Commentators note that Germans, like other ardent Obama supporters, are frustrated by impasses on slowing climate change and closing Guantanamo Bay prison." Needless to say, expectations are a LOT lower for Obama's reception in Germany than they were five years ago. 
*** Obama on Syria: So what did we learn from Obama's Charlie Rose interview from last night? Well, he outlined his Syria policy (or as some argue, his non-policy) a bit more. "We know what it's like to rush into a war in the Middle East without having thought it through. And there are elements within the Middle East who see this entirely through the prism of a Shia-Sunni conflict and want the United States to simply take the side of the Sunnis," he said. "And that I do not think serves American interests." He went on to say, "And we have a legitimate need to be engaged and to be involved. But for us to do it in a careful calibrated way sometimes is unsatisfying, because what people really typically want is a clean solution, a silver bullet, 'Here's what we're going to do,' and we just move forward."
*** Obama on NSA surveillance: In his interview with Charlie Rose, the president also commented on the controversies surrounding the NSA surveillance programs. "The way I view it, my job is both to protect the American people and to protect the American way of life which includes our privacy," he said. "And so every program that we engage in, what I've said is 'Let's examine and make sure that we're making the right tradeoffs.'" He went on to say, "If you're a U.S. person, then NSA is not listening to your phone calls and it's not targeting your emails unless it's getting an individualized court order." Obama's comments came as a new Pew poll shows that Americans are split on the NSA surveillance story, with 49% saying that Edward Snowden's release of the classified information serves the public interest, versus 44% who say it harms the public interest. (Strikingly, younger people strongly say that the NSA leak serves the public interest, which might not be that surprisingly given that the younger generation has a greater expectation that things are more open and transparent.) Also today, the House Intelligence Committee holds an open hearing at 10:00 am ET with NSA Director Keith Alexander. 
*** Obama closer than ever to replacing Bernanke? Perhaps the biggest news that Obama made in the Charlie Rose interview was that Ben Bernanke isn't going to serve another term as Fed chairman. Why? Because Obama spoke of his service in the past tense. ROSE: "Some people would like to see you announce that you are reappointing Ben Bernanke as chairman of the Fed." OBAMA: "Well, I think Ben Bernanke's done an outstanding job. Ben Bernanke's a little bit like Bob Mueller, the head of the FBI where he's already stayed a lot longer than he wanted or he was supposed to." ROSE: "But if he wanted to be reappointed, you would reappoint him?" OBAMA: "He has been an outstanding partner along with the White House, in helping us recover much stronger than, for example, our European partners, from what could have been an economic crisis of epic proportions."  
*** McCaskill backs "Ready for Hillary" group: In 2016 news today, the group "Ready for Hillary" announced the support of Sen. Claire McCaskill, whom it says is the first member of Congress to get on board of the Super PAC that's supporting Hillary's candidacy (though that doesn't have official ties with the former Secretary of State). It's also notable because McCaskill was an early Obama supporter in '08. This McCaskill news comes after former Michigan Gov. Jennifer Granholm has been assisting Ready for Hillary, too. One thing that was clear to us yesterday, there seems to be a concerted effort to recruit prominent Democratic women early to Hillary's side. That said, let's everybody take a deep breath and realize, the only "news" a top Democratic official can make now about 2016 is announcing their intention NOT to support Clinton.  At this point, announcing support for her is not exactly NEWS. 
*** House to vote on abortion ban: Remember when, right after the 2012 election, Republican establishment types wanted to move beyond abortion and the culture war? Well, months later House Republicans today hold a vote on a measure that would prohibit abortion after 20-22 weeks of pregnancy. The New York Times: "Aware of the risks inherent in abortion politics, Republican leaders have moved to insulate themselves from Democrats' criticism that they are opening a new front in the "war on women." Representative Marsha Blackburn, Republican of Tennessee, will manage the debate on the bill when it reaches the House floor, a role that would customarily go to the sponsor, Representative Trent Franks of Arizona. And in a last-minute revision, House leaders slipped in a provision that would allow for a limited exception in cases of rape or incest, but only if the woman had reported the crime." Those limited exceptions come after Franks drew criticism for saying that the incidents of pregnancy from rape were "very low." Per NBC's Frank Thorp, the vote takes place around 6:00 pm ET. 
*** Biden to talk gun control: Meanwhile, at 1:00 pm ET, Vice President Biden delivers remarks on reducing gun violence. But after the administration's defeat on the Senate background-check vote, Biden's focus will be on the executive orders that the administration has pursued on guns. "Senior administration officials said the vice president will deliver a 'progress report' touting completion of a slew of executive actions — including writing emergency management plans for schools and churches and training police to respond to active shooters," the Washington Post reports. "Sure, these steps might make communities safer and better prepared to respond to gun violence. But, gun-control advocates said, they are baby steps that do relatively little to prevent the next mass shooting." More: "Biden plans to announce that the administration has completed or made significant progress in 21 of 23 executive actions first rolled out on Jan. 16, according to senior administration officials." 
*** (Not so) Great Scott: Folks, the fact that this new Quinnipiac poll is being touted as good news for incumbent Florida Gov. Rick Scott (R) shows just how endangered he is come 2014. Yes, his approval rating has increased from 36% to 43% from 36%. And, yes, he's now trailing Charlie Crist by 10 points (47%-37%) instead of 16 (50%-34%) in a hypothetical gubernatorial match up. But those are rough, rough numbers for a politician facing re-election next year. You never want to see your approval rating below 45%, and you never want your ballot number to be in the 30s… 
*** Revenge is a dish best served … by running for office: After it became pretty clear that Senate Republicans wouldn't allow Elizabeth Warren to officially head the Consumer Financial Protection Bureau, Warren decided to run for the U.S. Senate, and she beat incumbent Republican Scott Brown. (It raises the question if Brown might still be in the Senate if Republicans had been willing to accept her appointment.) And now Donald Berwick -- who headed Medicare and Medicaid for the Obama administration as a recess appointee but who never even received a Senate confirmation hearing -- is following the Elizabeth Warren route. Yesterday, he announced he was running for Massachusetts' open gubernatorial seat in 2014 as a Democrat. In addition, it's possible that Richard Cordray, Obama's recess appointment at the CFPB, could run for Ohio governor. As one plugged in Hill Democrat emails us, "Remember, there's historic precedent for blocked nominees seeking revenge through future elected office.  If things had gone differently in the 80s, Jeff Sessions would currently be toiling as an obscure federal judge in Alabama, not leading the charge against the immigration bill."   
http://is.gd/ccxyrR%22%20%5Ct%20%22_blank">Click here to sign up for First Read emails.
Text FIRST to 622639, to sign up for First Read alerts to your mobile phone.
Check us out on http://is.gd/TzuR1b%22%20%5Ct%20%22_blank">Facebook and also on http://is.gd/hkhSDT%22%20%5Ct%20%22_blank">Twitter. Follow us @http://twitter.com/#!/chucktodd">chucktodd, @http://twitter.com/#!/mmurraypolitics">mmurraypolitics, @http://twitter.com/#!/DomenicoNBC">DomenicoNBC, @brookebrower