Judging Romney's overseas performance… If you compare it to a floor exercise in gymnastics, then you'd have to say it was marred by two big unforced errors… The trip ends with a spat with the press corps, as well as a speech in Warsaw… Top Romney aide declares the trip "a great success"… When the context of yesterday's Israeli-Palestinian comparison only raises more questions… The importance of August for Romney… The new Romney-RNC TV ad… We now know all the major speakers for the Dem convention… What will LaTourette say at his news conference?... And tonight is the Dewhurst vs. Cruz run-off in Texas.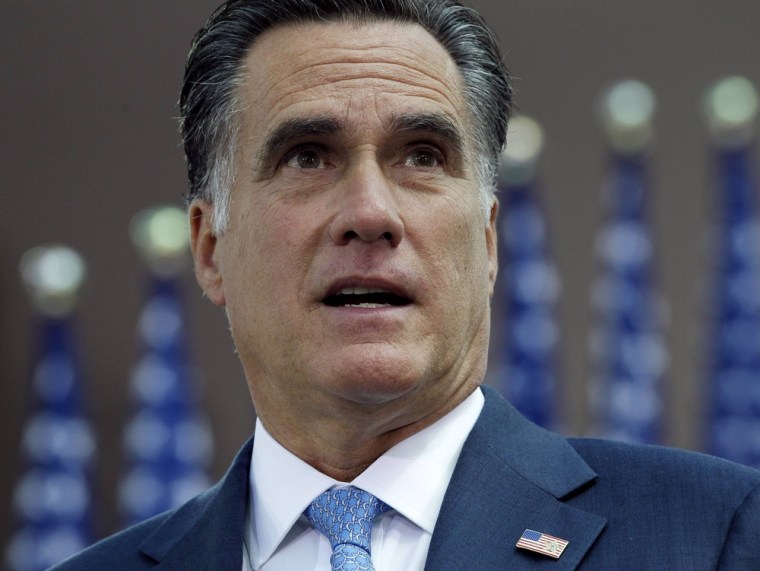 *** Judging Romney's overseas performance: So what's the best way to view Romney's overseas trip, which just concluded today in Poland? Since we're in Olympics season, think of it as a floor exercise in gymnastics. Romney picked a routine with a low degree of difficulty -- a cartwheel here (visiting Great Britain), one somersault there (the stop in Israel), and a grand finale featuring a simple back flip (the last leg in Poland). There were some upsides for him: Americans saw him on their TV sets during the opening ceremony at the Olympics; he bonded with Israeli PM Netanyahu; he gave a solid speech in Israel; and got his photo-op with Lech Walesa in Poland. But because the routine was so simple, the mistakes stuck out even more. So as Romney performed his cartwheel in England, he stepped out of bounds when he questioned London's readiness for the Olympics. He lost additional points for flubbing the end of the somersault in Israel when he tried to explain the economic differences between Israel and the Palestinian Authority through a cultural prism (that may end up offending Mexican Americans as much as he appeared to offend Palestinians). And after sticking his landing in Poland, his campaign got into a spat with the judges -- that is, the reporters following him.
*** Trip ends with a spat with the press corps: NBC's Garrett Haake reports that at the Tomb of the Unknown Soldier in Warsaw, a Romney press secretary told reporters that the GOP candidate would likely not answer questions from the press. That meant on the six-day trip, he would have taken precisely three questions from the traveling press corps. When the pool and traveling reporters were told to return to their busses, Haake adds, a mass of reporters instead headed over to the motorcade area, where Romney was observing another monument. It was there the press started shouting questions. An example: "Gov. Romney, are you concerned about some of the mishaps on your trip?" Another: "Gov. Romney, do you have a statement for the Palestinians?" And: "What about your gaffes?" Another Romney press aide fired back, "Show some respect," adding: "Kiss my ass. This is a holy site for the Polish people. Show some respect." That press aide later apologized to some of the reporters, but the damage was done. You'll recall, this trip got off to a bad start during a joint avail with British Labor leader David Miliband when Romney refused to take questions from his own press corps, even as he answered questions from the British press.
*** Romney's Warsaw speech: Romney's final big event of his weeklong trip was a speech he delivered a couple of hours ago in Warsaw. Here's the AP's take on the speech: "Republican presidential candidate Mitt Romney said Tuesday that Poland's economy is a model of small government and free enterprise that other nations should emulate, an unspoken criticism of President Barack Obama's policies in the wake of the worst recession in decades." More: "Romney told a Warsaw audience to stay on the path toward a robust capitalist economy and continue the march toward 'economic liberty and smaller government' rather than 'heeding the false promise of a government-dominated economy.'" The speech was designed to be the most "domestic" of the trip. Using the Polish setting to talk about economic expansion and free enterprise. 
*** Top Romney aide declares trip "a great success": After the mini-press debacle in Warsaw, NBC's Garrett Haake reports that top Romney strategist Stuart Stevens later held a gaggle with reporters (damage control?) after Romney's speech to push back against the perception the trip hasn't gone well. The highlights, Haake notes, include Stevens pronouncing the trip a "a great success, generally," and saying that Romney has answered "a lot of questions" on this trip when asked why he hasn't done a press conference. (But is taking three questions outside 10 Downing Street "a lot of questions?) Some of the quotes from Stevens: "[Romney] has a tendency to speak his mind and say what he believes." More: "There is no Electoral College here. You're not trying to win the Electoral College in England, Israel and Poland." And: "He spoke very clearly on big issues… He's saying what he believes."
*** When the context only raises more questions: We want to make a final few points about Romney's overseas trip, especially regarding what happened yesterday with that Israeli-Palestinian comparison. The campaign released the entire context of Romney's remarks to explain that his remark about culture also pertained to Chile and Ecuador, as well as Mexico and the United States. But this context only raises more questions. Is Romney also saying that the United States has a superior culture to Mexico? Doesn't Romney believe, as John McCain tried to say yesterday, that the difference isn't culture but rather governments and laws? We'll go back to what we said earlier: Team Romney thought they had picked a routine with a low degree of difficulty. But when is the Middle East ever easy? As National Journal's James Kitfield writes, "In Israel, Romney ignored the unwritten rule not to become overly embroiled in local controversies and disputes… Interjecting God and cultural superiority into an ethnic-religious conflict is never a good idea."
*** The importance of August: All of these mistakes put more pressure on Romney to have a successful August. If you're a challenger, August is typically the month when you want to start pulling ahead. Indeed, it was late July and early August -- after the VP pick and Dem convention -- when John Kerry started to inch in front of George W. Bush in some polls in 2004. (But Kerry found himself trailing Bush after the GOP convention.) And the upcoming month is all set up for Romney to make his move. We'll get his vice-presidential pick and its likely carefully orchestrated rollout. We'll also see the four-day GOP convention and its selling of Romney's personal story. Bottom line: Yes, the race is close. And, yes, it hasn't moved much (if at all) in the past few months. But if he's going to win in November, Romney needs a successful August since it's stacking up to be largely about him; he can't afford another July.
*** New Romney-RNC ad: Well, here's what appears to be the first general-election bio spot TV ad by the Romney campaign (in conjunction with the RNC). The ad features Romney talking about his business and Olympics experience.
*** Major speakers for the Dem convention: This morning, Democrats announced that First Lady Michelle Obama and San Antonio Mayor Julian Castro (the keynote speaker) will headline the first night of the Democratic convention, on Tuesday Sept. 4. So here's the line-up:
Tuesday, Sept. 4: Michelle Obama, Julian Castro
Wednesday, Sept. 5: Bill Clinton, Elizabeth Warren
Thursday, Sept. 6: Barack Obama, Joe Biden
*** What will LaTourette say at his press conference today? NBCNews.com's Mike O'Brien confirmed yesterday that Rep. Steve LaTourette (R-OH) has decided not to seek re-election, and he's holding a news conference in Ohio at 10:00 am ET. And things could be VERY interesting. Politico: "LaTourette was one of the last of a dying breed — a moderate, union-friendly Republican who stood up to the right flank of the House Republican Conference. In the 112th Congress, it put him at odds with a good bulk of his GOP colleagues, including, at times, his longtime friend and ally, Speaker John Boehner (R-Ohio). But LaTourette's political isolation within the party was at odds with his ambition within the House Republican Conference. He wanted to resume his place toward the top of the Transportation and Infrastructure Committee, according to several GOP aides." Trust us folks, this press conference has the whiff of "score settling" written all over it.
*** It's Dewhurst vs. Cruz: Finally, as we noted yesterday, today is the Texas Senate GOP run-off between Lt. Gov. David Dewhurst and Ted Cruz. Final polls close in Texas at 9:00 pm ET. Here's something to chew on, especially given the news that San Antonio Mayor Julian Castro is set to deliver the Dem keynote address: If Cruz wins, the three Latinos serving in the U.S. Senate would all be Cuban Americans: Cruz, Marco Rubio, and Bob Menendez (assuming Menendez wins re-election). Not a single Mexican American.
Countdown to GOP convention: 27 days
Countdown to Dem convention: 34 days
Countdown to 1st presidential debate: 64 days
Countdown to VP debate: 72 days
Countdown to 2nd presidential debate: 77 days
Countdown to 3rd presidential debate: 83 days
Countdown to Election Day: 98 days
Click here to sign up for First Read emails.
Text FIRST to 622639, to sign up for First Read alerts to your mobile phone.
Check us out on Facebook and also on Twitter. Follow us @chucktodd, @mmurraypolitics, @DomenicoNBC, @brookebrower