London Calling: Romney begins first full day of meetings while on his overseas trip… Dem group hits Romney on fundraiser with London bankers tied to LIBOR scandal… Romney's press-corps faux pas: He doesn't take questions from U.S. reporters… Yesterday's contrast on guns b/w Obama and Romney… Breaking down Romney's interview with Brian Williams… Three months of merged data from our NBC/WSJ/Telemundo Hispanic oversample… And this week's 10 hottest advertising markets.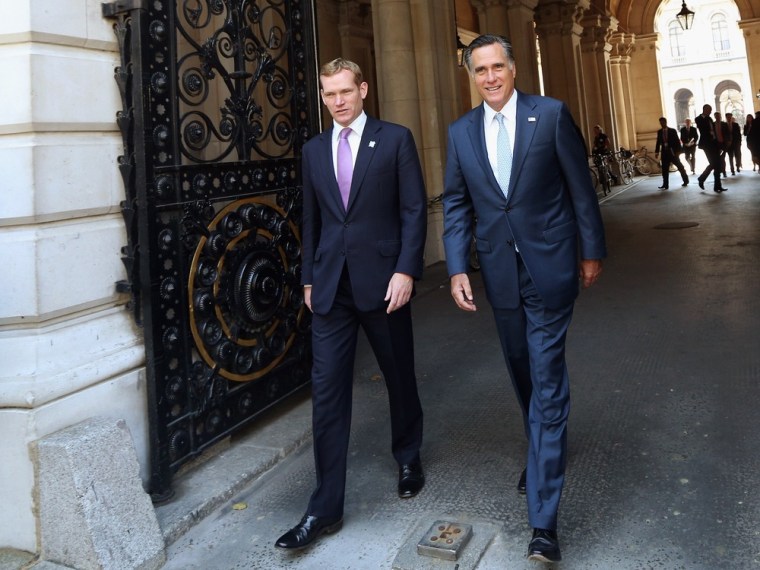 *** London Calling: On his first full day of business and meetings on his overseas trip, Mitt Romney has already met with former British PM Tony Blair, current Labour Party leader Ed Miliband, British Foreign Secretary William Hague, and Deputy PM Nick Clegg. At publication time, he will visit with British PM David Cameron, and then he holds a fundraiser at 1:05 pm ET. "I've begun a number of conversations with leaders present and past and recognize of course the unique relationship which exists between our nations, our commitment to common values, our commitment to peace in the world and our desire to see a stronger and growing economy," Romney said during his meeting with Miliband, per the pool report. "Obviously, the world is a tumultuous and dangerous place and certainly in many regions in the world and we have great interests – a common effort to see greater peace and prosperity. I also appreciate the work of the military of this great nation and our joint effort in Afghanistan. The people of Great Britain have sacrificed enormously in helping bring peace to that nation."
*** LIBOR pains: The Democratic-leaning group Americans United for Change is up with a web video noting that in attendance at Romney's fundraiser in Britain will be bankers with ties to the LIBOR interest-rate scandal. As the New York Times has written, "Several of the events' hosts are top executives at banks tied to the interest rate-fixing scandal that is now engulfing London's financial and political world, linking Mr. Romney, however superficially, to a messy moment in the continuing debate over Wall Street excesses." More: "The former chief executive and a top lobbyist for Barclays, the bank at the center of the scandal, helped organize a Romney fund-raiser. The former chief executive, Robert E. Diamond Jr., has since withdrawn his name as the event's co-host."
*** Romney's press-corps faux pas: During his meeting with Miliband, according to the pool report, Romney answered questions from British reporters but did not take any questions from the American reporters, which isn't protocol. In fact, it's considered a bit of an insult to the U.S reporters who are following the presumptive GOP presidential nominee overseas. Even bringing this up will lead some to say, "There goes the media, whining again." But folks, those of us that have traveled overseas and been involved in these VERY limited press avails have rarely seen heads of democracies TOTALLY ignore their own press corps but answer ANOTHER press corps' questions. Sure, it would have looked REALLY bad had Romney ignored the U.K. questions. But is the campaign so intent on limiting media access that the candidate won't call an audible when standing next to a leader from another country who DOES want to take questions? This is a bipartisan challenge for the press corps. Every president in the modern era has decided to pick up on some aspect of limiting media access to the president from their predecessor. The public never cares, because most of them distrust at least half of the press corps. But folks, it's a slippery slope. Where did Obama get the idea of calling on an ordered list of questioners at press conferences? From George W. Bush. OK, our rant is over.
*** A contrast on guns: In a span of just hours, President Obama and Mitt Romney offered a contrast on guns in the wake of last week's shooting in Colorado. Speaking before the National Urban League last night in New Orleans, per NBC's Ali Weinberg, Obama said that Americans shouldn't have access to assault weapon, especially those who are mentally ill or who have criminal records. "We recognize the tradition of gun ownership being passed on from generation to generation -- that hunting and shooting are part of the cherished national heritage," he said. "But I think a lot of gun owners would agree that AK-47s belong in the hands of shooters, not in the hands of criminal; that they belong on the battlefield of war not on the streets of our cities. I believe the majority of gun owners agree we should do everything possible to prevent criminals and fugitives from purchasing weapons." Obama also said that "we should check out a persons' criminal record before they can check out at a gun store, that a mentally unbalanced individual should not be able to get his hands on a gun so easily." This was the most Obama has said on guns in his 3 ½ years in the White House, but it didn't contain any specifics on how to achieve these things.
*** Romney: Changing a law won't make bad things go away: Meanwhile, in his interview with NBC's Brian Williams in London, Romney flatly stated, "I don't happen to believe that America needs new gun laws," adding: "A lot of what this young man did was clearly against the law. But the fact that it was against the law did not prevent it from happening. (However, as NBC's Garrett Haake pointed out yesterday, the guns the Colorado shooter purchased were LEGAL.) Romney went on to say, "We can sometimes hope that just changing a law will make all bad things go away. It won't. Changing the heart of the American people may well be what's essential to improve the lots of the American people."
*** On his tax returns: Also in his interview with NBC's Brian Williams, Romney -- once again -- said he wasn't releasing his tax returns prior to 2010. "I'm following the same precedent that was put in place by John McCain. Two years, and by the way, hundreds of pages of returns for the Democrat operatives to go through and twist and distort and to turn in different directions and try and make a big deal out of." Romney continued, "[W]hat we've noted is our Democrat friends, take what's there, twist it, distort it, dishonestly use it in attack ads. I just don't wanna give 'em more material than is required." By the way, this reasoning subtlety implies there is something in there he's embarrassed about in some form. Never have understood using the excuse of someone else will find something in it to make a negative out of it.
*** On whether his economic plan is similar to George W. Bush's: Then when Williams asked Romney if his economic policies -- including lowering taxes and reducing regulation -- were different than George W. Bush's, he replied, "[M]y policies are very different than anything you've seen in the past," he said, citing 1) expanding domestic energy production, 2) promoting free trade, 3) balancing the budget, 4) creating educational opportunities for workers, and 5) lowering taxes and lessening regulations. But just an FYI: almost all of those prescriptions (energy production, free trade, education, taxes, and regulation) were pursued by the Bush administration.
*** On his faith and his heritage: Williams asked Romney why he doesn't talk more about his faith and heritage. Romney's answer: "I speak  actually quite regularly about the fact that my dad was born in Mexico, that with revolution in Mexico, my dad, then I think aged five or six, came back to the U.S. with his family. That they went broke multiple times. His dad was a contractor. My dad didn't complete college, but went on to be head of a car company and then a governor. I think it's a remarkable story.  And I'm very proud of my heritage. I'm without question, I'm a member of the Church of Jesus Christ of Latter Day Saints.  I'm proud of that.  Some call that the Mormon Church, that's fine with me. I'll talk about my experiences in the church.  There's no question they've helped shape my perspective."
*** And on "Anglo-Saxon" and Rafalca: In addition, Romney said he disagreed with the unnamed Romney "adviser" quoted in the London Daily Telegraph who suggested Obama didn't understand the United States' Anglo-Saxon relationship with Great Britain: "I can tell you that we have a very special relationship between the United States and Great Britain. It goes back to our very beginnings -- cultural and historical. But I also believe the president understands that." And he said he was unable to explain the sport of dressage -- in which the Romneys' horse is competing in the Olympics -- or even when the Romney horse is competing: "I have to tell you. This is Ann's sport. I'm not even sure which day the sport goes on. She will get the chance to see it. I will not be watching the event. I hope her horse does well. But just the honor of being here and representing our country and seeing the other Olympians is something which I'm sure the people that are associated with this are looking forward to." (Really? Romney, who's attending the Olympics, doesn't know when his wife's horse is competing or even the rules of the sport? OK….)
*** Our merged NBC/WSJ/Telemundo oversample: With now three months of merged data from our NBC/WSJ/Telemundo Latino oversample, we have a treasure trove of numbers to understand the Latino electorate. According to this merged data, Obama leads Romney here by 40 points, 65%-25%. But there's an interesting split here. Romney does a bit better among English-speaking Latinos (trailing Obama 64%-26%) than Spanish-speaking Latinos (69%-20%). And he does a bit better among Latinos born in the U.S. (trailing 57%-29%) versus those born outside the U.S. (73%-19%).
*** This week's 10 hottest markets: Below is our latest weekly look at the 10 hottest advertising markets in the presidential race (per advertising points for the week of 7/23 to 7/29). Reminder: Colorado is missing because of the decisions by both campaigns to pull their ads down post-Aurora. A few other observations: 1) In most of these markets, Obama and Romney are running fairly even, but GOP outside groups are giving Team Romney the edge in advertising points; 2) the states here are Ohio (3 markets), Virginia (2), Florida (2), North Carolina (2), and Nevada (1); and 3)  Roanoke-Lynchburg, VA is this week's No. 1 market.
1. Roanoke-Lynchburg, VA: 4 advertisers (Obama 1100, Romney 1000, Crossroads GPS 650, RNC 215)
2. Tampa, FL: 5 advertisers (Romney 840, Obama 775, Crossroads GPS 670, American Crossroads 600, Priorities USA 200)
3. Cincinnati, OH: 5 advertisers (Romney 1100, Obama 1000, Crossroads GPS 400, American Crossroads 265, RNC 100)
4. Toledo, OH: 5 advertisers (Obama 1000, Romney 980, Crossroads 400, American Crossroads 350, RNC 200)
5. Reno, NV: 5 advertisers (Obama 1300, Romney 650, Crossroads GPS 450, American Crossroads 370, RNC 250)
6. Greenville-New Bern, NC: 5 advertisers (Romney 970, Obama 600, Crossroads GPS 550, American Crossroads 515, RNC 350)
7. Richmond-Petersburg, VA: 5 advertisers (Obama 1200, Romney 1100, Crossroads GPS 270, Priorities USA 240, RNC 125)
8. Columbus, OH: 6 advertisers (Obama 1000, Romney 1000, Crossroads GPS 370, American Crossroads 260, Priorities USA 140, RNC 150)
9. Orlando, FL: 5 advertisers (Obama 875, Romney 860, Crossroads GPS 475, American Crossroads 425, Priorities USA 274)
10. Charlotte, NC: 5 advertisers (Romney 1000, Obama 800, American Crossroads 420, Crossroads GPS, 390, RNC 240)
Countdown to GOP convention: 32 days
Countdown to Dem convention: 39 days
Countdown to Election Day: 103 days
Click here to sign up for First Read emails.
Text FIRST to 622639, to sign up for First Read alerts to your mobile phone.
Check us out on Facebook and also on Twitter. Follow us @chucktodd, @mmurraypolitics, @DomenicoNBC, @brookebrower