Look who's coming to dinner… NYT on Obama inviting about a dozen GOP senators to dinner (if it's not snowed out)… Our list of the 18 GOP senators who potentially could work with Obama on issues… Tours of Duty? White House cancels its tours, prompting a GOP backlash… Jeb Bush, welcome to life as a potential presidential candidate… Ponnuru: Do conservatives really want to win?... Looking at independents from our latest NBC/WSJ poll: They really don't like anyone… And nothing but a "G" thang in LA -- it's Garcetti vs. Greuel. 
*** Look who's coming to dinner: As we've written before, the chief criticism about President Obama for both Republicans and Democrats -- fair or not -- is that he hasn't personally wooed members of Congress; he acts as if talking to Congress is a burden and something to be avoided. But after his inability to get Republicans to negotiate to replace the budget cuts that went into effect last week, that's changing, per the New York Times. "Mr. Obama has invited about a dozen Republican senators out to dinner on Wednesday night, after speaking with several of them by phone in recent days, according to people familiar with the invitation. And next week, according to those people and others who did not want to be identified, he will make a rare foray to Capitol Hill to meet separately with the Republican and Democratic caucuses in both the Democratic-controlled Senate and the Republican-controlled House." In other words, he's going around the Republican leadership to build relationships to get things passed. You aren't going to get Mitch McConnell and John Cornyn to vote for your initiatives, but perhaps it's possible to get a Lindsey Graham or Lamar Alexander. Ronald Reagan and George W. Bush went around leadership all the time to find Democrats they could work with. Obama, on the other hand, has always tried to work with the GOP leadership. But remember this: Folks are elected to leadership for one of two things: to ATTAIN power for their party, or to KEEP power for their party.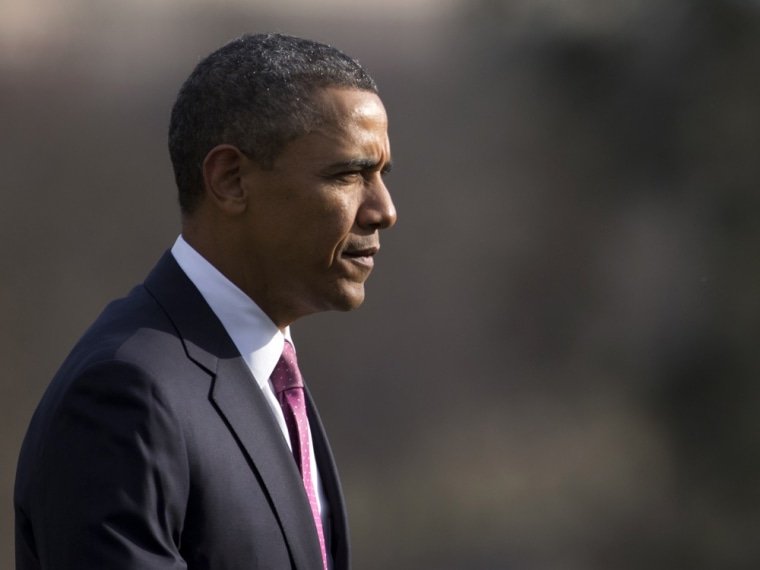 *** The Gang of 18: And while we don't know who he's taking to dinner (it's taking place outside the White House) -- and even if the dinner is on due to the snowstorm in DC -- the 18 GOP senators who voted against the filibuster against Chuck Hagel are a good start: Lamar Alexander (TN), Kelly Ayotte (NH), Roy Blunt (MO), Richard Burr (NC), Saxby Chambliss (GA), Tom Coburn (OK), Thad Cochran (MS), Susan Collins (ME), Bob Corker (TN), Jeff Flake (AZ), Lindsey Graham (SC), Orrin Hatch (UT), Mike Johanns (NE), John McCain (AZ), Lisa Murkowski (AK), Jeff Sessions (AL), Richard Shelby (AL), and John Thune (SD). These are your pool of potential Senate GOP votes for immigration reform, Supreme Court nominations, etc.
*** Tours of Duty? Speaking of the sequester budget cuts, the news yesterday was that White House tours are now being canceled. Roll Call: "The sequester cuts began to hit home for members Tuesday, as House leaders announced budget cutbacks around the Capitol complex and the White House said it would cancel tours starting this weekend. Stopping White House tours particularly affects lawmakers because constituents go through their members to arrange them and it's up to congressional offices, not the White House, to call constituents to inform them of the cancellation." (While White House tours have been cancelled, House Speaker John Boehner last night announced that tours of Congress will continue.) Republicans have griped – and even ridiculed – the cancellation of the White House tours. But isn't this a no-win situation for the Obama administration? So you layoff or furlough employees -- but you keep the tours?  And honestly, ridiculing the White House for this spending cut undermines the idea of spending cuts. Because one can argue that a small cut here doesn't matter ,or a small cut there doesn't matter. But eventually cuts add up.. 
*** Welcome to life as a potential presidential candidate! When you leave open the door to a presidential bid, and are no long just an elder statesman for the party, every little thing starts to become magnified – which has happened to Jeb Bush over the past 24 hours. "As political re-entries go, Jeb Bush's has been rocky," the New York Times' Shear writes. "Mr. Bush quickly found himself backpedaling from [his opposition to a path to citizenship for illegal immigrants] on Tuesday. In fact, he told a series of interviewers that he could easily support granting citizenship in the context of a comprehensive approach to immigration." (So he's owning the flip-flop if you will; not fighting it, which is actually minimizing some of the damage.) Here's something to remember about Bush: He hasn't run a race since 2002 (before Facebook, Twitter, and more partisan media). And the backlash he's received in the past 24 hours could either convince him that he doesn't have the stomach for a run, or it could steel him for what to expect over the next three and a half years. 
*** Do conservatives really want to win? After learning yesterday that next week's Conservative Political Action Conference has invited Donald Trump to speak -- but not Chris Christie, the country's most popular Republican governor -- conservative writer Ramesh Ponnuru asks this question: Do conservatives really want to win elections? "I wish New Jersey were governed more conservatively: that Christie had not, for example, agreed to expand Medicaid last week on federal taxpayers' tab. But we're talking about New Jersey here. It's a state that last elected a Republican to the Senate in 1972 and last went for a Republican presidential candidate in 1988. It went for President Barack Obama by a larger margin than any other state governed by a Republican. Conservatives shouldn't just cut Christie some slack. They ought to listen to him to find out how a pro-life critic of unions has become so popular in unfriendly territory -- if, that is, they want the political map of the country to get any redder." 
*** Independents' Day: As the 2012 presidential election proved, self-described political independents aren't the swing group that many observers once thought; after all, Obama lost the independent vote by five percentage points and still won the election. But indies are still a fascinating demographic, and our most recent NBC/WSJ poll sums them up in five words: They don't like almost anyone. They have unfavorable opinions of the Republican Party (19% positive, 44% negative) and the Democratic Party (24% positive, 42% negative), and they disapprove of the president's job performance (46% disapprove, 41% approve). What's more, a majority of indies in our poll disagreed with what congressional Republicans (56%), congressional Democrats (52%), and Obama (50%) are all proposing to do. And a plurality of independents said "neither" party would be best at handling nine of the 12 issues the survey polled.  
*** So who are independents? Per our pollsters, independents made up 17% of all respondents from our combined January and February surveys. They're MORE likely to be younger, male, have less formal education, and they're more likely to have a gun in the household. They're LESS likely to be African American, a 2012 voters, or a self-described liberal. So before you start thinking these folks could become a constituency group for an indie candidate like Bloomberg, be sure to check out that gun stat. These folks look a bit more like the old Ron Paul crowd.
*** Nothing but a "G" thang --Garcetti vs. Greuel: As many had expected, City Councilman Eric Garcetti (D) and Controller Wendy Greuel (D) advanced to the May 21 run-off in Los Angeles' mayoral race, with Garcetti grabbing 33% of the vote and Greuel 29%, according to the Los Angeles Times. They were followed by conservative radio host Kevin James (R) at 16.4% and City Councilwoman Jan Perry (D) at 15.9%. Given the close margin between Garcetti and Greuel, the run-off looks like a jump ball with Garcetti having the more famous last night (his father is former L.A. District Attorney Gil Garcetti) and with Greuel trying to become the city's first female mayor. (The swing vote most likely will be Latinos and Republicans.) And get this, per the L.A. Times: Just 16% of registered voters participated in the election. Sheesh… 
http://is.gd/ccxyrR%22%20%5Ct%20%22_blank">Click here to sign up for First Read emails.
Text FIRST to 622639, to sign up for First Read alerts to your mobile phone.
Check us out on http://is.gd/TzuR1b%22%20%5Ct%20%22_blank">Facebook and also on http://is.gd/hkhSDT%22%20%5Ct%20%22_blank">Twitter. Follow us @http://twitter.com/#!/chucktodd">chucktodd, @http://twitter.com/#!/mmurraypolitics">mmurraypolitics, @http://twitter.com/#!/DomenicoNBC">DomenicoNBC, @brookebrower