NBC/WSJ poll: The Obama-Romney is looking like 2004 (or maybe even 1996), but it won't be 1992… Obama running strong with his base and swing voters, but Romney has the edge on the economy… Testing Obama's and Romney's economic messages… The health-care albatross… Muncie and the story of America… Politicians behaving badly (we're looking at you, McCain and Schweitzer)… Romney raises almost $12.6 million in March… Veepstakes: Time to cross Mitch Daniels off the list?... Daniels praises Lugar… And "Meet the Press" has Axelrod, Issa, and King.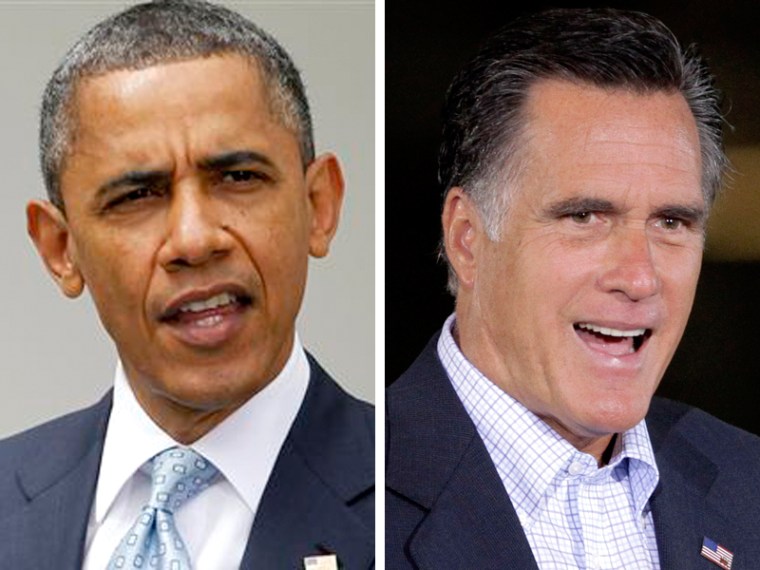 *** Lookin' like '04 or maybe '96: Now exactly 200 days out until Election Day, a poll isn't going to tell you who will win the presidential contest. But it can give you a good idea what it's going to look like. And according to our brand-new NBC/WSJ survey, the Obama-Romney race appears it will resemble the close 2004 campaign, or maybe the 1996 contest. But it isn't going to be 1992, when the incumbent got routed out of office. Per the NBC/WSJ survey, Obama leads Romney by six points among registered voters, 49%-43%, and the president's approval rating stands at 49%-46% among all adults. Get this: At this very same point in the '04 cycle, George W. Bush's approval rating in our poll was a nearly identical 50%-46% with registered voters. Bill Clinton's approval in April '96 was slightly better than Obama's, at 51%-41%. But at this point in '92, you could already tell that George H.W. Bush was in serious trouble with an approval rating of 43%-52%. "It is going to look like 2004 or 2000," said NBC/WSJ co-pollster Peter Hart (D) added. "There are plenty of things that suggest it has a long, long way to go."
*** Obama running strong with his base, swing voters; Romney with the edge on the economy: Digging inside our crosstabs, Obama holds an advantage with African Americans (90%-4%), Latinos (69%-22%), voters ages 18-34 (60%-34%) and women (53%-41%). In addition, he edges Romney among key swing groups like PURE independents who don't even LEAN to any party (44%-34%), Midwest voters (47%-44%) and suburban women (48% -45%). Meanwhile, Romney is ahead among whites (52%-40%), suburban voters (49%-44%) and those expressing high interest in the election (49%-46%). Yet Romney's real strength is on the issue that happens to be Obama's weakness: the economy. By a 40%-34% margin, respondents believe Romney would be better when it comes to having good ideas for improving the economy. And Romney also edges Obama on changing business as usual in Washington. If you could lead on just two issues, those would be the two you'd pick if you're Team Romney. The president, however, bests Romney on all other qualities/attributes – including being easygoing and likeable, caring about average people, dealing with issues of concern to women, looking out for the middle class, and being a good commander-in-chief.
*** Testing Obama's economic message: Our NBC/WSJ poll also tested the Obama and Romney economic messages (though without mentioning their names). The conclusion: Obama's tests better than Romney's for the most part. More than three-quarters of respondents (including nearly 70% of independents and Republicans) say they would be more likely to vote for a candidate who "will fight for balance and fairness and encourage the investments needed to grow our economy and strengthen the middle class," which has become a standard line for Obama. In addition, seven in 10 say they would be more likely to vote for a candidate who "says America is better off when everyone gets a fair shot, does their fair share, and plays by the same rules" -- another Obama line. But what tested the worst was this line: "What drags down our entire economy is an ever-widening gap between the ultra-rich and everybody else." That got just 45%. There's clearly a line between touting "fairness" and attacking the rich.
*** Testing Romney's: By comparison, 64% of all respondents (but 55% of indies and 46% of Dems) would be more likely to support a candidate who wants "to restore the values of economic freedom, opportunity, and small government," which is pretty much Romney's economic messaging. And 61% would be more likely to support a candidate who says "free enterprise has done more to lift people out of poverty, help build a strong middle class, and more our lives better than all of the government's programs put together," which is something that Romney tends to say. As our NBC/WSJ pollsters put it, Romney message still appears to be more geared to Republicans than a broader audience. By the way, most of Romney's actions this week and many of the events he's planning still smack of a campaign more worried about talking to Republicans than swing voters. Campaign messaging really has NOT pivoted yet.
*** The health-care albatross: While Obama's economic messaging might be better than Romney's, health care remains a problem for the president. In the poll, 36% call the health-care reform a good idea, while 45% call it a bad idea. That's down from the 39%-39% split in January. What's more 49% favor repealing and eliminating the law, while 42% oppose that. And get this: 59% say the ultimate Supreme Court decision on the law will be based "mostly on politics," versus 32% who say it will be based "mostly on the law." By the way, within the three ideological groups (liberals/moderates/conservatives) the group of folks who are MOST likely to believe the court will base their decision on the "law" vs. "politics are conservatives. Tells you liberals and moderates appear to believe the law will get overturned, which was the tone of the media coverage of the hearings. 
*** Muncie and the story of America: Be sure not to miss National Journal's latest cover story, which tells the tale about Muncie, IN. "Muncie is the story of America. In this place—dubbed 'Middletown' by early 20th-century sociologists—people have lost faith in their institutions. Government, politics, corporations, the media, organized religion, organized labor, banks, businesses, and other mainstays of a healthy society are failing. It's not just that the institutions are corrupt or broken; those clichés oversimplify an existential problem: With few notable exceptions, the nation's onetime social pillars are ill-equipped for the 21st century. Most critically, they are failing to adapt quickly enough for a population buffeted by wrenching economic, technological, and demographic change." There are a lot of depressing aspects to this piece, but the one that struck us was how polarized and petty the LOCAL politics had become, imitating the national toxic tone. Sad.
*** Politicians behaving badly: Yesterday we saw this tweet: "Good pic of my son Jimmy's bulldog, Apollo - I'm sorry Mr. President, he's not on the menu!" -- in reference to Obama eating dog while a child when he lived abroad in Indonesia. Guess what: The tweet wasn't from a random tweeter or even a GOP strategist. Instead, it was from Sen. John McCain, someone who once wrote after the 2011 Arizona shootings that, "Our political discourse should be more civil than it currently is, and we all, myself included, bear some responsibility for it not being so." Meanwhile, we couldn't count how many times Montana Gov. Brian Schweitzer said the words "polygamy" in this Daily Beast interview about Romney. "Schweitzer replied that [Romney's struggles with Latinos are] 'kinda ironic given that his family came from a polygamy commune in Mexico, but then he'd have to talk about his family coming from a polygamy commune in Mexico, given the gender discrepancy.' Women, he said, are 'not great fans of polygamy, 86 percent were not great fans of polygamy. I am not alleging by any stretch that Romney is a polygamist and approves of [the] polygamy lifestyle, but his father was born into [a] polygamy commune in Mexico.'"  And these cheap hits were from McCain and Schweitzer, not cable TV or the Twitters
*** On the trail: Speaking of McCain, he and Mitt Romney address the RNC State Chair meeting in Scottsdale, AZ. (Pegged to this, the DNC has produced a new web video of McCain criticizing Romney during the '08 campaign.) Afterward, Romney heads to Tempe, where he holds a Hispanic business roundtable discussion and then a rally.
*** Romney raises almost $12.6 million in March: Today's the FEC deadline for the March fundraising reports, and the Romney camp says it raised $12.6 million in primary money last month -- his highest monthly total so far. The campaign also has $10 million in the bank as of March 31. The Obama campaign said earlier in the week that it has raised $53 million in March, but today we'll find out what the campaign-DNC split is, as well as the campaign's cash on hand.
*** Veepstakes watch: Time to cross Mitch Daniels off the list? We've already crossed Susana Martinez off our veepstakes list (due to her care for her developmentally disabled sister). And should we cross off Mitch Daniels? Here's why: Not only did he wait until this week to endorse Romney, but he said this about the former Massachusetts governor in an interview with the Indianapolis Star: "'You have to campaign to govern, not just to win,' he said. '. . . Spend the precious time and dollars explaining what's at stake and a constructive program to make life better. And as I say, look at everything through the lens of folks who have yet to achieve." After a pause, Daniels added with disappointment: 'Romney doesn't talk that way.' 'You don't change one thing about the policies you advocate or your principles,' he said, noting instead that candidates should simply make clear how their policies would lift up those who are struggling. For instance, he said, at fundraisers Romney's message shouldn't be about how his policies affect the well-heeled people listening in the audience, but rather those who can't afford a ticket to get in." Ouch.
*** Daniels praises Lugar: Also in that Indy Star interview, Daniels praised Sen. Dick Lugar (R), who's in the fight of his political life in the May 8 GOP primary in Indiana. "'I make the argument that I'm not for this guy because of what he's done; I'm for him because of what he can do,' Daniels said. Pointing to major challenges facing the nation, he added: 'To address problems that big we're going to need people who represent our point of view very effectively and can get the ear of other people. And I think (Lugar) is one such person -- one of not too many.'" The Lugar campaign is also passing around this story from the AP: "An Indiana Republican Party leader investigating how Senate candidate Richard Mourdock's campaign used a party database said Thursday he won't face any possible party sanctions before the May 8 primary. Jennifer Ping said Mourdock campaign manager Jim Holden likely violated a user agreement with the state party when he shared a logon to the database with an outside vendor. The party immediately caught the violation and locked the Mourdock campaign out of the database, said Ping, who chairs the party's technology and communication committee."
*** On "Meet the Press": NBC's David Gregory interviews David Axelrod, as well as Darrell Issa and Peter King. And for Meet's weekly "Press Pass" segment, Gregory spoke with comedian Jay Leno, who talked politics. 
Countdown to the CT, DE, NY, PA, and RI primaries: 4 days
Countdown to Election Day: 200 days
Click here to sign up for First Read emails.
Text FIRST to 622639, to sign up for First Read alerts to your mobile phone.
Check us out on Facebook and also on Twitter. Follow us @chucktodd, @mmurraypolitics, @DomenicoNBC, @brookebrower