Measuring the first 100 days of Obama's second term… The president holds a news conference at 10:15 am ET… An extraordinary last 12 months when it comes to gay rights… It's Primary Day in Massachusetts' special Senate race; polls close at 8:00 pm ET…  Sanford and Colbert Busch took off their gloves in last night's debate… Jessica Taylor on new Dem ad hitting Sanford over his affair… NYT/CBS poll: 62% oppose intervention in Syria… And FBI examining Bob McDonnell's relationship with donor?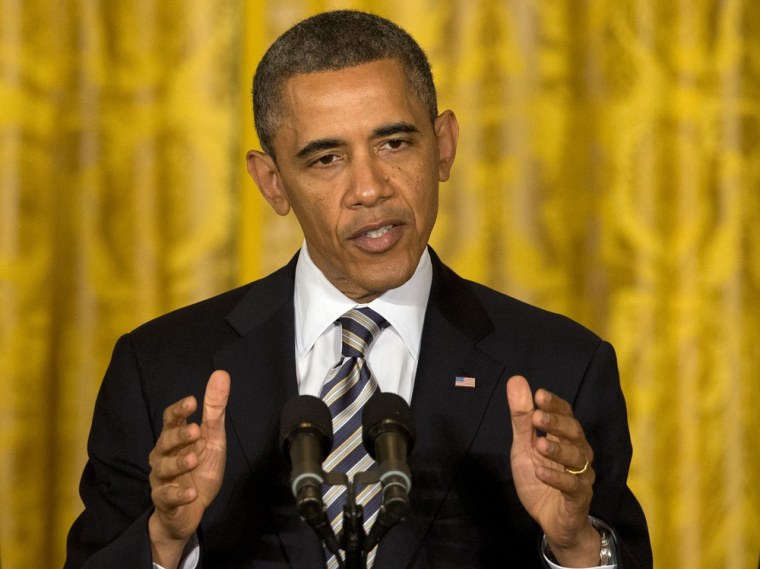 *** Measuring the first 100 days of Obama's second term: You might not have been keeping track, but we've now reached the 100-day mark in President Obama's second term. And possibly to mark the occasion, the president is holding a news conference at 10:15 am ET. Bloomberg's Al Hunt makes a smart point about how the first 100 days of the second have fared. "The 100-day mark is a measure for first-term presidents, not re-elected ones. Yet the end of April is a propitious moment for an early evaluation of how President Barack Obama and congressional Republicans are meeting the aspirations set out in January. The answer: Both are falling short." Indeed, outside of immigration -- and make no mistake, that's a pretty big exception -- politics seems about as divided as it did in 2011-2012.The budget talks are back to square one (and the sequester fight only seemed to exacerbate things). Passing gun control failed in the Senate. Achieving tax reform seems like a considerable reach. And to top it off, some Republicans are beginning to flex their muscles -- again -- when it comes to raising the debt ceiling. So the idea of the "fever" breaking that the president promised during the campaign has yet to come to fruition. Of course, presidencies (and especially second terms) aren't defined by the first 100 days. But remember, unlike first terms, second terms (at least domestically) have a shorter shelf life.
*** An extraordinary last 12 months for gay rights: What's remarkable -- politically -- about NBA basketball player Jason Collins' announcement that he is gay is that caps an extraordinary 12 months when it comes to the gay rights movement and gay marriage specifically. As NBC's Chris Donovan has pointed out, just think of what's happened in the past year:
-- On "Meet the Press," Vice President Biden announces he's "comfortable" with gay marriage (May 6, 2012)
-- President Obama then comes out in support of it (May 9, 2012)
-- Obama's second inaugural address contains this line: "Our journey is not complete until our gay brothers and sisters are treated
like anyone else under the law" (Jan. 20, 2013)
-- Numerous other politicians announce their support before and after the Supreme Court oral arguments on Prop. 8 and DOMA
-- Supreme Court hears the oral arguments in Prop. 8 and DOMA (March 26-27, 2013)
-- Rhode Island is on track to become 10th state approving gay marriage (April 2013)
-- Jason Collins becomes the first male athlete in a major sport to announce he's gay (April 29, 2013)
*** Three other points on Collins: We have three other points to make regarding the Jason Collins news. First, in the 20th Century, sports often led the way on integration (think Jackie Robinson in baseball, African-American professional football players like Jim Brown in the 1950s and 1960s). But in this case, in the 21st Century, sports was a lagging indicator. Indeed, 53% of the country in our most recent NBC/WSJ poll said they supported gay marriage before the first male athlete in a major sport announced he was gay. Second, don't underestimate the impact that Obama's support for gay marriage had on an African-American athlete coming out. (The president called Collins yesterday.) And third, given that Collins is now a 34-year-old journeyman center, there was a chance – before yesterday – that another team might NOT have signed him to play NBA basketball next year. Now? There will be a tremendous amount of pressure (applied by David Stern personally?) for NBA teams to sign him.
*** Primary Day in Massachusetts: If it's a Tuesday, it means that some folks are out there casting ballots. And today, those folks are the voters in Massachusetts who are choosing party nominees to fill the U.S. Senate seat that John Kerry vacated to become secretary of state. In the special Democratic primary, Congressmen Ed Markey and Stephen Lynch are battling it out, and Markey remains the favorite. (The only question is how big a favorite is he.) Meanwhile, the Republican side features three candidates: Navy SEAL-turned-businessman Gabriel Gomez, former U.S. Attorney (and former acting ATF director) Mike Sullivan, and state Rep. Dan Winslow. Given his deep pockets, Gomez might give Republicans their best chance to compete in the June 25 general election. But also don't forget that Gomez was the spokesman for the organization that accused Obama of politicizing the killing of Osama bin Laden. Polls close at 8:00 pm ET.
*** Sanford and Colbert Busch take off their gloves: Speaking of special elections, Republican Mark Sanford and Democrat Elizabeth Colbert Busch certainly made their only debate count last night in Charleston, SC. Colbert Busch whacked her GOP opponent for misusing taxpayer dollars, especially when traveling to Argentina. "When we're looking at fiscal responsibility, it doesn't mean you take the money we saved and leave the country for a personal purpose," she said, per MSNBC's Jessica Taylor. Sanford fought back by tying her to House Minority Leader Nancy Pelosi and national Democrats. "It's not believable to me that someone gives you a million dollars and not expect something in return," he said. But Colbert Busch later responded, "No one tells me what to do, except the people of South Carolina's 1st Congressional District." Politico has more on the debate, which it said "laid bare their ideological differences on a range of issues. Sanford said he opposed the gun control bill that failed in the Senate recently calling for expanded background checks; Colbert said she backed it despite her belief in 2nd Amendment rights. Sanford said he would vote against the comprehensive immigration reform plan being pushed by the 'Gang of Eight'; Colbert Busch favors it."
*** New Dem ad explicitly hits Sanford over affair: Also in the Sanford-vs.-Colbert Busch race, Jessica Taylor reports on a new Democratic Super PAC TV ad hitting Sanford. The advertisement features a female GOP voter from the district slamming the former governor for his disappearance from the state while in office and the disclosure that he was having an affair with an Argentinian woman. "I used to be for Mark Sanford -- but not anymore," says Jennifer Stark of Mount Pleasant, S.C. "He skipped town to be with his mistress on Father's Day. Sanford even asked his wife for permission to have the affair, and wasted our taxpayer dollars on himself." "I'm a Republican. But Mark Sanford just doesn't share our values," says Stark.
*** Six in 10 oppose U.S. intervention in Syria: Want another reason why the Obama administration is walking very carefully when it comes to Syria? According to a brand-new New York Times/CBS poll, 62% of Americans say the United States DOES NOT have a responsibility to do something about the fighting in Syria.
*** FBI examining Bob McDonnell's relationship with donor? Finally, this isn't good news for the current GOP governor of Virginia, who just happens to be a 2016 presidential possibility.  "The FBI has begun examining the relationship between Virginia Gov. Bob McDonnell and his wife Maureen and the chief executive of a nutritional supplements manufacturer that is the subject of a federal investigation, two people with knowledge of the review said Monday," the AP writes. "Federal authorities began questioning people close to the McDonnells as an outgrowth of a securities probe of Virginia-based Star Scientific Inc., said the two people, who spoke on the condition of anonymity because their roles in the case preclude them from speaking publicly. They said FBI agents have asked questions about gifts the McDonnells have received from company CEO Jonnie Williams and whether the Republican governor or his administration aided the company in return."
Click here to sign up for First Read emails.
Text FIRST to 622639, to sign up for First Read alerts to your mobile phone.
Check us out on Facebook and also on Twitter. Follow us @chucktodd, @mmurraypolitics, @DomenicoNBC, @brookebrower