The importance of minding the middle -- and the base… The party that can best appeal to the middle without alienating the base (or appeal to the base without alienating the middle) typically wins… Cuccinelli's Obamacare Hail Mary… It's been the best of times for Chris Christie (see his large lead in the polls); it's been the worst of times, too (see the new "Double Down" book)… Obama has to fix health care -- and we're not just talking about the website… McConnell goes after the Senate Conservatives Fund, "Kill Bill"-style… Crist makes it official in Florida… And watching Boston, as well as the state-legislative races, tomorrow.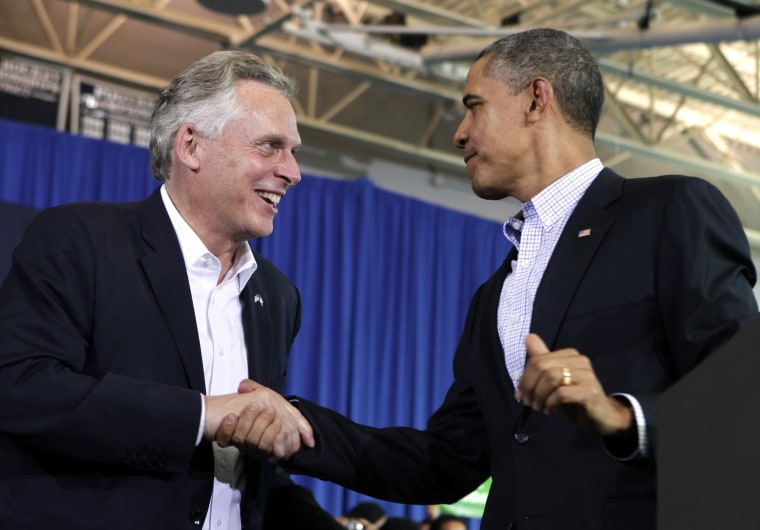 *** Minding the middle -- and the base: If the polls are correct in Virginia -- a new Quinnipiac survey shows Democrat Terry McAuliffe ahead by six points, 46%-40% -- then we're likely going to re-learn an important point: The sign of a healthy political party is that you can appeal to the middle without alienating the base. That is precisely what McAuliffe has done in his campaign, as he's reached out to the state's business middle while mobilizing the party's liberals. By contrast, Republicans appear to have two problems right now. Either they are appealing to the base, which is alienating the middle (see Virginia). Or when they appeal to the middle, they are alienating the base (see Chris Christie in New Jersey). Yes, Christie is a day away from a big win in New Jersey -- due in part to his embrace a year ago of President Obama after Hurricane Sandy. But as we pointed out on Friday, Christie has actually LOST support from Tea Party Republicans from June (40%-22% fav/unfav) to now (39%-31%), according to the NBC/WSJ poll. To win national elections, you have to be able to appeal to the middle without alienating your base, as well as appeal to the base without alienating the middle. That's not happening inside the GOP right now. And how does the GOP process this base-middle problem after Tuesday night, if the polls are correct? Does it harden the right? Do they claim the Cuccinelli was too muted on key conservative issues? Or does the prevailing establishment view hold that when you ignore the center, you are doomed to lose, especially in swing states?
*** Cuccinelli's Obamacare Hail Mary: Down in the polls and being outspent significantly on the airwaves, Ken Cuccinelli is throwing a Hail Mary pass of sorts in Virginia's gubernatorial race: He's trying to turn the race into a referendum on Obamacare. "Virginia is the next battlefield in Obamacare, and it's Tuesday," Cuccinelli said over the weekend, per the New York Times. "Voters are upset." Cuccinelli's closing TV ad even references Obamacare. "Terry McAuliffe's plan: expand Obamacare, increase spending." And writing in the Weekly Standard, Bill Kristol argues for Cuccinelli and Virginia Republicans to make the final days about Obamacare. But it's a risky position for Republicans. If McAuliffe goes on to win -- as every poll over the last couple of months has shown -- then does mean that Obamacare isn't the slam-dunk electoral argument that Republicans think it is? But it's an especially risky strategy for Cuccinelli. Democrats believe this line of attack only reinforces the narrative that Cuccinelli isn't thinking about Virginia first. Much of McAuliffe's campaign against Cuccinelli has been under the theme that Cuccinelli has his OWN national agenda he's going to push on Virginia, so Democrats argue that by embracing this national Republican issue, he's only playing into the McAuliffe narrative. Of course, as Nebraska's football team proved over the weekend, sometimes a Hail Mary works. But 99 times out of 100, the desperation pass either gets knocked down or intercepted.
*** It was the best of times for Chris Christie; it also was the worst of times: Meanwhile, these have been the best of times for Republican Gov. Chris Christie one day before his re-election bid in New Jersey. A new Rutgers-Eagleton poll shows him leading Democrat Barbara Buono by a whopping 36 points among likely voters, 66%-30%, while a new Quinnipiac poll has him up, 61%-33%. On Friday, his campaign release a memo about "Blue Jersey," noting how Democratic the state is ("no Republican candidate has earned more than 50% of the vote in 28 years"; "Obama won by 17 percentage points in 2012" in the state). And he told NBC's Kelly O'Donnell over the weekend that his re-election would have a national message. "I'm not planning for it; I just think it's inevitable." But these have also been the worst of times for Christie -- with the oppo the Romney campaign gave to the authors of the new "Double Down: Game Change 2012" book. As CNN's Peter Hamby wrote in a review of the book, "[Authors] Halperin and Heilemann make abundant use of a vice-presidential vetting file dropped into their hands by someone in Romney's orbit to illuminate secrets about the governor. Delivering the documents to the authors was a stunning breach of political decorum that can only be read as a giant middle finger at Christie and his aides." Among the oppo: "a Justice Department investigation into his free-spending ways as U.S. attorney, his habit of steering government contracts to friends and political allies, a defamation lawsuit that emerged during a 1994 run for local office, a politically problematic lobbying career that included work on behalf of a financial firm that employed Bernie Madoff." As one of the "Double Down" authors said this morning on "Morning Joe," that Madoff nugget is a 30-second TV ad ready to happen.
*** Romney: "There was nothing new there": On "Meet the Press" yesterday, Mitt Romney responded to the leaking of the VP dossier. "I know that the vetting people who went through that analysis and put together their report laid everything out. But, frankly, there was nothing they found that wasn't already part of the public record and that hadn't already been dealt with effectively by Chris Christie. So there was nothing new there." That is all true; most of this "oppo" on Christie was litigated in the public record during his 2009 campaign. But Christie was running against ex-Goldman Sachs-er Jon Corzine. And remember, most of the Romney negatives (Bain Capital) were litigated in 1994, but that didn't stop them from becoming new to voters in states not named Massachusetts.
*** Obama has to fix health care -- and we're not just talking about the website: Beyond Tuesday's electoral politics, President Obama and his White House continue to have a health-care problem, and they need to fix it -- and it's not just the website. They need to fix his now-disproved quote from 2009-2010 that if you like your insurance, you can keep it. Yes, this applies to just 5% of the health insurance market. But then again, the exchange was created PRECISELY for these people, so this isn't a percentage that should be dismissed. And Sunday's Washington Post had another rough look at the administration's management of the health-care rollout. "Three and a half years later, such insularity — in that decision and others that would follow — has emerged as a central factor in the disastrous rollout of the new federal health insurance marketplace, casting doubt on the administration's capacity to carry out such a complex undertaking. 'They were running the biggest start-up in the world, and they didn't have anyone who had run a start-up, or even run a business,' said David Cutler, a Harvard professor and health adviser to Obama's 2008 campaign, who was not the individual who provided the memo to The Washington Post but confirmed he was the author. 'It's very hard to think of a situation where the people best at getting legislation passed are best at implementing it. They are a different set of skills.'" This perception of the White House as an ineffective manager of government is becoming a big political problem.
*** McConnell goes after Senate Conservatives Fund, "Kill Bill"-style: Last week, we told you that Mitch McConnell was going after the Tea Party wing of the GOP that's trying to defeat him in his Kentucky primary. Well, here's his first salvo: "In a warning shot to outside conservative groups, the National Republican Senatorial Committee this week informed a prominent Republican advertising firm that it would not receive any contracts with the campaign committee because of its work with a group that targets incumbent Senate Republicans," the New York Times' Jonathan Martin wrote on Friday. "Even more striking, a senior official at the committee called individual Republican Senate campaigns and other party organizations this week and urged them not to hire the firm, Jamestown Associates." As one of the famous scenes in "Kill Bill: Volume 1" makes absolutely clear, if you face internal dissent, one way of eliminating that dissent is to eliminate that person or organization -- with one single blow.
*** Crist makes it official: In Florida today, former Gov. Charlie Crist (R and later I) will officially announce his gubernatorial bid -- this time as a Democrat. In fact, Crist's candidacy was posted on Florida's Division of Elections website on Friday. Folks, the Florida governor's race is going to be presidential level…
*** Blue collar vs. White Collar in Boston: By the way, here are a couple of more pieces you should know for tomorrow. The closest race Tuesday night very well could be in Boston, where it's City Councilman John Connolly against state Representative Marty Walsh. Polls have shown the race a dead heat between the two Democrats in what shaping up to be blue collar versus white collar. Connolly is a former teacher and corporate lawyer from a prominent political family. Walsh is a former labor leader (and recently profiled in the New York Times for also being a recovering alcoholic sober for 18 years). Republicans have flocked to Connolly because of Walsh's union ties. The Boston Globe has endorsed Connolly. Polls are open from 7:00 am ET to 8:00 pm ET.
*** Don't forget about state legislature races: In addition to the marquee Virginia and New Jersey gubernatorial races and the mayoral races in big cities like New York, Boston, and Detroit, there are also 236 state legislature seats up, 220 of which are in Virginia and New Jersey, according to the National Council of State Legislatures. In Virginia, the 100-seat, Republican-controlled House is up. Despite President Barack Obama winning the commonwealth twice, two of the last three governors being Democrats, and Terry McAuliffe (D) leading ahead of Tuesday's gubernatorial race, Republicans hold two-thirds of the chamber – 67-31. In New Jersey, both the House and Senate are up. Democrats control both bodies. In the 80-seat in the House, Democrats have a 48-32 advantage. In the 40-seat Senate, Democrats hold a 24-16 edge. (In eight other states, there are 16 special elections as well.) State legislative races are largely ignored by the national media, but the lessons of redistricting that helped lead to a more polarized Congress, leading to things like the government shutdown, and one-party takeovers in states like North Carolina should make everyone sit up and pay attention.
Click here to sign up for First Read emails.
Text FIRST to 622639, to sign up for First Read alerts to your mobile phone.
Check us out on Facebook and also on Twitter. Follow us @chucktodd, @mmurraypolitics, @DomenicoNBC, @brookebrower