Mr. 48%: Obama at or near 48% in all our recent polling… Is that a good thing or bad thing?... The importance of FL, OH, and VA… The importance of cell phones, too… Given the JP Morgan and Facebook news, does any political candidate want to be tied to Wall Street right now?... Romney's singular message vs. Obama's multiple ones… Romney unveils a new TV ad… And Obama heads to Iowa.
*** Mr. 48%: What's striking about our new NBC/WSJ poll -- as well as our new round of NBC-Marist polls -- is the consistency of the numbers for President Obama: He's at or near 48% every way you slice it. In our new national NBC/WSJ poll, the president's approval rating is at 48%, and his percentage against Mitt Romney in the ballot test is 47% (vs. Romney's 43%). Then look at these numbers from our brand-new NBC-Marist state polls: In Florida, Obama leads Romney, 48%-44%; in Ohio, he's up 48%-42%; and in Virginia, he's ahead, 48%-44%. What does this mean? Is 48% a good thing or bad thing? On the one hand, he's leading and in the high 40s, despite what's been a rocky and volatile last few weeks (the April jobs numbers, the worries out of Europe, the rushed gay-marriage announcement, etc.). On the other hand, he remains below that important 50% threshold that's usually considered safe haven for an incumbent president, and Romney is well within striking distance, especially given all of Europe's economic uncertainty. Bottom line: 48% is really the knife's edge; not quite close enough where you can just fall over the 50% finish line, but close enough that it doesn't take much. It's a number to follow in the months ahead.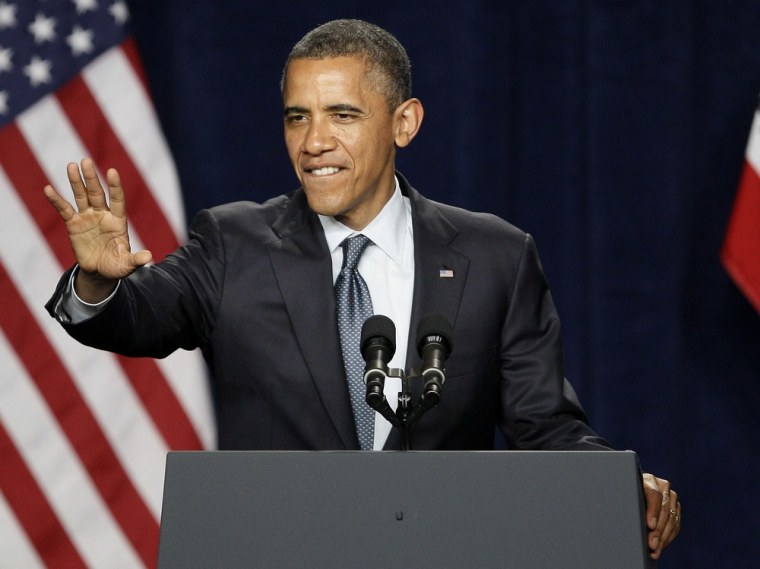 *** A matter of party ID: By the way, how do you explain that Quinnipiac poll that shows Romney leading Obama in Florida (47%-41%) with our NBC-Marist poll that has Obama up in the Sunshine State (48%-44%)? It's a matter of party ID in the survey; both pollsters use sound methods to conduct their surveys and neither weighs by party ID (it's too volatile; most pollsters do NOT do that). There was a three-point GOP registration advantage in the Quinnipiac survey, and our NBC-Marist poll has an eight-point Dem registration edge. What did the exit polls show in 2008 for Florida: Dem +3. (So if you assume a 2008 turnout, that means that Obama and Romney are in a dead heat in Florida.) Here are the party ID breakdowns for our other two NBC/Marist polls:
OH: Dem + 9 (the 2008 exit poll had it Dem +8
VA: Dem + 2 (the '08 exit poll had it Dem +6)
All of the raw data of the NBC/Marist polls are public and available for your scrutiny! We're a full disclosure operation.
*** The importance of Florida, Ohio, and Virginia: Here's something else to consider regarding our new NBC-Marist polls of Florida, Ohio, and Virginia: All Obama has to do is win ONE of these, and he'll likely surpass 270 electoral votes. Yet even if Romney wins all THREE, Obama still has a viable, though, slim path to 270 (if he wins Colorado, New Mexico, Nevada, Iowa, and New Hampshire). But make no mistake: Romney most likely needs to win all three states, while Obama's goal is to win two -- or maybe even one. Why is this the case? It's the president's advantage in the West right now. If Romney can't pull at least Nevada, it puts a TON of pressure on him to sweep these three battlegrounds.
*** The importance of cell phones: Want to see how cell phones make a difference in political surveys? In our NBC-Marist poll of Florida, Romney leads with landline respondents, 48%-45%. But Obama leads among cell phone respondents, 57%-34%. And in Virginia, Romney's up one among landline folks, 47%-46%, while Obama is up 54%-36% with cell users. (By the way, 28% of our interviews in OH and FL were conducted on cell phone; 27% in VA.)
*** Just askin': Given the recent stories involving JP Morgan last week and Facebook this week, does any political candidate want to be defending Wall Street or be seen as on its side? Folks, this is a development worth watching over the next couple of months…
*** Romney's one message vs. Obama's multiple ones: Yesterday, Romney spoke to a Latino audience -- the Latino Coalition Economic Summit in DC -- but he didn't say anything about immigration or even Marco Rubio's DREAM Act. Instead, he rolled out his education plan before this audience. The Romney campaign believes it needs just one message, rooted in the economy, to speak to everyone (Latinos, women, seniors). By contrast, the Obama campaign's message is much more targeted. (Just compare the Team Obama's Spanish-language advertising, which individually targets Latinos, to Team Romney's, which simply translates an English ad to Spanish.) And by the way, Romney has plenty to work to do with Latinos, according to our NBC/WSJ/Telemundo oversample: Obama is leading Romney here, 61%-27%. 
*** Going a bit too far? Speaking of Romney's education speech, he said yesterday that American children are getting a "third-world education" under President Obama. "Third world"? This kind of rhetoric is part of a larger pattern with Romney -- first on foreign policy, now education -- where Romney wants to draw a distinction with President Obama, but has to go far out on a rhetorical limb to make the case. In fact, Obama's economic policies have won plenty of praise from the right, including Romney. "I think Secretary Duncan has done some good things," he said back in September. "I hope that's not heresy in this room… He, for instance, has a program called 'Race to the Top,' which encourages schools to have more choice, more testing of kids, more evaluation of teachers. Those are things that make some sense." Romney continues to talk education when he campaigns in Pennsylvania today.
*** Romney's 2nd general-election TV ad: The Romney camp is up with a new TV ad (airing in just Iowa, Ohio, North Carolina, and Virginia), and it's another positive ad. "What would a Romney presidency be like?" the narrator states. "Day One, President Romney announces deficit reductions, ending the Obama era of big government, helping secure our kids' futures President Romney stands up to China on trade and demands they play by the rules." More:  "President Romney begins repealing job-killing regulations that are costing the economy billions."
*** Obama in the Hawkeye State: Meanwhile, President Obama heads to Iowa today, where he gives remarks on the economy and clean energy in Newton at 5:15 pm ET, and then he holds a campaign organizing/grassroots event at the Iowa State Fairgrounds in Des Moines at 7:55 pm ET. The Obama camp has released a video tied to this event at the state fairgrounds, noting that it's where Romney said, "corporations are people, my friend."
Countdown to WI recall: 12 days
Countdown to GOP convention: 96 days
Countdown to Dem convention: 103 days
Countdown to Election Day: 167 days

Click here to sign up for First Read emails.
Text FIRST to 622639, to sign up for First Read alerts to your mobile phone.
Check us out on Facebook and also on Twitter. Follow us @chucktodd, @mmurraypolitics, @DomenicoNBC, @brookebrower