Wrapping up Obama's trip to Myanmar… The politics of Gaza… Optimism in the fiscal cliff negotiations?... Republicans pile on Romney… Disagreement over Benghazi… Marco Rubio in Iowa… And Autopsy 2012: White voters in the South vs. the Midwest.
*** My, my, Myanmar: Overseas, President Obama is now in Cambodia, the third and final leg of his Asia trip. But the centerpiece of his travel took place earlier today in Myanmar, the country formally known as Burma. Obama became the first U.S. president to visit that nation, and he was greeted by thousands, including uniformed school aged children who were waving U.S. and Myanmar flags in near unison. The president then proceeded to the home of Nobel Peace Prize winner Aung San Suu Kyi, and the drive there displayed a very poor country getting its first taste of capitalism. Afterward, Obama formally addressed the people of Myanmar in a speech at Yangon University, where he justified his trip to this still not-yet-free country. "When I took office as president, I sent a message to those governments who are ruled by fear. In my inaugural address, I said, 'We will extend a hand if you are willing to unclench your fist.'" The visit to Myanmar wasn't just ceremonial -- Obama brought an aid package worth $170 million. Meanwhile, the Myanmar government announced it was inviting the Red Cross back to resume prisoner visits, and it pledged to have a process that could lead to the release of even more political prisoners by the end of this year.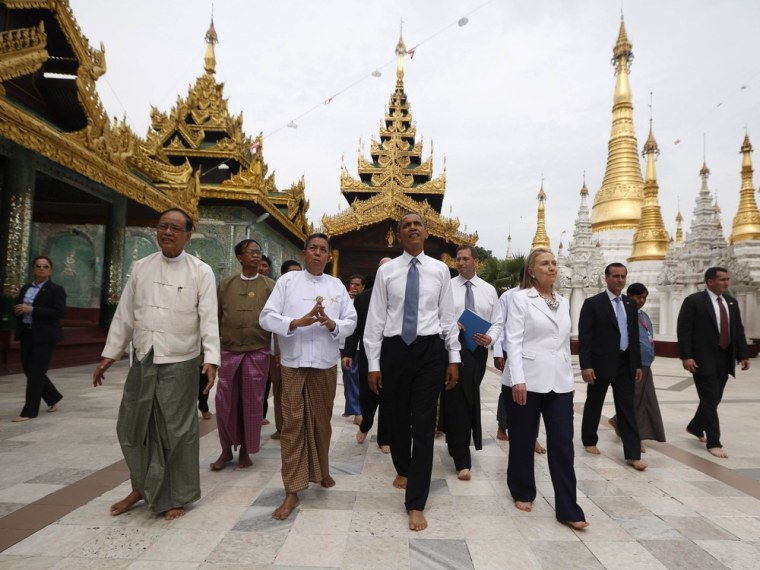 *** The politics of Gaza: In other world news, a full-blown ground war in Gaza is not good for anyone, obviously. Politically, it could become just one giant hot potato for the president. Here is where things stand right now: The primary players are Egypt (which negotiates with Hamas), Turkey (on speaking terms with both sides) and the United States. There is a sense in the White House that they need to get some sort of cease fire negotiated ASAP. Can Egypt convince Hamas it is in their best interests to stop the missile strikes? How much pressure will this new Egyptian government apply to Hamas? If Egypt can get something stopped, then can U.S. talk Israel into accepting? This is a real test of the fragile relationships this new Egyptian government inherited.
*** Optimism in the fiscal cliff negotiations? "Capitol Hill leaders emerged from their meeting Friday with President Barack Obama sounding optimistic about their ability to reach consensus on vexing tax and spending issues and avoid the impending 'fiscal cliff,'" NBC Mike O'Brien wrote. Said Senate Majority Leader Harry Reid: "I feel very good about what we were able to talk about in there. We have the cornerstones of being able to work something out." Added House Speaker John Boehner: "I believe that the framework that I've outlined is consistent with the president's call for a fair and balanced approach." And here was Senate Minority Leader Mitch McConnell: "We're prepared to put revenue on the table provided we fix the real problem, even though most of my members -- I think, without exception -- believe we're in the dilemma we're in not because we tax too little, but because we spend too much." As the New York Times noted, "The … congressional leaders emerged from the West Wing round table together and in good spirits — a far cry from the 2011 negotiations, when they generally left separately and, once back at the Capitol, circulated competing versions of the private discussions."
*** Piling on Romney: On the Sunday shows, Republicans continued to pile on Mitt Romney for his statement to donors last week that Obama won due in part to "gifts" he gave to African-American, Latino, and younger voters. "We're in a big hole. We're not getting out of it by comments like that. When you're in a hole, stop digging. He keeps digging," Sen. Lindsey Graham said on "Meet the Press." Here was Newt Gingrich on ABC: "I just think it's nuts... I mean, the job of a political leader in part is to understand the people. If we can't offer a better future that is believable to more people, we're not going to win." And conservative writer George Will added on ABC, "It's been well said that you have a political problem when the voters don't like you, but you've got a real problem when the voters think you don't like them... quit despising the American people." Ouch.
*** Disagreement over Benghazi: Another big topic on the Sunday show was the attack on the U.S. consulate in Benghazi, especially after former CIA Director David Petraeus' testimony on Capitol Hill on Friday. "Disagreement ranged across the Sunday talk shows on the question of whether the administration had intervened to excise references to al-Qaeda involvement in the CIA's assessment of the Benghazi attack when it offered its first lengthy public explanation of the incident," the Washington Post says. "The White House and intelligence officials have said the terrorist assessment offered by Petraeus was both classified and still tenuous and that to reveal it at the time of [Susan] Rice's interviews would have compromised their secret sources of information."
*** Rubio in Iowa: Politico: "Thirty-eight months before the next presidential vote is cast, Marco Rubio on Saturday night became the first of the potential 2016 contestants to swoop in to this first caucus state and test the GOP's new rallying cry to broaden its appeal. Seven hundred people turned out to see the Florida senator at the annual birthday fundraiser bash for GOP Gov. Terry Branstad. Rubio had the spotlight all to himself — he said he was merely here to help the governor mark his 66th birthday, but no one believed it for a minute." More: "In his speech at Branstad's party, Rubio said he understood Republicans' frustrations over their electoral loss, but insisted that the country needed to return to its traditional principles to remain a power and global role model."
*** Autopsy 2012: White voters in the South vs. Midwest:In a Sunday New York Times op-ed, University of North Carolina-Charlotte history professor Karen Cox argued that political opposition to Obama in the 2012 election wasn't necessarily rooted in the South; instead, it was based more on a rural-vs.-urban divide across the country. "In other words, before our liberal allies in blue states point their fingers and scoff, they might want to take a look in their own rural backyards for evidence that their states actually have something in common with the supposedly backward ones in the South," Cox writes. But that analysis ignores this evidence from the 2012 exit polls: Obama's support among white voters in the South was VASTLY different than white voters in the Midwest. In fact, in all former states of the Confederacy -- including Florida and Virginia, which Obama won -- the president's share of the white vote was less than the national average. That includes Mississippi and Alabama, where Obama got, respectively, just 10% and 15% of the white vote. But in all contested battlegrounds in the Midwest, Obama's support among white voters was higher than the national average. Note: Not all states had exit polls, including Georgia, South Carolina, Tennessee, and Texas.
Obama's share of the white vote, per the 2012 exit polls:
Mississippi: 10%
Alabama: 15%
North Carolina: 31%
Florida: 37%
Virginia: 37%
National average: 39%
Ohio: 41%
Michigan: 44%
Minnesota: 48%
Wisconsin: 48%
Iowa: 51%
*** Happy Thanksgiving: A final note: This will be our last morning First Read of the week, although we will update the web site as news warrants. Have a safe and happy Thanksgiving. And we'll be back next week.
Click here to sign up for First Read emails.
Text FIRST to 622639, to sign up for First Read alerts to your mobile phone.
Check us out on Facebook and also on Twitter. Follow us @chucktodd, @mmurraypolitics, @DomenicoNBC, @brookebrower