Obama continues to blast Romney, accusing him of engaging in a "cow pie of distortion"… One concern for Obama in NBC/WSJ poll: enthusiasm and intensity… Romney plays with fire with upcoming Donald Trump fundraisers… Gas prices on the decline heading in the Memorial Day holiday… Chris Matthews and Newt Gingrich… Walker and Barrett debate, while Walker has the HUGE ad-spending edge… And "Meet" has Martin O'Malley and Gingrich.
*** Obama continues to blast Romney: Just like he did on Monday -- after being asked about whether Mitt Romney's work at Bain Capital was fair game -- President Obama continued to criticize the presumptive GOP nominee and his business experience. "The main goal of a financial firm like Gov. Romney's is not to create jobs. And by the way, the people who work at these firms will tell you that's not their goal. Their main goal is to create wealth for themselves and their investors. That's part of the American way. That's fine," he said at a campaign event in Des Moines, IA last night. "Sometimes, jobs are created in that process. But when maximizing short-term gains for your investors rather than building companies that last is your goal, then sometimes it goes the other way. Workers get laid off. Benefits disappear. Pensions are cut." Obama concluded, "There may be value for that kind of experience, but it's not in the White House." As NBC's Kristen Welker pointed out, it was one of Obama's most direct attacks against Romney. And as the New York Times' Peter Baker writes, these direct attacks -- from the president himself -- are coming earlier than in past campaigns.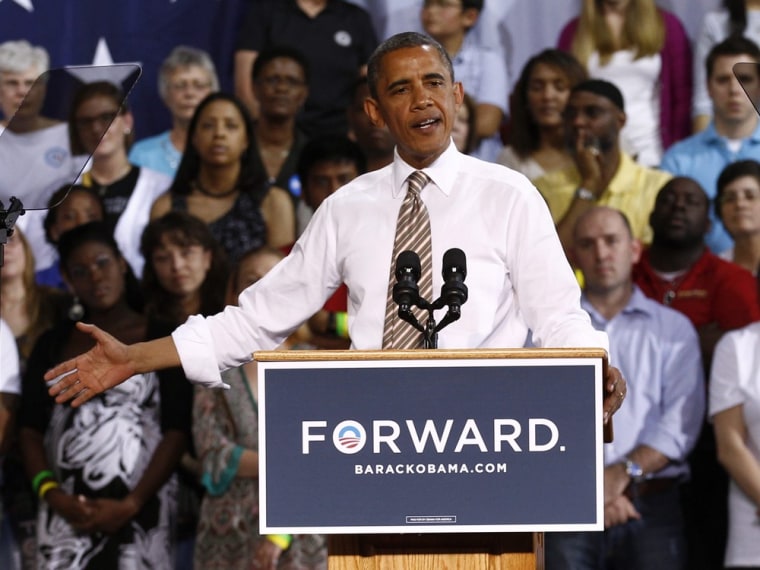 *** A "cow pie of distortion": Also in Iowa last night, Obama invoked Romney's "corporations are people, my friend" -- which was delivered at the same venue (the Iowa State Fairgrounds) last summer -- and he referred to Romney's most recent visit to the Hawkeye State. "Now, I know Gov. Romney came to Des Moines last week; warned about a 'prairie fire of debt.'  That's what he said. But he left out some facts. His speech was more like a cow pie of distortion… What my opponent didn't tell you was that federal spending since I took office has risen at the slowest pace of any president in almost 60 years." The Romney camp issued this response: "A president who broke his promise to cut the deficit in half by the end of his first term has no standing when it comes to fiscal responsibility. By the end of this year, President Obama will have presided over a record-shattering four consecutive trillion-dollar deficits and added an historic amount to our national debt."  
*** Measuring enthusiasm and intensity: So what did we learn this week, in addition to all the back-and-forth over Bain? Our slew of polls -- the national NBC/WSJ survey, as well as our NBC/Marist polls of Florida, Ohio, and Virginia -- showed that Obama has a small lead over Romney, despite what's been a volatile and eventful past few weeks. As we pointed out yesterday, he's at or near 48% in all of those polls, which is both good news for him and something to be wary of as well. But National Journal's Charlie Cook points out this potential warning sign: a lack of enthusiasm among key parts of Obama's base. In the NBC/WSJ poll, 81% of voters rated themselves as 8's, 9's, or 10's, in terms of interest in the upcoming election. While 83% of African Americans expressed this high interest in the election, just 68% of Latinos and 64% of young voters said the same thing. By comparison, Tea Party supporters and Republicans were at 90% and 88%, respectively. So Team Obama has some work to do here.
*** Playing with fire: While Politico this morning notes that Team Romney's message has been consistent (on the economy) and Team Obama's hasn't, here is one big exception to this: Donald Trump. Yesterday, we found out that Romney will attend a fundraiser in Las Vegas on Tuesday with Trump, and the campaign is also pushing a "Dine with Donald Trump and Mitt Romney" competition. This now makes Trump an unmistakable surrogate for the Romney campaign, especially considering his other assistance to Romney (his endorsement, attendance at other fundraisers). And as we've seen in the past, candidates are often forced to own what their surrogates say. So does Romney agree with Trump that Jeremiah Wright is fair game? Does he agree that there are still questions about Obama's citizenship? And does he agree, as Trump has said, that the U.S. needs to go to economic "war" against China? The DNC issued this statement yesterday: "Once again Mitt Romney is failing the moral leadership test. Instead of rejecting Donald Trump's 'birther' conspiracy theories and divisive attacks, he's endorsing them by campaigning and fundraising with him."
*** Gas prices on the decline: Given everything we written and heard about gas prices, you might be surprised at this news: Gas prices are failing -- big time. As we head into the Memorial Day weekend, the average price per gallon is now $3.67, NBC's Tom Costello reported on "TODAY," and that's down from 17 cents a month ago and down from $3.82 last year. Of course, one reason why they've been failing is due to slowing economies in Europe and China. And that particular news poses potential problems for the Obama White House. It's really the story of the past three years -- we move from one crisis and potential problem to the next. The financial industry's collapse, the BP spill, Greece, high gas prices, Greece again, etc.
*** Chris Matthews and Newt Gingrich: If you missed MSNBC's Chris Matthews' interview with Newt Gingrich yesterday, here are some highlights. Gingrich on Romney: "Mitt Romney did what he had to do in order to become the nominee… And when he got to the crunch, he was tough enough and smart enough to beat me in Florida." On his earlier attacks against Bain Capital: "I wouldn't have won it on that issue. That issue didn't work."
*** Scott Walker's huge ad-spending advantage: In Wisconsin tonight, Gov. Scott Walker (R) and Tom Barrett (D) will debate tonight. And this debate comes after several recent national polls have shown Walker leading Barrett. (Democrats have released their own polls showing Barrett trailing by just a couple of points, arguing that they're within striking distance). One of the BIG reasons why Walker is ahead is due to his significant ad-spending advantage. According to our data, Walker and GOP-leaning outside groups (like the RGA and Americans for Prosperity) have spent nearly $23 million on the airwaves, compared with $10 million for the Democrats -- and $4 million was spent behalf of Kathleen Falk, who lost to Barrett in the recall primary. Here's the breakdown:
GOP
Walker: $11.8 million
Right Direction WI (RGA): $4.4 million
Wisconsin Manufacturers and Commerce: $4.3 million
Americans for Prosperity: $1.5 million
Center for Union Facts: $300k
Ending Spending: $233k
NRA: $200k
Club for Growth: $193k
Campaign to Defeat Barack Obama: $17k
Barrett/Dem
Wisconsin for Falk: $3.4 million
Greater Wisconsin Committee: $3.2 million
Barrett: $2.7 million
Falk: $500k
Wisconsin Education Association: $141k
League of Conservation Voters: $102k
PCCC: $64k
SOURCE: SMG Delta
*** On "Meet" this Sunday: NBC's David Gregory interviews Maryland Gov. Martin O'Malley and Newt Gingrich. 
Countdown to WI recall: 11 days
Countdown to GOP convention: 95 days
Countdown to Dem convention: 102 days
Countdown to Election Day: 166 days
Click here to sign up for First Read emails.
Text FIRST to 622639, to sign up for First Read alerts to your mobile phone.
Check us out on Facebook and also on Twitter. Follow us @chucktodd, @mmurraypolitics, @DomenicoNBC, @brookebrower