Obama expected to embrace Senate deal… The reason Obama is headed to Las Vegas: No state has better epitomized the power of the Latino vote… The Kabuki dance… On Rubio selling reform to the conservative base… On Schumer becoming the Democrats' dealmaker… And Senate is set to confirm John Kerry as secretary of state.
*** Obama to embrace Senate deal: When President Obama delivers his immigration speech at 2:55 pm ET today in Las Vegas, he will hug the principles that the bipartisan group of senators outlined yesterday. "POTUS will applaud the bipartisan Senate agreement that is very consistent with his long-held view and lay out his vision for immigration reform," top White House aide Dan Pfeiffer just tweeted. Obama also will call on the Senate to act on the legislation soon. While one publication is reporting that the White House has developed its own immigration-reform plan that's more liberal than the bipartisan Senate outline, that information is outdated. Had the bipartisan senators NOT acted yesterday, you likely would have seen Obama offer his own plan. But the senators did act, and their plan is the plan. The last thing the White House wants to do is blow up this fragile coalition. As we reported yesterday, the White House floated the idea of doing a more liberal or progressive bill during a meeting with the Congressional Hispanic Caucus last week, as a counter to what was being offered in the Senate, and the CHC shot the idea down. The CHC's advice to the White House was let the Senate work its will – at least for now. That said, the White House insisted last night to reporters that if the Senate coalition falters and if bill shows signs of dying, the president will step in with his own legislation.
Related: Obama's vs. Senators' immigration reform plan: 6 points on what overlaps, what differs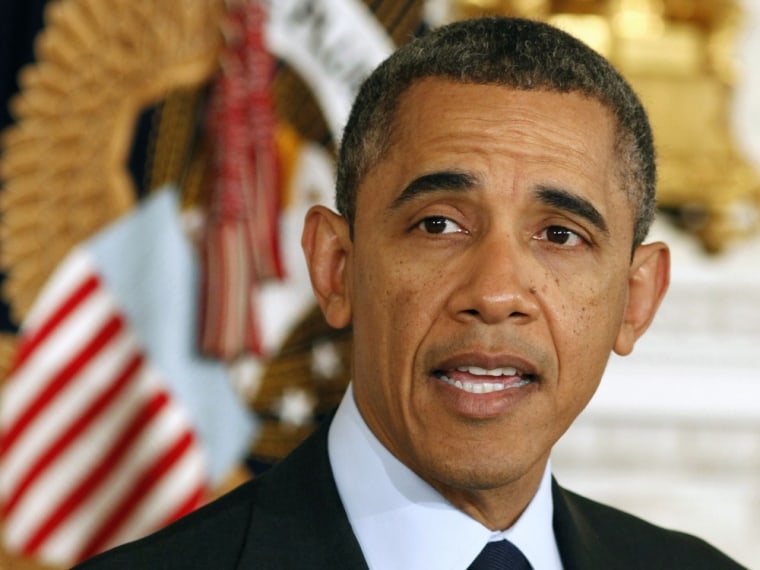 *** Vegas, baby: So why is the president giving his speech in Las Vegas? There is no state that better epitomizes the power of the Latino vote in American politics than Nevada. In 2010, Harry Reid won 69% of Latinos in his race against Sharron Angle, according to the exit polls, saving his Senate seat from a GOP that was convinced was theirs for the taking. And two years later, Obama won 71% of that vote -- matching what he received nationwide. The three states that have moved the most dramatically in presidential contests since 2004 have been Colorado, Nevada, and New Mexico, and it's due primarily to the Latino vote in all three states. (New Mexico is not even remotely a purple state anymore.) In Nevada, in particular, Latinos make up 27% of the state's population and 19% of the voters in the 2012 election. Translation: The Latino influence in the state has even more room to grow.
*** Kabuki dance: While Obama will embrace the bipartisan Senate framework today, one Republican senator who's part of the deal -- Sen. Lindsey Graham -- was criticizing Obama on FOX last night. "In 2008, he promised comprehensive immigration reform in the first year of his presidency, and it took all the oxygen out of the room," Graham said. More: "In 2007, when we were trying to do immigration reform, he folded like a cheap suit because labor, the AFL-CIO, got mad at the bill to allow temporary workers... So I don't need a lecture from Barack Obama about bipartisanship; he was never very good at it in the Senate." Moreover, top Marco Rubio staffers last night tweeted that Obama was "to oppose security and enforcement triggers," even though the article that was cited never explicitly said that; it simply said Obama "does not favor linking legal status to border security." So what's going on here? This is all Kabuki theater to show that these Republicans aren't in bed with the White House. The best way some Republicans privately believe they have to get more folks on board (or at least to convince some groups not to be overly aggressive AGAINST this plan) is to not look like they are "giving" the president a "win." Politico also makes this point: "Whether he likes it or not, the president's top legislative priority rests in the hands of McCain, his former 2008 rival, and Rubio, one of the GOP's leading candidates to take back the White House in 2016."
*** On Rubio selling reform to the conservative base: That said, this is an important test for Marco Rubio. He has spent the last several days selling comprehensive immigration to conservatives. And today, he speaks with Rush Limbaugh, who has criticized the bipartisan Senate framework. ("This immigration bill that everybody's touting on TV is essentially the Bush immigration bill that was beat back in 2007," Limbaugh said yesterday.) One of Ronald Reagan's great talents was selling compromise to his party -- and declaring victory. Can Rubio pull this off, especially on an issue that base conservatives have opposed in the past two presidential elections? Rubio's job with Limbaugh isn't to convince him to sign on; we're not sure that's possible. What Rubio's goal is today is to convince Limbaugh not to aggressively be AGAINST what he's doing. If he can pull this off, it will be quite the feather in his hat as we get closer and closer to 2016 -- and perhaps show Rubio has some Reagan-like political skills.
*** On Schumer becoming the Democrats' dealmaker: For those who closely follow American politics, Chuck Schumer is an easy target to mock. The running joke, for years, has been that the most dangerous place in DC is to be between Schumer and a TV camera. Perhaps lost in this caricature, however, is that Schumer has become the Democrats' mover and shaker on key legislation -- dare we say the most effective dealmaker on the Democratic side of the aisle right now. On immigration, he's reaching across the aisle to work with John McCain, Lindsey Graham, and Marco Rubio. And on guns, the legislation that has the best chance of passage is Schumer's (on universal background checks) where he just might MIGHT convince Republican Tom Coburn to come on aboard his bill. What made Ted Kennedy a lion of the Senate was that he had influence with his Democratic colleagues (if he was backing something, they had cover to get on board) but also the ability to reach across the aisle. And so it's worth asking: Is Chuck Schumer the closest thing to that right now? And we haven't even touched on how relentless (and effective) Schumer has been the Senate Democrats' de facto political director. Is there anyone better at candidate recruiting and clearly primary fields right now than Schumer?
*** Senate set to confirm Kerry: In non-immigration news, U.S. Senate today is expected to vote on John Kerry's nomination to be secretary of state, and he's a sure bet to win an easy confirmation. As one of us reported yesterday, if Kerry is confirmed and if his letter of resignation is received tomorrow, Massachusetts will set the special general election for June 25 -- with the primaries to take place on April 30. Also, Gov. Deval Patrick (D) is expected to announce his pick of an interim senator to fill the seat until the special election.
Click here to sign up for First Read emails.
Text FIRST to 622639, to sign up for First Read alerts to your mobile phone.
Check us out on Facebook and also on Twitter. Follow us @chucktodd, @mmurraypolitics, @DomenicoNBC, @brookebrower