Obama at a second-term inflection point… And it largely hinges on success/failure of immigration reform… A tale of two Pauls (Ryan and Rand) on immigration… The sequester is back in the news… The Bush Rehabilitation Project… Snyder is upside-down in Michigan… Let's get ready to rumble -- Aloha style… And the Comeback Kids.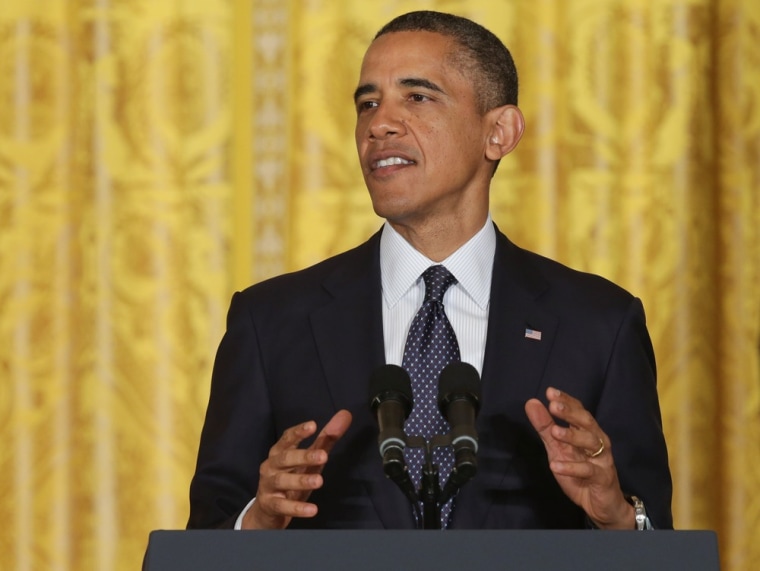 *** Obama at a second-term inflection point: After last week's defeat of the Senate background-check measure, two different views of President Obama and presidential power have emerged. The first comes from those who understand how Washington truly works, especially when there's divided government -- you need 60 votes in the Senate (and thus at least five Republicans to cross over), Obama didn't even carry a majority of congressional districts (209 to be exact) despite winning the popular vote by nearly five million votes. According that view, what happened with the gun legislation was fairly predictable, though the ultimate defeat probably occurred quicker than expected. The second view comes from those who believe that all leadership comes from the president, and who think the fate of legislation hinges on how powerful the president is or how powerful a president acts. According to this take, Obama failed in the gun debate, even though he used his bully pulpit more than we've seen in other any other legislative debate since health care. And if you've had a beef with Obama's leadership style, you're using this gun defeat to air your grievances ("He's no LBJ when it comes to twisting arms!"). But the fairest way to look to Obama's second term -- which is just three months in -- is this: The president is at an inflection point. 
*** And it hinges on immigration reform: Obama's early second-term domestic agenda had three planks: 1) gun control, 2) budget, and 3) immigration reform. So to recap where things stand, gun control has been defeated; the budget talks (despite Obama having another dinner with senators tonight) are at a stalemate with no real sign of progress evident anywhere (how did that Chained-CPI offer go?); and immigration is moving through the Senate. If Congress passes immigration reform, this discussion about Obama's legislative leadership will look like a silly exercise -- he will have health care, financial reform, "Don't Ask, Don't Tell" repeal, the fiscal-cliff deal, and immigration trophies on the wall. (Sure, they might have been ugly victories, but a win's a win, right?) Yet if immigration doesn't pass, then it will be more than fair to note that Obama was unable to navigate a divided Congress. Bottom line: Judging Obama's second term, just three months in, is way too early. But make no mistake, a lot is riding on immigration reform.
*** A tale of two Pauls (Ryan and Rand) on immigration: Speaking of immigration, there was one positive development for reformers and one negative development. The positive: House Budget Committee Chairman Paul Ryan is on board the immigration-reform train. "[On] Monday in Chicago, something a little unusual happened when a congressional duo, U.S. Rep. Paul Ryan (R-Wis.) and U.S. Rep. Luis Gutierrez (D-Ill.), emerged to give a big push for comprehensive immigration reform," the Milwaukee Journal Sentinel writes. "Appearing at the City Club of Chicago luncheon, the men sounded cautiously optimistic about Congress moving on the issue and emphasized that the effort should not be sidetracked by last week's fatal bombings at the Boston Marathon." Folks, this is a pretty big deal, because Ryan's support gives House Speaker Boehner tons of cover to bring the immigration-reform legislation to the floor. But here was the negative development: Sen. Rand Paul (R-KY) pulled back from reform, especially after Boston. "We should not proceed until we understand the specific failures of our immigration system," Paul said in a letter to Senate Majority Leader Harry Reid, per the Washington Post. "Why did the current system allow two individuals to immigrate to the United States from the Chechen Republic in Russia, an area known as a hotbed of Islamic extremism, who then committed acts of terrorism?" You can't help but wonder if Paul is seizing a potential opportunity to be to the right of potential 2016 foes on this issue.  
*** The sequester is back: By the way, the politics over the sequester is back in the news. The New York Times: "Flights were delayed by up to two hours across the country on Monday, the first weekday that the nation's air traffic control system operated with 10 percent fewer controllers. Pilots, gate agents and others were quick to blame furloughs caused by mandatory across-the-board budget cuts, but the Federal Aviation Administration said it was too soon to tell." For what it's worth, this is what many in the Obama administration warned about, but because it didn't happen in the immediate days after sequester kicked in, it was seen as hype. Now we're seeing a PR battle between congressional Republicans (who want to claim Obama is not actively trying to avoid sequester fallout with the FAA) and the Obama administration (which is saying it's limited in what it can do and need all of sequester rolled back to right this ship).
*** On the sales-tax legislation: The current battle over legislation to help states force online retailers to collect state sales taxes is pretty fascinating to watch. It's pitting different parts of the GOP -- those who represent big business vs. those who are always anti-tax. And this statement yesterday from Sen. Bob Corker (R-TN) illustrates why the legislation is picking up speed while at the same time some GOPers are nervous about how it's portrayed. "I think most Tennesseans would agree that we're fortunate not to have a state income tax, and to help ensure that remains the case, it's important our sales tax system works. This is a states' rights bill that gives states like Tennessee the ability to enforce existing state tax laws and collect sales taxes on online purchases if they choose." By the way, note the name of the bill -- "The Marketplace Fairness Act."  Navigating issues regarding the sales tax and gas tax has been a problem for Republican governors so far this year. As the base become so anti-tax that ANY tax increase anywhere (even if offset or based on fairness) is a non-starter in a GOP primary?
*** The Bush Rehabilitation Project: According to our most recent NBC/WSJ poll, George W. Bush's poll numbers continue to remain in the net-negative territory -- with 35% viewing him favorably and 44% viewing him negatively. (However, a new Washington Post/ABC poll has different numbers: 47% approval-50% disapproval.) Yet with the dedication of the new Bush library taking place on Thursday, the Bush rehabilitation project is in full swing. The latest is this USA Today op-ed by former Bush campaign manager (and former RNC Chair) Ken Mehlman. "We can win the votes of non-whites, but only if we try. President George W. Bush won an historic share of Hispanic voters and grew African- and Asian-American support by acknowledging the different and often difficult experiences of many minorities, while pursuing policies that recognized the universal appeal of freedom and opportunity. As Republicans look to the future, our party might revisit this approach."
*** Snyder is upside-down in Michigan: Last week, we noted how Ohio Gov. John Kasich's (R) poll numbers have improved after a rocky 2011-2012. Well, the opposite is true for Michigan Gov. Rick Snyder (R) after a relatively uncontroversial 2011-2012 -- his numbers have declined, per a new EPIC/MRA poll. "The governor's favorable rating hit a high of 55% in early December. But that was before controversial right-to-work legislation was passed in the raucous final days of the legislative session. Since then, Snyder's ratings have been slipping. In the April survey, 42% of the people had a favorable view of him, while 46% had an unfavorable view. His job rating was 38% positive to 58% negative." What's more, Snyder is virtually tied in hypothetical match-ups in the high-30s against two Democrats (Mark Schauer and Bart Stupak) who have very low name ID. 
*** Let's get ready to rumble -- Aloha style: Over the past few years, Hawaii has seen its share of combative Democratic primaries. And next year will feature another one. Roll Call: "Rep. Colleen Hanabusa, D-Hawaii, has decided to run for Senate and will likely make a public announcement in the Aloha State next week during recess, a source close to the congresswoman told CQ Roll Call. The decision comes four months after Hanabusa was passed over for the appointment to the seat of the late Sen. Daniel Inouye and sets up what will be a spirited Democratic primary battle with appointed Sen. Brian Schatz." What does Obama do? His endorsement carries HUGE weight in Hawaii. Does he get involved?  
*** The Comeback Kids? Finally, given all the politicians trying to make comebacks -- Mark Sanford in South Carolina, Anthony Weiner (with a new Twitter account!) in New York -- our colleague Jessica Taylor looks at five other pols who are (or might be) on the comeback trail and who actually could win: Marjorie Margolies-Mezvinsky, Asa Hutchison, Charlie Crist, Mia Love, and Nancy Pelosi. 
http://is.gd/ccxyrR%22%20%5Ct%20%22_blank">Click here to sign up for First Read emails.
Text FIRST to 622639, to sign up for First Read alerts to your mobile phone.
Check us out on http://is.gd/TzuR1b%22%20%5Ct%20%22_blank">Facebook and also on http://is.gd/hkhSDT%22%20%5Ct%20%22_blank">Twitter. Follow us @http://twitter.com/#!/chucktodd">chucktodd, @http://twitter.com/#!/mmurraypolitics">mmurraypolitics, @http://twitter.com/#!/DomenicoNBC">DomenicoNBC, @brookebrower