Obama's repeat performance in Berlin… President talks Afghanistan, NSA surveillance, and Syria in press conference with Germany's Merkel… House passes abortion-ban measure… CBO says "Gang of Eight" immigration bill will lower deficit by nearly $1 trillion over 20 years… Boehner: "I don't see any way of bringing an immigration bill to the floor that doesn't have a majority support of Republicans"… And Markey, Gomez spar in final debate.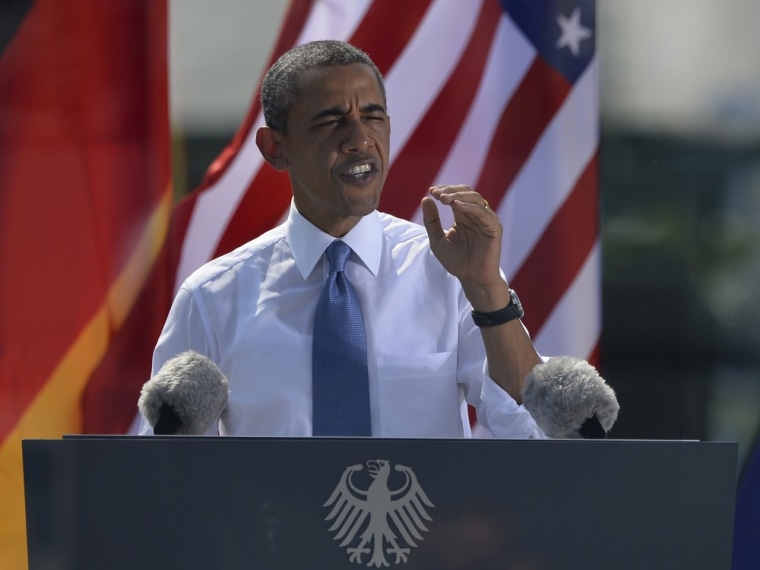 *** Obama's repeat performance in Berlin: Repeat performances of a winning act are never easy; just ask any sports team or musical group. The explanation is pretty simple: It's difficult to replicate a smashing success, because circumstances always change after the passage of time. And that was President Obama's challenge as he spoke in Berlin, Germany almost five years after his memorable speech in the city during the '08 presidential campaign. (The speech also comes almost 50 years after John F. Kennedy's famous "Ich bin ein Berliner" address.) Obama began his remarks saying, "Today, I'm proud to return as president of the United States." Then he said: "For all the power of militaries, for all the power of governments, it is citizens who choose whether to be defined by a wall or whether to tear it down." He emphasized curbing nuclear arms -- a subject that's always been more popular in Europe than the United States, for obvious reasons. "So long as nuclear weapons exist, we are not truly safe," Obama said, adding: "We can ensure the security of America and our allies … by [further] reducing [our arsenal] by up to one third." And he once again called for the closure of the prison at Guantanamo Bay. "We must move beyond the mindset of perpetual war."
*** Then vs. now: Of course, so much of the attention of Obama's speech is comparing it with the one five years ago. Back then, he was an inspirational presidential candidate; now he has a record with its ups and downs. Back then, he addressed hundreds of thousands of Germans; now the audience is smaller (due to German Chancellor Merkel trying not to overly politicize it since she's up for re-election). And back then, German elites adored him; now they're more skeptical (though a Pew poll shows a whopping 88% of Germans say they have confidence in Obama to do the right thing in world affairs). The hope for the Obama White House is that, hours from now, more are focused on what he said TODAY rather than what he said FIVE YEARS ago.
***Obama talks Afghanistan, NSA surveillance, and Syria: Before Obama's speech, he held a bilateral news conference with German Chancellor Merkel, where the American president made his first remarks after the Taliban had announced peace talks but also after an upset Afghan government broke off negotiations with the U.S. regarding military cooperation. Obama said the friction/conflict isn't surprising given that the Taliban and Afghan government have been fighting for a long time and there's an enormous amount of mistrust. On NSA surveillance (especially on those abroad under the PRISM program), Obama said, "This applies very narrowly to leads we have obtained on issues of terrorism or weapons of mass destruction… This is not a situation where we are rifling thru the emails of German citizens or American citizens… Lives have been saved and the encroachment on privacy has been restricted." (It's important to note that while Merkel is sensitive to how this program has been received domestically, the Germans have their own related programs.) And on Syria, Obama wouldn't comment on what kind of arms the U.S. has given to Syrian rebels, but he added: "What I can say is we have had a steady, consistent policy -- which is we want a Syria that is peaceful, not sectarian, legitimate, tolerant, and that is our overriding goal." More: "We want to end the bloodshed… The best way to get there is through a political transition."
*** House passes abortion-ban measure: By a 228-196 vote last night, the GOP-controlled House of Representatives passed a measure that would ban abortions after 20 weeks of pregnancy. (The bill would allow an exception if the pregnancy poses a risk to the life of the mother, or if it's the result of a case of reported rape or incest.) Per NBC's Frank Thorp, the vote was mostly along partisan lines, with just six Democrats voting in favor (Cuellar of Texas, Lipinski of Illinois, Matheson of Utah, McIntyre of North Carolina, Peterson of Minnesota, and Rahall of West Virginia. And six Republicans voted against the legislation: Broun of Georgia, Dent of Pennsylvania, Frelinghuysen of New Jersey, Hanna of New York, Runyan of New Jersey, and Woodall of Georgia.
*** CBO says Senate immigration will lower deficit by nearly $1 trillion over 20 years: Also yesterday, supporters of the "Gang of Eight" immigration legislation celebrated the Congressional Budget Office scoring of the bill, as it said the legislation would reduce federal budget deficits by $197 billion over the next 10 years (2014-2023) and an additional $700 billion over the 10 years after that (2024-2033), NBC's Carrie Dann reports. Said Sen. Chuck Schumer (D-NY): "This report is a huge momentum boost for immigration reform. This debunks the idea that immigration reform is anything other than a boon to our economy, and robs the bill's opponents of one of their last remaining arguments." Added Marco Rubio: "The CBO has further confirmed what most conservative economists have found: reforming our immigration system is a net benefit for our economy, American workers and taxpayers." And be careful what you ask for: "Conservatives had expected that an analysis of the second decade — when immigrants would begin to qualify for federal benefits — would bolster their argument that the costs of an immigration overhaul were unwieldy, but that turned out not to be the case in the economic analysis," the New York Times says.  
*** Boehner: "I don't see any way of bringing an immigration bill to the floor that doesn't have a majority support of Republicans":  That was the good news for supporters of immigration reform; the bad news came from comments by House Speaker John Boehner, who suggested that he wouldn't bring any legislation to the floor without the support from a majority of House Republicans. "I don't see any way of bringing an immigration bill to the floor that doesn't have a majority support of Republicans," Boehner said during a press briefing yesterday, per NBC's Luke Russert and Carrie Dann. He went on to say, "I frankly think the Senate bill is weak on border security, I think the internal enforcement mechanisms are weak and the triggers are almost laughable." If you read Boehner's comments carefully, he left himself SOME wiggle room ("I don't see any way…"). But there's another way to read his remarks: It's very possible that he believes a majority of his GOP conference COULD vote for the legislation, especially if it gets sizable support in the Senate.
*** All about midterm politics? At his news conference yesterday, Boehner also argued that Democrats really don't want to pass comprehensive immigration reform quickly because they'd rather have it as a midterm issue. "I'm increasingly concerned that the White House and Senate Democrats would rather have this as an issue in the 2014 election rather than a result," he said. That might be more believable if this were 2015 and we were talking about a general presidential election coming up, but not as much in a midterm. Why? One, Latino turnout in midterms is lower than in a presidential, where they can make and have made a significant impact. And two, redistricting has led to fewer swing seats and solidified many Republican districts. "I don't think it makes much sense, either," said David Wasserman, who covers House races for the Cook Political Report. "There are only 24 House Republicans in districts where Latinos make up more than 25% of the population, and only two of them -- David Valadao (CA-21) and Gary Miller (CA-31) -- sit in districts that are remotely competitive. So Boehner's contention that Democrats aren't negotiating in good faith is more an attempt to explain why those in his party fearful of a primary are causing delay."
*** Markey, Gomez spar in final debate: Finally, one week out before the special Senate election in Massachusetts, Democrat Ed Markey and Republican Gabriel Gomez clashed in their third and final debate last night. Per the Boston Globe, Gomez continued to hit Markey as a Washington insider. "Nothing's going to change if Mr. Markey wins this election," he said. "We're going to have the same D.C. down there and the same dysfunction. The only thing we're going to have is him moving from one building to the next." And Markey tied Gomez to the GOP and its political priorities. The two candidates, the Globe adds, also sparred "over Gomez's decision to campaign with John McCain, a five-term senator, despite Gomez's support for term limits for senators. 'Did you ask John McCain to leave the Senate?' Markey said. 'No, Mr. Gomez, you did not.' But Gomez argued that he did, in fact, tell McCain he should be barred from running for another term." Yet if you want to know how difficult it is a for a Republican to run for the Senate in the Northeast, just check out this comment that Gomez gave to ABC: "I'm ashamed that only four Republicans voted for the expanded background check."
Click here to sign up for First Read emails.
Text FIRST to 622639, to sign up for First Read alerts to your mobile phone.
Check us out on Facebook and also on Twitter. Follow us @chucktodd, @mmurraypolitics, @DomenicoNBC, @brookebrower