Obama's two speeches in one… First part was your typical SOTU; second part was emotional plea to curb gun violence… Obama on the economy, sequester… President also unveils laundry list of economic/educational proposals… Obama heads to Asheville, NC to deliver speech at noon ET… On Rubio's tough assignment last night and on whether he expanded his party's appeal… And yesterday's vitriolic day at the Senate Armed Services Committee.
*** Obama's two speeches in one: Perhaps the best way to view President Obama's State of the Union address last night was a tale of two speeches (actually, you could even argue three speeches if you count the sequester portion, which we discuss below). The first part was your traditional State of the Union -- domestic policies proposed, praise for America's resiliency, and recognition of the country's military service members. As he did in his inaugural address, Obama also called for comprehensive immigration reform and efforts to combat climate change. But it was the second part that was something you don't often see in a State of the Union -- an emotional conclusion in talking about his proposals to curb gun violence that ended up overshadowing the rest of the speech. Recognizing the parents of a slain Chicago teenager who performed at last month's inauguration, Obama said, "They deserve a vote [in Congress]." He continued, "Gabby Giffords deserves a vote. The families of Newtown deserve a vote. The families of Aurora deserve a vote. The families of Oak Creek and Tucson and Blacksburg, and the countless other communities ripped open by gun violence –- they deserve a simple vote." It was powerful stuff, and a reminder that the gun debate (as well as the emotion that goes with it) isn't going away anytime soon. Yet with Obama asking simply for a vote, it was also a reminder that passing anything won't be easy. It was actually a fairly low bar for success that the president set.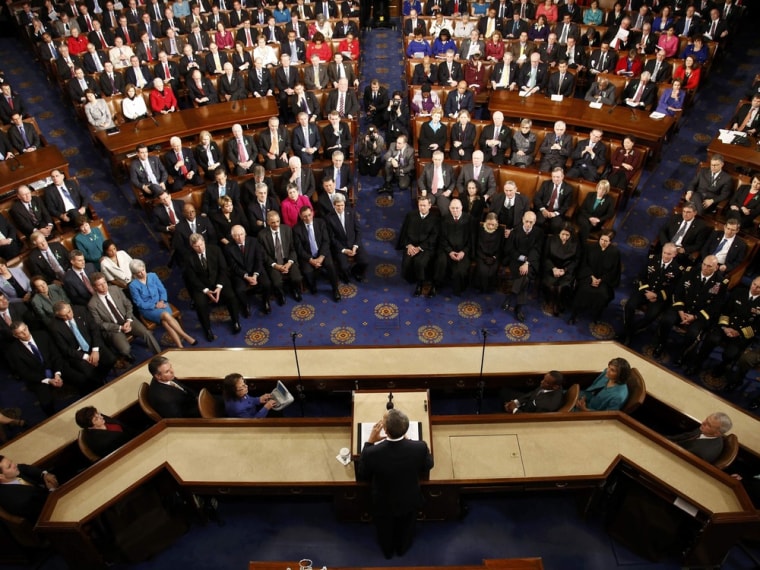 *** Obama on the economy, sequester: The top of the president's remarks were focused on the economy and the ongoing debate over the budget.  Obama warned that the so-called sequester -- the automatic spending cuts set to take place March 1 -- would hurt the economy. "These sudden, harsh, arbitrary cuts would jeopardize our military readiness," he said. "They'd devastate priorities like education, and energy, and medical research. "They would certainly slow our recovery, and cost us hundreds of thousands of jobs." He also noted that Congress had already reduced the deficit by more than $2.5 trillion, and he laid out proposals to curb Medicare spending. And he called for Congress to work together to resolve the budget issues. "Let's agree right here, right now to keep the people's government open, and pay our bills on time, and always uphold the full faith and credit of the United States of America." Buried in this speech is something that the president didn't want to advertise, but that was placed in there as a hint to Republicans at where he's ready to compromise on the deficit: He called for cuts to Medicare equal to what Bowles-Simpson proposed. He never said the number (not popular politically), but he stated the goal. Folks, this is where the compromise in March could happen.  
*** The laundry list of proposals: After opening with sequester and trying to frame the upcoming budget fights on his terms, the president then laid out a series of new initiatives. Universal pre-K. Infrastucture projects. Better training high-school students for technical jobs. Raising the minimum wage to $9.00 per hour. And creating a bipartisan commission to expand voting rights. We're already hearing many Republicans dismissing these proposals as small bore. And, yes, we had Clinton flashbacks ourselves (remember the school uniforms?). But we'd note that this is a potential trap for the GOP. These are items -- especially the ones on education -- that many Americans care about, and they test REALLY WELL in polls. Republicans may want to claim all the ideas together are "liberal" and "big government," but individually, these ideas poll test through the roof. They are 65% ideas, not 50%-50% ones. Today, Obama heads to Asheville, NC to begin selling his State of the Union with a speech at noon ET. (There, per the White House, he will tour a local factory to highlight the manufacturing policies he unveiled last night.) Tomorrow, he goes to Atlanta, GA. And on Friday, it's to Chicago.
*** Rubio's tough assignment: As we wrote last week, giving the State of the Union response hasn't always been the best stepping stone to higher office. And with Marco Rubio's response last night, we saw why. While the president gets to address a packed Congress and recognize individual citizens sitting in the audience, the responder often speaks to an empty room or office. While the president gets applause and opportunities for TV camera cutaways (and thus maybe a chance to take a swig of water), the responder looks straight into the camera with no one else there and with no chance for a break. That's why the viral moment of Rubio gulping down water -- a moment he's since joked about -- was so jarring. But even take away that water-gulping moment, Rubio's speech shows you why the State of the Union response is such a tough assignment and one that's fraught with peril. When it comes to music concerts, the main act is the final event. But the State of the Union is the only instance we can think of where the main act goes first and the side act is last.
*** Did he broaden the party's reach? But here's a separate question we have: Did Rubio broaden his party's reach? While he's younger than Mitt Romney and has a more relatable life story, Rubio's speech was almost a rehash of almost everything we heard from Romney and the GOP in 2012. He accused Obama of believing that the free enterprise system is the source of America's problems (when the president praised it in his State of the Union); he said that Obama wants to grow the size of the government; and he attacked the health-care law. All of those messages had hundreds of millions of dollars behind them in the 2012 presidential election, and Republicans got just 47% of the vote in the presidential election. There is no doubt that Rubio is a GOP politician with a bright future and plenty of personal appeal. But it also seemed like Rubio was preaching to the Republican choir rather than broadening the party's reach. It's a speech that is being very well received among conservatives, but was it a persuasion speech?
*** A vitriolic day at the Senate Armed Services Committee: Besides Obama's State of the Union and Rubio's response, the other big political event yesterday was Chuck Hagel's nomination to be defense secretary passing through the Senate Armed Services by a party-line vote. But the actual vote got overshadowed by something else. The New York Times: "At times, the meeting slipped into an unusually accusatory and bitter back-and-forth, with Republicans like Ted Cruz, a freshman senator from Texas, going as far as to suggest that Mr. Hagel had accepted money from nations that oppose American interests. Saying that he had serious doubts about the source of payments that Mr. Hagel had accepted for speaking engagements, Mr. Cruz declared, 'It is at a minimum relevant to know if that $200,000 that he deposited in his bank account came directly from Saudi Arabia, came directly from North Korea.'" That back-and-forth added fuel to the fire that the Senate is -- more and more -- turning into the more combative House of Representatives. On the other hand, with Democratic senators and even John McCain stepping in to rebuke Cruz ("No one on this committee should at any time impugn his character or his integrity"), it was a reminder that there's a line you can't cross in the Senate. Cruz is cementing himself as someone who doesn't play by the old rules; that will make him popular with many non-Beltway conservatives. But he's not making a lot of friends in the Senate (even among Republicans).
*** On the Hill today: The Senate Judiciary Committee holds a hearing on comprehensive immigration reform at 9:30 am ET, and Jack Lew's confirmation hearing to be Treasury secretary takes place before the Senate Finance Committee at 10:00 am ET.
Click here to sign up for First Read emails.
Text FIRST to 622639, to sign up for First Read alerts to your mobile phone.
Check us out on Facebook and also on Twitter. Follow us @chucktodd, @mmurraypolitics, @DomenicoNBC, @brookebrower