Obama's unfulfilled goal: moving toward Middle East peace… President departs for Israel at 8:00 pm ET… Iran tops Obama's upcoming agenda with Netanyahu… Violence in Iraq marks 10th anniversary of the war there… RNC report gets conservative pushback… Rand Paul backs comprehensive immigration reform… How quickly public opinion has changed on gay marriage… And it's primary day in South Carolina!
*** Obama's unfulfilled goal: As President Obama departs for Israel later tonight on his first foreign visit since winning re-election, the trip is a reminder of one of the big failures of his first term: moving toward Middle East peace. During his ballyhooed 2009 Cairo speech, the president talked about the necessity for peace and two-state solution. "That is in Israel's interest, Palestine's interest, America's interest, and the world's interest. And that is why I intend to personally pursue this outcome with all the patience and dedication that the task requires." He added, "Too many tears have been shed. Too much blood has been shed. All of us have a responsibility to work for the day when the mothers of Israelis and Palestinians can see their children grow up without fear." But nearly four years later since that speech, both sides seem farther apart than ever before. Much of it isn't Obama fault and is due to things outside of his control -- the Arab Spring, Israel's move to the right, its settlement building, and the Palestinian National Authority's reduced influence. Still, it's a goal that Obama set, and one that doesn't have as much "patience" and "dedication" as it once did for the White House. Before Obama departs for Israel at 8:00 pm ET, he meets with Irish Prime Minister Enda Kenny at 10:30 am, has lunch with him, and then hosts a belated St. Patrick's Day event in the prime minister's honor.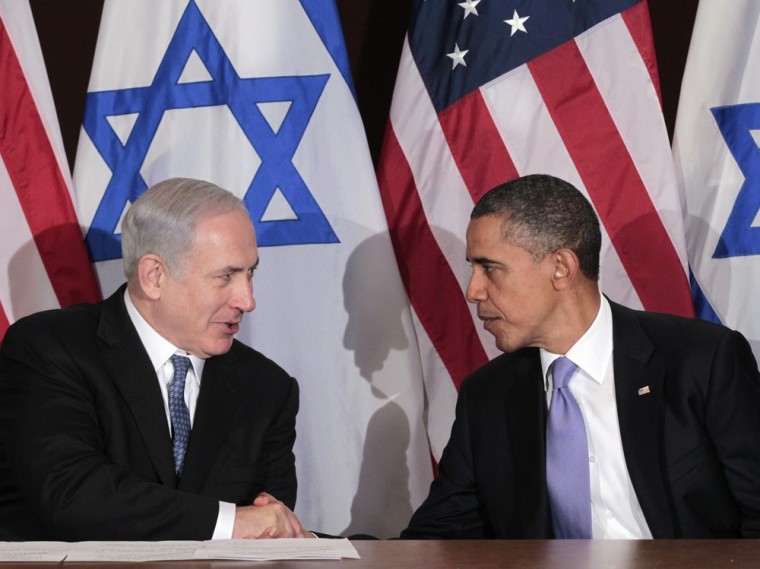 *** Iran tops Obama's agenda with Netanyahu: The New York Times says that dealing with Iran will top Obama's agenda when he meets with Israeli Prime Minister Netanyahu, who was weakened and humbled after Israel's recent elections. "Public disagreements between Mr. Obama and Mr. Netanyahu over how to deal with Iran have waned in recent months. This comes from a combination of the president's repeated warnings to Tehran; Iran's strategy of not crossing Israel's red lines while continuing to build its nuclear program; and changes in Israel's political landscape, which have weakened Mr. Netanyahu and made a unilateral military strike less likely. 'What Netanyahu wants to be persuaded of is that the chances Obama will take care of the problem, combined with his assessment of the decay of the Iranian economy, justifies Israel standing down this year,' said Cliff Kupchan, an Iran expert at the Eurasia Group, a political risk consulting firm, who just returned from a visit to Israel."
*** Violence in Iraq marks 10th anniversary of the war: As we've already noted, today is the 10th anniversary of the beginning of the Iraq war -- in our eyes the most consequential political event of the past 10 years and probably beyond. And the anniversary, Reuters reports, is marked by more violence. "A dozen car bombs and suicide blasts tore into Shi'ite districts in Baghdad and south of the Iraqi capital on Tuesday, killing more than 50 people on the 10th anniversary of the U.S.-led invasion that ousted Saddam Hussein." Indeed, the Washington Post notes that Iraq today "is neither the failed state that seemed all but inevitable during the darkest days of the war nor the model democracy that the Americans set out to build." More: "Haunted by the ghosts of its brutal past, Iraq is teetering between progress and chaos, a country threatened by local and regional conflicts that could drag it back into the sustained bloodshed its citizens know so well."
*** RNC report gets conservative pushback: The post-election report that the Republican National Committee released yesterday is getting GOP/conservative pushback on two different fronts. The first: Potential 2016 candidates who are upset about the report's recommendations to reduce the number of debates and to de-emphasize the caucus contests. As Politico's Martin writes, "Each of those steps would benefit a deep-pocketed candidate in the mold of Mitt Romney. That is, someone who doesn't need the benefit of televised debates to get attention because he or she can afford TV ads… "[P]otential 2016 hopefuls Sen. Rand Paul (R-Ky.) and former Sen. Rick Santorum … reacted angrily to recommendations they think are aimed at hurting candidates who do well in caucuses and conventions and need debates to get attention." The second front of criticism: Republicans who aren't happy with the report's endorsement of comprehensive immigration reform. "Senate Judiciary ranking member Charles E. Grassley, R-Iowa, and Sen. Jeff Sessions, R-Ala., both said immigration is an important issue to tackle but that efforts should not be rushed because of political calculations," Roll Call says. "Both also noted that if a policy rewrite passes, Republicans would still need significant outreach to win over Latino voters."
*** Paul backs comprehensive immigration reform: Speaking of immigration, look who's the latest Republican to back comprehensive immigration reform: Sen. Rand Paul. So that means that the top-two finishers from last week's CPAC straw poll back comprehensive immigration reform. "In a speech to be delivered Tuesday morning to the U.S. Hispanic Chamber of Commerce, the potential 2016 presidential candidate declares, 'If you wish to live and work in America, then we will find a place for you,'" the AP reports. "Paul's path to citizenship would come with conditions that could make it long and difficult for illegal immigrants. Chief among these, Congress would have to agree first that progress was being made on border security" -- similar to Marco Rubio's demand. More AP:  "Nonetheless, Paul's endorsement of allowing illegal immigrants an eventual way to become citizens puts him in line with a growing number of Republicans who are embracing action on immigration as a way to broaden the GOP's appeal to Latinos."
*** How quickly public opinion has changed on gay marriage: When you think about it, Hillary Clinton's endorsement of gay marriage yesterday shouldn't have been too surprising. If you're a Democrat who's even considering a potential presidential run -- in 2016 or beyond -- you've got to jump aboard the gay-marriage train. Yet what remains fascinating is just how quickly public opinion has changed on the issue. Back in 2004, according to our NBC/WSJ poll, just 30% of Americans backed gay marriage. But by the end of 2012, that percentage had increased to 51% -- a jump of more than 20 points. (The partisan breakdown from that last NBC/WSJ poll: 69% of Democrats, 46% of independents, and 27% of Republicans support gay marriage.) And yesterday, a Washington Post/ABC poll found nearly six in 10 (58%) backing gay marriage.
*** Primary day in South Carolina: South Carolina voters go to the polls today in the special congressional primaries to fill the seat vacated by Republican Tim Scott, who's now serving in the Senate. As we wrote yesterday, former South Carolina Gov. Mark Sanford -- yes, the same Sanford who was supposed to be hiking the Appalachian Trail but was instead with his Argentine mistress -- is expected to finish first on the GOP side, due largely to his name ID. But that's the easy part for Sanford. If no one gets more than 50% (as is also expected), that triggers a run-off for April 2. And if Sanford today leads the pack with, say, 30% to 35% of the vote, the question becomes: Can he increase that percentage in the run-off? On the Democratic side, the big name is Elizabeth Colbert Busch, who's the sister of comedian Stephen Colbert. Polls close at 7:00 pm ET, and only about 30,000 voters are expected to participate in the special primary.
Click here to sign up for First Read emails.
Text FIRST to 622639, to sign up for First Read alerts to your mobile phone.
Check us out on Facebook and also on Twitter. Follow us @chucktodd, @mmurraypolitics, @DomenicoNBC, @brookebrower