From one crisis (shutdown) to the next (debt ceiling) -- without any end in sight… Dilemmas for both Boehner and Obama… If Boehner says there aren't enough votes for a clean CR, doesn't he have to prove it?... Here come the shutdown TV ads… How your government is still working during the shutdown – the raids in Libya and Somalia… Obamacare's website: Not ready for primetime… And Cuccinelli admits shutdown is having an impact on VA GOV race.
*** From one crisis to the next -- without any end in sight: The federal government shutdown enters its second week with no end in sight. And guess what: We're already moving to the debt-limit fight, as House Speaker John Boehner vowed that his party won't vote to raise the debt ceiling without concessions from President Obama, especially when it comes to entitlement programs. "The votes are not in the House to pass a clean debt limit. And the president is risking default by not having a conversation with us," Boehner said on ABC yesterday. "We're not going down that path. It is time to deal with America's problems. How can you raise the debt limit and do nothing about the underlying problem?" Boehner is determined to get the president to negotiate on, well, something. But the Obama White House maintains it will negotiate only AFTER the government shutdown ends and the debt limit is raised cleanly. "It's Congress's job to fund the government and it's Congress's job to make sure we can pay our bills," Treasury Secretary Jack Lew said on "Meet the Press," adding: "There's nothing here that we're asking for from Congress for them to do that. We are happy to negotiate on reasonable policies with entitlement reform and tax reform that closes loopholes. That's something that we would like to do."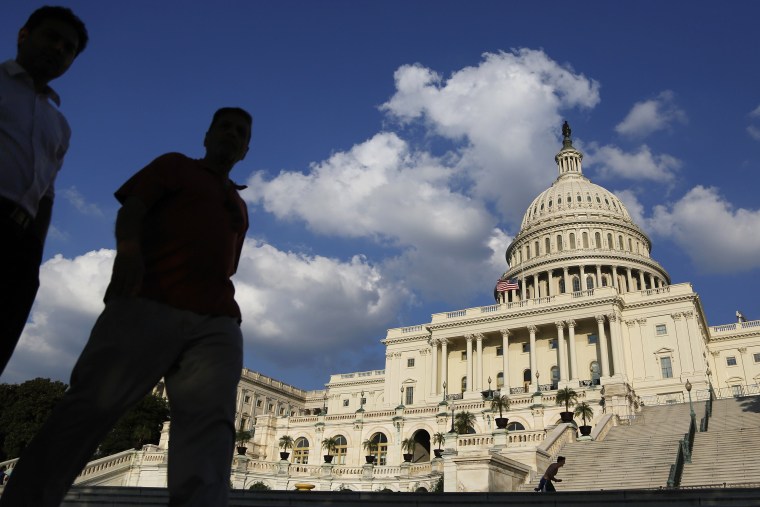 *** A dilemma for both Boehner and Obama: Yet Boehner's position here -- Obama needs to negotiate/compromise with us -- contains a central dilemma: The Tea Party folks who are clearly driving the shutdown/debt limit trains likely won't be pleased with any negotiation or compromise, whether it's over the president's health-care law or a true compromise over entitlements and the sequester. (Is there any deal that isn't the president 100% folding that can be sold to the Tea Party caucus? The answer is probably no.) So if Boehner ultimately achieves a negotiated compromise, he might find himself in the same Tea Party trouble he's trying to avoid. But Obama also faces a dilemma: He and his team haven't yet answered HOW BIG of a debt-ceiling hike they're seeking. And given that the White House must eventually answer that question, isn't that -- by definition -- negotiating over the debt limit? Indeed, here is a POTENTIAL resolution to this entire stand-off: Congress could pass a clean debt-ceiling for a few months, meeting the president's requirement of doing it without negotiating. But after that, there's a negotiation over a longer raise (or ending the debt limit altogether), with the sequester, entitlements, etc. thrown in. Everybody wins: The president gets to say he got Congress to act without negotiating; Boehner can claim he got Obama to the negotiating table. Meanwhile, for every day the government is partially shut down, Congress has now guaranteed this shutdown will cost taxpayers more money than if they simply kept the government open. Why? They've agreed to the retroactive back pay for furloughed workers.
*** If you say there aren't enough votes, don't you have to prove it? Turning from the debt limit to the government shutdown, Boehner made another claim: The votes just aren't there for a "clean" continuing resolution to fund the government. "There are not the votes in the house to pass a clean CR." But if you're going to say that, you've got to prove it. And according to NBC's count, there are as many as 22 House Republicans who would support a clean CR. So if you assume that those 22 Republicans would join with all 200 House Democrats, that's more than the 217 votes needed to pass such a measure through the House. Rep. Peter King (R-NY) takes it a step further. "I'm positive that a clean C.R. would pass," he tells the New York Times. "If it went on the floor tomorrow, I could see anywhere from 50 to 75 Republicans voting for it. And if it were a secret ballot, 150." Boehner has made many pledges or declarations over the past year -- the health-care law is settled, there won't be a government shutdown, etc. -- that have proven to be incorrect. This could be another example. But testing this proposition is now lose-lose for Boehner. If he's right, he may need to prove he's right and actually whip against passage of a clean CR and put some Republicans in awkward positions that they don't want to be in. Or he's wrong and he looks weak and out of touch with his own conference.
*** Here come the shutdown TV ads! President Obama's Organizing for Action is running a new TV ad hammering Republicans for being "irresponsible" and "reckless" in the fight over the government shutdown and debt ceiling, one of us reports.  The ad, which will air on national cable, goes: "The government shutdown is hurting veterans, seniors, and our kids. Now Tea Party Republicans are threatening an economic shutdown, refusing to pay our nation's bills… Tell them to stand up to the Tea Party: Enough already." Meanwhile, as Politico reports, Rep. Tom Cotton (R-AR) has a TV ad hitting Sen. Mark Pryor (D-AR) over the shutdown and Obamacare. This appears to be the first attempt by a Republican to go on offense on the government shutdown. We've seen some defensive ads in the Virginia governor's race but nothing outside of that state until today.
*** How your government is still working during the shutdown: Over the weekend, we did get a reminder that government is still working and that it really is only a partial shutdown: The SEALs are working. "U.S. commandos launched daring twin raids in Libya and Somalia on Saturday, capturing a senior al Qaeda official who allegedly planned 1998 embassy attacks in Kenya and Tanzania, NBC News reported. "Anas al Libi, whose real name is Nazih Abdul-Hamed Nabih al-Ruqai'I, was seized in the Libyan capital, Tripoli, the Pentagon said. He has been wanted for more than a decade by the U.S. and has a $5 million reward on his head."
*** Not ready for primetime: We've said it before, and we'll say it again: Had it not been for the government shutdown, the big political story over the past week would have been about Obamacare and its website not being ready for primetime. "U.S. Chief Technology Officer Todd Park said the government expected HealthCare.gov to draw 50,000 to 60,000 simultaneous users, but instead it has drawn as many as 250,000 at a time since it launched Oct. 1," USA Today writes. "Park's comments are the administration's most detailed explanation for the glitches that have frustrated millions of consumers who have tried to enter the site or complete applications for health insurance under the Affordable Care Act. 'These bugs were functions of volume,' Park said. 'Take away the volume and it works.'" But as the funny folks over at "Saturday Night Live" put it, that's like 1800-Flowers "getting caught off guard by Valentine's Day."  Team Obama is VERY LUCKY that the government shutdown overshadowed these "glitches." How does the candidate who revolutionized how campaigns interact with potential voters whiff on this?
*** Cuccinelli admits shutdown is having an impact on the VA GOV race: Finally, Republican Ken Cuccinelli is admitting -- more or less -- that the government shutdown has taken a toll on his gubernatorial campaign with just a month to go until Election Day. "I think when people vote for governor, they care more about state issues, but in Virginia, the spillover across the Potomac is pretty darn substantial," Cuccinelli said, per the Washington Post. "That's just a reality of life in Northern Virginia and southeastern Virginia." And don't miss this: "In the clearest sign yet of the potent effect of the government shutdown on the Virginia governor's race, Republican Ken Cuccinelli avoided being photographed with Ted Cruz at a gala they headlined here Saturday night—even leaving before the Texas senator rose to speak."
Click here to sign up for First Read emails.
Text FIRST to 622639, to sign up for First Read alerts to your mobile phone.
Check us out on Facebook and also on Twitter. Follow us @chucktodd, @mmurraypolitics, @DomenicoNBC, @brookebrower