Romney plays his Trump card again… But is this a smart card to play?... More Dem handwringing… The Romney camp's pushback on Bain… Primary Day in Texas -- watching Romney cross the 1144 magic number and that Senate GOP primary… Odds and ends: Scott Brown up with new TV ad, while Dem convention marks less than 100 days out with new web video… Recapping Friday's Walker-Barrett debate… And Christie's sports-gambling push.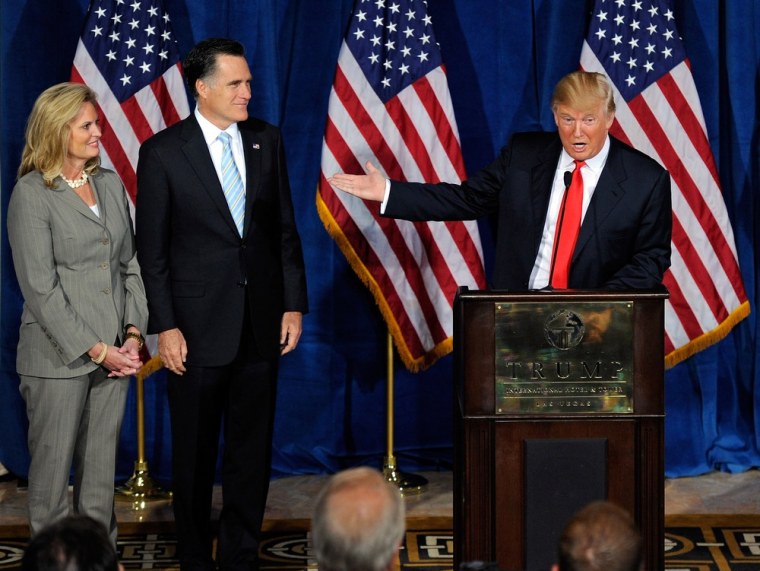 *** Playing the Trump card: Here's a little thought exercise: What if a chief Obama surrogate/fundraiser happened to be the nation's foremost critic of the Mormon faith, who argued that it was nothing more than a cult? Or what if the Obama campaign was holding a fundraising contest with a celebrity who believed that 9/11 was an inside job? Or even if Obama held a joint fundraiser with Bill Maher? It's hard to differentiate those hypotheticals from Mitt Romney's association with Donald Trump, who in recent days has said that hitting Obama with Jeremiah Wright is fair game and that there are still doubts about Obama's place of birth. The Romney-Trump association tonight includes a fundraiser with "The Donald," as well as an upcoming fundraising dinner contest with him. Why hang out with someone -- multiple times -- who could overshadow you, for all the wrong reasons? Could you imagine John McCain or George W. Bush doing something similar? In fact, the Obama campaign is out with a web video contrasting McCain from '08 with Romney's association with Trump in this campaign.
*** Guilt by association: Look, we're not big fans of "guilt by association" attack politics. And while it's as old as the Republic, it's cheap and usually has little impact on the public at large. But Trump is not exactly someone who is helpful to Romney in his attempt to warm himself to swing voters, particularly women. Perhaps there's something else the Romney campaign is up to; maybe they believe by hugging Trump now, it'll be easier to tell him "no" when he asks to speak at the Republican convention. As George Will put it, "I do not understand the cost benefit here. The costs are clear. The benefit — what voter is going to vote for him because he is seen with Donald Trump? The cost of appearing with this bloviating ignoramus is obvious, it seems to me."
*** Romney responds to the criticism of Trump: Last night, Romney was asked about his association with the nation's most famous "birther." His answer didn't address the controversial topic. "I don't agree with all the people who support me and my guess is they don't all agree with everything I believe in. But I need to get 50.1% or more, and I'm appreciative to have the help of a lot of good people," he said, per NBC's Garrett Haake. By the way, msnbc.com's Mike O'Brien today will have a more in-depth piece looking at Romney and Trump.
*** Dem handwringing: From our coverage of past presidential campaigns, Republicans have always been better -- and more comfortable -- when it comes to hand-to-hand political combat. Exhibit A: Some of the Democratic handwringing we saw over the past two weeks about whether the attacks on Bain Capital are fair. And here's Exhibit B: More handwringing about whether President Obama has engaged too early in the campaign. The handwringing is mostly taking place in the Acela corridor by folks that haven't seen any polling data in the industrial Midwestern states or any focus groups, at least when it comes to Bain. The more intriguing debate folks will have in December is about how quickly and sharply the president decided to personally attack Romney. He could have easily decided to stay above the fray for longer, but the decision was made they couldn't do that. Team Obama will argue, they needed to fire up their own base and running AGAINST someone helps fire them up faster than simply asking them to help re-elect the president. So they may have had no choice but to engage earlier than planned simply to get their own base motivated. Still, hand wring all you want. The problem, though is that the toothpaste is already out of the tube.
*** The Romney camp's pushback on Bain: Speaking of Bain, the Romney camp has a counterattack of sorts with a new web video noting that firms like Solyndra received federal loans but have since gone bankrupt. It's their attempt to muddy up all the Bain enterprises that went belly up with the stimulus-assisted firms that did the same. The Romney camp tells First Read that its message this week is that Obama "is hostile to job creators." Says a Romney official: "Take a look at Solyndra -- that is a perfect example of how President Obama is hostile to job creation. President Obama believes we would be better off if political appointees were making decisions on where taxpayer money is spent. President Obama's economic leadership has failed and at times has shown the worst of cronyism, like in the case of Solyndra." Some outside groups also have a similar hit on the president, turning the "private equity" argument into a question of "what did the president do with public equity"?  It's a clever non-response response.
*** Texas' "two step" primary: It's primary day in the Lone Star State, and there are two primaries to watch. The first is the presidential: Mitt Romney is expected to reach the 1144-delegate magic number tonight. Here's currently at 1,084, and he'll get a lion's share of Texas' 155 delegates. The second primary is the crowded Senate GOP race to fill the seat being vacated by Sen. Kay Bailey Hutchison. The top-two contestants are Lt. Gov. David Dewhurst and state Solicitor General Ted Cruz. If no one gets a majority of today's primary vote, there will be a run-off featuring the top-two finishers. Don't miss this Club for Growth TV ad that's been hitting Dewhurst for being labeled "a moderate." This ad tells you everything you need to know about your U.S. Senate, particularly on the GOP side. Polls in Texas close at 9:00 pm ET.
*** On the trail: Romney campaigns in Craig, CO and Las Vegas, NV before attending his fundraiser with Trump at the Trump International Hotel in Vegas.
*** Scott Brown ad, Dem convention video: Here are some final odds and ends today: Sen, Scott Brown (R-MA) is up with a new TV ad emphasizing his moderate and "bipartisan" credentials. (It's kind of the opposite to that Club for Growth ad above.) "We're Americans first and I'll work with anyone to get things done," Brown says to the camera. "I was the tie-breaking vote on Wall Street reform, led the way on a jobs bill for veterans and helped pass a strong new ethics law for Congress. You know what makes me really proud? Being called one of the most bipartisan senators in the country." In addition, the Democratic convention has a new web video marking that we're less than 100 days out until the Dem convention in Charlotte and launching its effort to get the grassroots involved in the convention.
*** Recapping Friday's Walker-Barrett debate: On Friday night, Wisconsin Gov. Scott Walker (R) and challenger Tom Barrett (D) participated in their first debate tied to next week's recall. The Wall Street Journal says that Barrett, who is trailing in the public polling, came out swinging. "'Scott Walker started this political civil war. I will end this civil war,' Mr. Barrett said early on in the debate in a prelude to the aggressive posture he maintained all evening. 'His plan was to divide and conquer, that's not how you get things done.' Mr. Walker, a first-term Republican, took his shots at Mr. Barrett—calling him a weak mayor at the helm of one of the poorest cities in the nation--but he also intermittently tried to distance himself from the attacks by stressing his accomplishments lowering taxes and creating better business environment for the state."
*** Christie's sports-gambling push: And be sure not to miss New Jersey Gov. Chris Christie's (R) push to legalize sports gambling in his state. Why is this important in politics? It's a way -- and perhaps the last way -- for Republican governors to get increased revenues without raising taxes.
Countdown to WI recall: 7 days
Countdown to GOP convention: 91 days
Countdown to Dem convention: 98 days
Countdown to Election Day: 162 days
Click here to sign up for First Read emails.
Text FIRST to 622639, to sign up for First Read alerts to your mobile phone.
Check us out on Facebook and also on Twitter. Follow us @chucktodd, @mmurraypolitics, @DomenicoNBC, @brookebrower