A problem governing (website issues) vs. an unwillingness to govern (the shutdown)… The danger for the GOP turning the website into a proxy for the health-care law: What happens when the website is fixed?... No sleep 'til Brooklyn: Obama speaks on the economy there at 3:45 pm ET… First Read's weekly 2016 watch: Ted Cruz goes to Iowa -- again… You've got to fight … for your right … to party, Doug Gansler edition… No game-changer in final VA GOV debate… McAuliffe pulling away in the ad-spending race… And "Meet the Press" will have Govs. Beshear and Kasich.
*** A problem governing vs. an unwillingness to govern: You can boil down the past three weeks in Washington to this one theme: The Obama White House and Democrats have a political problem when it comes to governing (see the Obamacare website), while Republicans have a political problem because they don't want to govern (see the shutdown). And both sides have used the other party's problems to mask their own. So when Democrats are asked about the website issues, the seeming response is, "What about the shutdown?" And when Republicans are asked about the shutdown, their response is, "What about the website?" That pretty much played out at last night's Virginia gubernatorial debate. "Just this week, [Republican Ken Cuccinelli] refused to say whether he supported reopening government," Democrat Terry McAuliffe said. But here was Cuccinelli: "Now the Obamacare disaster is unfolding with failing websites… Send Washington a message and say no to Terry McAuliffe's expanded Obamacare by voting for me on November 5th." Basically, the best thing both parties have going for each other right now is each other. That said, the public clearly wants competence and does like governing, see, well, every recent poll.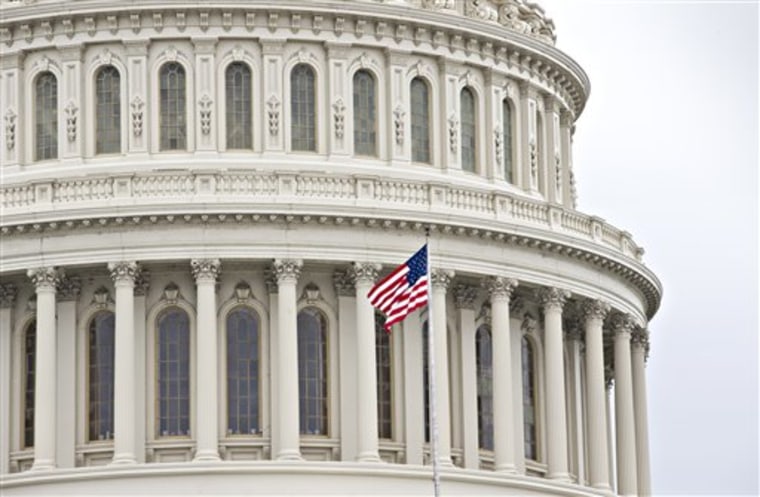 *** The danger for the GOP turning the website into a proxy for the health-care law: But as we wrote earlier this week, the GOP's political problem might be the more significant (and lasting) one, because Republicans -- unlike the Democrats -- aren't working to fix their problem. In addition, the website could become a proxy if the health-care law (and government) actually works. So what happens if/when the website gets fixed? Does that outcome turn into the health-care law and government work, too? This tweet from chess-master Garry Kasparov is instructive: "It's a tactical error to draw attention to an opponent's flaw when that flaw is easy to fix. It's a favor. Distracts from the big issues."
*** No sleep 'til Brooklyn: President Obama today travels to Brooklyn, NY, where he makes remarks about the economy at 3:45 pm ET. Per the White House, Obama will be visiting Pathways in Technology Early College High School (P-TECH). "While at P-TECH, the president will tour a classroom and discuss the importance of ensuring that the next generation of middle class American workers and entrepreneurs have the skills they need to compete and win in a global economy." In the evening, Obama will hit two fundraisers in New York – the first for the DCCC, and the second for the DNC. It's the second day in a row when the president is trying to pivot away from the website problems, pivot away from the shutdown and get back to the agenda he was trying to push at the start of the year. Think about it: It's October and the president is finally back on pushing some of his State of the Union items. In fact, it was quite remarkable to read the WH backgrounder on this event and have them use the phrase, "In his State of the Union Address earlier this year…" Point is, this event is a bit of a reminder of how much the president has struggled to even push a consistent message, like the one he wanted to do at the START of the year.
*** Harry Reid: "No excuse" for the website problems: NBC's Kasie Hunt reports that in a wide-ranging interview with his home-state public radio station, Senate Majority Leader Harry Reid said that there's "no excuse" for the problems with the HealthCare.gov website, dismissed any potential "grand bargain" on fiscal issues because he's assuming GOP won't do new taxes/revenues, and also said that if you're over 50, "the Internet is something that you're just learning about." The 73-year-old Reid also suggested that the president has been too quick to give concessions to Republicans in past negotiations and had learned from that mistake.
*** First Read's weekly 2016 watch: Ted Cruz is in Iowa tonight, (his third trip there, and he hasn't been in office a year!) where he headlines the state GOP's Ronald Reagan dinner in Des Moines at beginning at 7:00 pm ET… Hillary Clinton, meanwhile, spoke at the Center for American Progress' 10th anniversary event on Thursday, saying the word "progressive" several times, per NBC's Sarah Blackwill. "You need to have [the Center for American Progress] at the table making the case for progressive policies."/ "A progressive think tank that would stand up and fight back."  Clearly, an acknowledgement of where the Dem Party is today vs. where it was the first time a Clinton ran for president… In other 2016 news this week, Chris Christie dropped his administration's appeal on gay marriage becoming legal in New Jersey (good luck in Iowa)… And next week, Jeb Bush and Paul Ryan will be among the speakers at the Jack Kemp Leadership Award Dinner in DC on Monday night.  
*** You've got to fight…for your right… to party! If you're running for governor, the state's top-ranking law-enforcement official, and a parent, this story is a major problem. "Doug Gansler, Maryland's attorney general and gubernatorial hopeful, Thursday defended his decision not to stop a teen beach party depicted in a recently published Instagram photo," NBC Washington reports. "In the picture, young people clad in bathing suits are seen dancing on tables while red cups litter the room. Looks like a wild high school Beach Week party -- and in the middle of the photo is a man running for governor of Maryland. 'I wasn't the chief law enforcement in that state; I was there as a parent,' Gansler said at a press event, explaining that he stopped in to talk to his 19-year-old son briefly. But he admitted he 'should've done more' to determine whether there was underage drinking going on at the party." The biggest problem for Gansler with this story: He's the state's top cop, and he was pictured at a party with teenagers partying and drinking alcohol. He condoned illegal behavior, period; it's a problem for any elected official but DOUBLY so for a law enforcement official. The only possible silver lining here is that it's VERY early in Maryland's gubernatorial contest. But still…
*** No game-changer in final VA GOV debate: The final debate in Virginia's gubernatorial race turned into the same-old, same-old, which isn't good news if you're the candidate -- Ken Cuccinelli -- trailing in the contest. "Cuccinelli tried to cast McAuliffe, the exuberant fundraiser and former chairman of the Democratic National Committee, as unserious, partisan and ill-prepared to govern. McAuliffe portrayed his opponent, the Republican attorney general, as far too extreme for most Virginians, particularly on social issues such as abortion," the Washington Post says. More: "There was no dramatic moment likely to change the trajectory of the race." By the way, former President Bill Clinton will campaign for McAuliffe on Sunday (in Dale City, Richmond, and Hampton) and Monday (Blacksburg and Herndon).
*** McAuliffe pulls away in the ad-spending race: Here's another way to measure Virginia's gubernatorial race: McAuliffe's ad-spending advantage is growing and growing. In the past three weeks, McAuliffe and groups supporting him have nearly tripled Cuccinelli and allies in broadcast, cable, and radio ad buys, $3 million to $1.2 million. Take a look:
10/7: McAuliffe: $1 million to $687,000
10/14: McAuliffe: $1.1 million to $415,000
10/21: McAuliffe: $904,000 to $136,000
Wow. Overall, pro-McAuliffe spending has been $12.6 million, while pro-Cuccinelli spending has been $8.6 million. pro-Cuccinelli.
*** On "Meet the Press": On Sunday, NBC's David Gregory interviews Kentucky Gov. Steve Beshear (D) and Ohio Gov. John Kasich (R).
Click here to sign up for First Read emails.
Text FIRST to 622639, to sign up for First Read alerts to your mobile phone.
Check us out on Facebook and also on Twitter. Follow us @chucktodd, @mmurraypolitics, @DomenicoNBC, @brookebrower