Romney's half pivot toward the general election… Romney gives speech tonight in New Hampshire, but a new poll shows him trailing Obama there by nine points… Obama speaks in Chapel Hill, NC and Boulder, CO… It's primary day in CT, DE, NY, PA, and RI, and we're watching Romney's percentages in those states… Delaware or bust for Newt?... Two PA primaries to watch… Priorities USA Action partnering with League of Conservation Voters?... And so you're telling me there's a chance: Boehner says there a one-in-three chance GOP could lose the House.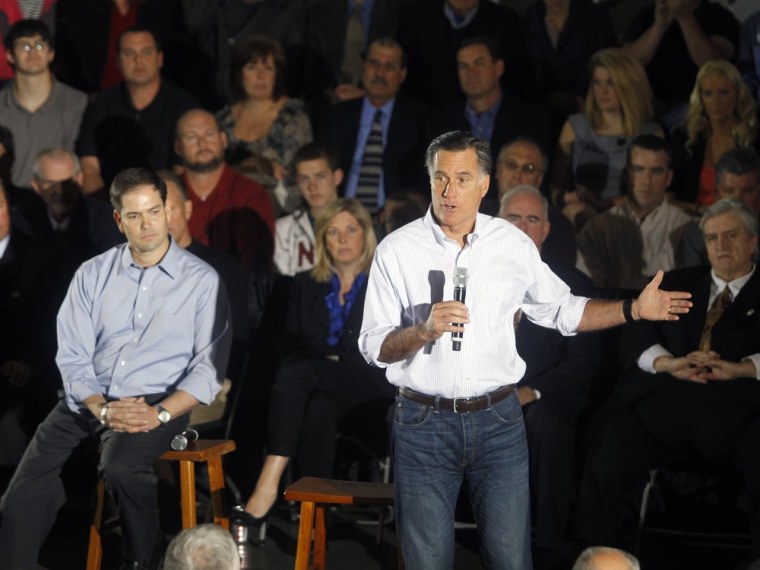 *** Romney's half pivot: Today is another presidential primary day, but you know we've fully moved on to the general election when Mitt Romney began to pivot to swing voters yesterday -- ever so slightly. First, after taking a hard line on immigration during the primaries, he said in a press conference that he was open to "studying" Marco Rubio's DREAM Act alternative. "I'm taking a look at his proposal. It has many features to commend it, but it's something that we're studying." (Translation: This is going to be something that I endorse soon, but not yet -- even though Marco Rubio is standing here next to me.) Second, he said he supports the student-loan push that President Obama is making. "I fully support the effort to extend the low interest rate on student loans," Romney stated. But it really was just half of a pivot. After the press conference, the former Massachusetts governor delivered his usual serving of conservative red meat at a later town hall (repeal the health-care law, support voter ID measures, "I won't apologize for America," etc.). Bottom line: Romney is beginning his general-election pivot, but he's not there just yet. He's still minding his base. 
*** Romney's trailing in New Hampshire: You also know we're fully in general election when Romney isn't delivering an address tonight in one of the primary states, or even an upcoming primary state. Rather, Romney will give a speech – entitled "A Better America Begins Tomorrow" -- at 9:00 pm ET in Manchester, New Hampshire. Unfortunately for Romney, a brand-new WMUR/University of New Hampshire poll shows President Obama leading Romney by nine points in the battleground state, 51%-42%. New Hampshire is a cautionary tale for Romney (despite owning a home there and serving as governor of a next-door state): Much of the southern part of the state is essentially a suburb of Boston. And what these poll numbers suggest is that Republicans are struggling in the 'burbs. So if Romney's down in New Hampshire, that also means he's trailing in Northern Virginia and the Philly suburbs. New Hampshire is a state that has always been open to fiscal conservative messages but reticent about a focus on social conservative issues. Last year, New Hampshire was the battleground state Obama was struggling in the most, then the GOP began its conversation during the presidential primaries on non-economic issues (re: contraception) and the state seems to have moved dramatically.
*** It has been written -- "Those who have the youth have the future": While Romney hits New Hampshire today, Obama will be in Chapel Hill, NC and Boulder, CO, where he will call on Congress to stop student loans from doubling. The president's remarks in North Carolina take place at 1:15 pm ET, and his speech in Colorado is at 8:45 pm ET. Also while he's in the Tar Heel State, Obama will sit down for an interview with Jimmy Fallon. And tomorrow, the president heads to Iowa City, IA. As we wrote yesterday, this is all about the youth vote.
*** Watching Romney's percentages: Even though the general election campaign is now underway -- after Rick Santorum's exit earlier this month -- there are five primaries today in Connecticut, Delaware, New York, Pennsylvania (Santorum's home state), and Rhode Island. As a result, this is the first primary day where Romney doesn't face any real competition. So when we watch the returns, we'll get a good idea of the true anti-Romney vote tonight. Does he get at least 50% in all of these contests? What about 60%? 70%?
*** The skinny on tonight's primaries: At stake tonight are 222 total delegates. Per NBC's John Bailey, Connecticut awards 25 (district delegates are winner-take-all per congressional district, at-large are proportional per statewide wide but winner-take-all with a majority); Delaware awards 17 delegates (and it's winner-take-all per statewide vote); New York allocates 92 delegates (with district delegates going 2 for the winner and 1 for the runner-up unless there's a majority and at-large delegates decided proportionally per statewide vote but needing to meet a 20% threshold); Pennsylvania awards 72 delegates but they're not bound by the vote; and Rhode Island awards 16 delegates (both district and at-large delegates are proportional per statewide vote needing a 15% threshold). Polls close at 8:00 pm ET in Connecticut, Delaware, and Pennsylvania, and they close at 9:00 pm ET in New York.
*** Correction ***
*** Delaware or bust for Newt? In an exclusive interview yesterday, Newt Gingrich told NBC's Alex Moe that a poor showing in Delaware -- where he has been actively campaigning for the last few weeks -- could end his candidacy. "I think we need to take a deep look at what we are doing," he said. "We will be in North Carolina tomorrow night and we will look and see what the results are." Gingrich added, per Moe, that he would have to "reassess" his campaign if he doesn't fare well in this winner-take-all contest. Give Newt credit for deciding if he can't do what Christine O'Donnell did – win a Republican primary in Delaware – then maybe he should rethink his strategy. Call it the "Christine O'Donnell test."
*** Two PA primaries to watch: In Pennsylvania, there are two other primaries worth watching tonight. The first is a battle of two incumbent Democratic congressmen, Jason Altmire and Mark Critz. From what we've heard, it's going to be very close. The other is the GOP primary to see who emerges as the Republican challenger to Sen. Bob Casey (D). And the field is thin on formidable candidates: former Santorum staffer Marc Scaringi, businessman Steve Welch, businessman David Christian, and Sam Rohrer, the director of Americans for Prosperity's branch in Pennsylvania. This GOP field should be a warning sign to Republicans who want to make this state competitive in November: They couldn't find a top-tier or even second-tier challenger to take on Casey in this battleground state.
*** Priorities USA partnering with League of Conservation Voters? It appears that the pro-Obama Super PAC Priorities USA Action is teaming up with the environmental group League of Conservation Voters for a nearly $1 million ad buy through mid-May. Smart Media, an ad-buying firm, reported that the two entities have purchased $980,000 on broadcast and cable TV in Colorado and Nevada. Asked for comment by First Read about the ad and possible partnership, Priorities USA's Bill Burton replied, "We'll have some info for you in the next couple days." Priorities USA Action has so far struggled in raising money for the presidential contest. In March, it reported raising $2.5 million for the month (up from $2 million in February) and it has $5 million in the bank. Meanwhile, Priorities USA Action is partnering with another Dem-leaning group -- American Bridge -- for this video hitting Romney on education.
*** So you're telling me there's a chance: In an interview on FOX last night, House Speaker John Boehner said that Republicans have a one-in-three chance of not holding the House, NBC's Luke Russert and Frank Thorp report. "I would say that there is a two-in-three chance that we win control of the House again, but there's a one-in-three chance that we could lose," Boehner said in the FOX interview. "We've got a big challenge, and we've got work to do."
Countdown to Election Day: 197 days
Click here to sign up for First Read emails.
Text FIRST to 622639, to sign up for First Read alerts to your mobile phone.
Check us out on Facebook and also on Twitter. Follow us @chucktodd, @mmurraypolitics, @DomenicoNBC, @brookebrower