Romney's immigration challenge… What Beth Myers heading up Romney's VP search means…. Three very different polls in the Obama-Romney race… Romney to Obama: "Start packing"… Buffett Rule, as expected, goes down to defeat… Obama to make statement about market manipulation of oil prices at 11:10 am ET… Lugar mailer hits Mourdock… And GOP primary for Giffords' seat in AZ takes place today.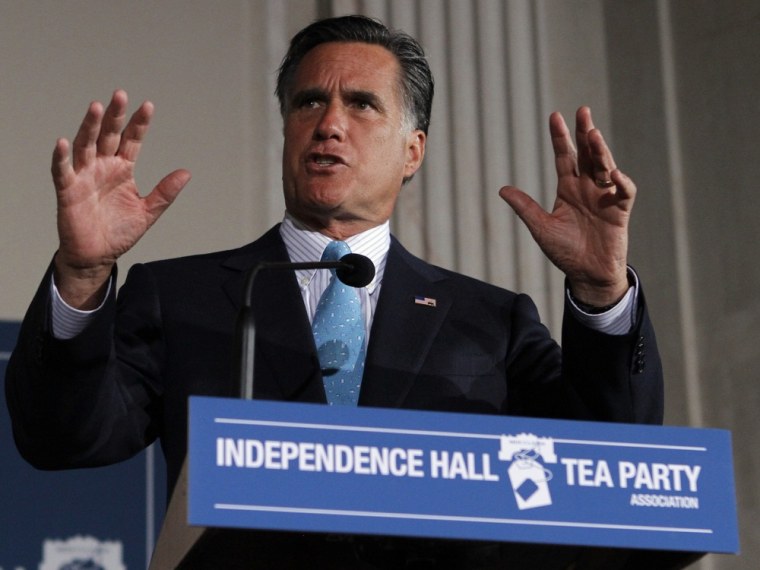 *** Romney's immigration challenge: Lost in the other statements Romney made at that Sunday fundraiser in Florida was his admission that he needs to move to the center to win over Latinos. "We have to get Hispanic voters to vote for our party," Romney said, observing that polls show Latinos breaking in huge percentages for President Obama "spells doom for us." Romney even said the GOP should offer something like a "Republican DREAM Act" to help woo Latinos. But there's a challenge here for Romney, and it's the same one Meg Whitman faced in 2010: How do you move back to center on immigration after running so hard to the right during the primary? Indeed, unlike other issues where he simply adopted conservative/Tea Party rhetoric (on health care, taxes, the deficit), Romney often used immigration as a weapon, particularly against Rick Perry. In addition, Romney said he would veto the DREAM Act, called Arizona's immigration law "a model", and proudly accepted the endorsement of the man considered the architect of that Arizona law, Kansas Secretary of State Kris Kobach.
*** Is fixing his female problem easier than his Latino problem? Romney has the potential to fix his problem with female voters; after all, it's not really his problem but rather the GOP's. And he does have a story to tell here (wife Ann, the women he appointed in Massachusetts). But when it comes to immigration, this is an issue where he's been consistent over the past five years as a way to prove his conservative bona fides (first against McCain, then against Perry and Gingrich). These are his words, not just the party's rhetoric being attached to him, and it's going to be hard to take the back. Again, we'll remind you that Obama's Latino path (CO, NM, NV, and VA) is a not-so-hard way for him to get to 270 electoral votes -- without having to win Ohio or Florida (which also has LOTS of Latinos). 
*** What tapping Beth Myers means: That, of course, brings us to veepstakes. Is Romney able to patch up his Latino problem with, say, Marco Rubio as his running mate? Yesterday,  learned that the former Massachusetts governor tapped his longtime aide and '08 campaign manager, Beth Myers, to lead his VP search. (Interestingly, Myers gave an interview yesterday to conservative blogger Jennifer Rubin. Does this mean Team Romney is going to be more public about this vetting process than past presumptive nominees have been?) Myers means that Romney will probably pick someone he's VERY comfortable with. Beth Myers isn't going to get you Sarah Palin; she's going to get you someone you've campaigned with/interacted with quite a bit. And a Beth Myers is a Romney legacy protector -- she's probably not going to get Romney someone who will over-shadow him either (Chris Christie, we mean you). Having Myers lead this search will only reinforce the C.W. that Romney is going to zero in on folks like Portman, Ryan or even a Kelly Ayotte and not be looking for, shall we say, a game-changer.
*** Three very different polls: Boy, the polls were all over the place yesterday in this general election contest that's barely a week old. First, the Gallup Daily Tracking poll had Romney with a two-point edge over Obama among registered voters, 47%-45%. Then CNN released its own survey showing Obama with a nine-point lead, 52%-43% fueled by his support by female voters. And then Reuters/Ipsos had Obama with a narrow four-point advantage, 47%-43%, after leading him by double digits last month. A little advice when presented with diverging polling data: Shake the Magic 8 ball again. Or better yet, wait for the next reliable national poll. Which brings us to... the latest NBC/WSJ poll will be coming out on Thursday. 
*** Romney to Obama: Start packing: In his interview with ABC yesterday, Mitt Romney was asked what he would say to Obama. Romney's answer: "Well, start packing. That's what I'd like to-- like to say." (You think the former one-term governor wishes he worded that a bit differently? seemed to border on OVER-confidence, no?) Also in the interview, Romney side-stepped questions about releasing his tax returns prior to 2010. "The president is going to try and do everything possible to divert from the attention being focused upon his record as president and the failure of his economic policies... We've released all the information required by law and then some." He also ducked a question about his wealth (the two Cadillacs, the La Jolla house, the car elevator). "I think people want to have a president who knows how to lead, who knows how to create jobs, who can get our economy creating the jobs it should so we can see rising incomes again." And Ann Romney was asked about Seamus the dog, who she said "loved" traveling on the top of the car. "He would see that crate and, you know, he would, like, go crazy because he was going with us on vacation. It was to me a kinder thing to bring him along than to leave him in the kennel for … two weeks."
*** Buffett Rule goes down to defeat: Yesterday, as expected, the Buffett Rule was unable to clear the Senate. By a mostly party-line vote, 51 senators (all of them Democrats) voted to invoke cloture and have the measure proceed, while 45 senators (all Republicans and one Democrat, Arkansas' Mark Pryor) voted against. Four didn't vote -- Akaka (D-HI), Hatch (R-UT), Kirk (R-IL), and Lieberman (ID-CT). Lieberman released a statement saying he would have voted against had he been present. "I am not opposed to the Buffet Rule because I am opposed to raising income taxes on the wealthiest Americans. I am opposed to the Buffet Rule because it would double to 30 percent the capital gains tax on one group of investors and therefore reduce exactly the kind of capital investments we need to get our economy growing again and create jobs."
*** Obama to tackle market manipulation of oil prices: The AP: "Under pressure to take action on rising gasoline prices, President Barack Obama wants Congress to strengthen federal supervision of oil markets, increase penalties for market manipulation and empower regulators to increase the amount of money energy traders are required to put behind their transactions." The president will make a statement about this at 11:10 am ET from the White House.
*** Reminder: Santorum still hasn't endorsed Romney: Rick Santorum still hasn't endorsed Romney, the LA Times notes. He "pointedly declined Monday night to endorse presumptive Republican nominee Mitt Romney, instead pointing out that he has not backed a candidate in the race and urging his supporters to vote their conscience. 'As far as how you vote, that's up to you,' Santorum told thousands of supporters during a conference call. 'I haven't supported any candidate at this point, so that's really up to you.'" NBC's Andrew Rafferty also reported on that conference call, writing that Santorum explained his decision to drop out had less to do with money and more with the inability of 1) Gingrich to exit the race and 2) of Texas to change its rules to be a winner-take-all contest. "I know there's been a lot of articles written that somehow we dropped out because we ran out of money. That just is a little, very, very small piece of the story," Santorum said. "The bottom line is we wanted to take this race as far as we could to the point where we felt that we could be successful."
*** On the GOP trail: Both Romney and Gingrich, in Pennsylvania, speak at a Lancaster County GOP… Gingrich also stumps in Harrisburg…. And Romney tapes an interview with CNBC's Larry Kudlow.
*** 'Take a closer look': Longtime Sen. Richard Lugar, in the fight for his political life, is taking on challenger state Treasurer Richard Mourdock in a new mailer going out today. The mailer, strewn with $100 bills, focuses on the federal budget, goes after President Obama – someone he worked closely with in the Senate – for the federal debt, and urges Indiana Republicans to "take a closer look" at Mourdock's budget proposal. That phrase -- "take a closer look" -- appears twice, once with a magnifying glass near an ashen-looking Mourdock. The mailer quotes the Committee for a Responsible Federal Budget, which said, "Mourdock's budget fails honesty test." Lugar operative Andy Fisher said, "The mailer contrasts Senator Lugar's thoughtful approach to cutting federal spending - like supporting both the Ryan budget and 'Cut, Cap and Balance' - versus Richard Mourdock's irresponsible plan to cut Social Security benefits for current beneficiaries and put our national security at risk."
*** GOP primary for Giffords' seat: Lastly, today is the GOP primary in the contest to fill Gabby Giffords' seat in Congress. The AP: "Voters in southern Arizona's 8th Congressional District are heading to the polls to choose who will face former Gabrielle Giffords aide Ron Barber in a special election to replace the wounded ex-congresswoman. Four Republican candidates are battling in Tuesday's special primary election called after the Democrat resigned in January to focus on recovering from a gunshot wound. The four include 2010 Giffords opponent Jesse Kelly , a businessman and tea party favorite; state Sen. Frank Antenori ; retired U.S. Air Force pilot and political newcomer Martha McSally ' and businessman and broadcaster Dave Sitton." The general takes place on June 12. 
Countdown to the CT, DE, NY, PA, and RI primaries: 7 days
Countdown to Election Day: 203 days
Click here to sign up for First Read emails.
Text FIRST to 622639, to sign up for First Read alerts to your mobile phone.
Check us out on Facebook and also on Twitter. Follow us @chucktodd, @mmurraypolitics, @DomenicoNBC, @brookebrower